Summer Britcher Leads Three Americans Among Top 12 At Luge World Championships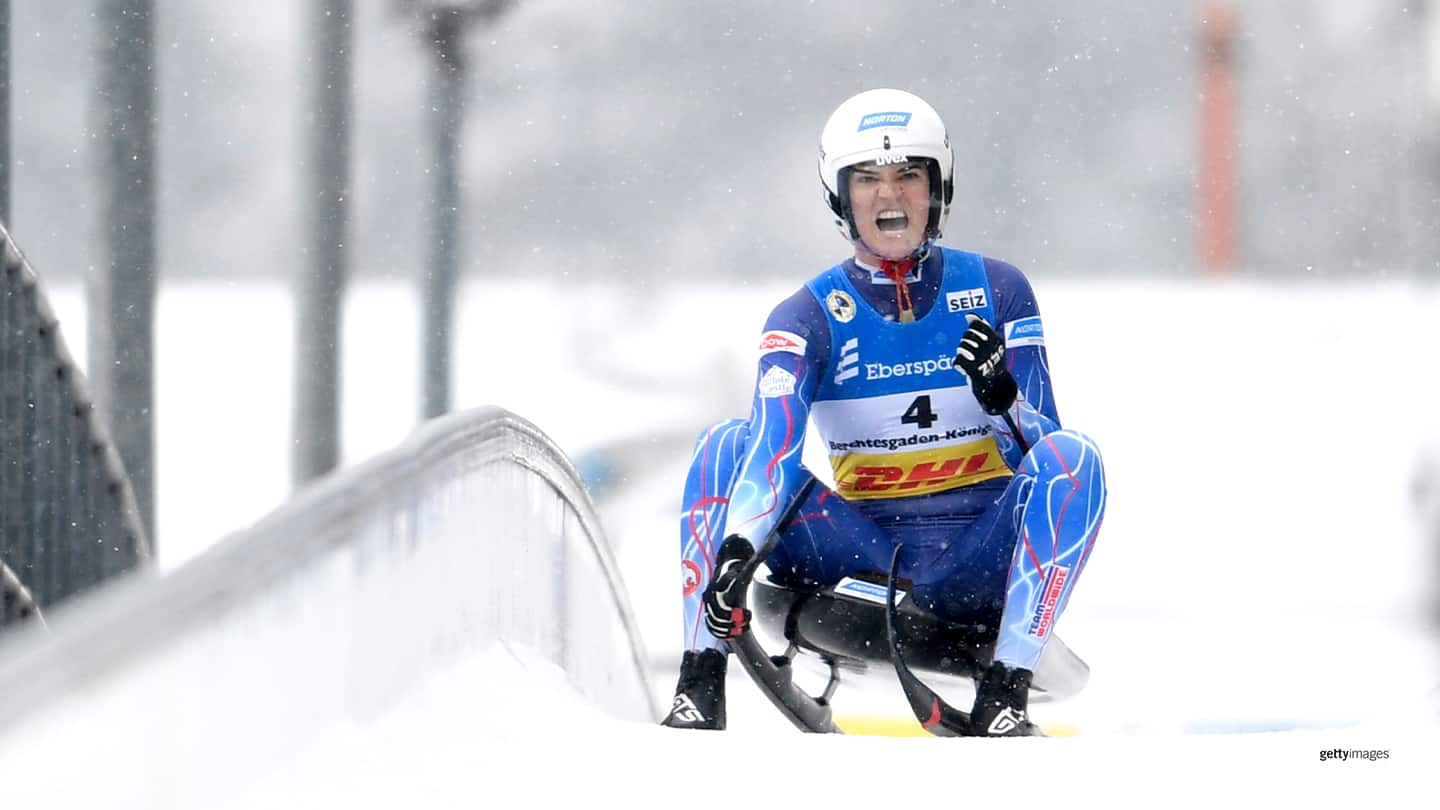 Summer Britcher reacts at the FIL Luge World Championships 2021 on Jan. 31, 2021 in Koenigssee, Germany.
Two-time Olympian Summer Britcher slid to a sixth-place finish and then helped the U.S. relay team take fourth as the luge world championships wrapped up Sunday in Koenigssee, Germany.

The event was part of the Team USA Champions Series, presented by Xfinity.

Britcher, a 2012 Youth Olympian, led three Americans finishing among the top 12 in the women's competition, with Emily Sweeney taking seventh and Ashley Farquharson finishing 12th. A fourth American, Brittney Arndt, was 19th.

Julia Taubitz won her first world title, leading a German sweep of the top four spots.

In the team relay, Britcher combined with Tucker West and the doubles team of Chris Mazdzer and Jayson Terdiman to finish just .193 of a second off the podium and .625 behind the first-place team from Austria. The team was in first place after Britcher's opening run and was never lower than fourth at any of the intermediate checkpoints.

The same U.S. team finished third at last year's world championships in Sochi, Russia. Britcher's result marks her sixth top-10 finish in six world championships, with her best finish being fourth in 2017. The Glen Rock, Pennsylvania, native was also the U23 world champion that year.

Originally scheduled to be held in Vancouver, British Columbia, the world championships were moved to the famous track in Koenigssee due to COVID-19, and the races were held without fans.

Also due to the pandemic the U.S. team elected to skip the first four world cup stops and joined the circuit in January.

The dynamics of the season brought unique challenges to the sliders, and in particular for Sweeney, a 2018 Olympian and the 2019 world championships bronze medalist. A member of the U.S. Army's World Class Athlete Program and National Guard, she competed in two world cups this season but had to return to the U.S. between them because the WCAP was not authorizing any temporary duty orders due to COVID-19.

The season wraps up with another world cup stop next weekend in St. Moritz, Switzerland.
Chrös McDougall has covered the Olympic Movement for TeamUSA.org since 2009 on behalf of
Red Line Editorial, Inc.
He is based in Minneapolis-St. Paul.