Nathan Chen Makes It Five U.S. Titles In A Row In Las Vegas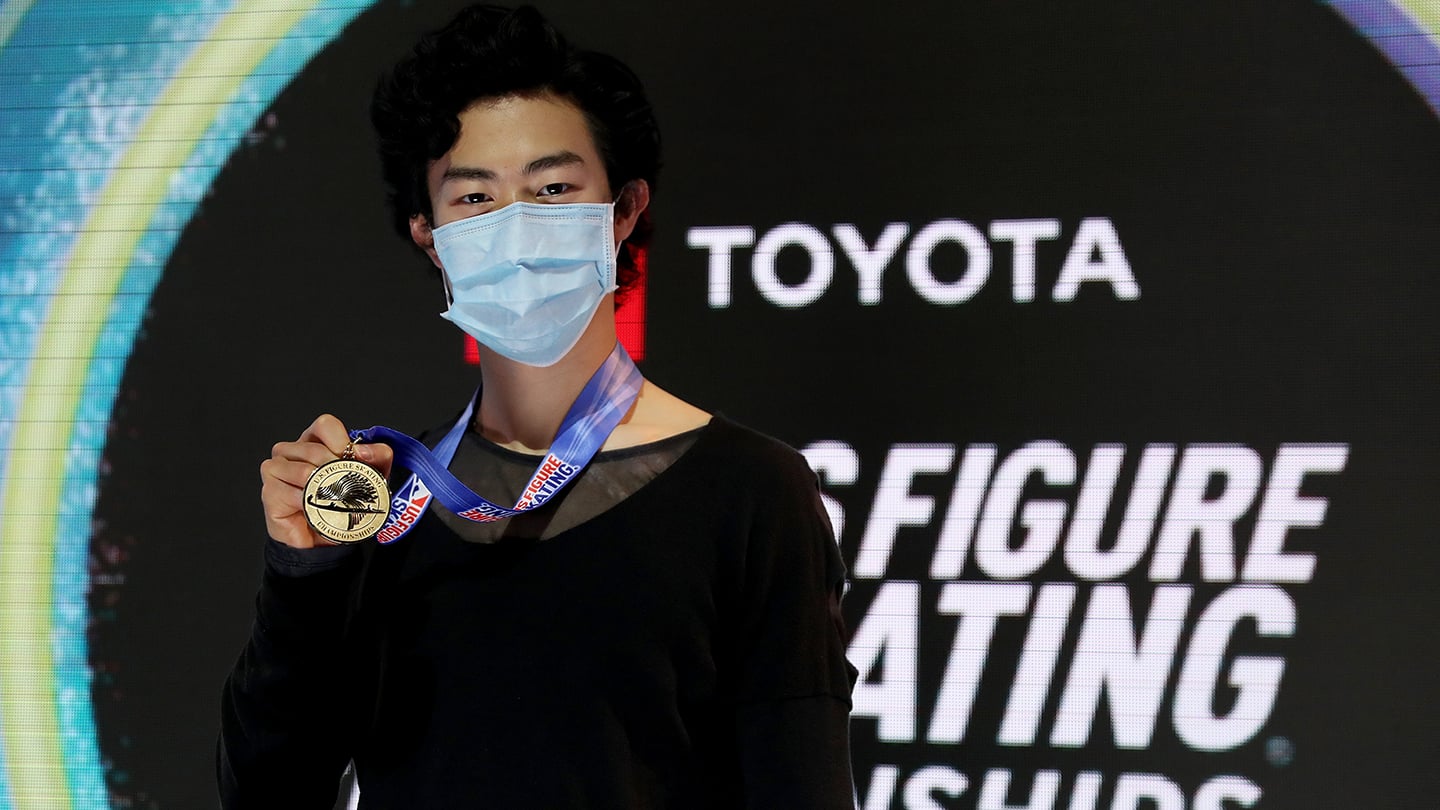 Nathan Chen poses with his gold medal after Men's competition during the U.S. Figure Skating Championships at Orleans Arena on Jan. 17, 2021 in Las Vegas, Nevada.
If there was a single objective for the men's free skate at the 2021 U.S. Figure Skating Championships, part of the Team USA Champions Series, presented by Xfinity, it was "keep calm, skate on."

And, as usual, Nathan Chen excelled at it the most.

When the two-time world champion opened his free skate Sunday at Las Vegas, Nevada's Orleans Arena with an uncharacteristic step-out on a quadruple lutz, he shrugged it off. He had four more quads planned, after all. One mistake, more or less, would not kill the program.

"It happens to everyone," Chen said. "It happens in practice. It happens, unfortunately, in competitions sometimes. You just have to switch gears, move on."

The rest of Chen's free skate, set to piano selections from contemporary composer Philip Glass, was nearly flawless. Four other quads, including two done in combination with triple jumps in the program's second half, were clean, as was a triple axel. The steps showed superb edge quality and control. Each spin was nestled into just the right passage of music.

When Chen stepped off the ice, his fifth straight U.S. title was assured, no matter how longtime rivals Vincent Zhou and Jason Brown performed. And with his 208.36-point free skate, and 322.28-point total, Chen became the first man since two-time Olympic gold medalist Dick Button (1948, 1952) to win five consecutive U.S. titles. Button amassed seven national championships in all from 1946 through 1952.

"It is something I will cherish for the rest of my life," Chen said of the five-peat, echoing words he used at the start of this U.S. championships.

But, calm though he was, Chen wasn't entirely satisfied with his performance.

"I felt that I didn't really tackle my elements, I just tried to focus on conserving energy," said the 21-year-old skater, who lives and trains in Irvine, California.

"That was what caused the first element to have an error," he added. "The rest of the program, I wanted to stay on my feet. That was my mindset throughout the program, so it wasn't exactly the skate I would like to have."

It was, however, a skate any other athlete would love to have. Chen is undefeated since the Olympic Winter Games PyeongChang 2018, where a disastrous 17th place short program kept him off of the podium despite his winning free skate. He's defeated all comers, most of them two or three times, since.

Chen attributes his record since that short program in PyeongChang partly to improved training protocols that balance his number of jump repetitions and program run-throughs, with the risk of injury. But the realization that skating isn't everything in life also plays a large role.

"After I retire, I will have a life outside of skating," he said. "So while I am here, just enjoy every single time I am out on the ice, enjoy being able to perform for people, enjoy performing before cardboard cutouts, and think less of, 'Oh, if I fail at this competition, my life is over.' It's not. I will still move on, I will continue, I will still lead a fulfilling life. That's how I changed my mentality, and it's helped a lot."

A rising junior at Yale University, Chen has already laid part of his groundwork for the future. Last fall, he began a leave of absence from school to prepare for the 2022 Beijing Games.

But even the prospect of an Olympic title isn't enough to fully puncture Chen's cool.

"I thought I had a chance in 2018, that didn't happen," he said. "Of course I would love to win the next Olympics (but) if that doesn't happen, it doesn't diminish my legacy. … Whether or not I get that title at the Olympics doesn't define me as a person."

In Saturday's short program in Las Vegas, Zhou came as close to Chen as he ever has in his senior career at the U.S. championships: just six points or so separated the two skaters.

But after popping a quadruple flip into a single, and falling on a quad Lutz, the 20-year-old skater ended up finishing a distant second with 291.38 points. It is the world bronze medalist's third U.S. silver medal.

"I prepared the right way, my mind was in a good spot, but this is my first time trying that jump layout in competition," the Colorado Springs, Colorado-based skater said. "Going into that second (quad) Lutz, I had a moment of telling myself, 'Check yourself before you wreck yourself,' but then I checked myself for too long, I hesitated, and as a result I reached back too far and ended up wrecking myself anyway."

Brown, who trains in Toronto under coaches Tracy Wilson and Brian Orser, does not have Chen or Zhou's proficiency with quads. What he does have is superb musicality, edge control and performance skills, and all were on display in his free skate to Richard Rodgers' "Slaughter on Tenth Avenue."

Still, you have to land your jumps, and Brown fell on a quad toe attempt and popped a triple axel into a single. He earned 176 points for his free skate, and his 276.92 total gave him his third U.S. bronze medal.

"Overall, I'm pretty pleased with how the event went," said the 26-year-old skater, who had a superb short program on Saturday. "I'm a bit disappointed today. I have high expectations, and I fell a little bit short of them today."

Yaroslav Paniot, a two-time Ukrainian champion who now trains in California with six-time U.S. champion Todd Eldredge, landed three quads in his free skate to place third in the free skate and fourth overall.
Lynn Rutherford is a sportswriter based out of New York. She is a freelance contributor to TeamUSA.org on behalf of
Red Line Editorial, Inc.