Nathan Chen Wins Third Straight Figure Skating World Title In Stockholm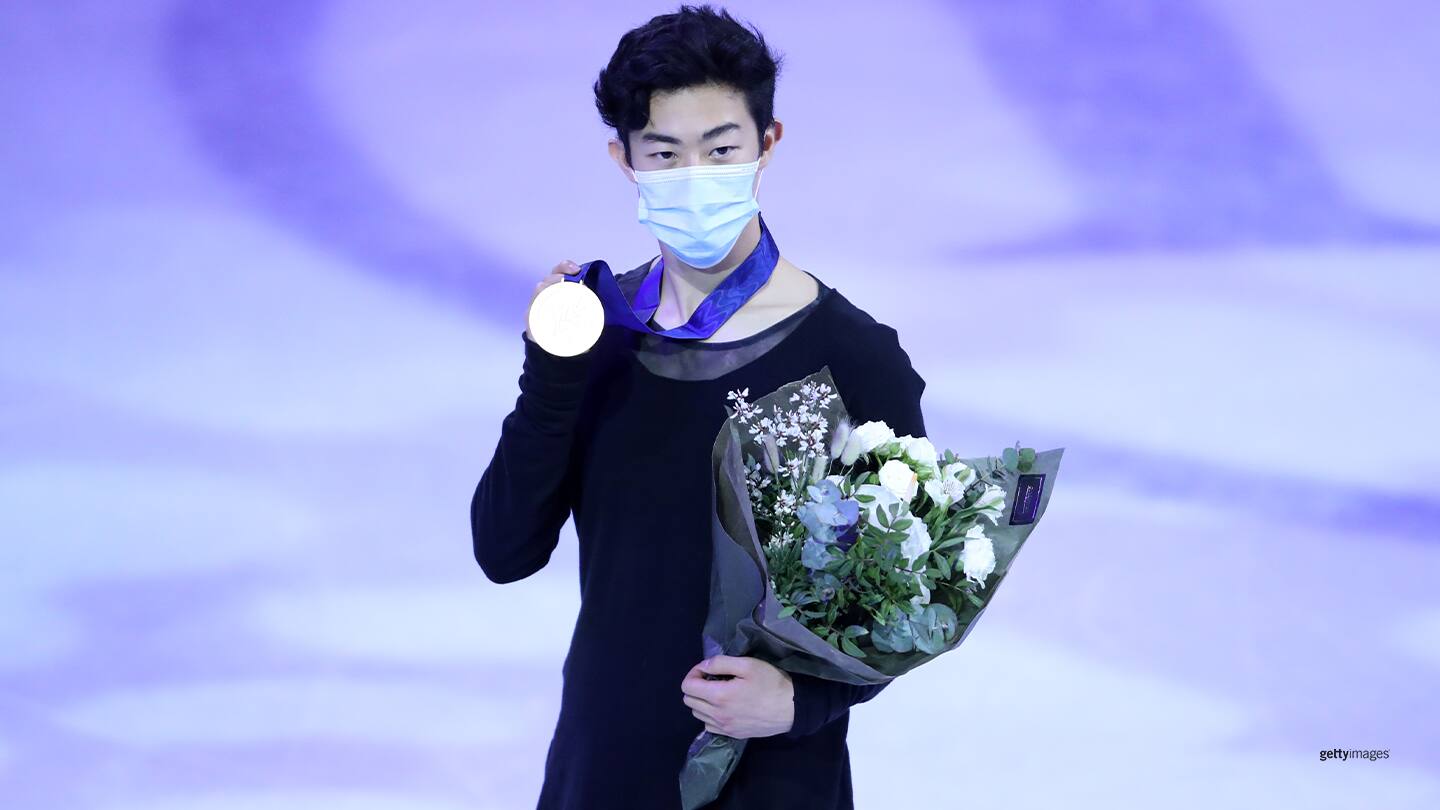 Nathan Chen poses for a photo during the medal ceremony at the ISU World Figure Skating Championships on March 27, 2021 in Stockholm, Sweden.
Nathan Chen used five quadruple jumps to overcome a deficit of 8.13 points after the short program and win his third straight world title on Saturday in Stockholm, Sweden.

"It's amazing, the fact that we're just able to be at this worlds after this unprecedented year," Chen, 21, said immediately after his victory.

"I tried to remind myself to enjoy being here, (because) I don't know how many other worlds I will be at," he added. "In doing that, I was able to be a lot more calm. Going the way it did, I'm very happy."

Chen arrived in Stockholm with a winning streak of 13 titles over the past three seasons. That seemed in jeopardy after Thursday's short program, when the five-time U.S. champion fell on a quadruple Lutz jump and placed third, behind two-time Olympic champion Yuzuru Hanyu and fast-rising teenager Yuma Kagiyama, both of Japan.

After his disappointing short, Chen told reporters he was considering taking the Lutz out of his free skate.

"If I'm not hitting it in practice, what's the point?" he said. "It will be a gameday decision."

He also claimed he likely would not try five quads in his free skate; the risk was too great.

"There's a fine line between what you are capable of doing and what you have to push to do," he explained.

But seconds after Chen took the ice on Saturday for his free skate to piano selections from minimalist composer Philip Glass, he hit one of his finest quad Lutzes ever to earn 15.44 points. Four more quads, including three in combination with triple jumps, followed. All five quads, plus a triple Axel jump, were clean. It was a truly rare display.

"This year (we) had to imagine an arena full of people," Chen said of the 2021 World Figure Skating Championships, which did not permit spectators and required athletes, coaches and officials remain in a strict "bubble" environment. "But ultimately, we are here to compete. I had to remind myself how lucky we are .... I would not say this is my best free skate ever, but it is definitely one that I will remember and cherish forever."

With his win, Chen becomes the first U.S. man since 1984 Olympic champion Scott Hamilton to win three consecutive world crowns. Hamilton won four world titles in a row from 1981-1984. In the post-event press conference, reporters asked Chen just how far the quadruple jump mania in men's figure skating would go. How many quads will be needed to win at the Olympic Winter Games Beijing 2022 next February?

"It's hard to predict the future," he replied. "I did attempt eight (combined over two programs) at the past Olympics and got fifth. Is it necessarily worth it to risk it? Not necessarily."

Chen then glanced at Hanyu, sitting to his left. The Olympic champion had just announced he would continue his pursuit of a quadruple Axel, a four-and-a-half revolution jump, next season.

"This guy is going to do quad Axel, so I've got to figure that out," Chen said.

Team USA has likely qualified three men for Beijing, because Jason Brown, the 2015 U.S. champion who placed third behind Chen and Vincent Zhou at the 2017 U.S. Figure Skating Championships, finished seventh in Stockholm after a clean and inspired free skate to "Slaughter on Tenth Avenue." In order to qualify three spots, the placements of a country's top two entrants cannot total more than 13.

As usual, Brown delivered challenging choreography with exceptional musicality and aplomb. All seven of his triple jumps, including two triple Axels, were clean.

He opened the program with a quadruple Salchow, deemed under rotated by the technical panel. Still, it was an important step for Brown, who at age 26 has yet to land a clean four-revolution jump in competition.

"Every single day we train both (quad Salchow and toe loop), all the time," Brown said. "At this time, Salchow is more consistent than the toe, so we decided to throw it in. The programs are choreographed so they are interchangeable. I'm striving hard to get them both in, as soon as possible."

While Chen's win, and Brown's top-ten placement, are causes for celebration, there is one more step needed to ensure the three men's spots in Beijing. Because the third U.S. man in Stockholm, U.S. silver medalist Zhou, failed to qualify for the event's free skate, Team USA must send a skater other than Chen or Brown to compete in the Nebelhorn Trophy in Oberstdorf, Germany, this fall, to qualify the third entrant.
Lynn Rutherford is a sportswriter based out of New York. She is a freelance contributor to TeamUSA.org on behalf of
Red Line Editorial, Inc.