Nathan Chen in Control, Wins Sixth Straight U.S. Figure Skating Championships Gold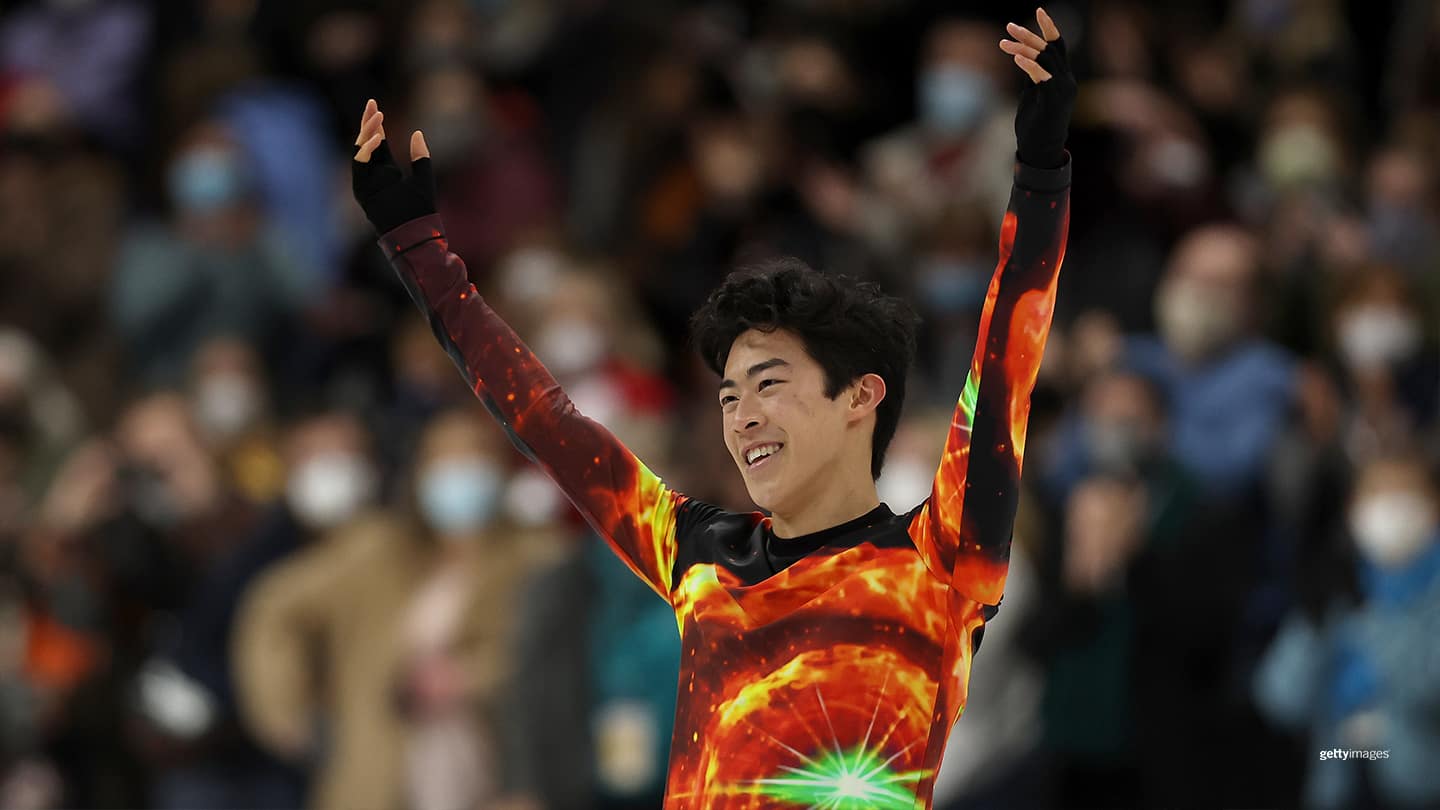 Nathan Chen skates in the Men's Free Skate during the U.S. Figure Skating Championships on Jan. 9, 2022 in Nashville, Tennessee.
NASHVILLE, Tenn. — An imperfect but still commanding Nathan Chen won his sixth consecutive men's title at the 2022 U.S. Figure Skating Championships on Sunday.

Let that sink in — six in a row, the first earned in 2017 when he was just 17. The last man to claim that achievement is Dick Button, winner of seven consecutive U.S. titles from 1946-52.

"I've had really great people in my life and career that have helped me get to where I am now," said Chen, 22.

Despite two falls in the free skate, Chen outclassed the competition. He had 212.62 points and finished with a 328.01 total. Ilia Malinin, a 17-year-old making his senior nationals debut, was a surprising silver medalist at 302.48, while Vincent Zhou earned the bronze with 290.16.

Chen will make his second Olympic appearance in Beijing. Joining him on the team announced by U.S. Figure Skating are Zhou and Jason Brown, the fourth-place finisher at the U.S. Championships.

A Salt Lake City native, Chen gave special credit to Rafael Arutunian, the Armenian-born coach who trains him in Irvine, California.

"He's been pushing me every single day," Chen said. "I moved to him when I was around 13, so close to 10 years that I've been working with Rafael. A lot of the success I've had is definitely a credit to him. I can't do this all by myself."

Arutunian, a famous taskmaster, is likely not satisfied with the free skate his top pupil produced in Nashville.

Reprising his 2019-20 program to selections from the 2019 Elton John biopic "Rocketman," Chen opened with a strong quadruple flip-triple toe loop combination before falling on his next jump, a second quad flip.

He landed three more quads plus a solid triple axel, but he wasn't done falling: the three-time world champion tripped over his blades executing the hip-hop-style step sequence that closes the program. He exited the ice shaking his head and laughing.

"Silly things happen all the time," Chen said. "Am I to expect that? Probably not. It was kind of a dumb little moment. … I lost my footing. It is what it is, just don't do that again."

For Brian Boitano, the 1988 Olympic champion and winner of four straight U.S. titles (1985-88), the moment humanizes Chen.

"We saw a little bit of his attitude and personality there," Boitano said. "Nathan is a perfectionist — he has always been, since he was a little boy and I first met him. I'm guessing he probably cares more about making mistakes on super-important things, and this was just a silly mistake. The steps, though, raised the bar for me. It was a fresh piece of his program I really liked."

Even after his win, Chen — who returned to "Rocketman" just weeks before the U.S. Championships — would not say whether he planned to skate the program in Beijing, although he delivered a hint.

"I love this program, it's a lot of fun to perform," Chen said. "I can definitely, definitely get into this program. When the time comes, I will make that decision."

Chen's win was, of course, expected, but little else followed form Sunday.

Malinin, a two-time winner on the Junior Grand Prix this season, grabbed the silver medal with a remarkably clean, four-quad program that earned 199.02 points. He was in third place after the short program.

"Even though I've trained for this moment to do the best I possibly can, I was a bit surprised about how easily it all came together," Malinin said.

Malinin, who has won U.S. titles at the juvenile, intermediate and novice levels, is the son of two Olympic figure skaters, Tatiana Malinina and Roman Skorniakov, who represented Uzbekistan. He is coached by his parents in Reston, Virginia, and also travels to California occasionally to work with Arutunian.

"I think Ilia is miles ahead of where I was in 2016, just based on the quality," Chen said. "I'm really excited to see how he continues growing. He definitely has an amazing future ahead of him."

After a brilliant short program Saturday, Vincent Zhou left the ice disappointed after his "Crouching Tiger, Hidden Dragon" program, and with good reason: the 2019 world bronze medalist, who has placed second to Chen three times at the U.S. Championships, had big trouble on several of his jumps, including a fall on a quad lutz. His 177.38 points put him fourth in the free skate, although he was able to hang on for the bronze medal.

The Colorado Springs, Colorado-based skater admitted his nerves had gotten the best of him.

"My body froze up on me and I couldn't get it to respond," said Zhou, 21. "But my team and I are evaluating. ... (We will) go home, work out the kinks and come back as a better, well-oiled machine."

Brown performed a nuanced and heartfelt free skate to music from "Schindler's List," with difficult transitions, stunning spirals and matchless musicality — but he fell on his opening quad salchow attempt and did not try another. Still, his clean triple jumps, including two axels, helped give him 188.94 points for third place in the free. He finished fourth overall with 289.78 points.
Lynn Rutherford is a sportswriter based out of New York. She is a freelance contributor to TeamUSA.org on behalf of
Red Line Editorial, Inc.