For Figure Skater Audrey Shin, The Sky Is The Limit In Las Vegas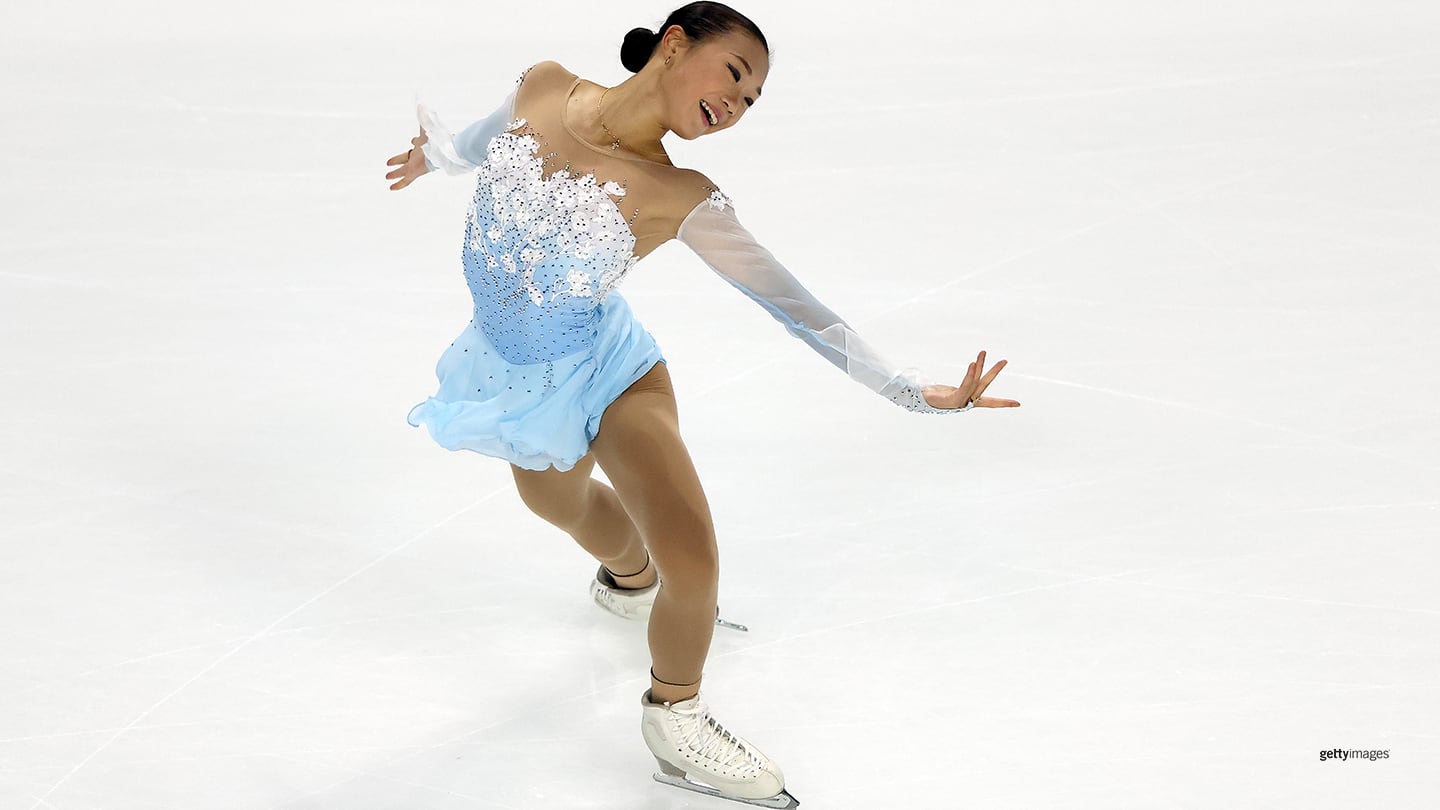 Audrey Shin competes at the ISU Grand Prix of Figure Skating on Oct. 23, 2020 in Las Vegas.
When skaters take the ice for the women's short programs at the 2021 U.S. Figure Skating Championships, part of Team USA's Champions Series, presented by Xfinity, at Las Vegas' Orleans Arena on Thursday, all eyes will be on reigning two-time champion Alysa Liu, 2018 winner Bradie Tennell, three-time medalist Mariah Bell — and Audrey Shin, a 16-year-old from Long Island, New York, competing as a senior at nationals for the first time.

Shin vaulted into that rarified company in October, when her clean and graceful programs at Skate America, also held at Orleans Arena, earned her the bronze medal behind Bell and Tennell.

But there are no overnight success stories in figure skating, and Shin's route has already included relocation to Southern California in 2016, her entire family's move in 2018 to Colorado Springs, Colorado — and a key stop at the Youth Olympic Games in Lausanne, Switzerland, almost exactly one year ago.

"I still say Youth Olympics is my favorite competition, by far," Shin said. "I was there for, I think, almost two weeks, and the whole time is kind of blur now. Everything happened so fast. I wish I could go back and slow down the time I was there."

It wasn't Lausanne's spectacular scenery, or even her solid seventh-place finish, that so inspired Shin. Seeing Olympic flags waving, meeting young athletes from around the globe, reignited her love of skating after a bitter disappointment earlier that season.

"I didn't make it to nationals," Shin said. "That was a huge disappointment, because I had just won the junior silver medal at nationals (in 2019). I was really expecting to go to my first senior nationals last year."

Only the very top-ranked skaters obtained byes through to the 2020 U.S. championships. Shin had to earn her way with a top-four finish at her sectional championships. Instead, she placed sixth.

"When I look back at my performances there, I didn't fall, I didn't make any huge mistakes, but my jumps were not fully rotated," she said. "My speed was not good. I was holding back a little bit. That made the difference between going, and not going."

It had been a rough season. Surgery to remove a ganglion cyst on Shin's right ankle in May 2019 delayed her summer training. Boot and blade problems further hampered her performances that fall, contributing to a disappointing 12th-place finish at a Junior Grand Prix event.

"After surgery, I had to learn how to walk again. It was not easy," Shin said. "But for sectionals, I thought, 'I can land my triple lutz, I can get through this competition and make nationals,' and it didn't go as planned. … After that competition, I really questioned myself: 'Am I going to continue skating? Should I just quit right here?'"

Fortunately, she still had Lausanne to look toward. Staying in an Olympic Village, wearing team outfits, marching in the opening ceremony, fueled her ambition.

"It really felt like the Olympic Games, it felt different than any other competition," Shin said. "When I got home, I had new motivation to go for the 2022 Olympic Games, or any Olympics I could get to; I had a new goal."

Tammy Gambill, who has coached Shin in Colorado Springs since August 2018, was a team coach in Lausanne.

"All of the kids seemed to really thrive in the atmosphere," Gambill said. "They got to do little side trips together. The team leaders took them to the Olympic Museum there in Lausanne, and that was fascinating. It made Audrey even more hungry to go to the big Olympics."

Since Lausanne, Shin has, in Gambill's words, "come on like gangbusters." Invited to a U.S. Figure Skating training camp in late January, she impressed officials enough to be named an alternate to the 2020 junior worlds team. When Broadmoor World Arena was temporarily closed due to the pandemic this spring, she and the rest of Gambill's students — including Karen Chen, the 2017 U.S. champion and a 2018 Olympian — met in the park for workouts.

"We would rotate our jumps off ice and do core strengthening exercises, so when we got back on the ice we wouldn't have such a hard time," Shin said. "Once I got back on the ice, I feel like I fell in love with (skating) again. Tammy really pushed me to get my jumps back as quickly as I could and get new programs, even though we were wondering what competitions we would even be going to, because most of them got cancelled."

Shin also worked on two jumps she is convinced she will need to qualify for one of the likely two or three U.S. women's spots at the 2022 Beijing Olympics: triple axel and quadruple toe loop.

"I hope next season I can put them in my program, so I can really try to make that team," she said. "I know Mariah and Bradie have that technical (score) and artistry (score), and if I really want to secure my spot on the team, I need to get those jumps."

The teenager trains on a jump harness 10 minutes a day, splitting the time between the two jumps. She prefers training them without the harness, reasoning that she will have to land them without support eventually.

"I don't have any fear doing those jumps, I actually enjoy it, but this past week I am not working on them, because I want to focus more on programs for nationals," Shin said. "Once this competition ends, I will really grind those two jumps. Tammy works with me and records the jumps on her iPad, so we see how much more airtime I need and stuff like that."

If Shin does land one or both jumps in competition, she will join a group of young skaters, including Liu, South Korea's Young You and a host of top Russian and Japanese competitors, who include triple axel and/or quads in their programs. Many of these skaters, including 15-year-old Liu, are finding it difficult to maintain the jumps and stay injury-free as their bodies mature.

There, the 5-foot tall Shin hopes she has an advantage.

"I'm 16 and I don't think I am going to be growing much more," she said. "Staying injury free is the biggest goal for every skater, but I hope I can be healthy and not get hurt. I know I can get these jumps."

Shin competed at the Peggy Fleming Trophy, held virtually in July, as well as two club-level competitions in Colorado. After the Junior Grand Prix was cancelled, her main competitive focus became another virtual competition, U.S. Figure Skating's International Selection Pool (ISP) Challenge. There, she placed sixth overall, earning the trip to Skate America.

"We really took it day-by-day," Shin said. "I started to feel more comfortable with everything, especially my jump technique, and that's what helped me develop confidence. Right before Skate America, I skated four sessions a day, and each session I would do sections over and over again, until I felt really good. I don't think I've ever felt that ready before."

"I always feel like, if you do that many clean programs every day, you're not going to mess up that badly, unless something catastrophic happens," Gambill said. "At Skate America, she was just in a really good place mentally and physically."

Performing well as an unheralded underdog is one thing. With all eyes on her this week, is a Vegas encore possible?

"I know people are expecting more now, but I'm not putting that sort of pressure on myself," Shin said. "There is really not a top medal goal I have; I'm just going to try to skate the best I can. From there, it is out of my hands."

Gambill is betting Shin will again come up a winner.

"Audrey is a well-rounded skater," she said. "She has a passion in her skating and she has a hunger. You can't give (athletes) that desire; that's something that has to come from deep inside."
Lynn Rutherford is a sportswriter based out of New York. She is a freelance contributor to TeamUSA.org on behalf of
Red Line Editorial, Inc.