Andre Shelby Made History As First Black U.S. Paralympic Archer, But That Was Never The Plan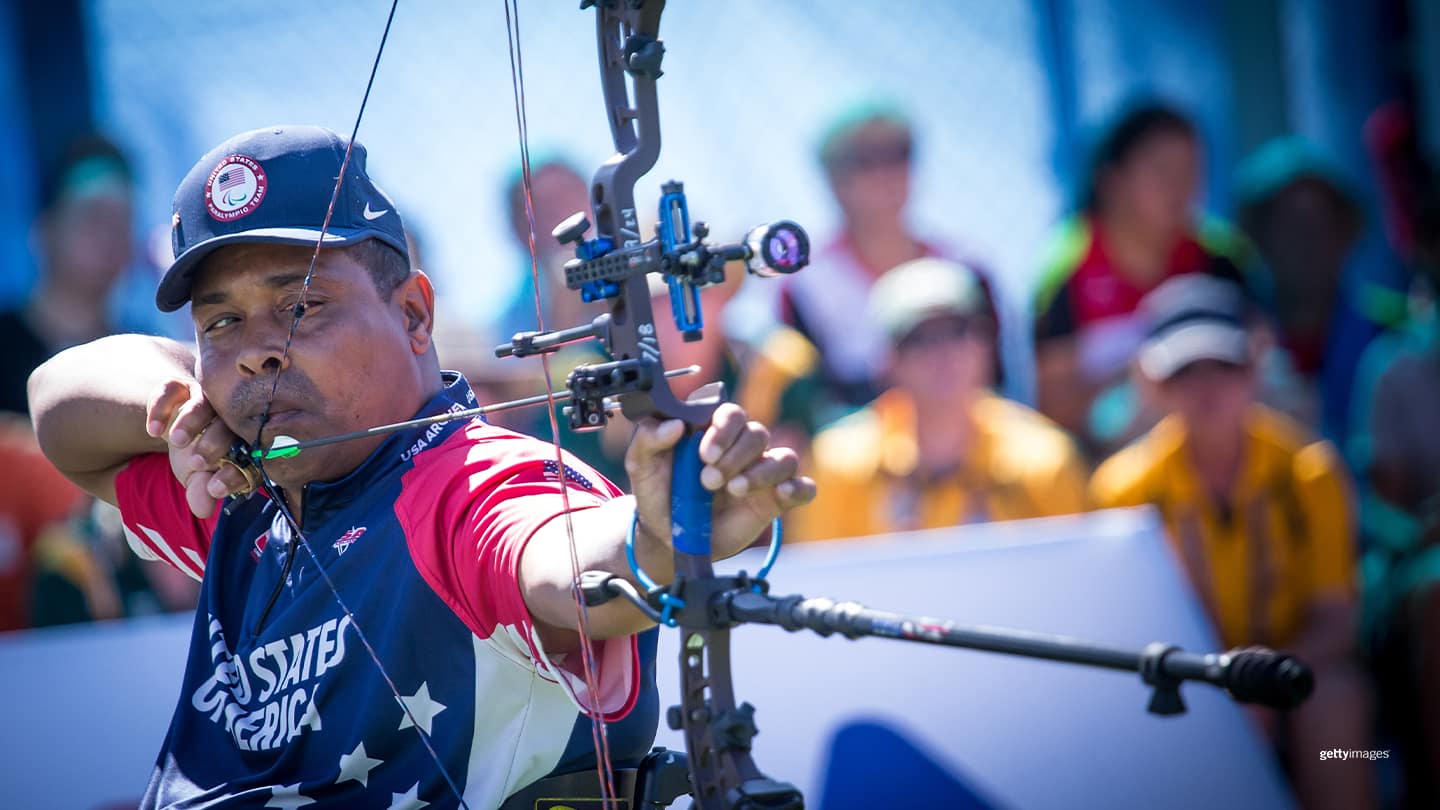 Andre Shelby shoots at the 2017 World Archery Para Championships on Sept. 17, 2017 in Beijing, China.
Before the day that altered the course of Andre Shelby's life, he had at least a vague idea of what the future would hold.

Shelby had just re-enlisted for what he expected to be his final two years in the U.S. Navy, which he had joined immediately after graduating from high school in 1985. Stationed at Little Creek, near Norfolk, Virginia, he oversaw the cranes, forklifts and other heavy gear aboard his ship and planned to follow that path as a heavy equipment operator once he retired and entered civilian life.

Those plans disappeared in an instant as Shelby rode a friend's motorcycle through an apartment complex one weekend day in 2004. As he swerved to avoid a car backing out of a parking spot, he lost control of the bike and went airborne. The motorcycle smashed into him, severing his spinal cord and leaving him paralyzed from the chest down.

In the days immediately after the accident, he said, "I was just in the dark about everything. I guess I kind of had a little breakdown at that point."

Eventually, sports helped him find a path forward in a way he never could have imagined. By 2016, he was atop a podium in Rio after winning a Paralympic gold medal in archery, a sport he had never tried before his injury, crowned the best in the world in a competition he hadn't even been aware of before the accident.

Growing up in Indiana, Shelby played sports year-round, but football was where he really stood out. He played all over the field for Jeffersonville High, spending time as a tight end, kicker and running back at various points, and was named an all-conference defensive lineman his senior year.

That kind of versatility foreshadowed his introduction to adaptive sports at the Veterans Administration hospital in Tampa where his recovery began. Hospital staff repeatedly urged him to explore the sports program administered by the Paralyzed Veterans of America, and he eventually heeded their advice, participating in everything from softball to table tennis to billiards.

"Somebody at one point said, 'Try it. If you like it, keep doing it as recreational. If you don't like it, you can say you did it and just keep moving on,'" Shelby said. "So that was pretty much the whole concept whenever I tried something."

His mind opened by that experience, Shelby paid attention when Para archer Jerry Shields demonstrated his sport during a similar weekly program a few years later at Brooks Rehabilitation Hospital in Jacksonville, Florida. Before that day, Shelby had never picked up a bow in his life, but something about it struck a chord.

"It was pretty challenging, and it was something you had to do — it wasn't as a team," he said. "There was just something about, I'm able to do this, and just to have fun with it, and the technology of the bows, how they work — once you think you've learned one thing, there's a thousand other things you need to learn about it."
Marc Lancaster is a writer and editor based in Charlotte. He is a freelance contributor to TeamUSA.org on behalf of
Red Line Editorial, Inc.