In Honor Of Father's Day, The Armless Archer, Matt Stutzman Talks Life As A Single Dad To Three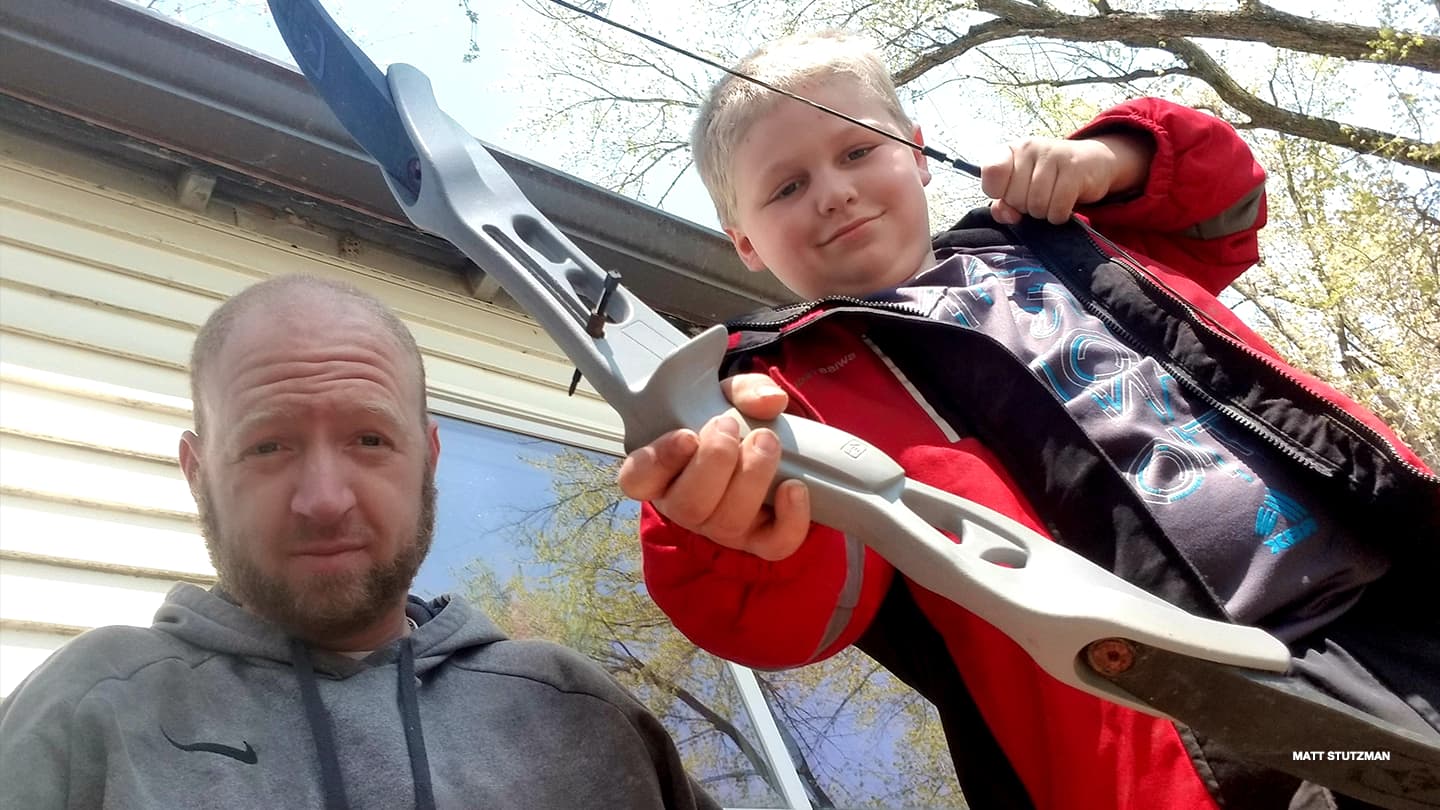 To many people, two-time Paralympic archer Matt Stutzman — who was born without arms — is best known as "The Armless Archer." But at home — where he has spent much of the past year — he goes by the name, "Dad."
The single father to three lives in Iowa, where he grew up, and where he now raises his boys: Carter, 14; Cameron, 13; and Alex, 8.
Growing up on a farm with brothers, Stutzman spent a lot of time outdoors hunting and fishing. With a desire to accompany his dad on bow hunting excursions, a young Stutzman took up archery, and later used it as a way to put food on the table for his own family.
He parlayed those shooting skills into a silver medal at the Paralympic Games London 2012 and four years later was once again named to the team.
Earlier this month he punched his ticket to Tokyo after taking first place at the U.S. Paralympic Team Trials in the compound men's division
In addition to securing his spot at his third Paralympics, Stutzman also set a world record with a 1398/1440 double 50m round (2x72), beating the old record by 20 points.
Now back at home in the Hawkeye State we talked to the car buff about what he will be doing for Father's Day, and the one thing he would change about his life if he could. Hint: it's not what you might think!
What will you be doing on Father's Day?
I'll be in Elden, Iowa with my boys racing my car — drag racing on Friday and rally racing on the Father's Day. This specific race is the Redneck Rally Race — think of it like a dirt bike track, but for cars. I built the engine myself and race about a half a dozen times a year.
What are some of your favorite Father's Day memories?
One year the boys and I went up in the mountains in Utah. I like the mountains a lot. That was amazing just fishing and going out exploring.
I remember another Father's Day when I was about 11 we all pitched in and got my dad a fishing pole. He liked the gift so much that he had plans that day, but he canceled them and we all went fishing instead. It was so much fun.
Growing up, what was your dad like?
My dad was pretty amazing. He is a lot of the reason why I am who I am today. I am trying my best to be like my dad and hopefully my sons will want to be like me someday.
How would you want your kids to remember you?
I would want them to remember that I was a good dad — the best dad I could possibly be. I would want them to look back on my life and realize that I put it all out there and did the best that I could to raise them.
What is the best thing about being a dad?
Having the boys look up to what I'm doing and having them be proud of what I do. I've also noticed that they don't see me as someone with a physical disability; they just see me as a normal, average person, which is pretty amazing.
What's the biggest lesson you try to teach your kids?
I want them to grow up being good men. I don't want them to be lazy. I had the perfect excuse to be lazy and I chose not to. You can go out and get whatever you want, if you just work hard at it. If I can portray that to them — and they can actually learn that — then my work will feel like it is done.
You have said that you want your sons to know how to cook and clean and do jobs around the house. What's one thing they have taken to that's surprised you the most?
Cameron is actually a really good cook. If he could he'd be Gordon Ramsey. He prefers house stuff to being outside. He doesn't like bugs, and working on cars, which is fine because everyone is their own person.
What is the one underrated but important skill every person should possess?
Cooking. Everyone needs to eat. I like to play around with food but I don't actually like cooking. My specialty is making burgers, steaks and chicken.
One thing that I learned from my parents that I carry over into today is everyday we sit down and have a meal together as a family. And then we all help clean up. I did that growing up, and I do that now. Cooking is an opportunity for us all to hang out and do stuff together.
You grew up in Iowa. Is your kids' childhood similar to your own?
The only difference between my childhood and their childhood is when I was growing up I lived on a farm with animals. We don't have any animals where we live, but my boys would like to get animals. My job requires me to travel a lot, and animals need care everyday. Maybe when I quit archery and settle down, animals can be in the future. But as of now, they're on hold.
Is there anything you have found difficult as a dad?
How do I explain it? Here is a good example. Alex likes to shoot bows, and I am trying to teach him to shoot a bow with his hands. But he wants to use his feet, because that's what he sees me do. So trying to convince him to use his arms, and then trying to explain how to do that. That is probably the most difficult thing is teaching the boys how to do stuff.
During the pandemic did you have to homeschool the boys?
Thankfully the school didn't make us do anything mandatory because not everyone in the city had access to internet. We were doing more life skills, like this is how you build a fire, this is how you filet a fish, this is how you change oil in a car. Things they're going to need to know when they get older. Matt's boot camp — where hands-on experience is never a real thing. [Laughs]
What is one of your earliest memories as a dad?
I remember after Carter was born I didn't know how I was going to take care of him yet. I grew up with eight brothers and sisters, so I'd been around babies, but I was very nervous about everything.
I remember just before he learned to walk I would carry him around a lot — which is pretty amazing to think how is a guy without arms going to carry a baby. But he adapted to me really easily, just like I had to adapt to him. But if people picked him up, he didn't want to be held like normal and wanted down. He wanted to be held like I held him; otherwise he thought it felt weird.
Was there something your parents tried to teach you when you were younger that you didn't understand until you became a dad?
Yes, lots and lots of things. [Laughs] One of many examples is tying my shoes. I never understood at a young age why they taught me how to tie my shoes and then they would make me tie my shoes — even if we were running late. I would be like, why don't you just tie them for me, we could be done faster and I wouldn't be struggling right now? But by them teaching me that, I understand now that they were trying to teach me to never give up.
Do any of the boys show signs of wanting to follow in your footsteps?
Alex wants to be a professional archer and runs around telling people I'm famous. But I don't think I'm famous, and I never tell people I'm famous. Cameron doesn't know what he wants to do because he's still young. And Carter is starting to get into the car world a little bit, but he's also very school smart. I'm trying to push him to go to college and do a computer job maybe, or something that he would really love to do, versus something he thinks I want him to do.
If you had the power to change one thing in your life, what would it be and why?
I would change my height. I would want to be like 4 inches taller. Because reaching things on the top shelf is always a pain because I don't have arms. So if I was just a couple inches taller, I could reach the shelf better. And I wouldn't have to stand on stuff. That sounds really weird, but that's what I would wish for. Not arms. I would not want to have arms!
Lisa Costantini is a freelance writer based in Orlando. She has covered Olympic and Paralympic sports for various publications, and has contributed to TeamUSA.org since 2011.