News
Matt Stutzman
Eric Bennett
Seven Archers Qualify For U.S. Paralympic Team At Final Stage Of Trials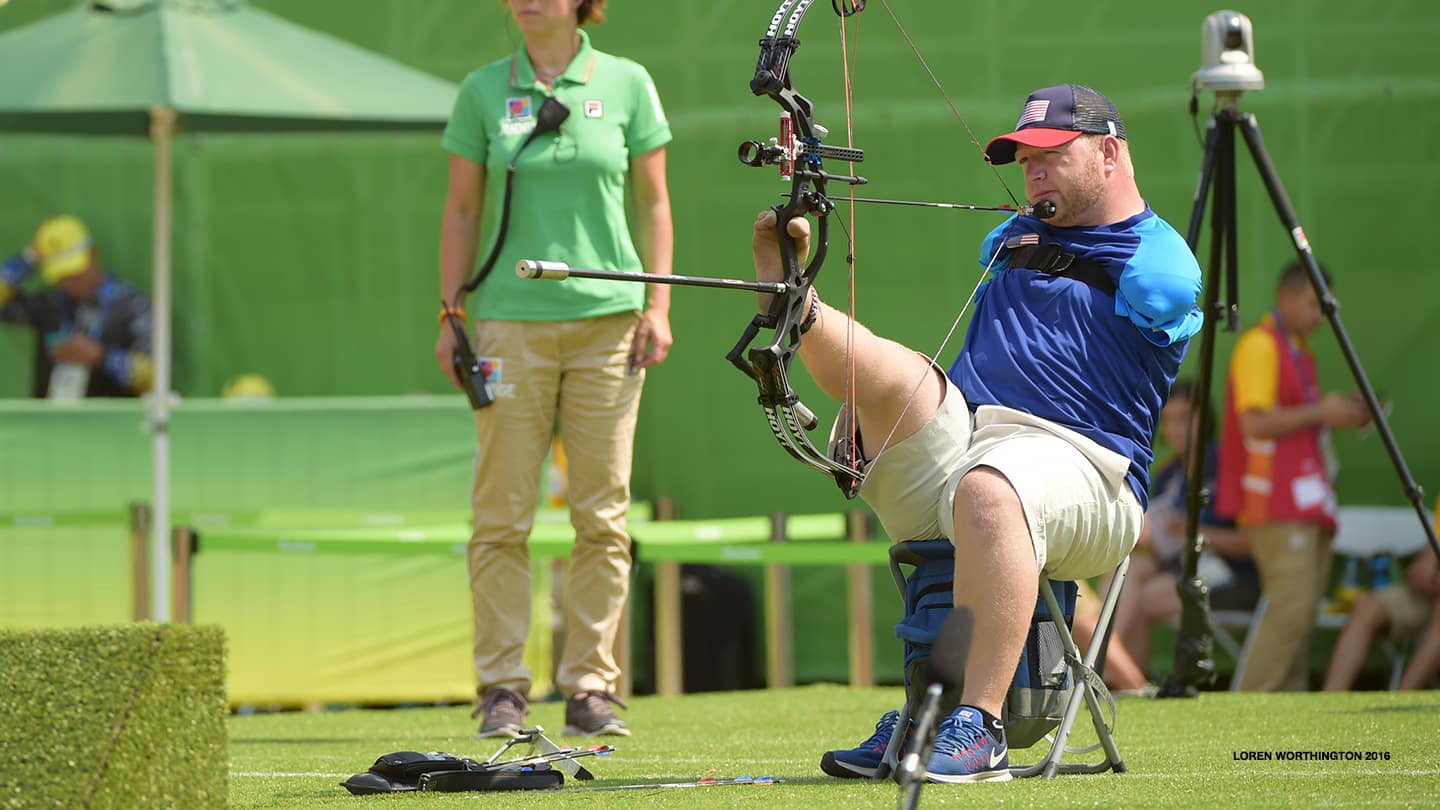 Matt Stutzman competes at the Paralympic Games Rio 2016 in Rio De Janeiro, Brazil.
An action-packed month of U.S. Paralympic Team Trials is over for U.S. archers, and the end result is seven athletes who have booked their places at this summer's Paralympic Games Tokyo 2020.

From Stage 1 on May 1 to the conclusion of Stage 3 Thursday in Chula Vista, California, the competition has left just the best of Team USA with Paralympic berths. Qualifying in the compound men's division are Paralympic medalist Matt Stutzman, Paralympic gold medalist Andre Shelby and Paralympian K.J. Polish. In recurve men's, Kevin Mather and three-time Paralympian Eric Bennett ran 1-2. Paralympian Lia Coryell secured Team USA's spot in W1, while in women's recurve, 21-year-old Emma Rose Ravish will make her Paralympic debut.

Stutzman not only qualified for his third Paralympic Games, he did so while setting a world record with a 1398/1440 double 50m round (2x72), breaking the old record by 20 points. Stutzman, who goes by the nickname "The Armless Archer," consistently led the way in the compound men's field and took first place. Stutzman, 38, has one Paralympic medal to his name, won in London in 2012.

Shelby, 54, is the reigning Paralympic champion and came in second at Trials. Shelby came to Para archery relatively late in life, first competing internationally in 2013. He quickly rose up the ranks, winning Parapan American gold in 2015 and qualifying for the Games. In Rio, he won it all as a No. 12 seed.

Polish, 38, suffered an upset in those 2016 Games and finished ninth in his Paralympic debut. Shooting since the age of 3, Polish became a world champion in 2005 with the U.S. team. Polish came into Stage 3 of Trials in fourth but was able to leapfrog world champion Ben Thompson to finish third.

Mather, 38, trailed Bennett coming into Stage 3 but was able to finish first and qualify for his first Paralympic Games. A former triathlete and skier, Mather had never shot outdoors until eight weeks before he made his world championship debut in 2017. By 2018, he set five world records at a tournament.

The only thing missing from Bennett's resume is a Paralympic medal. Bennett came very close in 2012, finishing fourth, but will try again at a fourth Games. Bennett was a world champion in 2015 and a four-time national champion. He has the unusual distinction of having competed in both recurve and compound at the Paralympic Games.

Few archers have had as tough a road to Paralympic qualification as Coryell, 56, who battled through numerous health problems including a COVID-19 diagnosis in November. But Coryell persevered to earn the spot she herself secured for Team USA at the Para Pan American Championships. Coryell, 56, had never held a compound bow until 2014, but made her Paralympic debut by 2016.

One of the quickest risers in the Para archery world is Ravish, who learned just hours after her first major archery competition in 2019 that she was headed to the world championships. Since then she's become a national record holder and now achieved her goal of making it to the Paralympic Games.

Team USA could still qualify quota spots in compound women's and W1 men's, divisions that were won by Wendy Gardner and Eric Lindsay, respectively.
Todd Kortemeier is a sportswriter, editor and children's book author from Minneapolis. He is a contributor to TeamUSA.org on behalf of Red Line Editorial, Inc.