Through Blood And Blisters, Kevin Mather's Practice Pays Off With Archery Gold Medal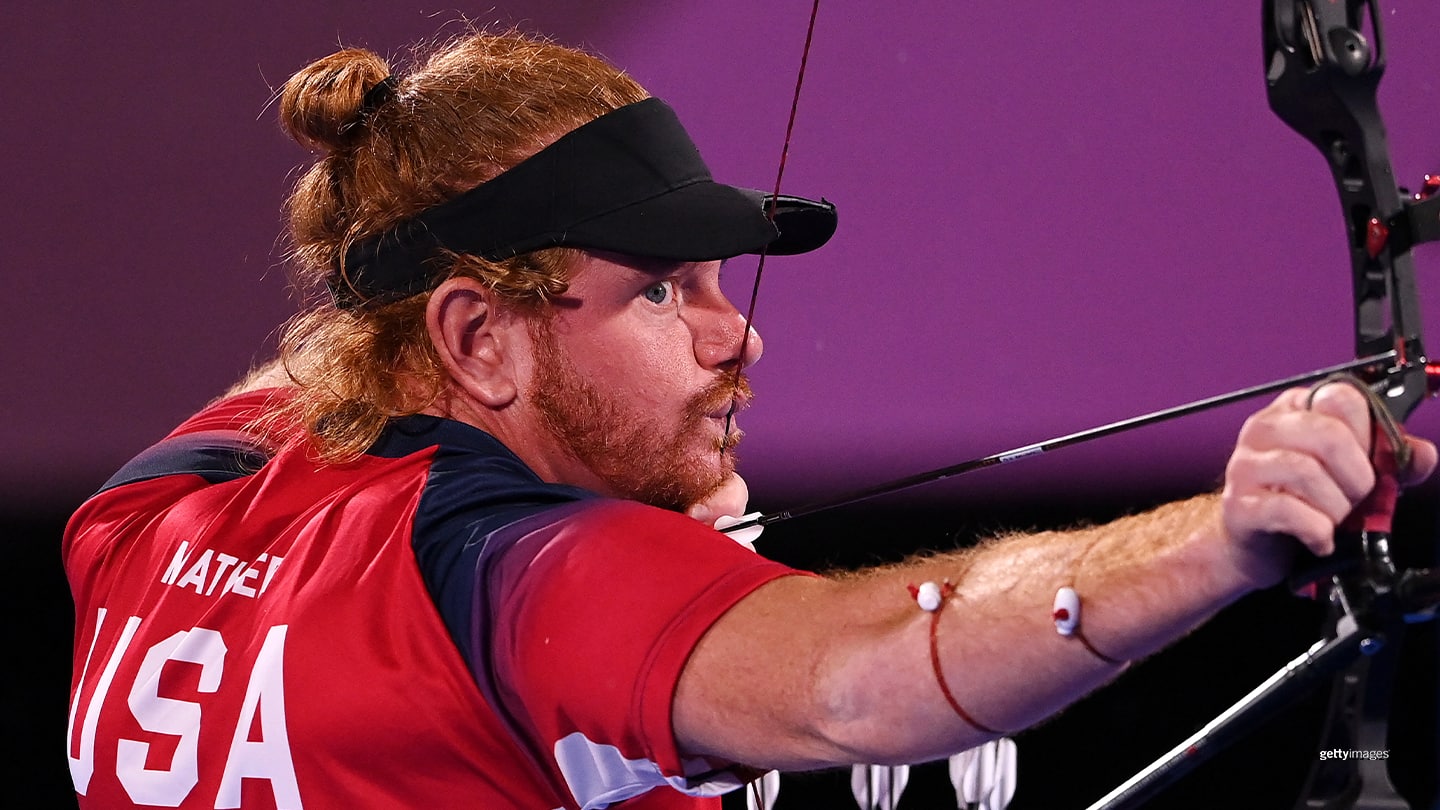 Kevin Mather competes during the men's individual recurve final at the Paralympic Games Tokyo 2020 on Sept. 03, 2021 in Tokyo.
The U.S. won its first archery medal of the Paralympic Games Tokyo 2020 on the penultimate day of competition on Friday, as Kevin Mather, a former Ironman triathlete and member of the U.S. Paralympic alpine skiing team, struck gold in the men's individual recurve W2.

Mather defeated China's Zhao Lixue in the final by a score of 6-4. It was a surprise performance from the Santa Clarita, California, native, who entered the Games ranked No. 10 in the world and having previously only won silver in the team event at the 2017 world championships.

"It feels heavy at the moment. It feels incredible," Mather said of his gold medal. "This is my first time seeing one from these Games up close. I'm just blown away.

"I'm glad that my training was enough. Often (there are) times you put in the work and shoot until your fingers are calloused, blistered and bloody, and you hope when you show up on the day that you put in enough work. This medal proves that to me."

Mather's victory marked the first time a U.S. Paralympic athlete won a medal in the individual re-curve since Lindsey Carmichael won bronze in 2008. He won four additional matches earlier on Friday to advance to the final at Yumenoshima Park Archery Field, defeating Romania's Eugen Patru in the round of 32, Iran's Gholamreza Rahimi in the round of 16, Turkey's Sadik Savas in the quarterfinals and India's Harvinder Singh in the semifinals.

Mather led early on in the final, having the chance to win quickly, but then the contest went to a last-set arrow-call before he was able to close it out.

"It's always falling back to what works. I've shot so many hundreds, thousands of arrows, I know what works by now," he said. "I know people are watching back home and they're going nuts. There's so many moments to soak up here, but this definitely is a big one."

Mather, who was hit by a truck in 2009 while on a training run, shot a bow for a year while grow-ing up but didn't get serious about archery until 2017. His Paralympic debut four years later could not have gone much better.

"This is the Paralympic Games. I'm under the spotlights, I've got the cameras in my face, I got people yelling, music … this is like a fantasy land, and I'm the one shooting on the stage," he re-marked.

Meanwhile, four-time U.S. Paralympian Eric Bennett won his first match in the individual recurve W2 on Friday, beating Australia's Taymon Kenton-Smith 6-4, but then fell to Zhao in the next round by the same score.

The archery competition in Tokyo will wrap up on Saturday with the team recurve event. The U.S. will start off the day against the Russian Paralympic Committee and will be represented by Emma Rose Ravish and Bennett.
Want to follow Team USA athletes during the Paralympic Games Tokyo 2020? Visit TeamUSA.org/Tokyo-2020-Paralympic-Games to view the medal table and results.
Stuart Lieberman has covered Paralympic sports for 10 years, including for the International Paralympic Committee at the London 2012, Sochi 2014 and PyeongChang 2018 Games. He is a freelance contributor to TeamUSA.org on behalf of
Red Line Editorial, Inc.