Nick Cunningham Making The Most Of Move From Bobsled Driver To Coach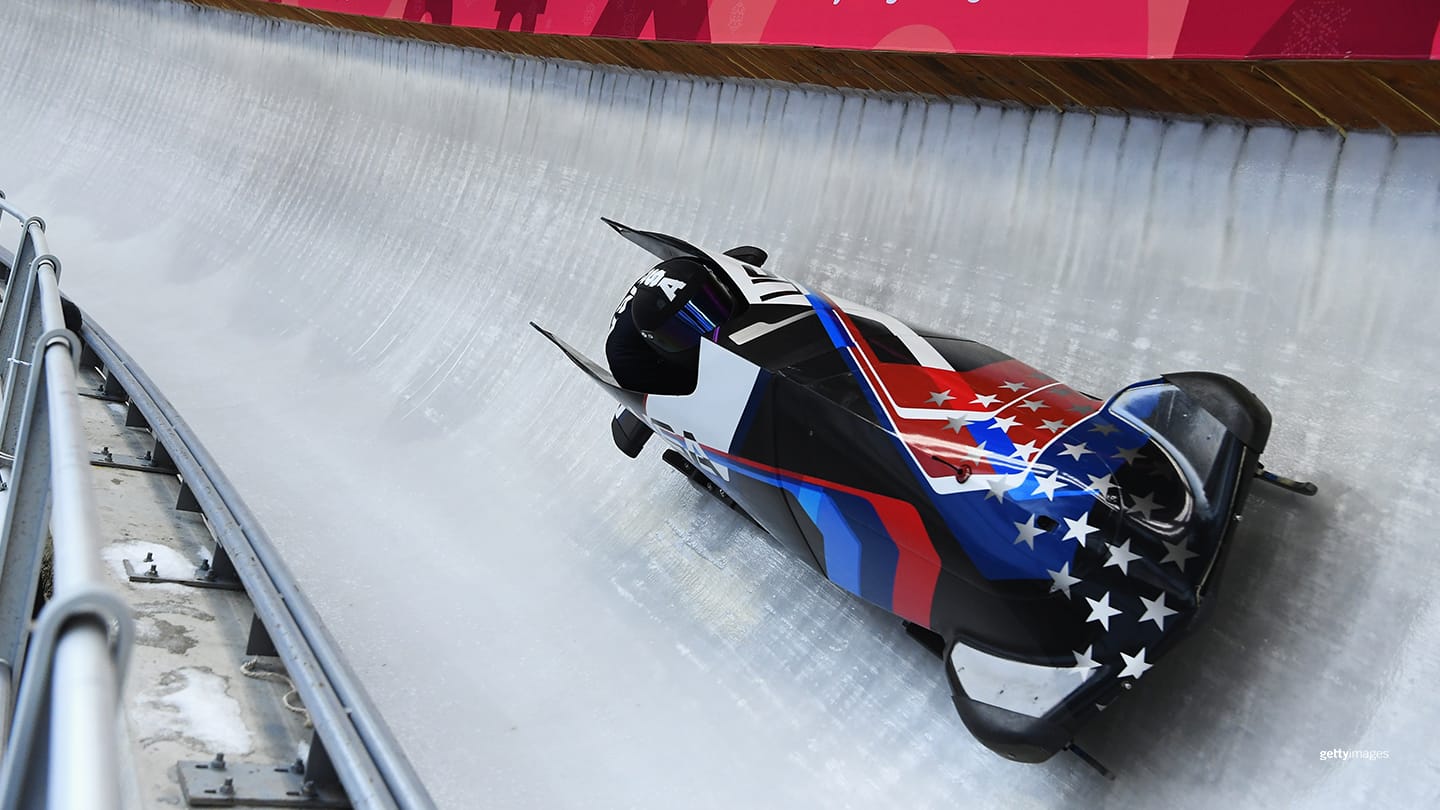 Nick Cunningham during training at the Olympic Winter Games PyeongChang 2018 on Feb. 16, 2018 in PyeongChang, South Korea.
When Nick Cunningham began working with Lolo Jones on her form, he wasn't sure how receptive she would be.

After all, Jones has made two Summer Olympic teams as a hurdler and one Winter Olympic team as a bobsled push athlete.

"I'm thinking of this as 'I'm trying to change Steph Curry's 3-point shot over here - I'm trying to tell Lolo Jones how to run,'" said Cunningham, a three-time Olympian who has been working with the USA bobsled team as a coach since 2018. "Well, I'm either going to be looking for a job after this, or it's going to work out."

It worked out.

Cunningham's insight into the way Jones accelerated was a "game-changer in practice," she said.

Jones earned a seat behind Kaillie Humphries, winner of two gold medals and one bronze at the Olympic Games, in the two-woman bobsled World Cup finale in Igls, Austria last weekend. They won the gold medal, marking the first podium finish this season for Humphries in the two-woman event. Elana Meyers Taylor, also a three-time Olympic medalist, and Lake Kwaza of Team USA placed second.

With that performance under her belt, Jones was selected to race with Humphries in the World Championships starting Friday in Altenberg, Germany. While Humphries is the defending world champion, this is the first full world championships for Jones since her track heyday when she set the American record in the 60-meter hurdles in 2010.

She credits Cunningham, a teammate in Sochi seven years ago, with helping her regain her confidence after she missed making the 2018 Olympic team.

"He knows the emotional weight that puts on an athlete," Jones said.

Clearly, Cunningham, 35, who was a push athlete in 2010 and drove for Team USA in 2014 and 2018, has deftly switched from navigating tricky tracks to navigating tricky situations. He is the "athlete development and mental performance" coach for USA Bobsled & Skeleton, and has also begun working with skeleton athletes.

Jones said she was willing to put her trust in Cunningham based on his experience.

"As a pilot, his job was to find the best brakemen, pick apart those brakemen and see which brakeman would help him at the Olympics," she said. "He hasn't lost that touch."

Finding Common Ground

In addition, Jones shares a track and field background with Cunningham, who was a sprinter at Boise State and is also a certified track coach.

"He was able to kind of speak my language," Jones said. "Sometimes it's hard for bobsledders to talk to runners."

And Cunningham also understands what goes through the minds of push athletes, whose fates are in the hands of drivers and coaches when team selections are made.

"She had confidence in me, in that I had her best interests in mind, which is part of the goal for successful coaching," Cunningham said.

Actually, his original goal was to be Jones' teammate again, not her coach. He decided to take two years off following the 2018 Olympics to start his coaching career, with the aim of coming back as a competitor this season and then driving in the Olympic Winter Games Beijing 2022.

But after Cunningham got a foothold as a coach, that overrode all of his other plans.

"The energy is still there, the passion, none of that has changed," he said. "The only thing that has changed is I'm not the one putting on the speed suit.

"I still get that same energy, the same goosebumps, when I pull the sled up to the line and they're about to go off. I'm as invested, if not more, as a coach than I ever was as an athlete. I'm fortunate in the sense that I have actually found a profession that I truly believe is made for me and my personality and who I am. I definitely think that I've found my calling."

Cunningham, who finished his masters degree in 2016 in athletic coaching education from Ohio University, had always recognized the impact that coaches had on his life and career. He even viewed his Army drill sergeant in basic training as a type of coaching style.

"I'm pretty much a collection of all of my coaches," Cunningham said.

In 2018, he accepted an invitation to coach the development team for USA Bobsled. Cunningham saw it as his mission to help athletes from other sports make the transition to bobsled without becoming overwhelmed.

"You're learning a sport and you have to be world class in a couple of years. How do you do that?" he said. "There are periods of times when you just feel lost, and you start weighing, 'Is it worth it?' I want athletes to be able to come to me and know they're going to get a lot of feedback. "

Returning to His Roots

A California native who grew up surfing, Cunningham then jumped at the chance to become head track and field coach at Carmel High School in his home state. He had immediate success, taking five athletes to the state meet, and later took on another role as assistant football coach. He is also a volunteer assistant track coach for sprints, hurdles and relays at California State University, Monterey Bay.

And yet Cunningham still made time to squeeze in trips back East to coach bobsled. For the 2019-20 season, members of the U.S. Army's World Class Athlete Program were waiting on orders, so the team was short a driver to break in the rookies.

Cunningham, who had been part of the WCAP program when he was in the New York National Guard, agreed to do it.

"It was a year earlier than I had planned on coming back," he said. "I was coming right off the couch."

Cunningham's job also was to solidify the USA-2 position in the world rankings. He not only drove, he took the opportunity to coach from the front seat of the sled.

Just when he had the knack of juggling his four part-time jobs, "Boom, Covid hits, and it just stops," Cunningham said. "It stopped everything."

Last spring, he began getting offers to work with athletes from several sports and schools one-on-one, which allowed him to grow as a coach. Cunningham worked from about 5 a.m. to 7 p.m. most days and developed relationships that wouldn't have been possible in a normal year.

That made it harder to drop everything and become a competitive athlete again. Everything he had learned in becoming a better coach, Cunningham said, "I'd kind of have to leave all that behind."

So, he didn't. He kept coaching. And yet Cunningham wondered, "How am I going to fight that depression of my career ending? How is that going to go? It still terrifies me."

He staved off depression by being at the high school more than the people who worked there full-time.

"I get to take all that time and energy I put into myself for the last 20 years of my athletic career, and I get to pour it into my athletes," Cunningham said. "I'm more stressed out now in a race than I was when I was competing."

Although he reached the podium five times on the World Cup circuit, Cunningham never came close to an Olympic medal. His best finish as a driver was 12th in four-man and 13th in two-man as a pilot in 2014. And in 2018, he was 19th in four-man and 21st in two-man.

"I would have loved to have won an Olympic medal, it would have defined my (career)," he said. "It would have been incredible, but watching our women's team go 1-2 last week, I didn't feel any different than if I was winning one of my World Cup medals. I still had the same pride, so I think it's all kind of just about what's that underlying motivator for the coach? And for me it's watching my athletes be successful."

"One of the Most Fun Tours"

And let's be honest: Cunningham doesn't miss all the sled work, such as the tedious polishing of the runners.

"I get to just enjoy the sport," he said. "This has been one of the most fun tours I've been on because I get to just enjoy the athletes. I get to enjoy the competition. I get to work and help anywhere possible. I'm not so focused on my own performance that I miss out on all the stuff going on around me."

While Cunningham is primarily a development coach for the bobsled team, because of the pandemic and the restriction on travel for coaches in the military, he was invited to accompany the team to Europe.

He has found himself working with Kendall Wesenberg after never having watched a full skeleton race until he came on tour.

"The whole skeleton team has been really patient with me and allowed me to learn," he said. "If I see something I'll say it, but I'm not going to coach you just because I feel that I need to prove myself. I'm not going to find a problem so I can fix it."

In the meantime, Cunningham has been applying for NCAA track and field jobs, which has been difficult due to the pandemic, and has considered continuing as a private coach so he can make his own schedule and continue to work with USA Bobsled.

He said when one of his high school athletes shaves .01 off his best time and is ecstatic, "That's the moment I could literally do this forever."

While the U.S. women's team has momentum, the men's team has not been as successful. The two-man team decided not to compete in the world championships in order to prepare for 2021-22 team selection races in March.

Does that make Cunningham think about a comeback? He never left the USADA testing pool, so he hasn't officially retired.

"For the rankings right now, I actually wouldn't be eligible to compete on the world cup," he said. "I wouldn't have enough tracks under my belt."

Cunningham said it is unlikely he'd get the green light to go to Europe and race enough to qualify even if he wanted to do it.

"There's not a regret in there at all," he said. "You never know until its over if it's the right decision or not. It's been nice to fill that competitive void with the goals of others."

But that doesn't mean Cunningham will never sit in the driver's seat again.

After the 2018 Olympics, he was supposed to take race car driver Dale Earnhardt Jr. on a ride.

"He probably forgot, but I didn't forget, so I'm always ready," Cunningham said. "And I always tell all the drivers whenever I see them, 'Don't leave your helmet out laying around next to an empty sled. I'll take it for a spin.'"
Karen Rosen has covered every Summer and Winter Olympic Games since 1992 for newspapers, magazines and websites. Based in Atlanta, she has contributed to TeamUSA.org since 2009.