Kaillie Humphries Takes Third, Just Ahead Of Elana Meyers Taylor, In Altenberg World Cup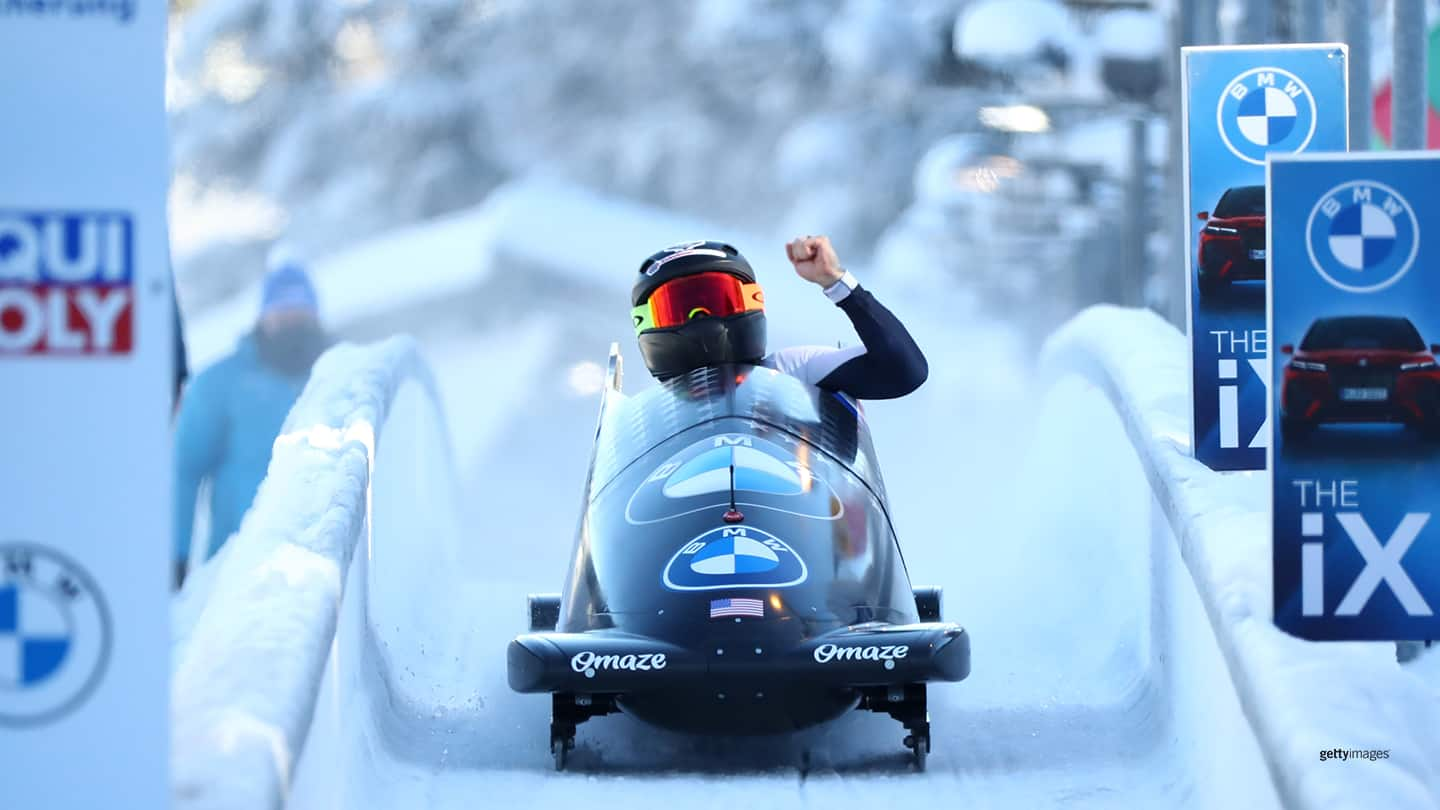 Kaillie Humphries celebrates after the women's monobob heat at the IBSF World Championships 2021 on Feb. 14, 2021 in Altenberg, Germany.
Kaillie Humphries found herself on the two-woman bobsled podium for the second time this season, and as usual U.S. teammate Elana Meyers Taylor was right in the mix as well.

Humphries, driving with Sylvia Hoffman, finished third in Sunday's world cup race in Altenberg, Germany, while Meyers Taylor and Lauren Gibbs were a blink behind in fourth. The result comes a day after Humphries finished third in the monobob world series event in Altenberg.

Monobob is a one-woman sled that will be contested in the Olympic Winter Games for the first time next year in Beijing.

Humphries, a two-time Olympic gold medalist for Canada, has been in strong form since getting her U.S. citizenship on Dec. 2, clearing the way for her to compete for Team USA in the Beijing Games. The pilot, who has raced for the U.S. at other levels since 2019, won her first races of the season Dec. 4-5, taking first in the monobob and two-woman bobsled.

She then went on to finish fifth in the two-woman event this past weekend in Winterberg, Germany.

Sunday's result came after Humphries elected not to push during Tuesday's training run while nursing a hamstring injury. After posting the fourth fastest time in the opening run, Humphries and Hoffman moved up to third with a combined time of 1:54.92, putting them .43 seconds behind winners Kim Kalicki and Lisa Buckwitz of Germany (1:54.49). Fellow Germans Mariama Jamanka and Alexandra Burghardt were second (1:54.71).

"We played it smart, and the goal was to leave here no worse off than when I came," Humphries told USA Bobsled & Skeleton.

Meyers Taylor and Gibbs had the fastest starts of the day but closed just behind the leaders, their time of 1:54.97 being just .05 seconds short of the podium.

"I'm happy I drove well, but still frustrated because I always want to be in the medals," Meyers Taylor told USA Bobsled & Skeleton.

A three-time Olympic medalist, Meyers Taylor is still seeking her first world cup podium of the season but has yet to finish lower than seventh. She's won three times in the mono bobworld series. Gibbs, who won an Olympic silver medal with Meyers Taylor in 2018, was racing on the world cup for the first time this season.

The world cup resumes Dec. 31 in Sigulda, Latvia, though Humphries plans to skip that event to extend her recovery and training time back in the U.S.
Chrös McDougall has covered the Olympic and Paralympic Movement for TeamUSA.org since 2009 on behalf of
Red Line Editorial, Inc.
He is based in Minneapolis-St. Paul.