Veteran Riders Murphy, Berenyi, Keith Race To Top-12 Finishes In Track Cycling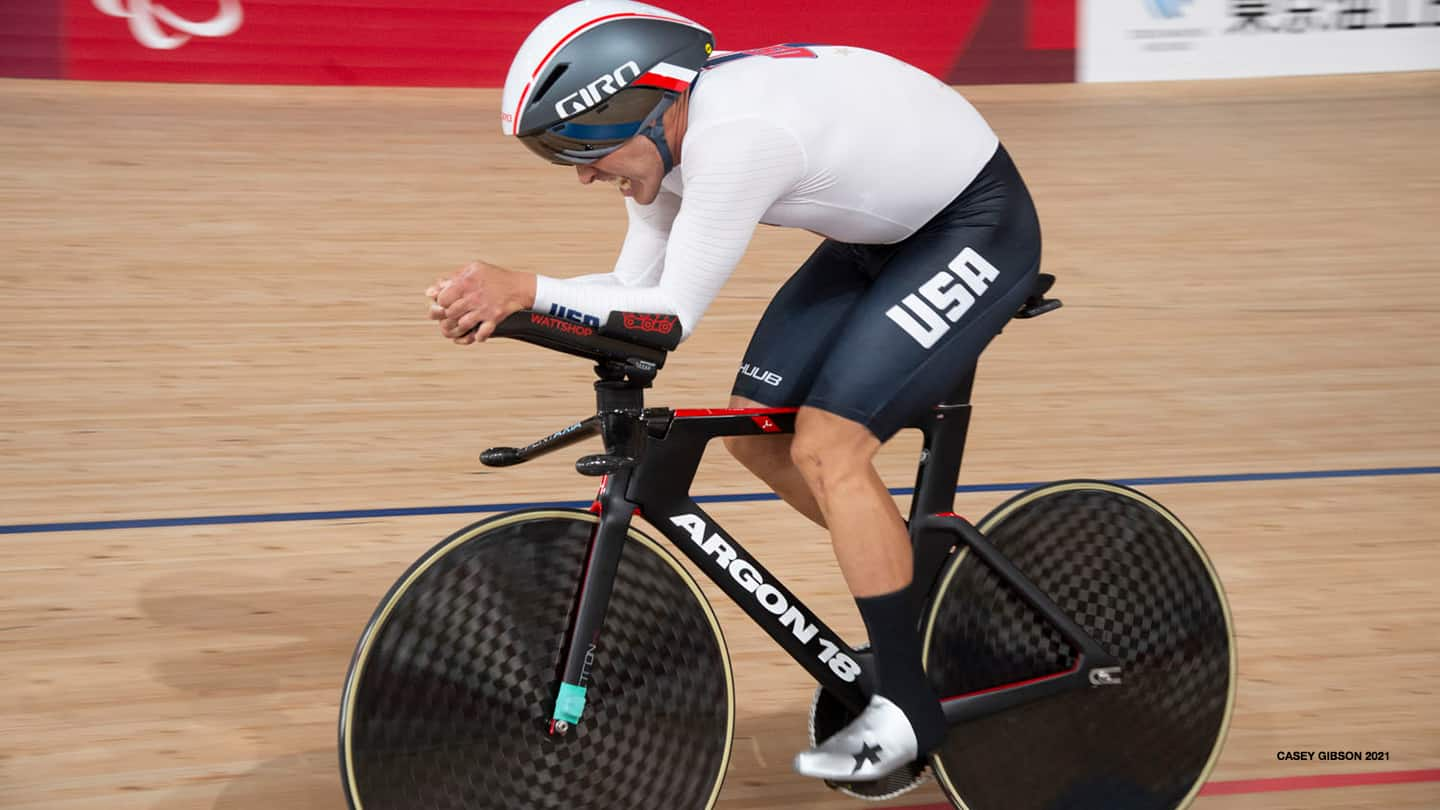 Chris Murphy competes in the Men's C3 3000 metre Individual Pursuit at the Paralympic Games Tokyo 2020 in Shizuoka, Japan.
Veteran riders Chris Murphy, Joe Berenyi and Aaron Keith all put in strong performances Friday, the third day of track cycling at the Paralympic Games Tokyo 2020.

Murphy, a native of Rancho Cucamonga, California, who is competing in his second Paralympics, led the U.S. contingent by placing ninth in the men's C5 4,000-meter individual pursuit, his second of three events at the Izu Velodrome, about 80 miles southwest of central Tokyo.

The 36-year-old Murphy posted a time of 4:55.467, with an average speed of 48.736 kmh, in the qualifying round. The top four finishers went on to the afternoon's medal races, led by France's Dorian Foulon, the defending world champion who led qualifying with a world-record time of 4:18.274 (55.755 kmh).

Murphy previously finished fifth in the men's C4-5 1,000-meter time trial at the Tokyo Games and is set to compete again on Saturday, the final day of track racing, in the mixed C1-5 team sprint. A veteran of seven world championships, six of them on the track, Murphy is a two-time world champion and seeking his first Paralympic medal.

Meanwhile, Berenyi placed 11th and Keith 12th in the men's C1-3 1,000-meter time trial, which is the second of three scheduled races for each of them too.

Berenyi, a three-time Paralympian and four-time medalist who was a late addition to the Tokyo Games via bipartite invitation, finished with an adjusted time of 1:09.582 (51.738 kmh), while Keith came in at 1:10.732 (47.567 kmh).

The top three finishers all posted world record times, led by gold medalist Li Zhangyu of China in 1:03.877 (52.672 kmh). With multiple classifications of athletes, times were adjusted based on each rider's level of impairment.

Berenyi, 52, won a silver medal in the event at the London Paralympics in 2012, where he also took gold in the individual pursuit and bronze in the team sprint. He won another silver medal in 2016 in the individual pursuit. The native of Aurora, Illinois, who is also a nine-time world champion, opened the Tokyo Games by placing seventh in the C3 3,000-meter individual pursuit.

Keith was fifth in the C1 individual pursuit to open his Tokyo Games. The 50-year-old from Woodinville, Washington, is competing in his first Paralympics, though he's competed in multiple world championships since 2013, both on the road and the track, and won two world titles.

Both Keith and Berenyi join Murphy on the start list for the mixed team sprint.

After the track cycling wraps up Saturday, riders will turn their attention to the road competitions, which run next Tuesday through Friday at Fuji International Speedway.
Want to follow Team USA athletes during the Paralympic Games Tokyo 2020? Visit TeamUSA.org/Tokyo-2020-Paralympic-Games to view the medal table and results.
Chrös McDougall has covered the Olympic and Paralympic Movement for TeamUSA.org since 2009 on behalf of Red Line Editorial, Inc. He is based in Minneapolis-St. Paul.