Allyson Felix Says 'Sayonara' To Olympics, Leaves Door Open For 2022 Worlds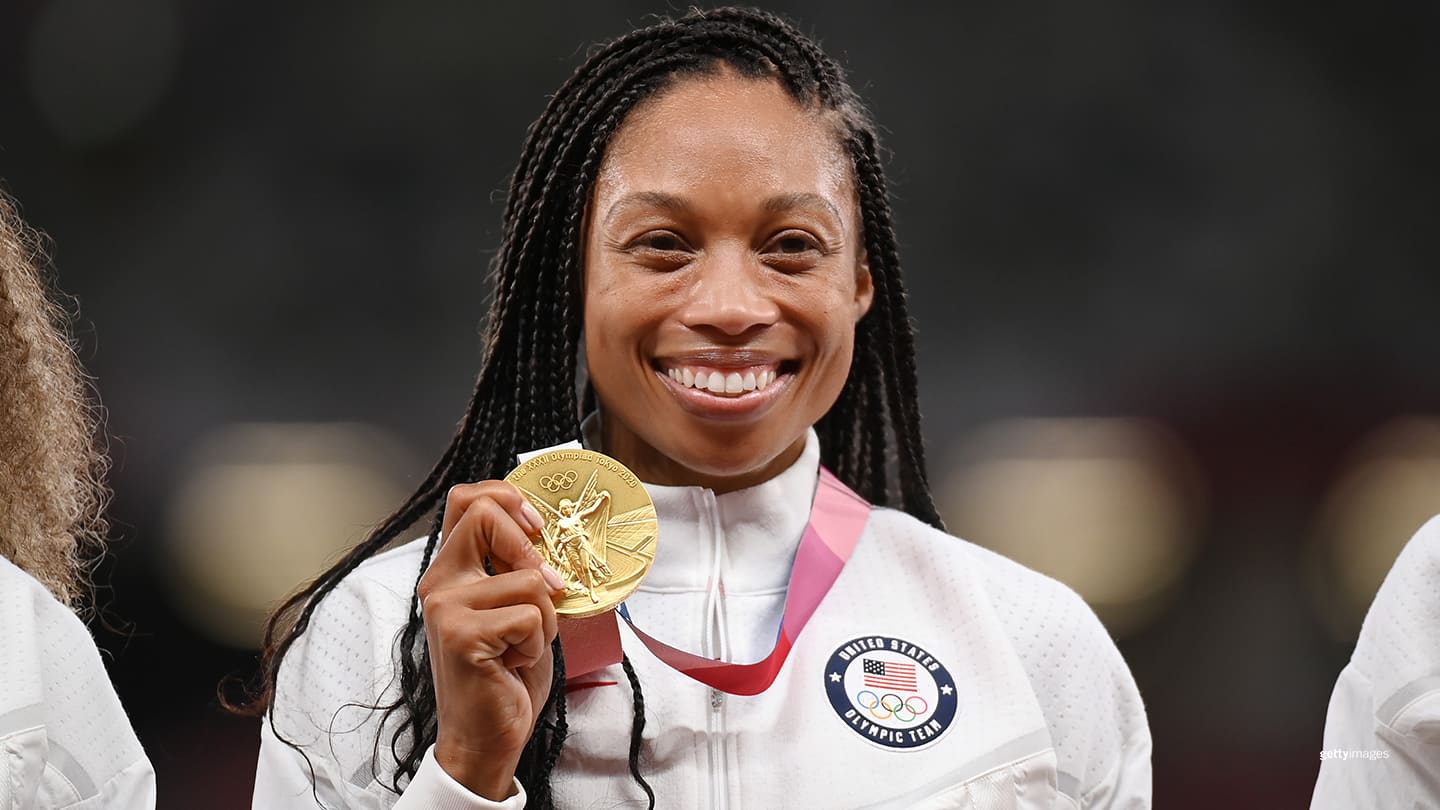 Allyson Felix on the podium during the medal ceremony for the women's 4x400-meter relay final at the Olympic Games Tokyo 2020 on Aug. 7, 2021 in Tokyo.
TOKYO – Allyson Felix departed the Olympic stage after a record-breaking run of 17 years with no regrets.

At the Olympic Games Tokyo 2020, she became the most decorated track and field athlete in Team USA history with seven golds, three silvers and a bronze spanning five Games dating back to 2004.

Those 11 Olympic medals also are a record for a female track and field athlete. Only distance runner Paavo Nurmi of Finland, who won 12 medals in the 1920s, collected more.

"I've given my all to the sport and there's nothing left on this Olympic stage that I feel like I need to do," Felix said.

Yet her legacy is so much more than hardware. The 35-year-old, the oldest American female track and field athlete to win a gold medal, has inspired the next generation with her actions both on and off the track. Felix has gone from a quiet teenager with a big smile to an activist and entrepreneur with a big vision. (She hasn't lost the smile, either.)

"We all watched her growing up," said Athing Mu, the 19-year-old Olympic champion in the 800 meters and Felix's teammate on the winning 4 x 400-meter relay. "Knowing what she's still doing as a person and an athlete makes us want to be better as athletes and as people as well."

Keep in mind that Felix has not announced her retirement from the sport. The world championships in track and field will be held for the first time in the United States next summer in Eugene, Oregon. Felix, whose performance in the 400 meters in Tokyo was her fastest since 2015, could extend her career another season. "I don't know yet," she said.

Felix already holds the world championships record – male or female – with 18 medals, including 13 golds.

But she definitely said "Sayonara" to the Olympics in Tokyo.

Before Felix's final race, the second leg on an all-star relay that also included hurdlers Sydney McLaughlin and Dalilah Muhammad, she said, "I just came out really at peace and wanting to soak it all in."

Felix had already moved into double digits in her personal medal count the night before in the 400 meters. Her 10th medal was her first bronze, but it meant as much to her as her golds and silvers because of how hard she fought – not only to get to the starting line after giving birth to her 2 ½-year-old daughter, but also to cross the finish line. Felix sprawled on the track in exhaustion after the race.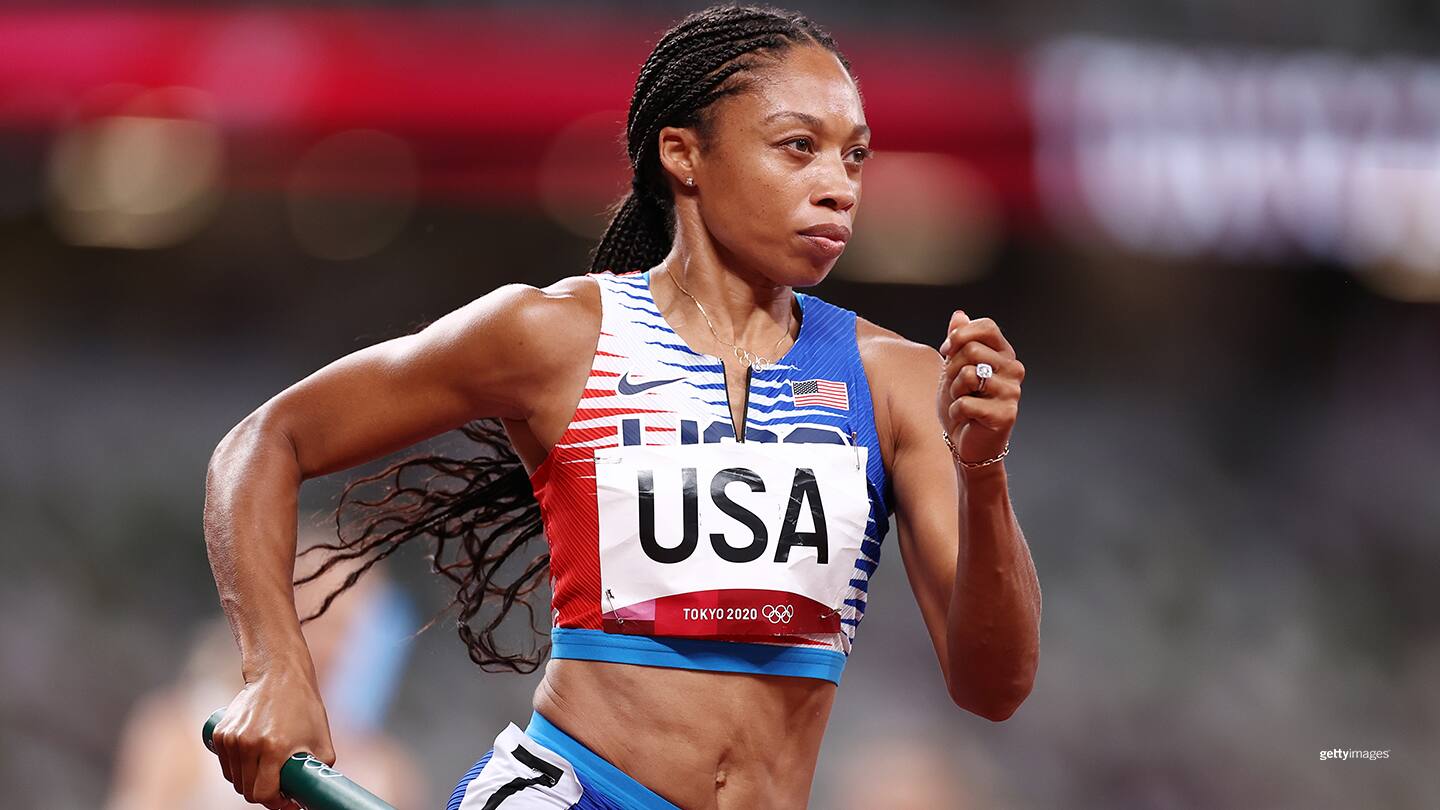 Allyson Felix competes in the women's 4x400-meter relay final at the Olympic Games Tokyo 2020 on Aug. 7, 2021 in Tokyo.
"Nobody thought I was going to be in the final, probably besides Bobby (Kersee, her coach) and my family," she said. "And I'm a fighter. The last couple of years, it's what I've done, so I knew I just needed a chance."

Felix was dismayed to find out her sponsorship had been reduced after delivering Cammy in a difficult birth in November 2018. She became an advocate for maternity rights within sports and succeeded in changing the status quo. She also started her own apparel brand and wore shoes created by her company at the Games.

And yet Felix said on social media that "as an athlete who was told I was too old, as a women who was told to know my place, as a mother who wasn't sure I would live to raise my daughter, I hope you see that for me, it's about so much more than what the clock says."

Before the race, Felix poured out her feelings in a lengthy Instagram post.

"When I line up for a race I'm normally afraid," she wrote. "Of course, I'm always a little nervous, but if I'm honest I'm afraid."

Felix said she has never been afraid of her competitors, or of losing. "I lose much more than I win," she wrote. "That's life and I think that's how it's supposed to be."

However, Felix acknowledged that she's afraid of letting people down — and of letting herself down. "I hold myself to such high standards and I'm realizing as I'm sitting here the night before my final individual Olympic final that in a lot of ways I've let my performances define my worth. I've been afraid that my worth is tied to whether or not I win or lose. But right now I've decided to leave that fear behind. To understand that I am enough."

Felix added that she was not sharing the note for herself, but "for any other athletes who are defining themselves by their medal count. I'm writing this for any woman who defines her worth based on whether or not she's married or has kids. I'm writing it for anyone who thinks that the people you look up to on TV are any different than you. I get afraid just like you, but you are so much more than enough. So take off the weight of everyone else's expectations of you. Know that there is freedom on the other side of your fear. Go out there and be brave with your life because you are worthy of your dreams."

But Felix had a challenging race ahead of her.

Running out of Lane 9 in the 400 – as opposed to the center of the track with the favorites – Felix wasn't sure she was in podium position at the finish. Her time was 49.46 seconds.

"And then I was just laid out," she said. "When I saw it on the scoreboard, I had that second of joy and then it was just like the 400 hit me and I felt like I couldn't really express how I felt because I was just so tired."

Felix didn't have the energy for a victory lap, but that was OK since she'd done them so many times before.

Felix got her second wind for her post-race interviews, reflecting on what she had done on the track as well as in her advocacy for women's rights.

"I think that I had to go through challenges in the fight and I'm absolutely where I'm supposed to be," Felix said. "There have been so many women before me who had to stay silent about their fight. So for me to be able to step out -- and I think my daughter gave me the courage to do that -- but I think … that this has been going on for far too long and I hope that we're really changing things now."
(L-R) Sydney McLaughlin, Allyson Felix, Dalilah Muhammad and Athing Mu on the podium during the medal ceremony for the women's 4x400-meter relay final at the Olympic Games Tokyo 2020 on Aug. 7, 2021 in Tokyo.
The Los Angeles native turned pro as a teenager and competed in her first Olympic Games in 2004 at age 18, winning the silver medal in the 200 meters – then as now her favorite race.

After earning a degree in elementary education at the University of Southern California, Felix won another silver in 2008 in the 200 while also earning her first gold medal on the 4 x 400 relay.

By 2012, Felix showed her full range as a sprinter, winning the 200-meter gold and earning golds on not only the 4 x 400 relay, but the 4 x 100 as well.

In 2016, she was determined to add a gold in the 400, but Shaunae Miller-Uibo of the Bahamas dove for the finish line to crush Felix's dream. She rebounded with two more golds in both relays.

"I'm very grateful for everyone who's come before me," said Felix. "I have so much respect and admiration. I wouldn't be here without those who paved the way, and I'm just grateful for my own journey. I love the sport and it's been so good to me."

By winning her 10th medal, she tied Carl Lewis for number of medals, although Lewis still has more golds with nine. He congratulated her on Twitter, writing "35 never looked so good. What an amazing career and inspiration. Now on to the relay."

The 4 x 400 relay team was composed of runners who were not 400-meter specialists, and yet were at the top of their game.

They clocked 3 minutes, 16.85 seconds to become the fifth-fastest relay of all time and third-fastest in U.S. history.

McLaughlin opened in 50.21 seconds, followed by Felix (49.38), Muhammad (48.94) and Mu (48.32).

"Of course she earned it," Muhammad said of Felix, "but she's so deserving of it, too, so (I'm) definitely just inspired by her throughout my entire career. And I'm truly just honored to have been a part of this team with her on her last Olympics. I think we're going to look back at this and just think about how special this moment really was."

Felix said that despite the COVID-19 pandemic restrictions, the Olympic Games 2020 – held in 2021 – were not overshadowed by her other four Olympics.

"I put Tokyo at the very top," she told People magazine. "I say that because I've had so many different experiences, but I feel like this one really represents them all. Overcoming the high moments, the low moments, and just capping it off with me finally coming to the understanding that it's bigger than sport, it's bigger than performances, or medals. It's about impact and representing others."
Karen Rosen has covered every Summer and Winter Olympic Games since 1992 for newspapers, magazines and websites. Based in Atlanta, she has contributed to TeamUSA.org since 2009.