Allyson Felix Wins 11th Medal As All-Star Relay Takes Gold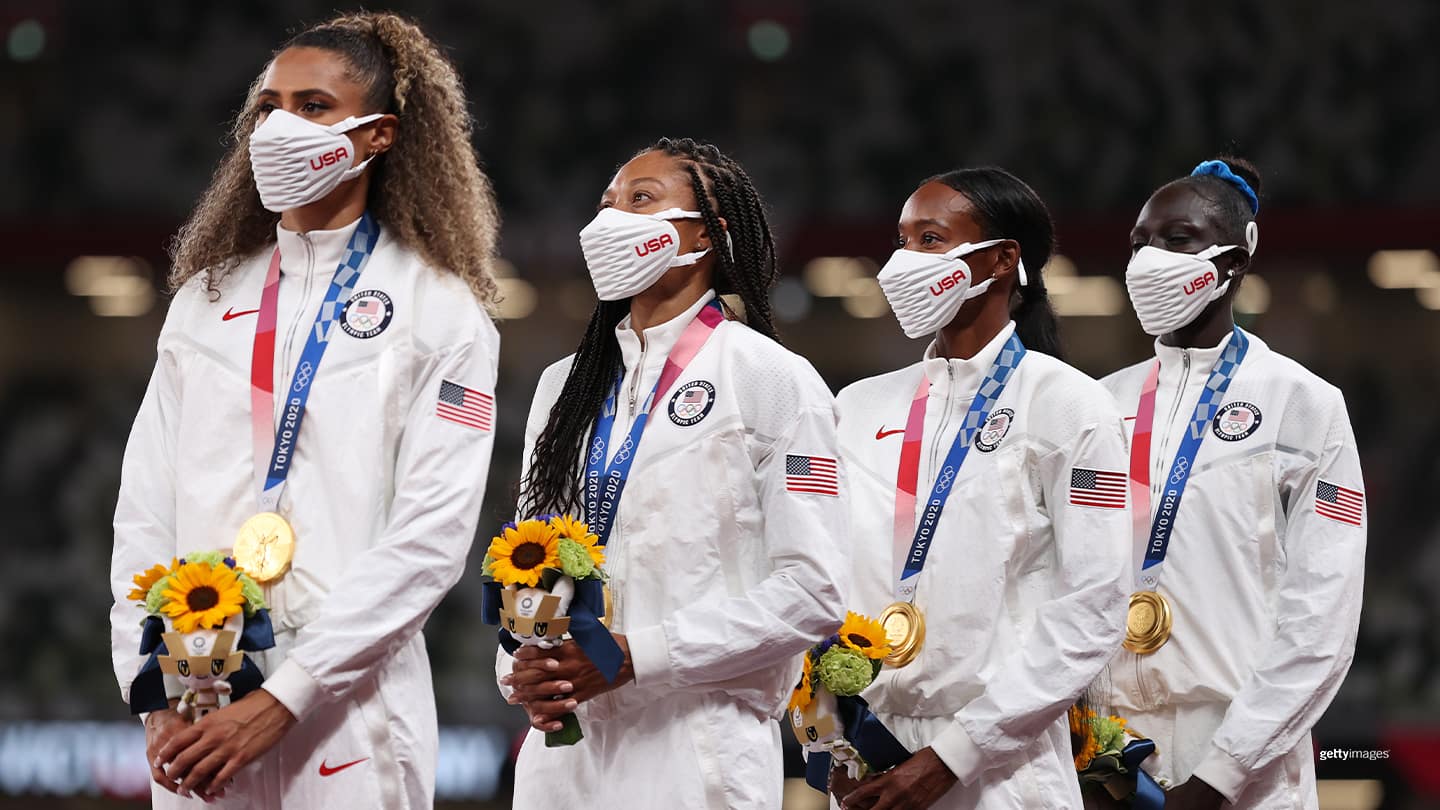 Allyson Felix competes in the Women's 4 x 400m Relay Final at the Olympic Games Tokyo 2020 on August 07, 2021 in Tokyo, Japan.
TOKYO – It was the unlikeliest of relay teams -- and yet it made perfect sense.

Take a legendary sprinter, add the two fastest 400-meter hurdlers in history and then put in the Olympic champion in the 800 meters.

USA Track & Field called the women's 4 x 400-meter relay a Dream Team. The rest of the world called it unbeatable.

Sydney McLaughlin, who shattered her own world record in the 400-meter hurdles, led off. She handed the baton to Allyson Felix, who won the bronze medal the previous night in the 400 to become the most decorated Olympic female track and field athlete of all time.
THE U.S. WOMEN'S 4x400M RELAY WINS 🥇!pic.twitter.com/Box15jpZaj


— Team USA (@TeamUSA) August 7, 2021
Dalilah Muhammad, the former world record holder and silver medalist in the 400 hurdles, ran the third leg. And then Athing Mu, who won the Olympic 800 but is also the reigning NCAA champion in the 400, was the anchor.
"I think this is a really special team because we're not 400-meter runners," Felix said. "I don't consider myself a 400-meter specialist. We all do different things and it was really cool to come together and to get to close out the Olympic Games and for me my Olympic career in this way."
Even with practically no one in the stands at Olympic Stadium, this event of the Olympic Games Tokyo 2020 was electric.
"This one is going to be in the history books," Mu said.
Team USA led wire to wire, extending the lead with every lap. The quartet clocked 3 minutes, 16.85 seconds to become the fifth-fastest relay of all time and third-fastest in U.S. history.
"It's an amazing group of women right here, a once-in-a-lifetime opportunity," McLaughlin said, "so I think we all just knew going in it was going to be fast. All we had to do was do our part and just have fun with it."
Although Team USA missed the world record of 3:15.17, set by the Soviet Union at the 1988 Seoul Olympics, the margin of victory was nearly 4 seconds over Poland, which finished in 3:20.53. Jamaica was third with a time of 3:21.24. Poland won the gold in the 4 x 400 mixed relay earlier in the Games, with Team USA taking the bronze.
The American record is 3:15.51, set by Denean Howard, Diane Dixon, Valerie Brisco and Florence Griffith Joyner as they chased the Soviet team in 1988.
Imagine how fast this Team USA relay could have run if they had been challenged.
The runners also extended Team USA's record in the event to seven in a row starting in 1996, with Felix running on four of the relays.

And the gold medal gave Felix the perfect Olympic sendoff. She now has 11 Olympic medals, including seven gold, with three silvers and a bronze. Felix broke a tie with Carl Lewis for most Team USA track and field medals and trails only Paavo Nurmi, the Flying Finn from the 1920s, who won 12 total medals (nine gold and three silver).
Chase history. Make history. @allysonfelix is the most decorated American track and field Olympian ever. #TokyoOlympics pic.twitter.com/qxdSbYJv8i


— Team USA (@TeamUSA) August 7, 2021
Although Felix said she was at peace with definitively closing out her Olympic career, she has not announced her retirement, especially with the 2022 World Championships in Eugene, Oregon, a year away.
"I don't know yet," said Felix, who has a 2 ½-year daughter, Camryn, waiting for her at home.
She said her favorite moment of the Games was standing on the medal stand. "I took a moment just to kind of close my eyes and just take it in one last time," Felix said, "and to be surrounded by these women in that moment was really special."
Anticipation started building for the relay as soon as McLaughlin and Muhammad both broke the existing world record in the 400 hurdles. Even though the relay runners have traditionally been those who finish in the top six in the 400 at the Olympic Trials, McLaughlin and Muhammad ran legs on the Team USA 4 x 400 relay that won the gold medal at the 2019 world championships.
And a close look at the fine print shows that any team member is eligible for the relay, from shot putters to race walkers.
When Quanera Hayes, the Olympic Trials champ in the 400, ran a relatively slow 50.88 seconds in the Olympic 400 final, that opened the door for Mu, who was the NCAA 400 champ for Texas A&M this season and also ran on the winning 4 x 400 relay.
It was unclear when the four women found out they would be running the relay. Four other runners competed in the preliminary round.
When asked, they looked at each other and laughed.
"It's a secret," Mu quipped, and she and her teammates joked that they found out that morning or even 15 minutes before going onto the track.
"When I saw the lineup," Muhammad said, "I was definitely just so happy that it was us four. I think for the fans, for all of us, it's just a really good moment to bring it home with these four women."
Stacked.

The #TeamUSA women's 4x400m relay team is stacked. #TokyoOlympics pic.twitter.com/ESNWmh3FZM


— Team USA (@TeamUSA) August 7, 2021
They said the coaches picked the relay order.
McLaughlin opened in 50.21 seconds, while Felix ran a 49.38 split, Muhammad clocked 48.94 and Mu had the fastest lap of the final at 48.32.
"Each of us are coming home with two medals," Muhammad said, "so that just shows the strength of America, the strength of these women here and our hard work, our dedication to this sport. Allyson obviously has 11 (medals), so I think we're all just looking forward to what's next to come."
Some of the hand-offs were a literal passing of the baton to the younger generation.
"It's fun being able to run with such amazing athletes and women and teammates," McLaughlin said, "so this is really special, Allyson's last race, but also it's my birthday, so that's why I'm going to say this (is my favorite moment of the Games). It's a great gift."
While McLaughlin turned 22, Mu is barely 19. Muhammad is 31. And Felix, at 35 years, 263 days became the oldest Team USA gold medalist – male or female – in a track event. She is also the second-oldest female gold medalist in a track event, trailing only Constantina Dita Tomescu of Romania, who was 38 years and 206 days when she won the 2008 marathon.
"I've given my all to the sport and there's nothing left on this Olympic stage that I feel like I need to do," Felix said, "so now they're taking this into the future and it's in very good hands."
While Team USA won 26 medals in track and field, the women out-performed the men.
Team USA women won five of the seven gold medals, the men and women split the silver medals at six apiece and the women won four of the six bronze medals. Team USA also won a bronze in the 4 x 400 mixed relay.
"I think the women showed up," Felix said. "I think we've been showing up on the track, off the track, in all of the ways. I loved seeing it. I think sitting back and watching each woman perform, it was inspiring. It was like, 'OK, who's up next?' Kind of like a buzz, so it was really cool.'"
And up last was this 4 x 400-meter relay. "The Fantastic Four," said Mu. "For all four of us, who are not 400-meter runners to come out and dominate like we did shows how USA always represents."
Want to follow Team USA athletes during the Olympic Games Tokyo 2020? Visit
TeamUSA.org/Tokyo2020
to view the medal table, results and competition schedule.
Karen Rosen has covered every Summer and Winter Olympic Games since 1992 for newspapers, magazines and websites. Based in Atlanta, she has contributed to TeamUSA.org since 2009.