Skateboarder Cory Juneau Makes History, Becomes First American To Win Olympic Medal In Men's Park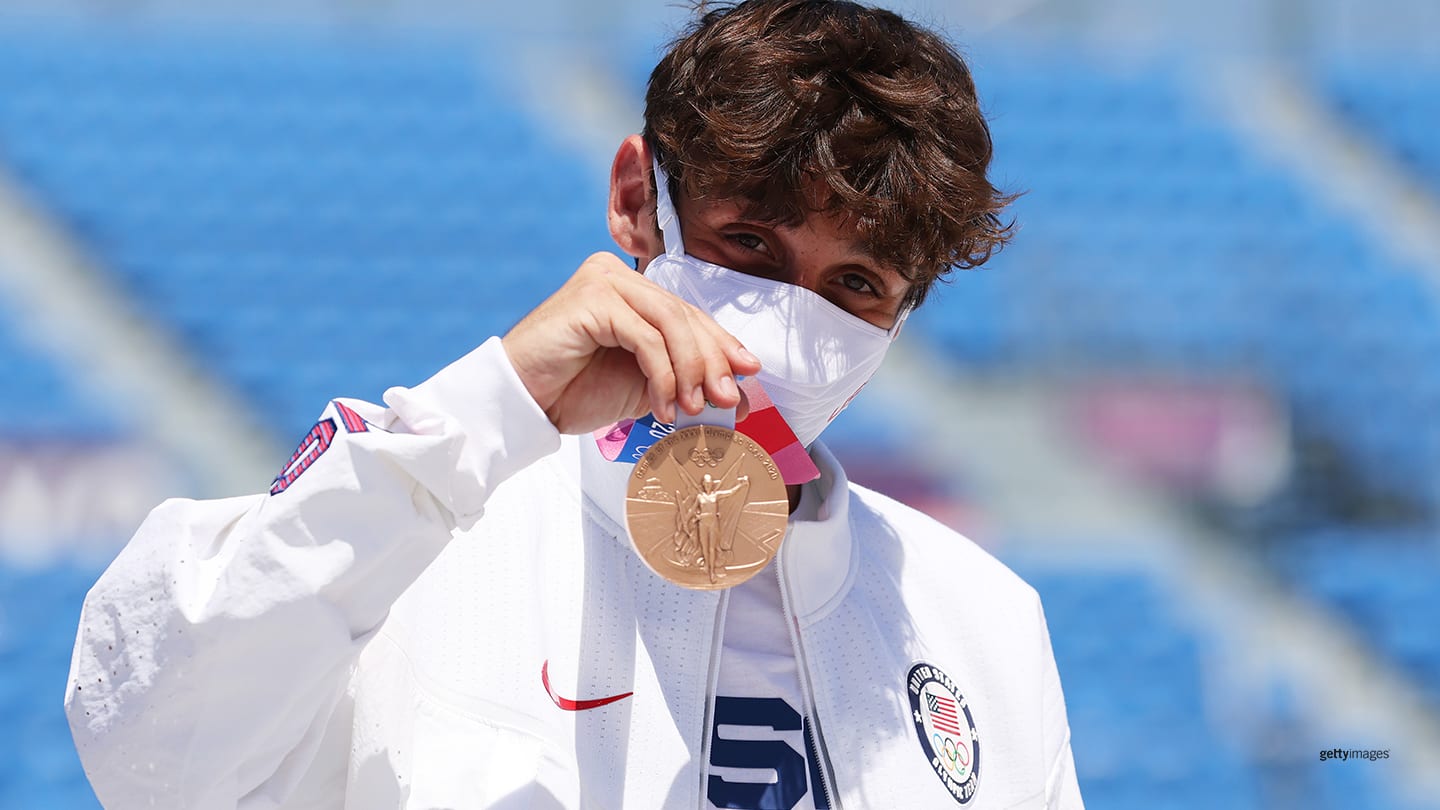 Cory Juneau poses with his Bronze medal at the Olympic Games Tokyo 2020 on Aug. 5, 2021 in Tokyo, Japan.
TOKYO – Cory Juneau is going home an Olympic bronze medalist.

The 22-year-old San Diego, California native is the first American to win an Olympic medal in men's park and only the second U.S. skateboarder to earn an Olympic medal.

To close out the last day of skateboarding competition at Ariake Urban Sports Park, Juneau gave it his all.

Juneau just snuck into the finals on his final run of the prelims. His eight place finish, meant he would skate first in the finals.

"I think it's the best position honestly because you only have room to improve," said Juneau.

In a field dominated with strong competitors from Australia and Brazil, Juneau knew he needed to level up in the finals if he wanted a shot at the podium.

"I had a couple of tricks I wanted to save in case I snuck in there," said Juneau. "I didn't want to put everything I could do on the table, so it's a little bit of a surprise when you get there…I kind of just went bigger and switched up a couple lines and I'm thankful it worked out. I'm completely honored to take home a bronze medal."

Juneau kicked-off finals with a stellar first run - scoring 82.15. The best of his three runs earned a score of 84.13 – enough to earn the bronze medal.

"I just put everything I had on the table, and it all came together how I imagined."

The other two Americans, Heimana Reynolds and Zion Wright, did not qualify for the final. Reynolds, the 23-year-old from Honolulu, Hawaii and 2019 world champion, scored 63.09 on his third and final run to finish 13th overall. Wright scored a 67.21 on his first run. He struggled on his final two runs to finish 11th.


Keegan Palmer of Australia and Cory Juneau celebrate during the Men's Skateboarding Park Finals on day at the Olympic Games Tokyo 2020 on Aug. 5, 2021 in Tokyo, Japan.
Atop the podium was Australia's Keegan Palmer, who is a close friend of Juneau's.

"I'm so proud of him," said Juneau. "He's like a little brother to me. We've been skating together since we were little kids."

Palmer, 18, came out strong with an amazing first run scoring 94.04, and on his third and final run he topped his first-round score to secure gold. Palmer's third run scored a whopping 95.83.

"He came to California from Australia, and we had a bond," said Juneau of Palmer. "We've been skating contests ever since. This is the best I've ever seen him skate, so he deserved it."

Brazil's Pedro Barros, world champion at the 2018 Skateboarding World Championships, put on an incredible show in the finals to lock up silver. His first run earned him a score of 86.14.

"I'm going to go celebrate with all my friends," said Juneau through a beaming smile. "We were on the podium. It's a big day for us. A big day for skateboarding, and it's a big day for America, Australia, Brazil and everybody who is passionate about skateboarding. You know we are all friends at the end of the day. I like to say we don't skate against each other; we skate with each other."

Want to follow Team USA athletes during the Olympic Games Tokyo 2020? Visit TeamUSA.org/Tokyo2020 to view the medal table, results and competition schedule.
Kara Tanner is a sports journalist and creative based in Colorado Springs, Colorado. She is the head digital content manager and editor for TeamUSA.org.