Path To Paris Is On For Skateboarding National Team Newcomers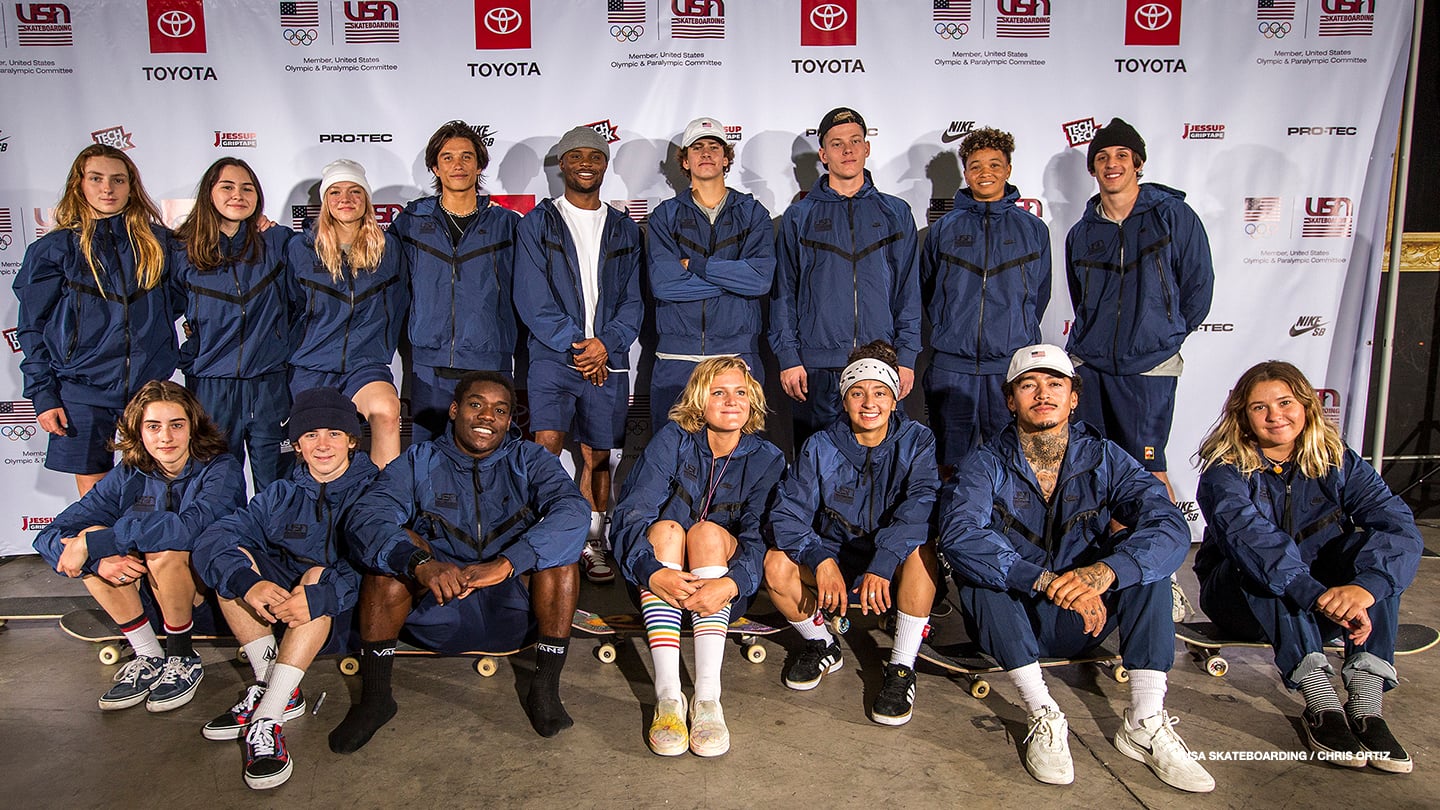 The 2022 USA Skateboarding National Team poses for a photo following their team announcement event on April 12, 2022 in Los Angeles.
It might surprise people to discover that Paige Heyn never entertained any notion of making the USA Skateboarding National Team.

"I had no idea it was possible," Heyn said. "So, I was very surprised when I found out.

"I never thought of that as an opportunity for me, but I'm so excited to be on it."

Heyn recalled how her father had called her to pass along news that she had made the team. He caught her completely by surprise.

"He started reading (the email) to me," Heyn said. "I was like, 'Wow!' I couldn't believe it."

It was true. At the tender age of 14, the Tempe, Arizona, resident had become the youngest member of Team USA.

"I was very nervous about that at first, but it was great," Heyn said. "Everyone was so welcoming and pretty cool."

Heyn, who will compete in women's street, met her new teammates earlier this month when the 16-person team was announced.

"I loved it. Best time ever," Heyn said. "Everyone was so welcoming, and it was just nice being there with everyone."

Skateboarding made its debut as an Olympic sport at the Olympic Games Tokyo 2020. Team USA's Cory Juneau and Jagger Eaton earned bronze medals in the men's park and street competitions, respectively. They and seven other Olympians return to this year's national team.

Heyn may be young, but she got an early start in the sport.

"I got my first skateboard when I was like 4, and I would just ride it around outside, but I never started getting serious until like 8 and a half," Heyn said. "I was doing little kid contests at like 9."

Her first big contest was in Los Angeles in 2019, and Heyn placed fifth. Others have followed.

Heyn, ranked 25th in the world in women's street, placed fifth at last year's national championships.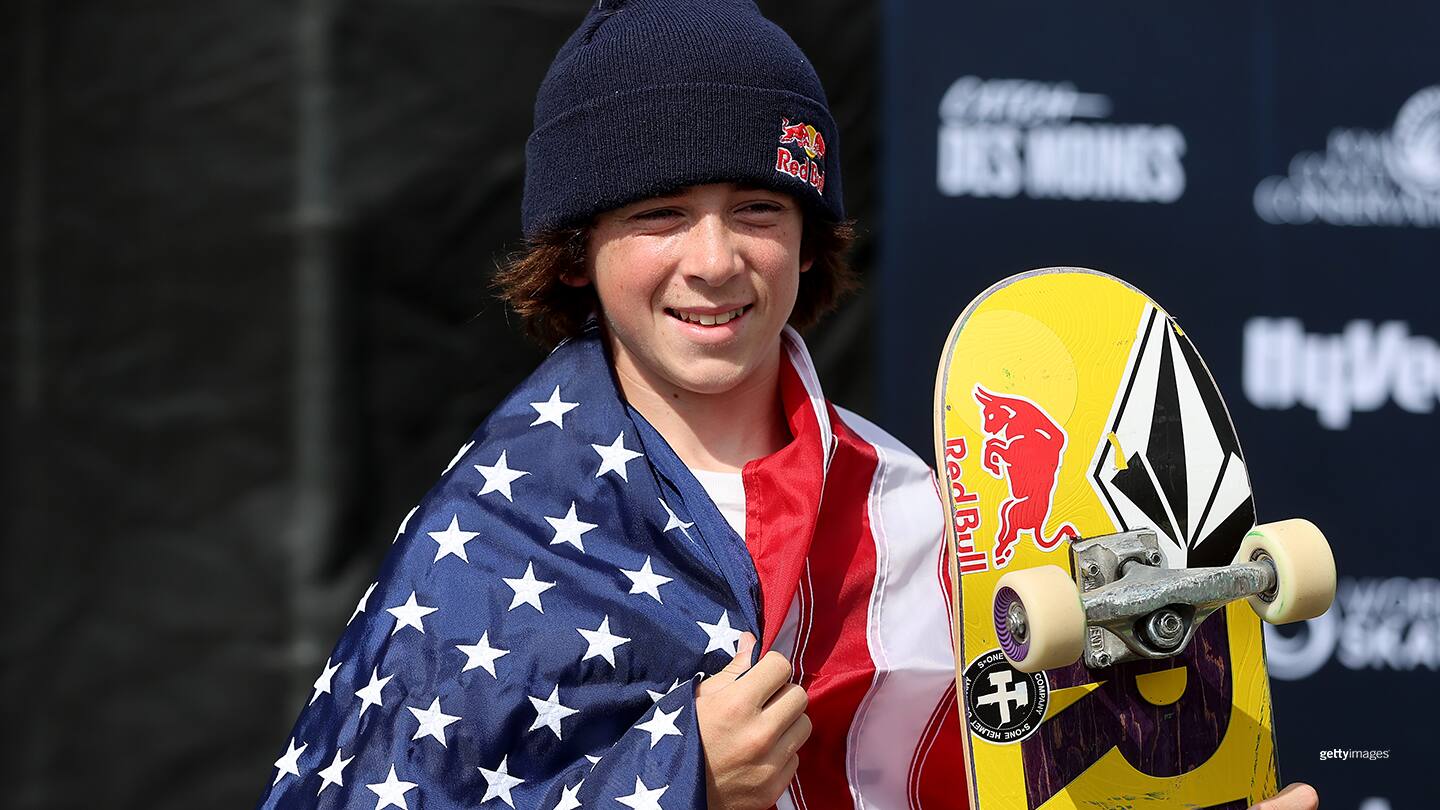 Gavin Bottger looks on from the podium after finishing third place in the men's park final at the Dew Tour on May 23, 2021 in Des Moines, Iowa.
Skateboarding isn't all fun and games for the youthful Heyn, who works daily on her sport while keeping up her studies as an eighth grader.

"I'm usually skating every day for about six to eight hours," Heyn said. "Just skate all day, do schoolwork in the morning. I do an online school."

Heyn admitted to getting the jitters ahead of competitions.

"I get very nervous before, but it's always fun after," Heyn said. "That's every competition.

"I usually can't breathe when I'm skating. As soon as I'm done, I'm like, that was not that bad. We're all good."

So far, Heyn, who runs and does yoga as part of her training regimen, has competed in good health during her young career. With a little luck that will continue.

"I haven't had any major injuries yet," Heyn said. "I get a rolled ankle or a bruised knee here and there, but nothing too bad."

Alexis Sablone, an Olympian and Team USA's women's coach, called Heyn and Minna Stess of Petaluma, California, the "young crew" among the Americans.

"Every time I see them, they're doing tricks I haven't seen them do," said Sablone, "and they also look like they're having a lot of fun."

Another youngster to watch on the U.S. team is 15-year-old Gavin Bottger of Oceanside, California.

"He's an up-and-comer who's done very well in contests already, and we're looking forward to what he can do in the future for us," said U.S. men's coach Andrew Nicolaus. "I think we have a really fun bunch of good guys and adding him to it makes it more fun."

Like Heyn, Bottger is happy to be a member of the team.

"It feels amazing to be a part of Team USA," said Bottger, who will compete in men's park. "It's pretty crazy just to be a part of it with everyone."

Olympian and 2019 world champion Heimana Reynolds was glad to welcome Heyn and Bottger to the Team USA roster.

"I mean, they're so young, but I've been skating with them for years already," Reynolds said. "To have them on the team with us is really special. "To see (their) … progression … and just to have them on the team is really good."
Bob Reinert spent 17 years writing sports for The Boston Globe. He also served as a sports information director at Saint Anselm College and Phillips Exeter Academy. He is a contributor to TeamUSA.org on behalf of
Red Line Editorial, Inc.