Rai Benjamin Takes Silver In Record-Breaking 400-Meter Hurdles Finish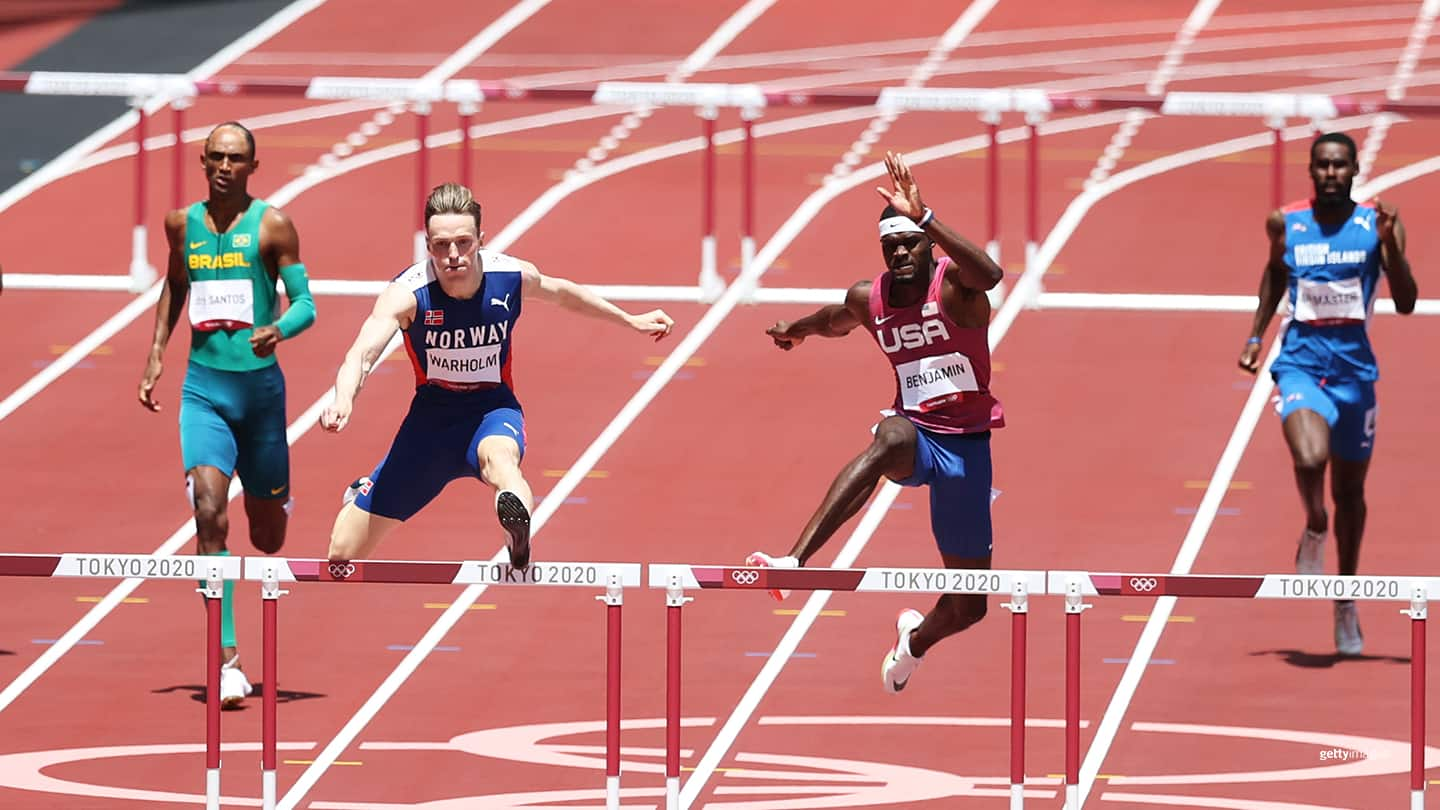 Karsten Warholm (Norway) and Rai Benjamin compete in the men's 400-meter hurdle finals at the Olympic Games Tokyo 2020 on Aug. 3, 2021 in Tokyo.
TOKYO – Epic.

The highly-anticipated Olympics men's 400-meter hurdles was nothing short of extraordinary Tuesday at the Olympic Games Tokyo 2020 as Norway's Karsten Warholm became the first man under 46 seconds. Team USA's Rai Benjamin broke the existing world record by half a second and yet had to be satisfied with silver.

"I cried a little bit," Benjamin said. "It's going to be a lot to process this next 24 hours, but I am really happy to be a part of history like this, just to show where this event can go."

It was the fastest race ever run in the event, with Warholm clocking 45.94 seconds to pulverize his own world record of 46.70, set on July 1 when he ran virtually by himself in Lane 7 in Oslo.

This time he had Benjamin, who was running to his left in Lane 5. Warholm, as usual, went out hard, but the U.S. champion was close at the ninth hurdle and almost even at the 10th. Then Warholm surged to the finish line while Benjamin couldn't stay with him.

And yet he still ran an astounding 46.17 seconds, breaking Kevin Young's 29-year-old world record of 46.78 from the 1992 Barcelona Olympics which was the world mark until last month.

"If you would have told me that I was going to run 46.1 and lose, I would probably beat you up and tell you to get out of my room," said Benjamin.

Meanwhile, in Lane 7, Alison dos Santos of Brazil ran 46.72 seconds – good enough for gold in any other Olympic Games and only .02 off the existing world record – but he was relegated to the bronze.

"That was the best race in Olympic history," said Benjamin, of Mount Vernon, New York, who just turned 24. "I don't even think Usain Bolt … topped that. Three guys pretty much broke the world record."

The 400-meter hurdles has been one of Team USA's most dominant events on the track, with Benjamin winning the 42nd medal for the United States. Kerron Clement won in Rio five years ago, while Edwin Moses, Angelo Taylor and Glenn Davis each won two gold medals. No other country has won more than eight total medals.

Benjamin said he made some mistakes as on the back stretch that cost him. "And I just ran out of real estate," he said. "I was running my butt off coming home and just didn't have enough space."

He said the same thing happened in 2019 in Zurich when Warholm beat him in a thrilling race that came close to Young's world record. They were already building a rivalry for the ages, although Warholm had the upper hand with his win in Zurich and at the 2019 world championships, when Benjamin was nursing an injury.

"There's a lot of things I could have done differently," said Benjamin, who said he chopped his steps on the fourth hurdle, "but at the same time, how could you know? I never ran that fast before, so it was just a matter of experience."

As soon as Warholm crossed the finish line and saw his time, he let out a yell and ripped his uniform like the Incredible Hulk.

"It's so crazy, it's by far the biggest moment of my life," he said. "I didn't touch one hurdle. I was even able to find another gear coming home, so 'Wow.'"

It was the biggest margin taken off the old world record since 1956, when Davis lowered the record by .9 of a second.
What👏a👏race.👏@_Kingben_ x #TokyoOlympics pic.twitter.com/ZOl2Inpi2g


— Team USA (@TeamUSA) August 3, 2021
"The kid's amazing man," Benjamin said. "You can't be mad at that at all. As a competitor it hurts a lot, but that's just the nature of the sport. There's a lot of things people don't see.

"I couldn't sleep last night. You just want to get the race going, want to get it over with. There's like 10 million emotions going on in the call room. We're all cool with each other, but we're not talking to each other. It's rough down there. You don't really see the pressure and everyone carries it well, and he frickin' did it, man."

He added, "I'm getting goosebumps talking about it."

Warholm, who said he had been training like a "maniac," also admitted he struggled to sleep last night "because I had this special feeling in my chest. It's like the feeling I had as a 6-year-old on Christmas Eve. It's a feeling you think you'll never have again as you get older. But I had it last night."

Kyron McMaster of British Virgin Island was fourth (47.08), Abderrahman Samba of Qatar fifth (47.12) and Yasmani Copello of Italy sixth (47.81) as six men finished inside 48 seconds for the first time.
To put Warholm's time in perspective, in the men's 400-meter heats only 29 runners from around the world beat the Norwegian's time — and they didn't have to jump over 10 hurdles.

Historian David Wallechinsky said that when people look back on the Tokyo Olympics, this race will be one of the highlights.

"This could be one of the signature events," he said, "because that's just not breaking the world record, that's smashing the world record."

Benjamin hopes the race will help bring more attention – and bigger paydays – to track and field athletes.

He said with the world championships next year in Eugene, Oregon, "that's my backyard, and then we're in Paris for '24. So I'm excited or the next couple of years to come."

Benjamin dismissed talk on social media that the Olympic Stadium track is soft and fast, which could have contributed to the record run.

"Don't get me wrong, it's a phenomenal track," said Benjamin, who will return to action later this week in the 4 x 400-meter relay. "People say it's the track, it's the shoes… I'll wear different shoes and still run fast… and it's nice to have a good track, but no one in history's going to go out there and do what we just did right now, ever."

Benjamin said he and Warholm are friendly and have chatted in the Olympic Village. They talked a lot during their semifinal, when Warholm made it a point to win 47.30 to 47.37.

"Even before the race today, he was like, 'Let's just go out there and have fun,'" Benjamin said. "And I think we did exactly that and put on a good show for everyone."

But he said, "As a competitor I want more."

Want to follow Team USA athletes during the Olympic Games Tokyo 2020? Visit TeamUSA.org/Tokyo2020 to view the medal table, results and competition schedule.
Karen Rosen has covered every Summer and Winter Olympic Games since 1992 for newspapers, magazines and websites. Based in Atlanta, she has contributed to TeamUSA.org since 2009.