Grant Holloway And Rai Benjamin Become Second Fastest Of All Time In Hurdle Races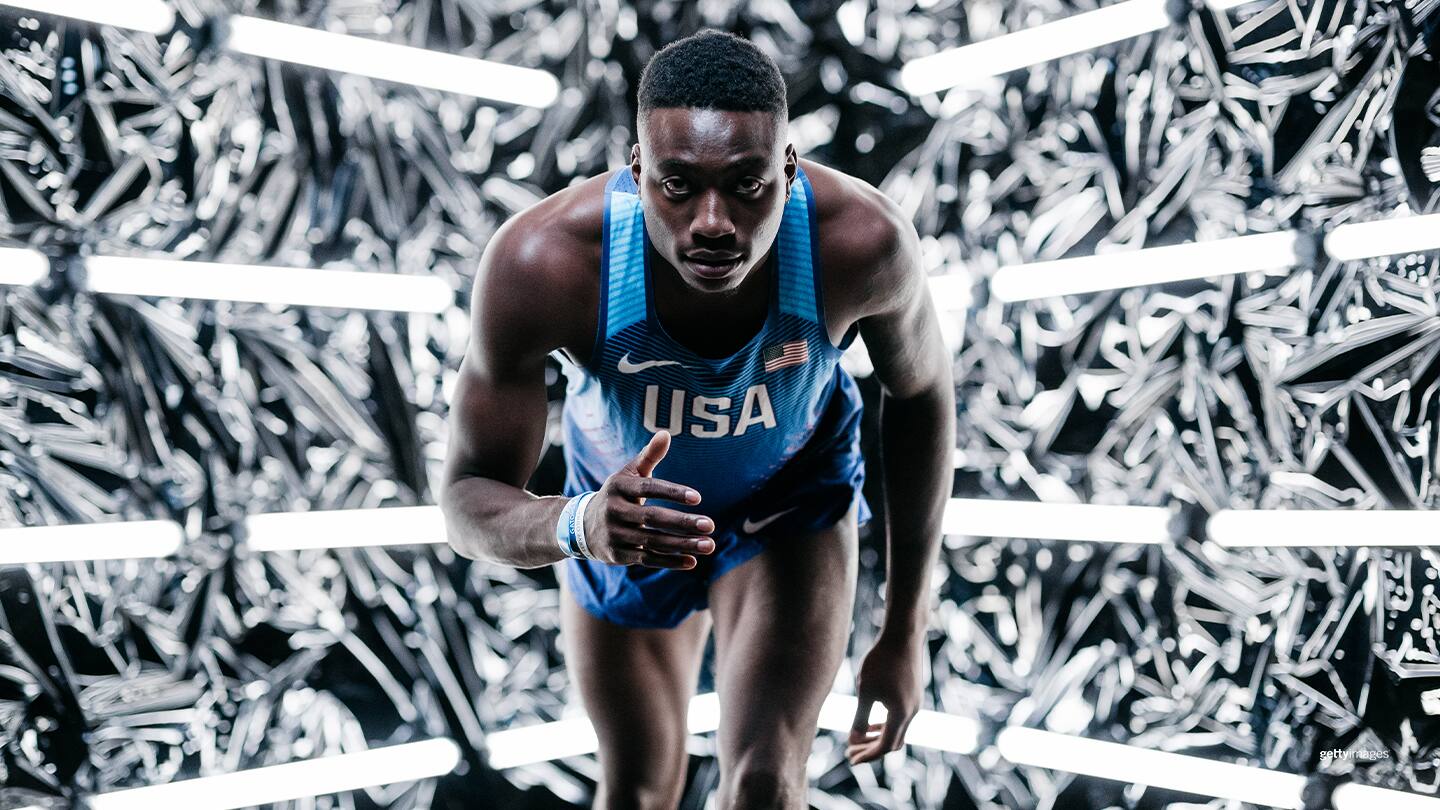 Grant Holloway poses at the Team USA Tokyo 2020 Olympic shoot on November 23, 2019 in West Hollywood, California.
EUGENE, Oregon – Hurdlers Grant Holloway and Rai Benjamin came tantalizingly close to world records Saturday at the U.S. Olympic Team Trials – Track & Field.

For Holloway, the margin was .01. For Benjamin, it was .05.

Consider this: A blink of an eye is at least 10 times slower than the difference between Holloway's time of 12.81 seconds in the semifinals of the 110-meter hurdles and Aries Merritt's 9-year-old world record.

"I definitely felt something big was going to happen," Holloway, 23, said.

While he was recharging for his final later in the day, Benjamin crossed the finish line in the 400-meter hurdles in 46.83 seconds, coming within a whisker of Kevin Young's 29-year-old world record from the Olympic Games Barcelona 1992.

"It hurts a little bit to know that it was right there and I couldn't grab it," said Benjamin, 23, who was born five years after Young won the Olympic gold medal. "But it's just more fuel for the fire.

"It'll come when it comes."

Both are now the second-fastest men in history in their events and on their way to Tokyo for their first Olympic Games.

Coming into the Trials, Holloway's personal best was 12.98 seconds from the 2019 NCAA Championships, when he broke Renaldo Nehemiah's 40-year-old collegiate record of 13 flat.

Although Holloway, who went on to run 12.96 seconds to win the Olympic Trials final, claimed to have "no emotions at all" about barely missing the world record, he could have fooled the crowd at historic Hayward Field the way he stomped and shouted.

"A lot of people said I could never run 12.9 again," Holloway said. "A lot of people said I would never be able to run 12.8. It's just executing at a very high level and figuring out ways to continue to get better."

He added that he wasn't pressing for the record.

"The main goal was just to set myself up and let everybody know I'm here to win," Holloway said. "I told everybody from my first interview, 'I didn't come to this party to sit on the wall. I came here to dance.'"

And so he did. Holloway danced to the top of the 2021 world list, passing Omar McLeod of Jamaica, the reigning Olympic champion, whose fastest time this season is 13.01. He also broke Allen Johnson's Olympic Trials record of 12.92 from 1996.



Hitting On All Cylinders
In February, Holloway set the world indoor record in the 60-meter hurdles, but he made it clear he wouldn't be satisfied until he also had the world outdoor mark.

Does he think he can get it in Tokyo? "We'll find out," he said. "I just think at this point it's definitely possible."

Holloway will be joined by his teammates from the 2019 World Championships in Doha. Devon Allen, 26, made his second straight Olympic team, having won the Trials in 2016. He was fifth in Rio.

Allen ran 13.10 in the semifinals, his fastest time since 2017, and equalled that in the final despite "probably one of the worst starts I've had this year."

Back on the Oregon campus where he played football in addition to running track, Allen said competing at at Hayward Field is "like cooking in your home kitchen. You know where everything is. You know what temperature to turn the stove to. Grant won with the second-fastest time of all time and I still got louder cheers than him in the final."

Daniel Roberts was third in 13.11. The 2019 national champion, Roberts was disqualified in his heat at the 2019 worlds.

He said of Holloway, his rival since college when he was at Kentucky and Holloway was at Florida, "I want to win every time and he wants to win every time. At the end of he day, he's my boy. I can't even count how many times that we have raced against each other. That will keep happening."

Holloway said he'll return to Gainesville, Florida, and keep doing exactly what he's been doing with his coach, Mike Holloway, who is no relation.

"Friday we had a little -- I don't want to say altercation, but we both were trying to make sure our opinions were heard because we knew something special was going to happen," Grant Holloway said, "and that's exactly why I had to give him a hug. We both know what's at stake. We both know what I'm capable of. It's just a matter of him voicing his opinion, I'm voicing my opinion and making sure we can make the greatness happen."

Benjamin figured he gave about 65 percent effort in his semifinal on Friday, shutting down and jogging to the extent that he practically stepped over the final hurdle. His time was 48.61 seconds.

On Saturday, he saw Holloway's near-record run. "He hyped me up," Benjamin said. "I think that's what got me to go out there and do that in all honestly. I saw (Holloway) and I was like, 'This kid's a beast.'

"Seeing Grant do that made me want to go out there and do something kind of crazy, then I had to check myself. 'Just make the team man. Don't change anything. Don't do anything stupid, just make this team.'"

Benjamin already was the world leader this season at 47.13 seconds, but he and two-time world champion Karsten Warholm of Norway have had their sights on Young's record.

In only his fifth race of the season, Benjamin, who won the world silver medal in 2019 despite an injury, knocked, .15 off his personal best, which had him tied for third all-time. He pulled ahead of Warholm, who clocked 46.87 seconds in August 2020 to give the record a scare, and left Abderrahman Samba of Qatar alone in fourth at 46.98.

He also smashed Edwin Moses' Olympic Trials record of 47.37 seconds from 1988. Moses, the previous world record holder and two-time Olympic champion, is in fifth place all-time at 47.02 seconds from 1983.

Benjamin, who also has pure 400-meter speed, said he had to hold back on the backstretch "because it's like the hurdles come faster than I anticipate them to come. It's just a matter of gauging where I'm at in the race. I know it's there, I've just got to tweak some more things."



Saving For Later
He said he was actually kind of happy he didn't get the world record. "It's like if I would have broken the world record now, what would I have done in Tokyo?" said Benjamin.

He's looking forward to the rematch with Warholm, who beat him in 2019 in Zurich in the first race in which he went sub-47 seconds, and again at worlds.

"I like to think I'm more experienced now," said Benjamin, who joins his friend Michael Norman, the 400-meter Trials champion, on the Olympic team. "I just have a different drive now, a different hunger. I want to win, I want to be dominant, I want to be the best hurdler that's ever been, I'm just going to keep working."

Benjamin, who is coached by Olympic 400-meter champion Quincy Watts, who was a teammate of Young's in Barcelona, and Joanna Hayes, the 2004 100-meter hurdles champion, said he knows he can run much faster.

"I know I can run like 46-low if I really actually tried," he said, "and that's no disrespect to anyone."

Benjamin said he has sought out and taken advice from Moses, Young and Felix Sanchez, just as Holloway has talked to the greats in his event like Merritt, David Oliver and Allen Johnson.

"To aspire to be just like them would be short changing myself," said Benjamin, who got a bloody finger Saturday from catching a spike (shoe) that a fan wanted autographed. "I want to be better than these guys, but at the same time I have enormous respect for them and the time that they take out of their lives to give me some advice here and there."

David Kendziera, who was third at Trials, plans to do the same with Benjamin when they are in Tokyo.

"I'm going to pick his brain," he said. "We all study the same people."

Kenny Selmon, the 2018 national champion who was plagued by injuries in 2019, had a personal best time of 48.08 seconds to finish second while Kendziera was third in a personal best of 48.38.

"When I saw Rai's time, I went, 'Oh, wow, He ran that?'" Selman said. "So I knew I had run a personal best.

"You always want to peak at the Trials, and I'm just so happy I did that."
Karen Rosen has covered every Summer and Winter Olympic Games since 1992 for newspapers, magazines and websites. Based in Atlanta, she has contributed to TeamUSA.org since 2009.