Another Blazing Time, Another Win For Noah Lyles At Diamond League Stop In Monaco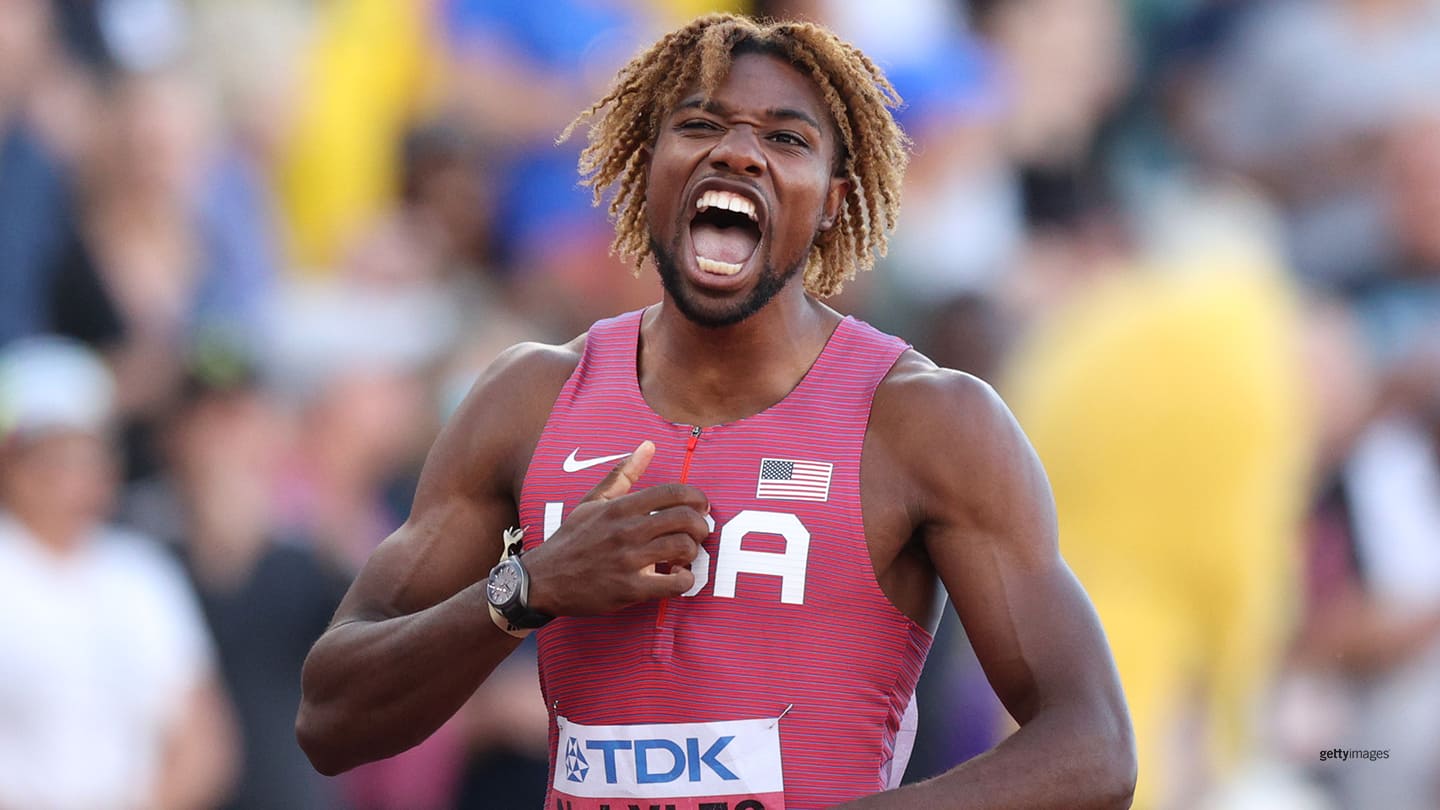 Noah Lyles celebrates winning gold during the men's 200-meter finals at the 2022 World Athletics Championships on July 21, 2022 in Eugene, Ore.
Noah Lyles has been a speedy blur this season.

The 25-year-old sprinter won a U.S. title in the men's 200-meter in June. Then he defended his world title last month at the same Hayward Field in Eugene, Oregon, in the process eclipsing the American record held by the legendary Michael Johnson.

On Wednesday, Lyles added another victory in meet-record time at the Diamond League's stop in Monaco. Lyles, who is also the 2020 Olympic bronze medalist, won the Monaco race in 19.46 seconds, capturing his second Diamond League victory of the season and vaulting to first place in the season standings.

In a repeat performance from the 2022 World Athletics Championships, Lyles also led a 1-2-3 U.S. finish in the men's 200. World bronze medalist Erriyon Knighton came in second at 19.84 and reigning world 400-meter champ Michael Norman was third in 19.95. Josephus Lyles, Noah's younger brother, took sixth in 20.26.

"It was a good race in overall," Lyles said, according to quotes released by the event organizers. "Of course, I wanted to go a bit faster but to be honest, I am getting my victory points right now. Happy to win."

In the first Diamond League meeting since the world championships, Americans notched 12 top-three finishes in Monaco.

Grant Holloway, coming off a second straight world title of his own in the men's 110-meter hurdles, nearly led another U.S. sweep in that event. Holloway, who is also the defending Olympic silver medalist, won in a season-best 12.99 seconds, followed by world silver medalist Trey Cunningham in 13.03. A third American, Daniel Roberts, was just off the podium in fourth at 13.20.

"I came here with the set of mind that I should win and have a little bit of fun," said Holloway, who arrived in Monaco only to find his luggage didn't. "I had some technical difficulties but I came over that."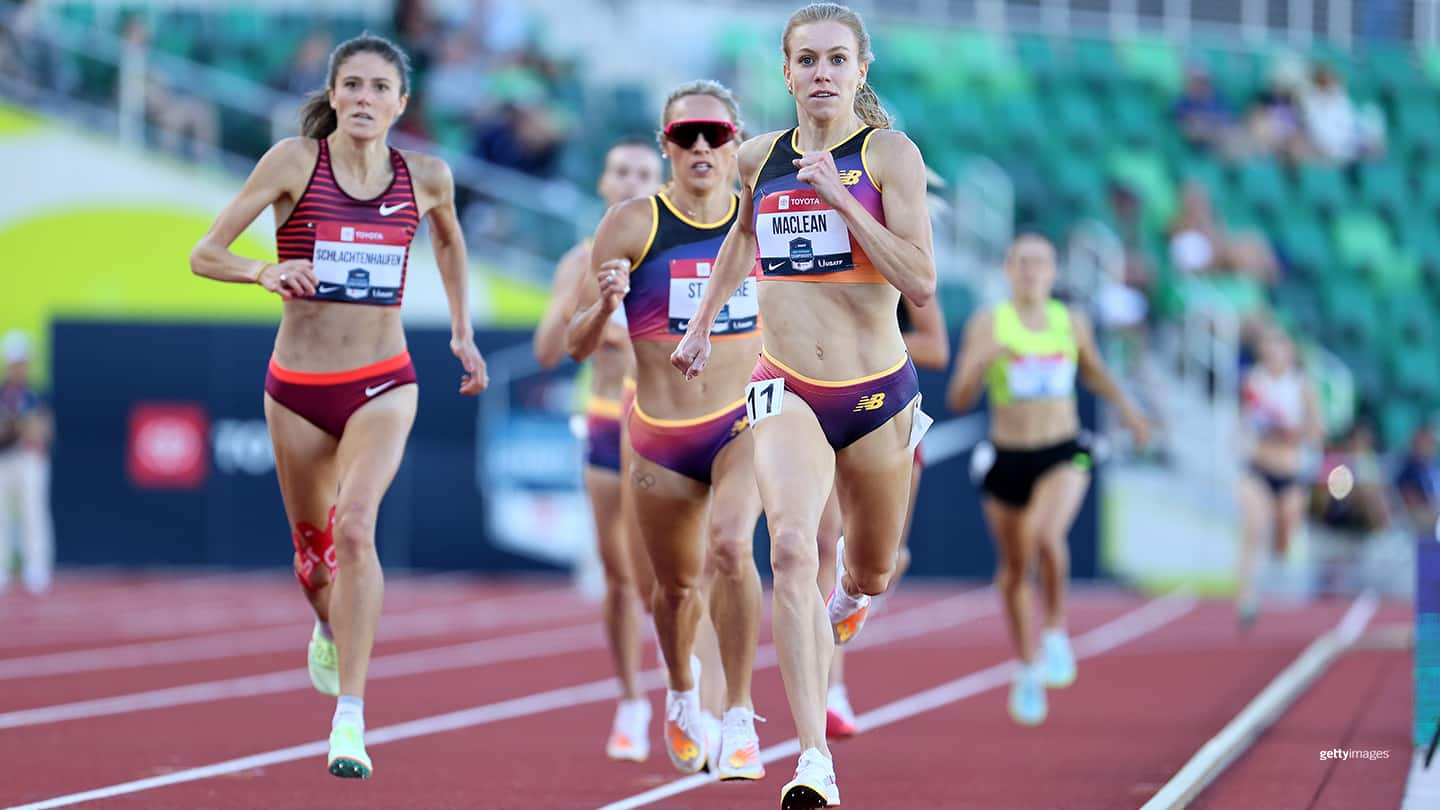 Heather MacLean competes during the women's 1,500-meter at the 2022 USATF Outdoor Championships on June 23, 2022 in Eugene, Ore.
U.S. Olympians Heather MacLean and Elise Cranny had career-best times in the women's 1,500 and finished second and third, respectively, behind Faith Kipyegon of Kenya, who won in a world-leading time of 3:50.37. MacLean finished in 3:58.89 and Cranny was right behind her at 3:59.06.

Olympic medalist Sandi Morris was one of three women to clear 4.66 meters in the women's pole vault, and she ultimately ended in second. In Eugene, Morris won the silver medal — her fourth in a global championship meet.

Morris, who arrived from the U.S. 48 hours prior to the competition, said she didn't perform as well as she'd hoped.

"We all sometimes have a day like this," she said. "I was still a bit jet lagged and I did not get these feelings in my jump, little bit off, and you cannot do anything big like that."

A rising star in U.S. men's distance running, Grant Fisher, 25, kept it up in the non-Olympic 3,000-meter race Wednesday, setting an American record of 7:28.48 while finishing third. He's also the U.S. record in the outdoor 10K and indoor 5K.

Coming off a bronze medal in Eugene, Tori Franklin went for a personal best in the women's triple jump to take third. Her best jump of 14.86 was .14 better than at the world championships but wasn't enough to catch world champion Yulimar Rojas of Venezuela, who won with a world-leading jump of 15.47.

Marquis Dendy took third in the men's long jump with a season-best mark of 8.31 meters, while fellow Olympian Clayton Murphy finished third in the men's 1,000 with a time of 2:15.73.

Several top Americans also finished just off the podium in fourth place, including Olympic medalist Emma Coburn (women's 3,000-meter steeplechase), reigning world silver medalist Kara Winger (women's javelin) and JuVaughn Harrison (men's high jump), while Aleia Hobbs led a 4-5-7 finish among Americans in the women's 100-meter.

The next Diamond League stop is Aug. 26 in Lausanne, Switzerland.
Chrös McDougall has covered the Olympic and Paralympic Movement for TeamUSA.org since 2009 on behalf of
Red Line Editorial, Inc.
He is based in Minneapolis-St. Paul.