Fred Kerley Keeps Team USA Podium Streak Alive In 100 With Silver Medal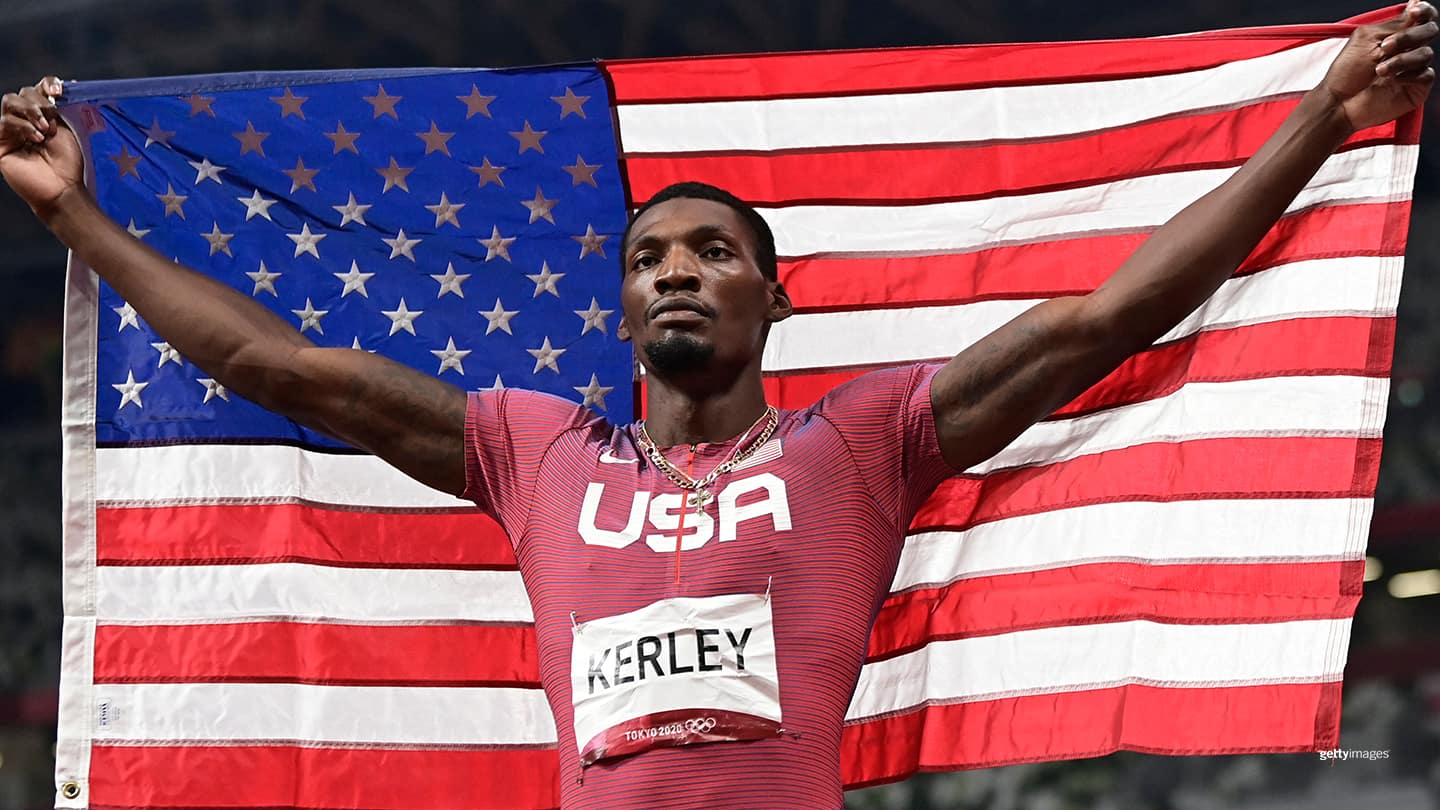 Fred Kerley competes at the Olympic Games Tokyo 2020 on Aug.1, 2021 in Tokyo.
TOKYO – Fred Kerley ignored the critics who wondered why one of the top 400-meter runners in the United States, a man ranked No. 8 on the all-time world list, would drop down to the 100 meters in an Olympic year.

"I feel like it's justified," said Kerley.

That's an understatement. He has an Olympic silver medal to back up his decision. And with a personal best of 9.84 seconds in the final Sunday night at the Olympic Games Tokyo 2020, Kerley moved up to a tie for No. 15 on the all-time world list in the 100.

"The future is bright," said Kerley, who put a finger to his lips as if to say "Shhhhh" when he was introduced. "I executed the race perfectly out of 10 and came up with a silver medal."

The third man in the event at the U.S. Olympic Team Trials - Track & Field, Kerley extended the Team USA podium streak in the 100 to six straight Games while continuing to lower his time this season.

"When you're consistent, that means you're going to drop something amazing at the right time," said Kerley, 26, who was the 2019 national champion in the 400 with a time of 43.64 seconds, then captured the bronze medal at worlds, plus a gold on the 4 x 400 relay.

"I feel like 2020, y'all gave us a rest year," he added, "so we all got to recover our bodies, so that was a blessing for all of us."

Ronnie Baker, who was second at the Trials, placed fifth (9.95 seconds) after running a personal best of 9.83 seconds in the semifinals.

Trayvon Bromell, the Trials champ who came in as the favorite, did not display the same blazing form that has been his trademark this season. He was fourth in his heat on Saturday in 10.05 seconds and then missed the final by one-thousandth of a second after he and another runner both clocked 10.00 seconds in their semi.

The Olympic 100-meter gold medal was actually won by a sprinter who was born in the United States. However, Lamont Marcell Jacobs moved from El Paso, Texas, to Italy with his Italian mother when he was very young.

As the first Italian to win the Olympic 100, Jacobs ran the fastest race of his career, clocking 9.80 seconds. Andre de Grasse of Canada also ran a personal best with a time of 9.89 to repeat as Olympic bronze medalist and Akani Simbine of South Africa, ranked No. 2 in the world, ran 9.93.

After a false start eliminated Zharnell Hughes of Great Britain – who had a world ranking of No. 4 - all of the finishers came in under 10 seconds. Enoch Adegoke of Nigeria, the man who edged Bromell for the last lane in the final, pulled up and did not finish.

"The race was a beautiful race," Kerley said. "Can't complain about coming to the biggest stage of my career to come away with a medal."

He said after the false start, "Once we got back focus, it was just the guts and stuff and whoever can get back to the finish line the fastest."

Kerley said there were false starts in all three of his rounds, which he attributed to nerves.

"The 100 has got to be the sharpest," he said. "There's no room for no mistakes."

It was a big night for Italy, with Jacobs crossing the finish line and immediately running around the curve to hug countryman Gianmarco Tamberi, who was still celebrating his gold-medal tie in the high jump with Mutaz Essa Barshim of Qatar.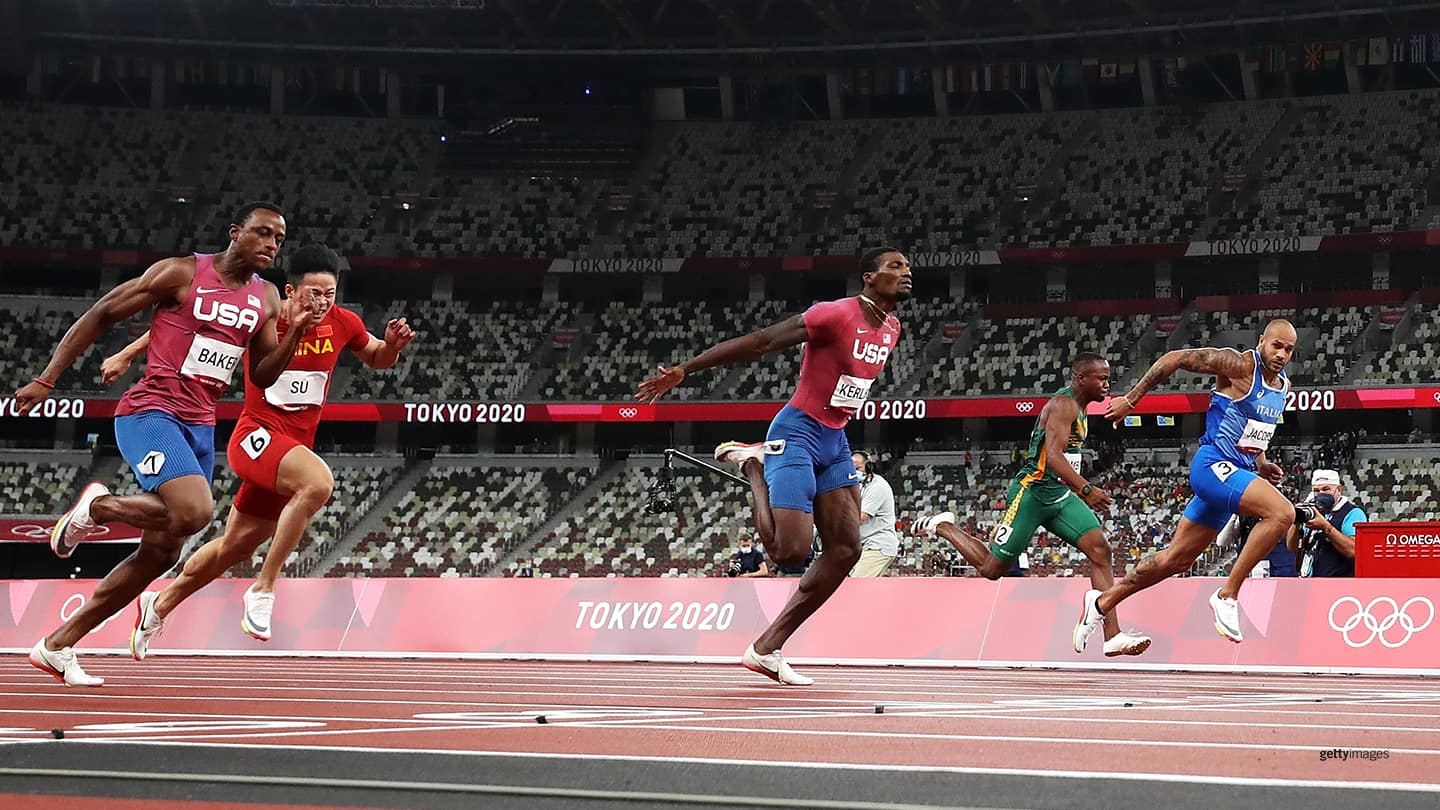 Fred Kerley competes at the Olympic Games Tokyo 2020 on Aug. 1, 2021 in Tokyo.
The Team USA sprinters were not that familiar with Jacobs, 26, who had been a long jumper before switching to sprinting full-time. His personal best coming into the Olympics was 9.95 seconds, which he posted this year. Prior to 2021, his PR was 10.03 from 2019.

Baker defeated Jacobs twice this year in Diamond League meets. In Stockholm on July 4, Baker won with a time of 10.03, with Jacobs next at 10.05.

Then the race in Monaco on July 9 had many of the same Tokyo sprinters. Baker won with a time of 9.91 seconds, while Simbine was second (9.98) and Jacobs was third in 9.99, followed by De Grasse (10.0), Bromell (10.01) and Kerley sixth (10.15).

Going into the race, did Kerley view Jacobs as a threat? "You get to the final, everybody's a threat," he said.

Baker said he was happy with his personal best in the semifinal. "I always want to come here and get a medal," he said, "but hey, it just wasn't in God's plan today. I got a smile, it's my first Olympics, it's nice to just come here and compete, obviously against some stout competition."

Up until the last couple of years, though, he didn't have Jacobs on his radar screen, much less Kerley, who grew up in Morgan City, Louisiana, in an extended family with 13 kids.

At 6-foot-3, he also excelled at football and basketball, but a broken collarbone helped persuade Kerley to switch to track his senior year of high school.

His younger brother Mylik won gold for Team USA on the 4 x 400-meter relay at the 2019 World Relays in Yokohama, Japan, while his cousin Jeremy Kerley played wide receiver in the NFL.

Kerley is one of only three runners to run under 10 seconds for the 100, under 20 seconds for the 200 and under 44 seconds for the 400. The others are Michael Norman of Team USA and Wayde van Niekerk of South Africa.

In 2017, Kerley was the 2017 NCAA indoor and outdoor champ in the 400 for Texas A&M University and won the 2017 U.S. national crown.

By April 2021, he broke 10 flat in the 100. At the Trials Kerley ran 9.93, 9.92 and a personal best of 9.86 seconds in the final for third. He also ran a PR of 19.90 in the 200 at the Trials, finishing fourth.

Kerley said after his race that his family was "already probably blowing up my phone right now. Hey, (I'm) the first one out of the family to come to the biggest stage of anybody's career, so I'm blessed with coming home and bringing a medal back home."

Bromell didn't come out of the 100 with a medal, but he said he does "walk away with a smile."

In 2016, Bromell aggravated an injury at the Olympic Games in Rio and left the track in a wheelchair. He then spent years on surgeries and recovery.

"Like I told people this whole year, it's not about the medal, it's about showing people that I can fight even through losses, bad situations," Bromell said. "You can still continue to fight and make your dreams come true.

"When I went down in 2016, I never even thought I'd be back at the Olympics. To be able to come back and perform here is still a win for me."

Also Sunday night, Keturah Orji placed seventh in the women's triple jump with a leap of 14.59 meters. Yulimar Rojas of Venezuela set a world record of 15.67 meters.

Juvaughn Harrison of Team USA was seventh in the men's high jump. He struggled all night and cleared 2.33 meters. Teammate Shelby McEwen was 12th with a jump of 2.27 meters.
Want to follow Team USA athletes during the Olympic Games Tokyo 2020? Visit TeamUSA.org/Tokyo2020 to view the medal table, results and competition schedule.
Karen Rosen has covered every Summer and Winter Olympic Games since 1992 for newspapers, magazines and websites. Based in Atlanta, she has contributed to TeamUSA.org since 2009.