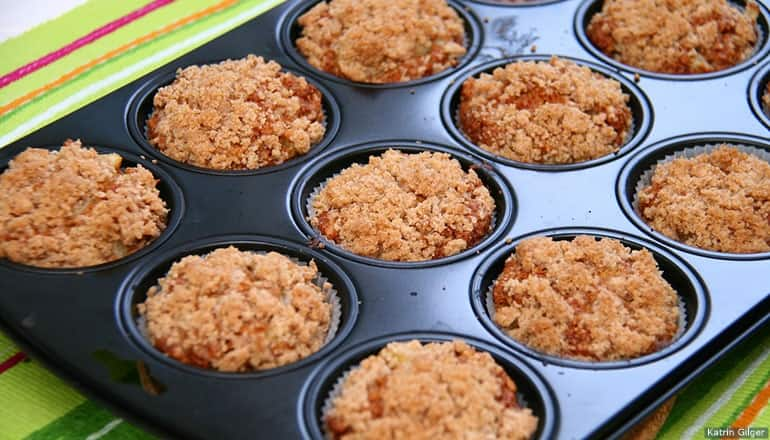 2 cups apples, peeled and shredded (4 large)
1½ cup whole wheat flour
3 cup old fashioned oats
⅔ cup firmly packed brown sugar
1½ teaspoon baking soda
1½ teaspoon baking powder
½ teaspoon salt
½ teaspoon cinnamon
¼ cup fat-free milk
2 tablespoons canola oil
1 teaspoon vanilla extract
1 cup fat-free Chobani Greek Yogurt
2 egg whites
¼ cup chopped walnuts
Amount: 1 muffin
Calories: 140
Fat (g): 4
Sat. Fat (g): 0
Carb (g): 25
Fiber (g): 2
Protein (g): 5
Preheat oven to 400 degrees and line muffin tin.
Peel, then shred the apples until you reach the core using the large side of the box grater. Put in a strainer to remove juice.
Spoon flour into measuring cups and level with a knife. Place flour in a large mixing bowl and add oats, walnuts, brown sugar, baking powder, baking soda, salt and cinnamon. Stir with a whisk.
Combine milk, oil, vanilla, yogurt and egg whites, stirring until well blended in another bowl.
Add wet ingredients to flour bowl and stir until just moist. Squeeze shredded apple to get rid of excess moisture, then add and stir.
Spoon batter into a lined 12-cup muffin tin. Bake at 400 degrees for 20 minutes.
Let cool for 5 minutes, then serve.
Apples that are crisp and crunchy work best, such as granny smith or fuji. For less mess, use an ice-cream scooper to spoon batter evenly into each slot. Add powdered ginger or nutmeg for a warm "spice cake" flavor.
These muffins provide a good source of fiber, high quality protein and omega-3 fatty acids. The fiber and protein will keep you feeling full while also aiding digestion and helping to build muscle. The Omega-3's in walnuts help decrease inflammation and aid in recovery after an intense workout.