Olympian, Captain, Mom: Napheesa Collier Is Ready To Take On A New WNBA Season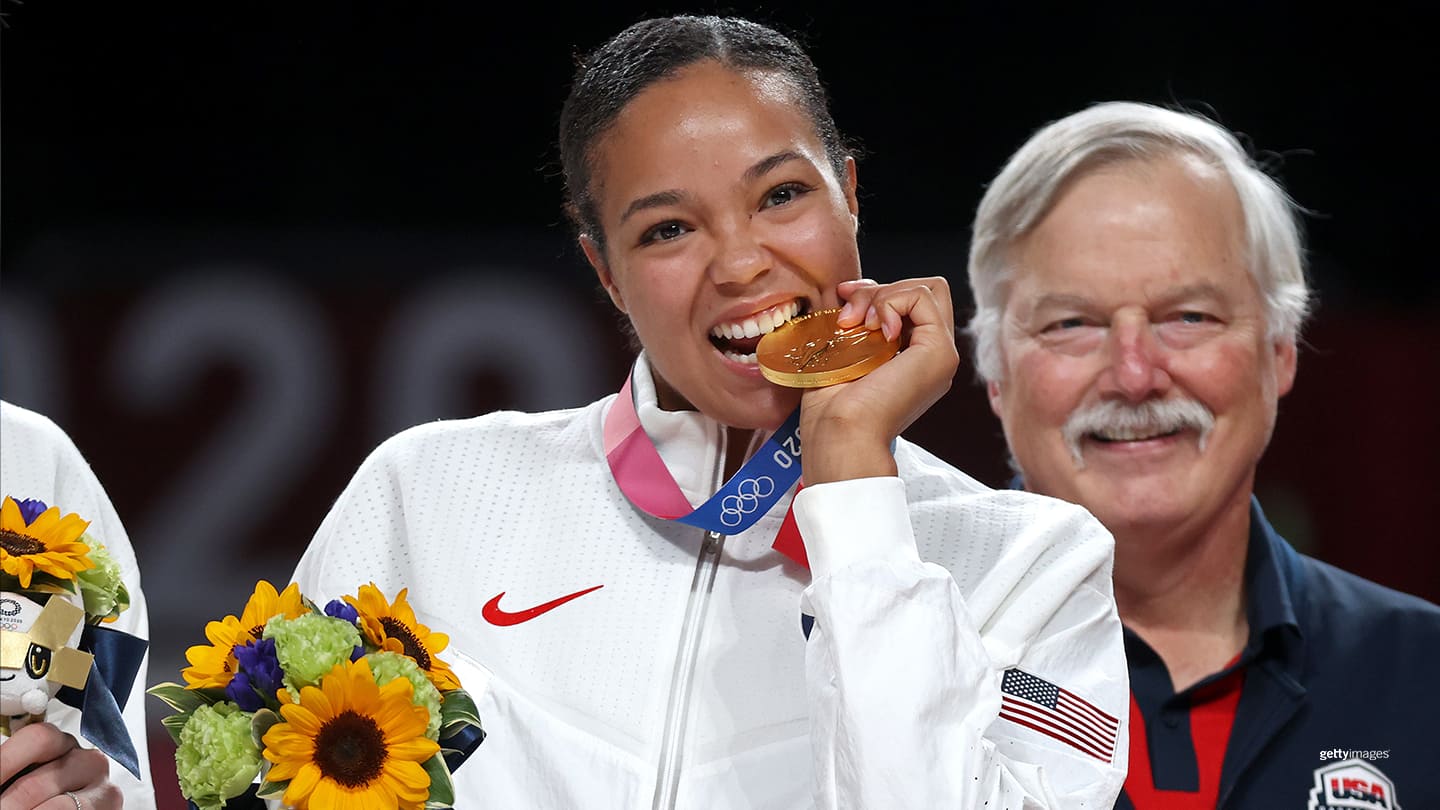 Napheesa Collier poses with her gold medal following the women's basketball final medal ceremony at the Olympic Games Tokyo 2020 on Aug. 8, 2021 in Saitama, Japan.
TORONTO – This is new territory for Napheesa Collier.

After making her Olympic debut with the U.S. women's basketball team in 2021, the multi-faceted big is now coming off a year in which she gave birth to her first child and became the de facto leader of the Minnesota Lynx following Sylvia Fowles' retirement. Now officially the Lynx's new captain, she's ready to take on the challenges that are in front of her both as a basketball player and a new mom.

"It's been crazy. The year has gone by so fast," Collier said last week, ahead of the Lynx's preseason game against the Chicago Sky on Saturday, which marked the WNBA's first visit to Canada. The game also preceded her first Mother's Day after giving birth to daughter Mila last May.

"Just finding that new normal and that work-life balance has been so fun," Collier continued. "Every time I come home and see (Mila's) smile, it is all worth it. It kind of makes you hone in on what you need to do because I don't have unlimited hours in the day anymore. When I'm in the gym, I focus on that but when I'm at home I focus on her."

A part of that balance is prioritizing long-term goals with the ones right in front of her. Collier already looks like the player she was before she had Mila and is continuing to sharpen her already stellar skillset. The biggest difference so far? Her three-point shot.

Coming out of the University of Connecticut, Collier didn't have a reputation as a player who could step out from beyond the arc and nail three-pointers, but she's shown flashes of being a reliable shooter at the next level. In her first two seasons with the Lynx, she shot 37.9 percent from deep on 2.4 attempts per game. The two-time WNBA All-Star didn't bring the same shooting efficiency in 2021 and sat out most of 2022 after giving birth to Mila.

However, Cheryl Reeve, Collier's head coach on both the Lynx and the U.S. team, gave a glowing review of Collier's growth as a three-point shooter since the two have been in camp.

"She was capable (of hitting three-point shots), but now she is a shooter," Reeve said. "It's a big evolution that will open up things for her. She's obviously very efficient in the paint in a variety of ways, but adding the three … that's pretty good."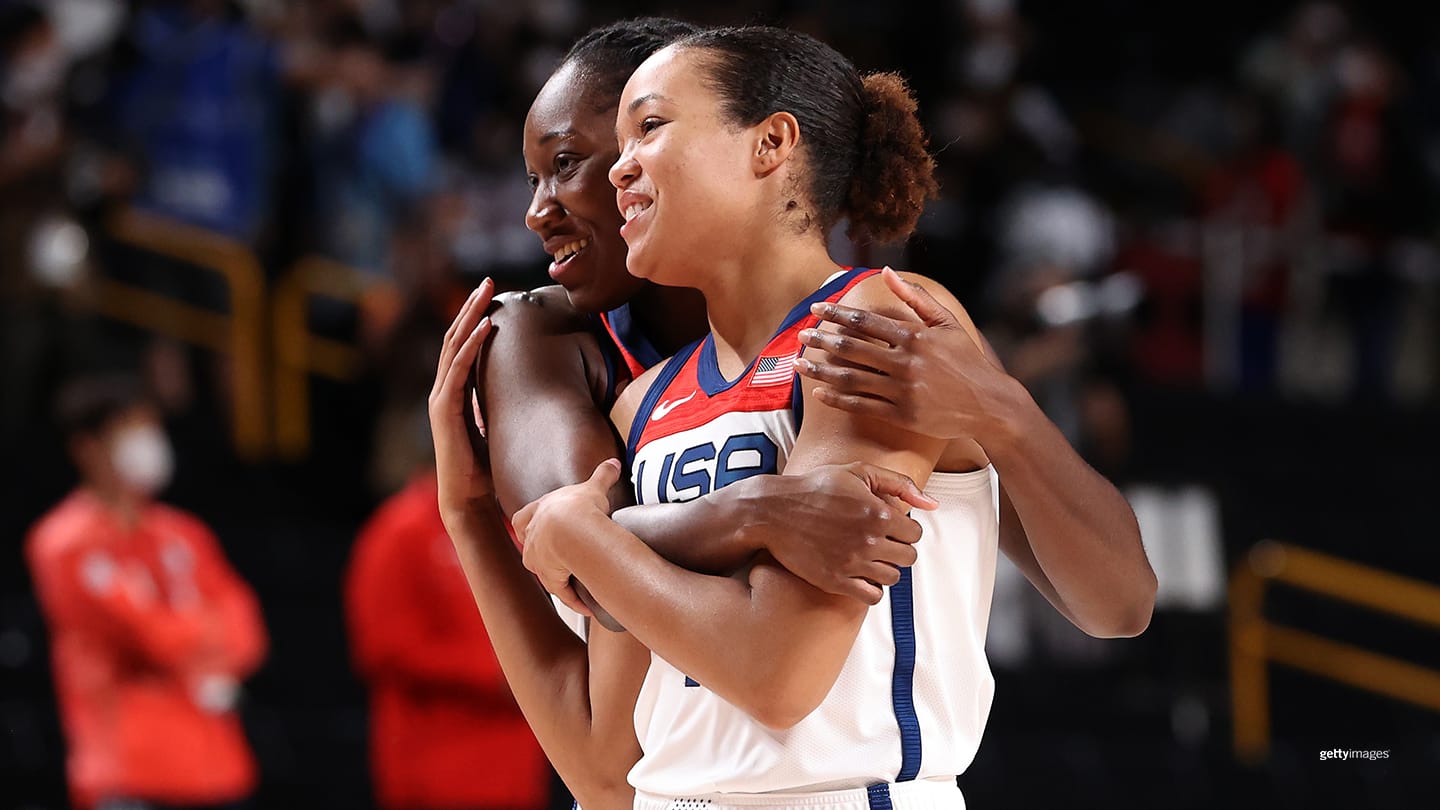 (L-R) Tina Charles and Napheesa Collier celebrate defeating Japan in the women's final at the Olymipc Games Tokyo 2020 on Aug. 8, 2021 in Saitama, Japan.
The sixth pick in the 2019 WNBA Draft, Collier went on to win the league's Rookie of the Year honors that season, and two years later she was packing her bags for the Olympic Games Tokyo 2020. The Games marked Collier's first major tournament with the U.S. team, though she'd enjoyed plenty of success on the youth international level, including winning a 3x3 gold medal at the Summer Youth Olympic Games Nanjing 2014.

Though Collier didn't get heavy minutes during Tokyo 2020, she appeared in four games as Team USA went on to win its seventh consecutive gold medal.

For Collier, who is originally of O'Fallon, Missouri, the Games were a learning experience and, hopefully, a steppingstone as she builds up toward more international tournaments with the U.S. team.

While she admittedly doesn't want to jinx herself talking about what her role could be at the Olympic Games Paris 2024, Collier said she appreciates all the opportunities that come with playing for the national team.

"Every time I get to play with Team USA is an honor, let alone the Olympics," Collier said. "I'm super excited to be a part of that and obviously you hope to get more playing time, but I'm just really happy to be a part of the team and fill whatever role they need from me."

While her focus is on the Lynx this season, Collier will have a chance to develop as a leader ahead of the 2024 Olympics. As captain of the rebuilding Lynx, she has already taken rookies like Diamond Miller under her wing in training camp and will assume the role as the player the team turns to when adversity strikes.

"She's a really great vet," Miller said of Collier. "One thing I can say about me and her is that I'm very emotional, and she is more poised. That is such a good thing because we are going to be in some tight-situation games this year, and to have a vet who will say 'We're good' in those moments is something we are going to need this year."

Like the U.S. national team, the Lynx are starting a new chapter after the departure of familiar faces on the roster. Minnesota lost its last remaining star from the organization's mid-2010s dynasty in Fowles, leaving a hole on the backline of the defense.

After all the changes she has adjusted to in the last year, Collier is ready for anything the rest of the league throws at her and her team. It'll only make her sharper as she contends for an Olympic spot in 2024.

"I'm excited for us to surprise some people," Collier said. "I think we do every year. Cheryl is such a great coach, and whatever she puts out there we end up turning heads."