U.S. Men's Water Polo Captain Ben Hallock Is Thinking Big — And Enjoying The View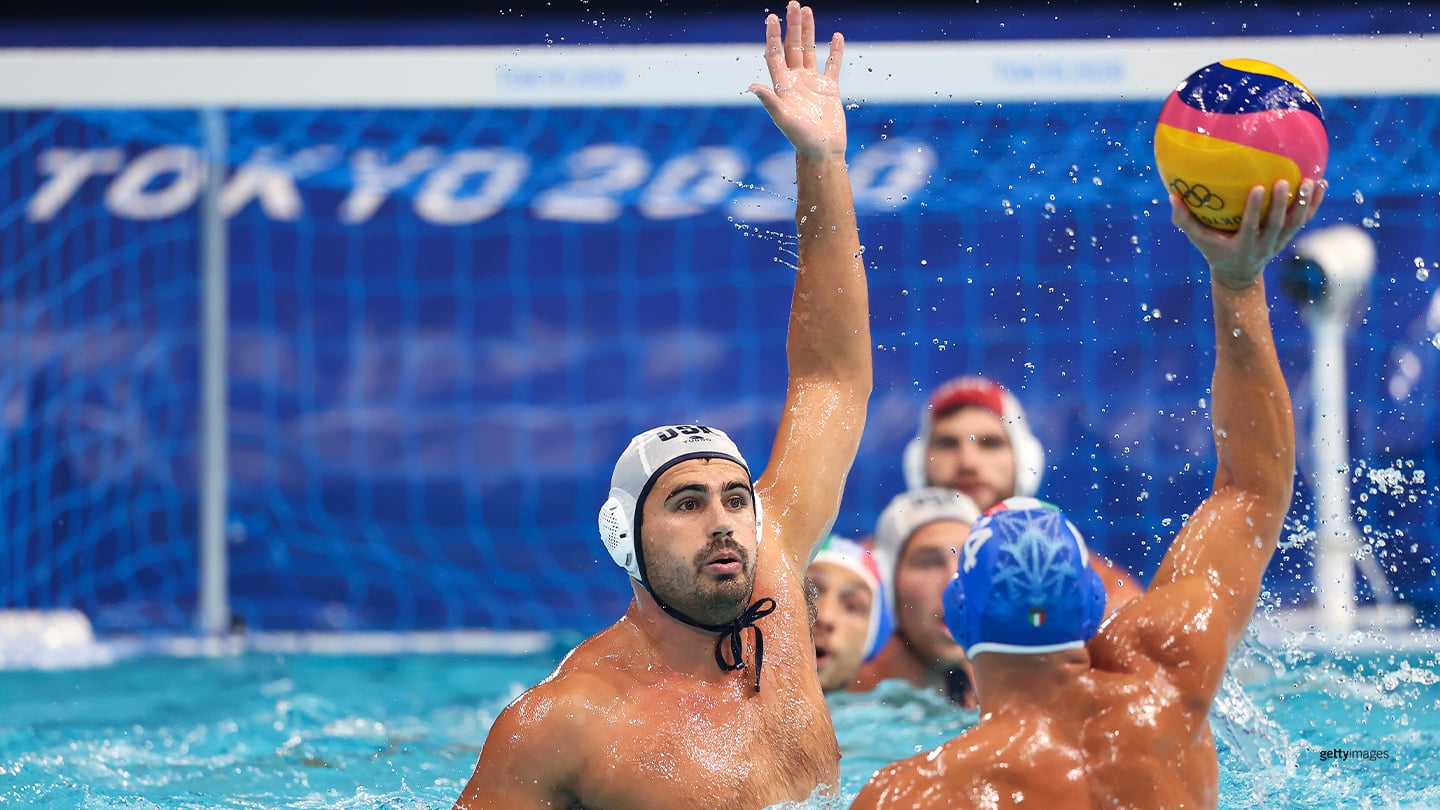 Ben Hallock defends against Pietro Figlioli of Italy in a men's preliminary round Group A match during the Olympic Games Tokyo 2020 on July 29, 2021 in Tokyo.
The U.S. men's water polo captain has an extraordinary window to the world, and we're not just talking about the picturesque ocean view from his Italian home. Ben Hallock sees a path to develop his skills even further and perhaps lead the Americans to an Olympic medal in 2024.
Hallock, a two-time Olympian and former collegiate national champion, plays professional water polo for Pro Recco in Italy. The 6-foot-6, 245-pound center is now in his third season with Recco, where he's able to fine-tine his game by playing so many games against some of the best players in the world.
"In the U.S. the highest level is pretty much college," Hallock, originally of Westlake Village, California, said. "Here, you have older players. You have grown men doing this for a living."
Hallock was a California state champion in high school and an NCAA champion at Stanford in 2019. That year also marked his second in a row winning the Cutino Award as the top men's college player in the sport.
COVID-19 cut his senior season short in 2020, but he had the option to come back for another season in 2021. Instead, an opportunity to play professionally overseas came calling.
"I got a great offer to play in Europe, so that's how I got started," Hallock said. "It was a tough decision to leave school, but I'm at peace with it."
Recco is one of the most successful professional teams in Europe, if not the most successful, and Hallock has been a key cog to the team's continued success. He helped his team win a 10th consecutive Italian Cup championship in February. The American star continues learning something new almost every time he hits the pool.
"It's the reps and amount of play you get," he said. "It's the quality and the strength of everyone around you and the amount of games you play. It's consistently been a humbling experience. If you don't bring everything out there, then you get humbled."
Professional water polo matches in Europe draw more spectators than typical games in the states, he said.
Hallock said 18 members of the U.S. men's team are currently playing overseas, and their time together over the years, combined with so many gaining international experience, could mean good things to come during the next Olympic quad.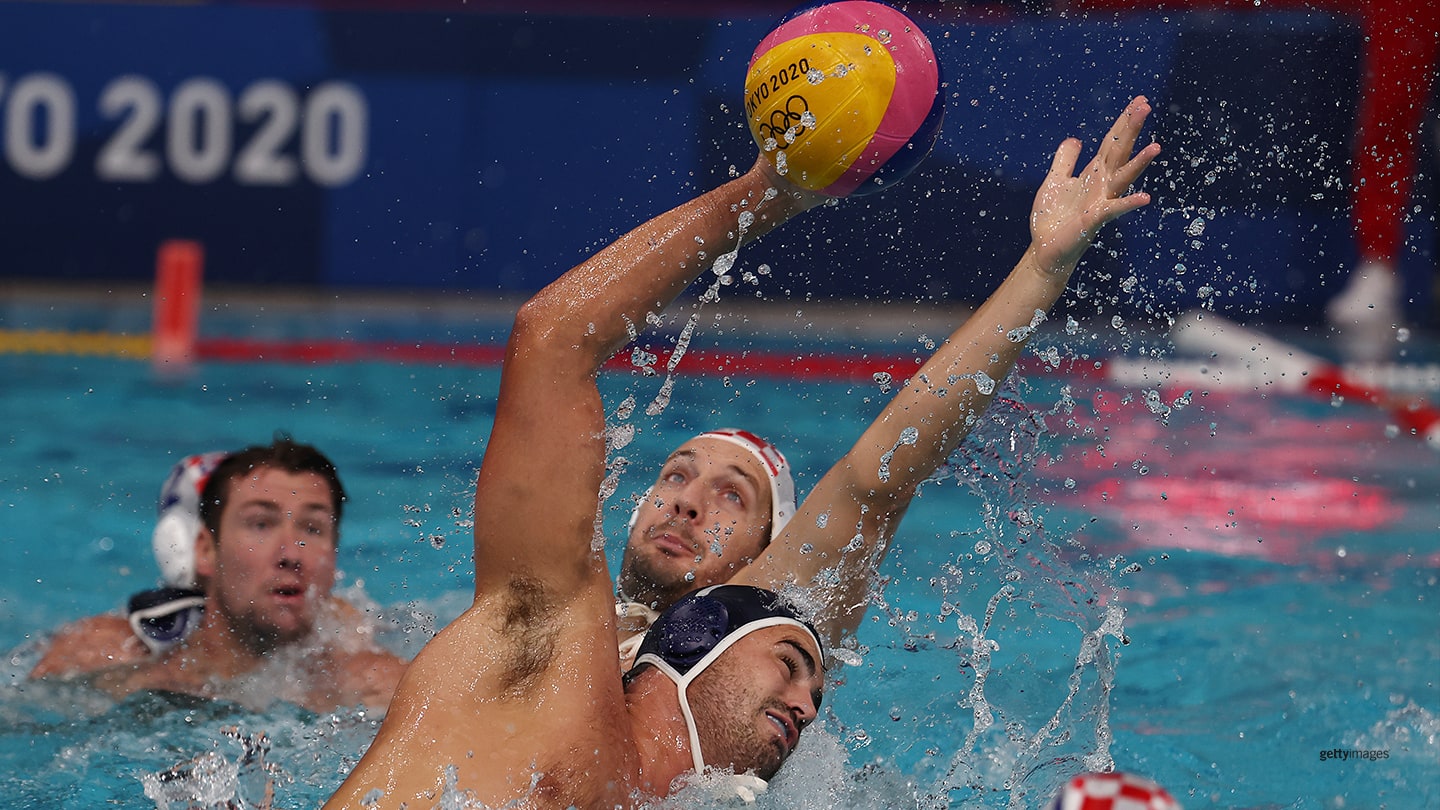 Ben Hallock on attack during the men's classification 5th-6th match against Croatia at the Olympic Games Tokyo 2020 on Aug. 08, 2021 in Tokyo.
"This quad is interesting because it's short but dense," Hallock said, referring to the shorter than usual three-year break between Olympics after the Tokyo Games were postponed a year to 2021. "We have three world championships in between. At the beginning of every quad, we get a good lay of the land.
"We're young with a lot of experience and lot of maturity, and we know each other really well."
The U.S. men finished sixth at the Olympic Games Tokyo 2020, up four spots from five years earlier in Rio. Their next big tournament is June 30 – July 1, when they host the World Aquatics World Cup in Los Angeles.
As for Hallock, his training with Recco has been rather delightful while rigorous. He wakes up at his home, where he has a panoramic view of the Ligurian Sea and surrounding mountains and villages. The Pro Recco training facility is near his home, and the pool sits on the beach, just steps away from the salt water. Hallock has coffee and breakfast, then hops on a scooter to make it to the facility for the day's work.
The team has weightlifting from 9:45 to 11 a.m., and then they hit the pool for strength training and shooting until 1 p.m. There's a five-hour timeframe to rest, then it's back to the pool at 6 p.m. for tactical training and practicing on other parts of the game.
Playing professionally overseas is much different than touring as a national team, where there's a much more structured schedule. Hallock has completely immersed himself in Italian culture, even picking up the language while hanging out with his teammates during down time.
Hallock, 25, still plans on playing the sport hopefully until 2028, when the Olympics will be held in Los Angeles, not far from where he was raised. He has personal goals and plans for the immediate future.
"For me it's Paris Olympics and then Recco again," he said. "Maybe two more world championships and build on what we did last summer and then a run for a medal in 2024."
He said business school or internships for the next step in his career could follow, but he hasn't lost sight on the 2028 Los Angeles Games.
"Having a home Olympic Games would be incredible," he said. "Just thinking how exciting it would be."
Scott McDonald is a writer from Houston who has covered sports for various outlets since 1998. He is a freelance contributor to TeamUSA.org on behalf of
Red Line Editorial, Inc.