'They Can See Me': Anastasija Zolotic's Historic Taekwondo Gold Medal Has Opened Doors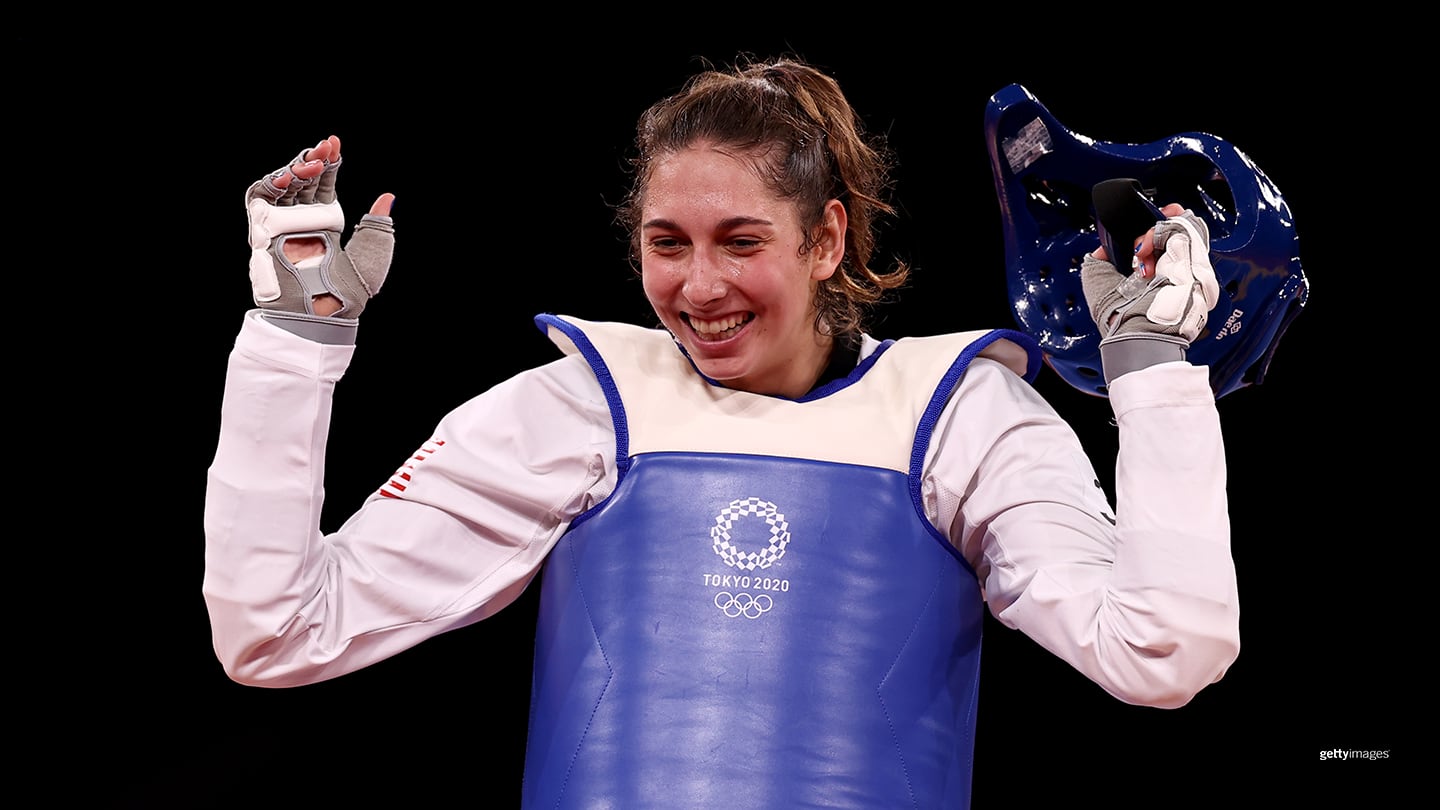 Anastasija Zolotic celebrates winning the women's 57 kg. semifinal contest against Lo Chia-ling (Team Chinese Taipei) at the Olympic Games Tokyo 2020 on July 25, 2021 in Chiba, Japan.
The realization hit Anastasija Zolotic soon after she became the first American woman to win an Olympic gold medal in Taekwondo. The signature achievement, winning the 57 kg. division at the Olympic Games Tokyo 2020, wasn't entirely hers.

The bigger ramifications dominated: opening doors for more girls and women to join American taekwondo and dream big. No longer would U.S. fighters be seen as weak.

Zolotic, then 18, was the first to win gold. Now, she is positive she will not be the last.

"I'm kind of religious, and I really believe that God put me on this path for a reason," Zolotic, now 20, said. "This happened so other things now can happen too. My medal achieves this, because I worked hard for it, for me, for other people, for other girls. I want to boost my sport, I want American taekwondo to grow, get the publicity. My gold medal did that. The world knows the U.S. is on the rise in the sport, and we are the underdogs who are going to fight you hard.

"I want that gold to be the thing to inspire our next gold medalists and world champions."

Zolotic admits her desire to role model for other women and girls in the sport is fed by her own path. She didn't have the major American female champion to look up to, as taekwondo is in a growth cycle.

The depth of her post-Tokyo impact is being measured during her period of downtime from injuries and surgeries. Zolotic's life has slowed down, as she is not training six hours a day. She has worked through left knee surgery and now is sidelined after recent surgery to repair the labrum in her right hip. She intends to recover in four months, half the normal span, to be back in training and competition to defend her gold at the Olympic Games Paris 2024.

She's diving in to clearing out the deep pile of direct messages in her social media inboxes and is moved by the heartfelt words left by fans and aspiring taekwondo athletes.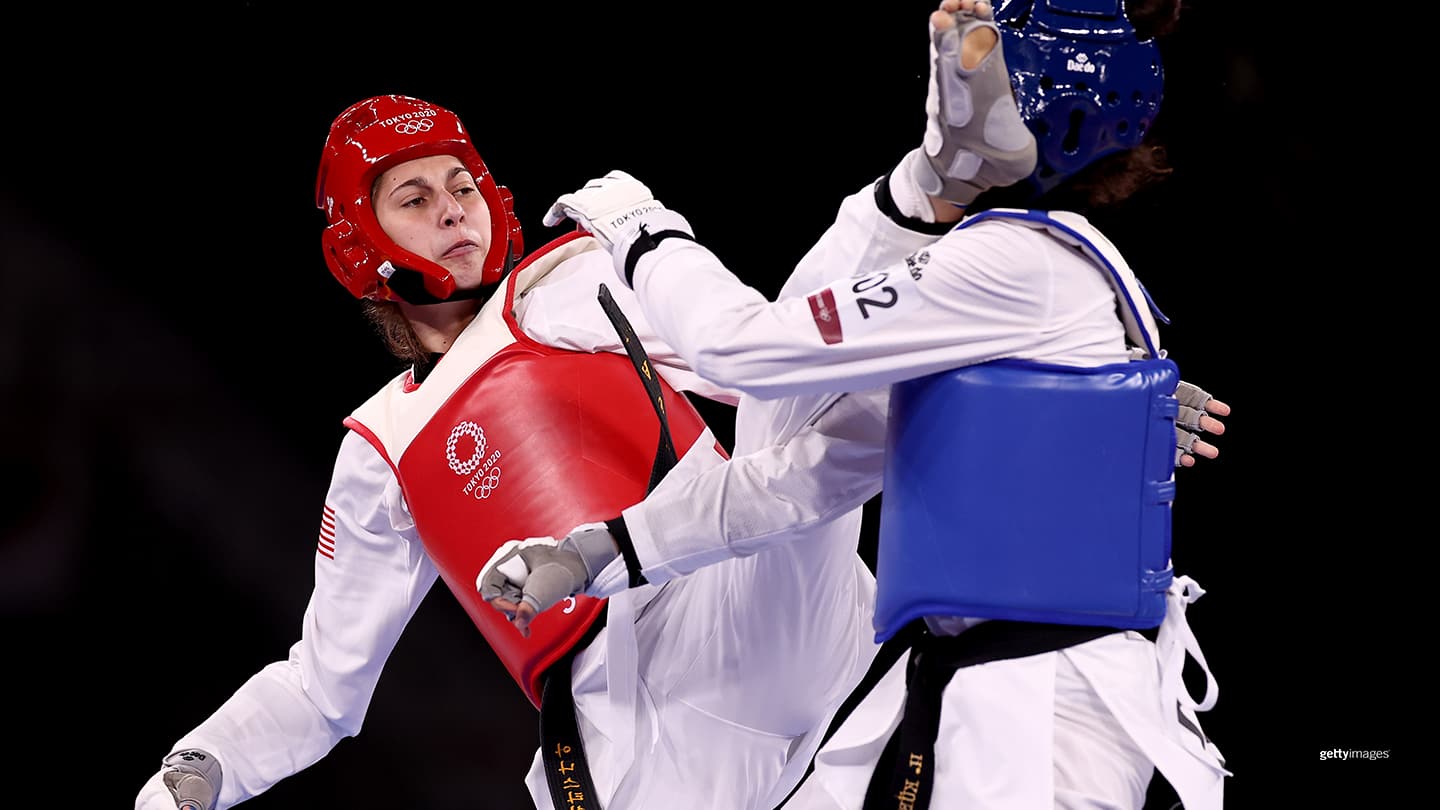 Anastasija Zolotic competes during the women's 57 kg. quarterfinals against Hatice Kubra İlgun (Team Turkey) at the Olympic Games Tokyo 2020 on July 25, 2021 in Chiba, Japan.
"It's really amazing to hear from them. They're at little training facilities, telling me how they are excited to be girls in taekwondo," Zolotic, a resident of North Carolina, said. "They're like Girl Scouts and trying taekwondo for the experience. I can't respond to everybody, but I try to send messages saying how awesome I think that is, and how I am proud of them. I have heard from people, like my old coach, that like 20-30 girls joined this gym to train, or these moms were inspired to get their kids into the sport. Just give it a try, that's huge. …

"I want these girls to have somebody to look up to — things like winning an Olympic gold are dreams they can aspire to. They can see me."

Zolotic's unplanned time off from training and competition is a much-needed reset in many ways. The hip surgery, hopefully, will take care of a long-standing issue that has impeded competing and training and left her in constant pain. She hopes to be pain-free, for the first time in four years, and take her skill level higher.

"There always have been kicks I could not do, or moves I knew would be bad for me, so I just got around things," she said. "It's just what I had to deal with. Now, I hope that is behind me, and I can completely compete the way I am capable of."

This time for healing is refocusing her why, clearly reconfirming her desire to compete. She had a few doubts in the wake of the knee issue, but now knows she wants to keep going.

It's also giving her space to grow as a person. Zolotic felt she needed to be "less girly" to be taken seriously at the top of the sport. Things like tinkering with her hair color, having nail polish or wearing earrings, in her mind, would make her less formidable.

She has changed her thinking, and now put some caramel highlights in her brown hair, got her first set of acrylic nails and discovered a love for fun nail polish. The sport may restrict the nail creativity in Paris, as certain colors could be seen as blood and lead to competition issues. Zolotic would love to have American flags, or other colors and symbols, to inspire her. The rules matter is not yet resolved, and she is hoping for the outcome to be less restrictive.

Zolotic is embracing her duality: solely defining who she is as an American woman and Olympic champion in a martial art that originated in Korea.

"I am no less a bad-ass now with my cool hair and nails, and I realized that," Zolotic said, adding a laugh. "The thing I am doing now are part of the struggles that will lead me to winning my next gold medal. And that one, in Paris, will be for me. Mine. It's selfish in the best way. I intend to enjoy all of this journey to get to the top again.

"I am working hard to make the next moment for me, and I know that will make it even more satisfying."
Joanne C. Gerstner has covered two Olympic Games and writes about sports regularly for the New York Times and other outlets. She has written for TeamUSA.org since 2009 as a freelance contributor on behalf of
Red Line Editorial, Inc.