Tokyo Just The Beginning For Taekwondo History Maker Anastasija Zolotic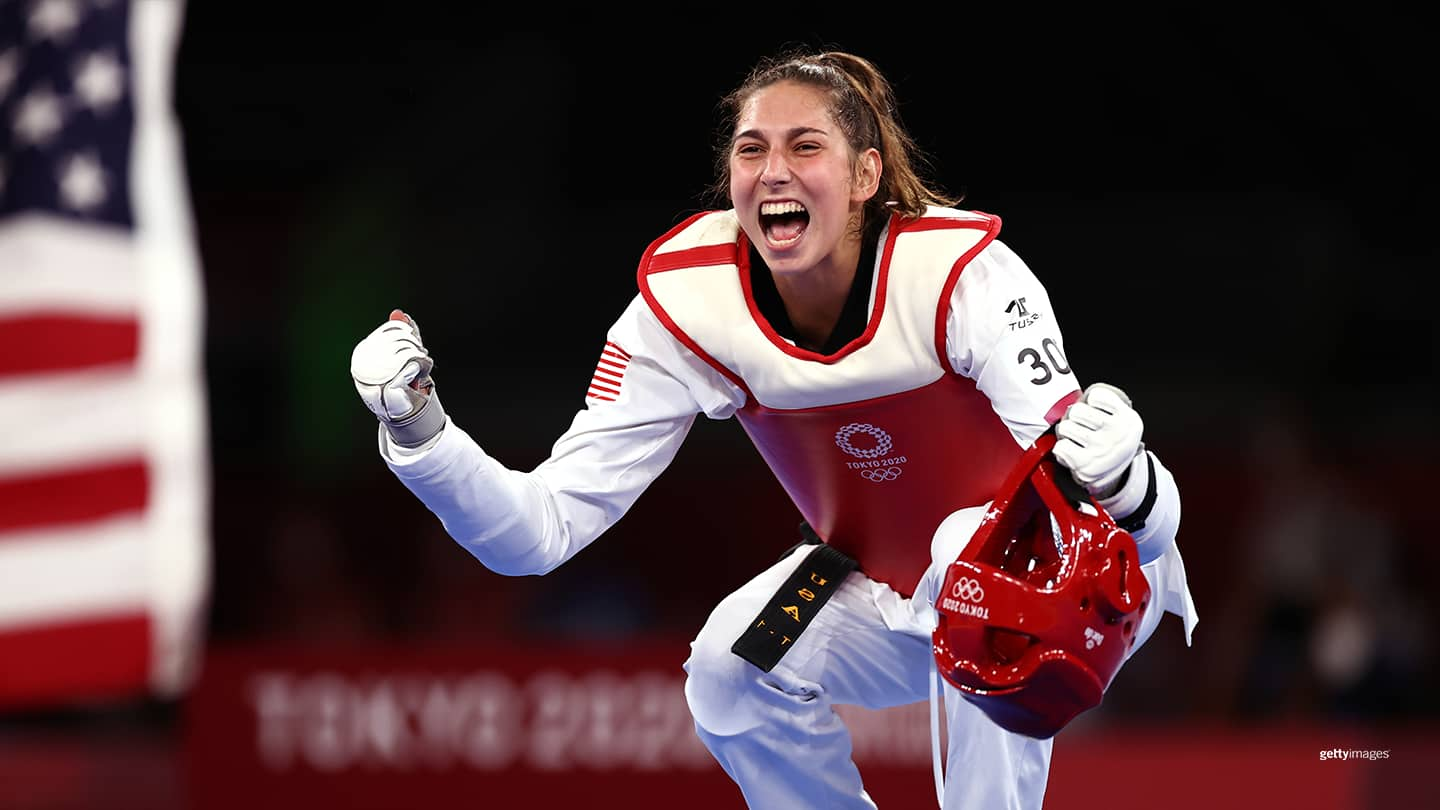 Anastasija Zolotic poses at the Olympic Games Tokyo 2020 on July 25, 2021 in Chiba, Japan.
Only a select few will ever get to call themselves Olympic champions.

Even fewer can say their gold medal made history.

Anastasija Zolotic can say both.

The 18-year-old, in her Olympic debut, won the first-ever gold medal in taekwondo by a U.S. woman this summer.

She wrote on Instagram:


"DID SOMEONE SAY OLYMPIC CHAMPION????? WHAT A DAY … A GOLD medal at the OLYMPIC GAMES….. what a dream … Thank you to everyone for your support and love throughout the day, honestly couldn't have done it without you all … AND TO MY AMAZING COACH FOR HELPING ME ACHIEVE THIS … Making history each step of the way….. GO TEAM USA."
The only other American athlete ever to win Olympic gold in taekwondo was Steven Lopez in 2000 and 2004. In fact, Zolotic was only the fourth American, and second woman, to so much as make a final at the Olympic Games.
When she got off the plane back home in Tampa, her family and friends were waiting for her.
"It finally feels like I just won the Olympic gold," she told the local television news station there to capture the reunion. "I know I said it before, that it doesn't feel like it because we were away from everybody and it's a closed competition but God, seeing everybody, it's unreal now."
Zolotic started taekwondo around 7 or 8 years old, she said, in an after-school program. Pretty soon she was telling anyone who would listen that she was going to be an Olympic champion one day.
When she went to the Junior Pan American Championships and won the women's flyweight division (44 kg.) in 2017, it seemed she was on to something.
The next year, at 15, she won gold at the junior world championship then went to the Youth Olympic Games and won the silver medal in the girls 49 kg. category while competing with a broken hand.
The following year, asked why she thought she'd already had so much success in the sport she told Team USA, "I think it's because my overall goal in the sport is just to be the best. I just want to be the best and be there for a long time."
She's certainly there now.
The Largo, Florida, native took on Tatiana Minina of the Russian Olympic Committee in the 57 kg. Olympic final. Minina was five years older with considerably more senior international experience under her belt, having twice won silver at the world championships, but it mattered little. The two fought to a high-scoring first period and going into the third Zolotic led by just one point. Utilizing two-point body kicks as part of her offensive plan, Zolotic took control and won, 25-17.
"From a silver medal finish in 2018 at my Youth Olympic Games," she wrote on Instagram, "to a GOLD medal finish at THE 2020 OLYMPIC GAMES!! It's crazy to think that both finals would be the same, USA vs RUSSIA, this time finishing on top! … Not only is it crazy to look back at this, but being #1 in the WORLD! Finally on top not only on the podium but on the ranking list … HOW INCREDIBLE … Thank you to everyone for being a part of this incredible journey."
Zolotic hopes to help lead a surge in taekwondo popularity in the U.S. She recently announced on Instagram that she and coach Gareth Brown were going to start doing seminars lasting two and a half hours followed by one-hour photo and Q&A sessions.
She's also already thinking ahead to the Olympic Games Paris 2024 and beyond.
"I have had some time to rest and recover from my trip back from the Games and wanted to say a few things… I am OVERWHELMED by all the support and love I am getting from everyone. I am beyond thankful to everybody who has sent me messages, called me, and reached out to my family! I have read everyone's messages and am trying my best to respond to everyone … Thank you to Team USA, USATKD, My coach, family, friends, and of course my TKD community … You are all amazing! I'm (excited) y'all are on this journey with me to hopefully go for another gold at the Next games."
Karen Price is a reporter from Pittsburgh who has covered Olympic and Paralympic sports for various publications. She is a freelance contributor to TeamUSA.org on behalf of
Red Line Editorial, Inc.