Still Just 15 Years Old, Swimmer Kayla Han Aims For Steady Progress At Nationals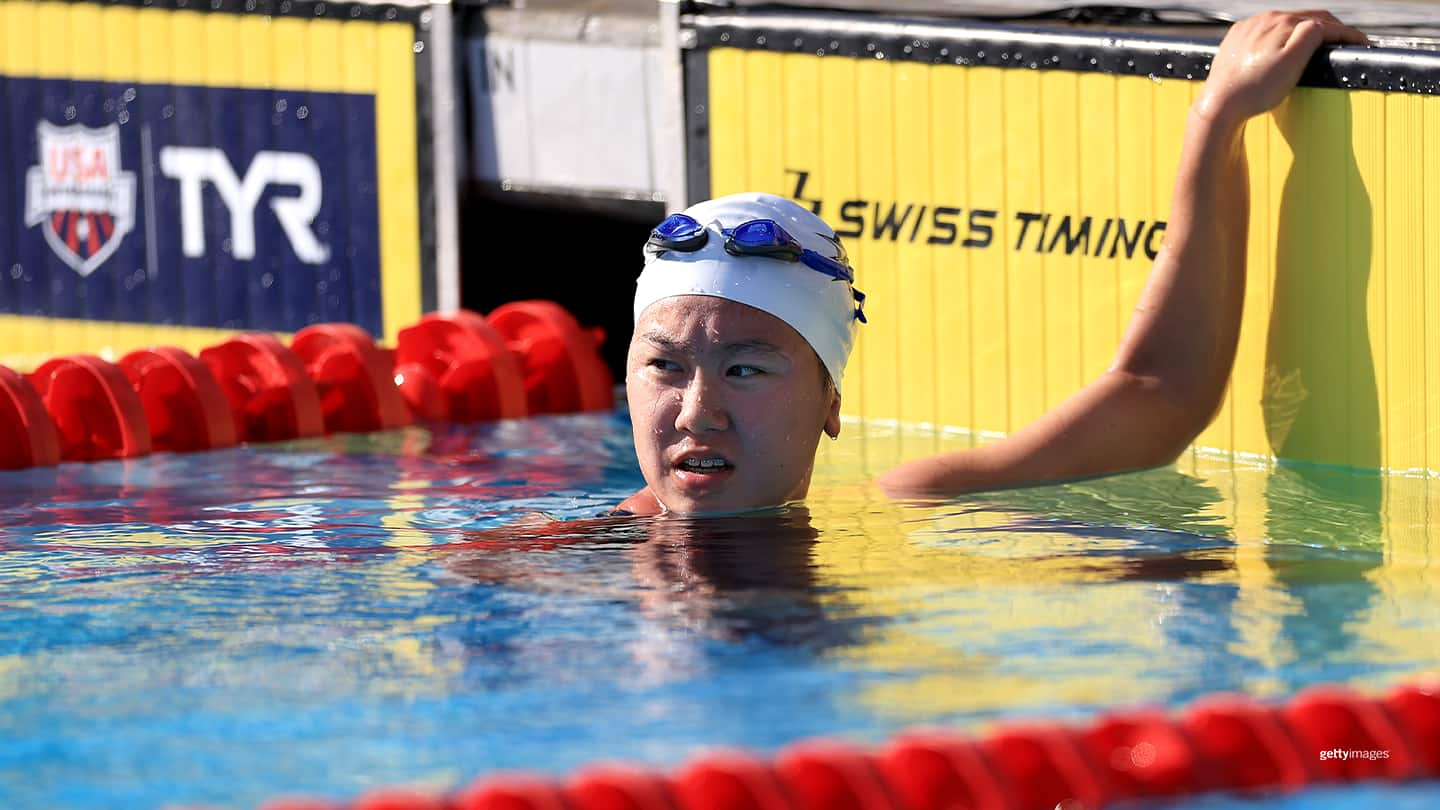 Kayla Han looks on after competing in the women's 1500-meter freestyle during the Pro Swim Series event on May 17, 2023 in Mission Viejo, California.
It's not easy staying patient when you're young and have big dreams. Yet, rising U.S. swimming star Kayla Han, at the age of 15, already realizes the path to reaching the Olympic Games requires sustained growth.
Han, a native of La Mirada, California, grabbed the world's attention at the U.S. Olympic Team Trials for the Tokyo Games two years ago. The youngest swimmer of the meet, she had just turned 13 and turned heads with her thrilling, come-from-behind swim in the 400-meter IM B final.
Her trajectory has continued upward since then. She won a silver medal at the 2022 Pan Pacific junior championships and, most recently, claimed four individual wins while notching two personal bests at the 2023 Speedo Sectionals at the Indiana University Natatorium in Indianapolis.
Han and the country's other top swimmers will be at IU's Indianapolis facility again this week for the Philips 66 National Championships, which run through Saturday. She knows people will be watching to see how her middle-distance freestyle and IM times are progressing.
"I feel like compared to last year, I've definitely improved a lot of technique stuff, and in terms of practice, I'm way faster," said Han, who just finished her freshman year of high school. "It's just cool to see year after year what I improve on, what I did."
The U.S. championships serve as a stepping stone to getting on this summer's world championships team, which is on Han's summer goals list. She wants to make an A-final at the top meets. She wants to get better.
It's not unusual to have a breakout female swimmer winning medals before they can even apply for a driver's license. Team USA had four high schoolers on its Tokyo Olympics swim roster, including Katie Grimes – who was the youngest at 15.
But making the leap from being the best in your junior high age group to now taking on superstar adult competitors like seven-time Olympic gold medalist Katie Ledecky on the national stage … is a big, big thing. Ledecky blew Han, and the rest of the field, away at last year's nationals 400 IM prelim heat. Han finished eight seconds behind Ledecky.
Another glimpse of reality came last December when Han was nine seconds behind Olympic medalist Leah Smith in the 400 IM.
Han is not expected to have all the answers yet. Like being a freshman in high school, her life in the pool is about figuring things out, getting stronger and growing up in a positive way.
She stands 5-5, which is on the shorter side for an elite international swimmer. By contrast, Ledecky is 6-foot, and Smith stands 5-10. Han acknowledges that despite being the height of an average American woman, she is going to need to use her other strengths to beat the taller swimmers: superior technique and a killer set of lungs.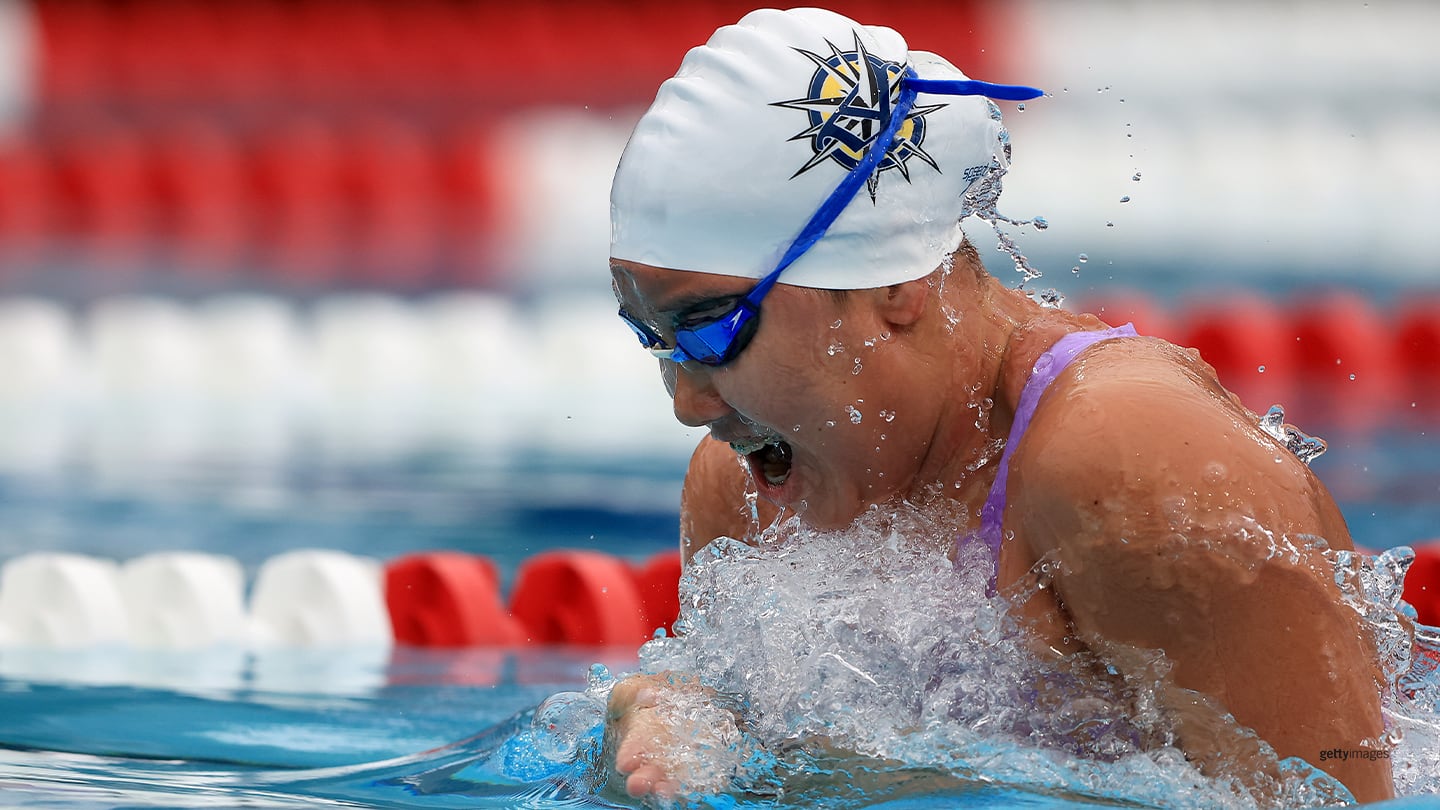 Kayla Han competes in the women's 400-meter IM final during the Pro Swim Series event on May 19, 2023 in Mission Viejo, California.
"I took at VO2 max test at the altitude training camp, and it showed pretty high," she said, referencing a type of fitness measurement athletes use to check the strength and efficiency of their lungs during high stress. She recently did high-altitude training to prepare for the summer's events, and the testing was part of the camp.
"I feel like that's a big factor as to why I do well. I also have good technique too."
Han's daily schedule is intense. She swims two practices per day with her team, the La Mirada Armada, with the first from 7:30-10 a.m., then dryland training for about 2 hours, then a break, and finally back in the pool from 4-6 p.m. She swims with the middle-distance group, training mostly with boys.
Han was asked if the boys push her in practice … or if she's the one in charge.
She laughed.
"Both! It's pretty competitive with the boys, and I also feel like it's super fun," she said.
Han's parents, Dan and Kim, want to keep as much normalcy around their daughter as possible. They can't stop the world from knowing about her talent, but they take steps to limit the outside affecting her, like her through social media.
"We're just trying to keep her aware about social media, communicating with her about the reality," Dan said. "We're talking about a lot of things with her, a lot about mental health, and the physical health aspect of being an elite athlete. The mental health part is almost more important than the physical."
Dan said he is learning new things on this road with his daughter, trying to grow as a parent. She's getting closer to adulthood, and he wants to let her experience some independence. The Han's don't go to every meet anymore because she doesn't need them there as much and because of the costs of her swimming taking her around the world.
"I won't deny it – I was a helicopter parent, so I am learning how to say less. I am not talking about swimming at all to her, I am leaving that up to her and her coach," he said. "We want to encourage her to believe in herself, be confident, trust in her training.
"It's hard sometimes to say nothing about swimming, but I am trying."
In many ways, Han is a normal 15-year-old girl, on the edge of being more grown up, but still having infectious fun. She is a big fan of K-pop, especially the popular girl group Blackpink. She got to see them in concert last November, something that made her quite happy. Han's also happy that school is over, and a one-to-two-week vacation looms after this summer of serious swimming is over.
Right now, this is all about the fun. The top of her agenda is to keep having fun with the sport and enjoying hanging with her teammates.
"I'm just keeping it lighthearted, training the way that I am," she said. "I'm not really thinking about 2024, I'm just going to keep training."
Joanne C. Gerstner has covered two Olympic Games and writes about sports regularly for the New York Times and other outlets. She has written for TeamUSA.org since 2009 as a freelance contributor on behalf of
Red Line Editorial, Inc.