U.S. Swimmers Are Rolling Heading Into The World Cup Finale In Indianapolis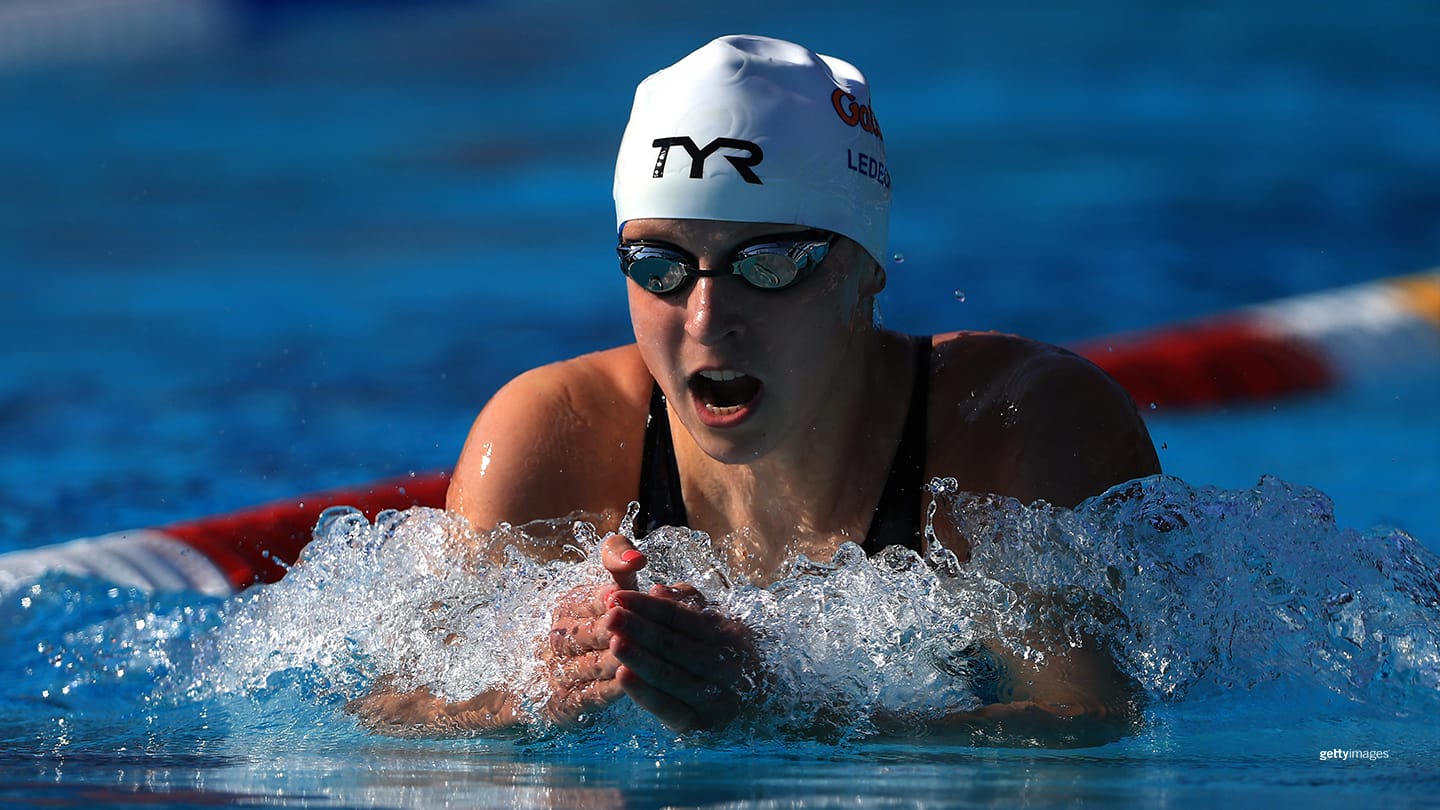 Katie Ledecky competes during the women's long-course 400-meter individual medley final at the 2022 U.S. National Championships on July 28, 2022 in Irvine, Calif.
One week after breaking a short-course world record, seven-time Olympic champ Katie Ledecky and 18 of her Olympic teammates will be among a large group of Americans competing this week in the final leg of the 2022 FINA Swimming World Cup in Indianapolis.

U.S. swimmers topped the medals chart at the first two world cup stops in Berlin and Toronto, totaling 47 podium finishes and 24 wins. The competition in Indianapolis will draw the largest American entry list of all three world cups, including an expected 35 U.S. national team members and 12 top junior swimmers, plus the 19 Olympians.

The competition begins Thursday at Indiana University Natatorium in Indianapolis. Preliminary heats are at 9:30 a.m. ET on Thursday, Friday and Saturday, followed by the finals at 6 p.m. ET each night.

Nearly $1.2 million in winnings is at stake with $224,000 awarded in each of the three world cup stops and another $262,000 divided among both the top eight women and men over the three stops overall. Beata Nelson is at the top of the women's rankings with 115.6 points. Nic Fink, a 2020 Olympian, is tied with Dylan Carter of Trinidad & Tobago for the top spot in the men's rankings.

This weekend's event is also seen as a key tune-up ahead of the short-course world championships next month in Melbourne. Australia.

Here are some of the Americans to watch:


Record Chasers
Katie Ledecky broke the short-course record for the women's 1,500-meter freestyle last week in Toronto, winning in 15 minutes, 8.24 seconds. The swim broke the record of Germany's Sarah Wellbrock by nearly 10 seconds. The 1,500 is not a scheduled event in Indy, but the 800 and 400 free are. Ledecky is the three-time defending Olympic champion at 800 meters and a two-time medalist at 400. A 19-time world champion, she broke the American short-course record in the 400 free last week with a time of 3:52.88 but finished second to Canada's Summer McIntosh and her junior world record time of 3:52.80.

Shaine Casas, who missed the 2020 U.S. Olympic Team by one spot and won a world bronze medal in the 200 backstroke this year, nearly topped 12-time U.S. Olympic medalist Ryan Lochte's short-course world record in the men's 200 individual medley in Toronto. His winning time of 1:50.37 was the third fastest in world history. Casas won four events last week, and has won the 100 back and 200 back at both world cup stops. Both events will be held this week, the 200 back on Thursday and the 100 back Saturday.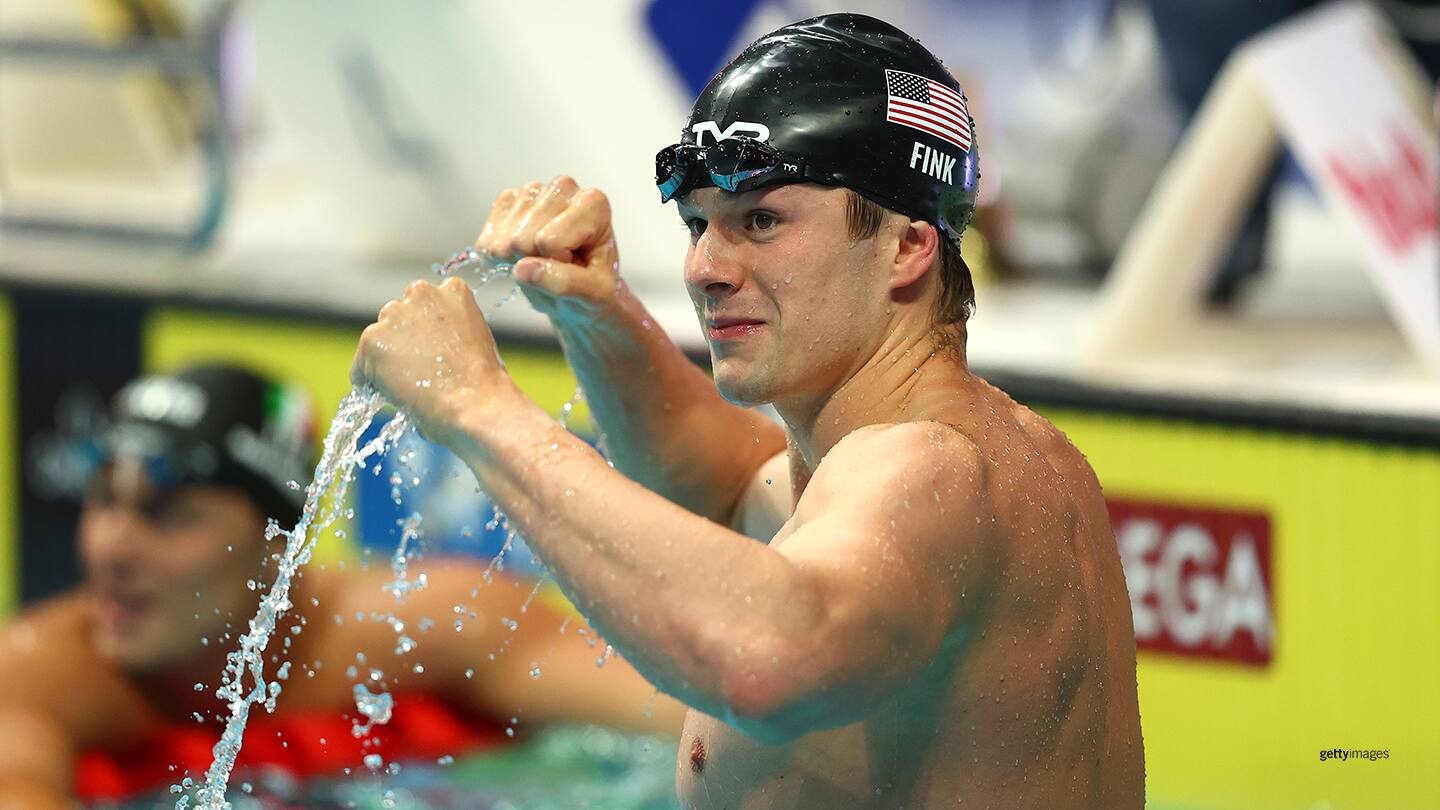 Nic Fink celebrates winning gold in the men's 50-meter breaststroke final at the 2022 FINA World Championships on June 21, 2022 in Budapest, Hungary.
Triple Gold
Nic Fink is unbeaten in the men's 50, 100 and 200 breaststroke events at both world cups. Another sweep of the three events in Indianapolis would give him a $10,000 bonus. Fink finished fifth in the 200 breaststroke in his Olympic debut last year at the Olympic Games Tokyo 2020.

Also chasing a triple-triple is women's points leader Beata Nelson, who has won the 100 backstroke, 200 backstroke and 200 individual medley at both world cups. She has also finished second in the 100 IM twice, giving her eight medals entering the competition in Indianapolis.


Olympians to Watch
Two-time Olympic champion Lilly King won the women's 200 breaststroke and finished second in the 100 breaststroke last week in Toronto. She'll go after a sweep in Indy. King medaled in both events last year in Tokyo, winning a silver medal in the 200 and a bronze in the 100. She won Olympic gold in the 100 at the Olympic Games Rio 2016.

Hali Flickinger, a two-time Olympic bronze medalist, captured one gold medal, one silver and one bronze in the first two world cups, including a win in the 400 individual medley in Berlin. She won a bronze medal in that event last year in Tokyo. The 400 IM is on the schedule Friday in Indianapolis.

Among other 2020 Olympians scheduled to swim in Indianapolis are Bobby Finke, who won Olympic gold medals at 800 and 1,500 distances last year in Tokyo, and Michael Andrew, who won a relay gold medal in Tokyo.


Teens to Watch
Sixteen-year-old Katie Grimes will hit the water in Indianapolis one year after becoming the youngest U.S. Olympic swimmer since 1996. Grimes finished fourth in the 800 free last year in Tokyo and won two silver medals at this summer's world championships.

Leah Hayes won a bronze medal in her world championships debut this year at age 16, finishing third in the 200 IM in a junior world record time of 2:08.91.

Fifteen-year-old Thomas Heilman turned heads in August when he swam the 100 butterfly in 51.98 seconds, breaking a Junior Pan Pacific Championships record. Heilman became just the second U.S. swimmer under 19 to post a time of under 52 seconds in the event, joining Michael Phelps.

Heilman and Hayes are among the 12 U.S. junior national team members expected to compete in Indianapolis.
Paul D. Bowker has been writing about Olympic sports since 1996, when he was an assistant bureau chief in Atlanta. He is a freelance contributor to TeamUSA.org on behalf of
Red Line Editorial, Inc.