An Emotional Triumph For Mikaela Shiffrin As She Equals World Cup Victory Record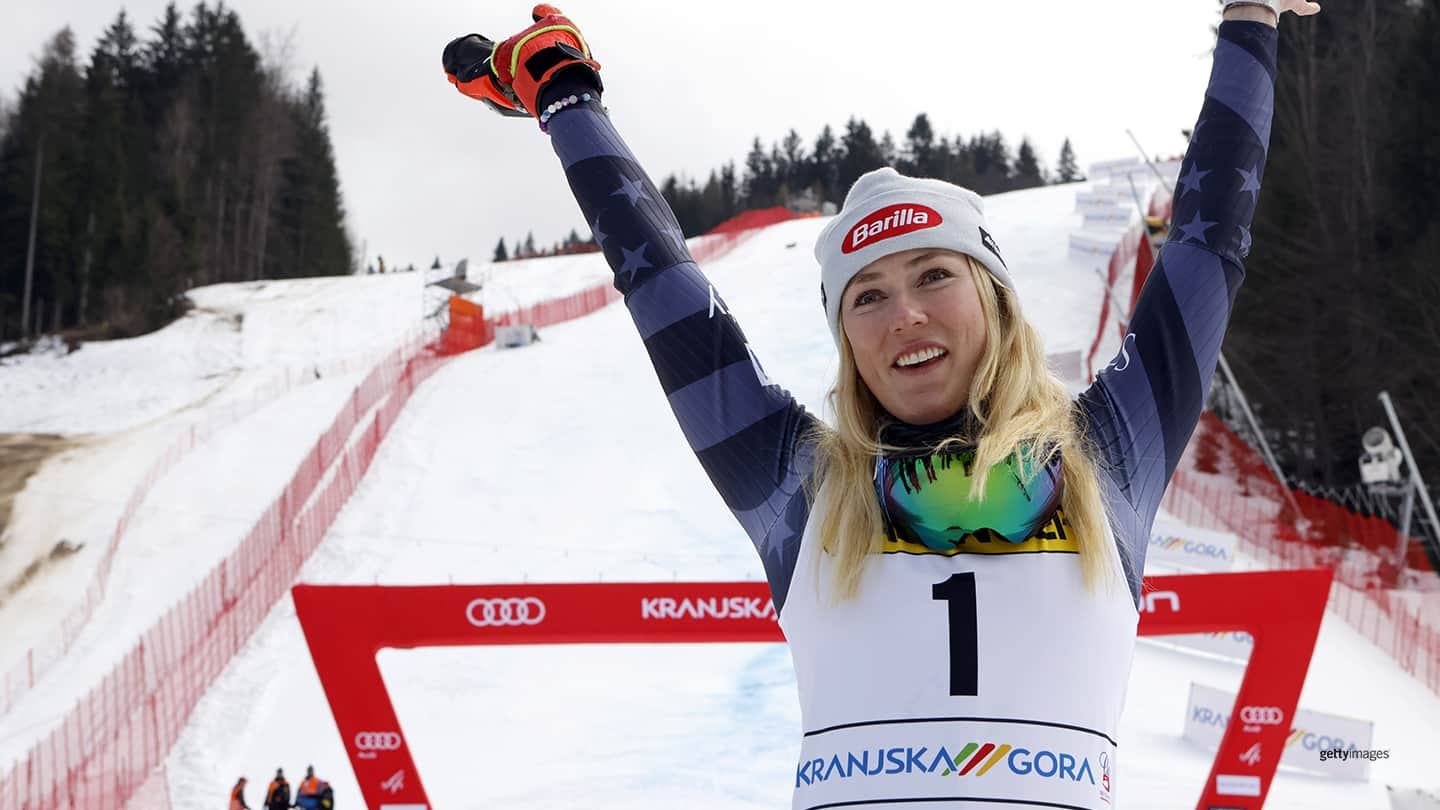 Mikaela Shiffrin celebrates after the women's giant slalom at the 2023 FIS Alpine Ski World Cup on Jan. 8, 2023 in Kranjska Gora, Slovenia.

Mikaela Shiffrin began her World Cup skiing career as a promising 15-year-old athlete at a race in the Czech Republic mountains. Now, nearly 12 years later, she has attained her 82nd career victory, a staggering total, equaling her former U.S. teammate Lindsey's Vonn's all-time female record.

Shiffrin dominated a giant slalom in Kranjska Gora, Slovenia on Sunday, winning by 0.77 seconds. The U.S. ski racing phenom carried her momentum after leading the morning first run by 0.24 seconds, charging down the 320-meter Podkoren 3 race piste to the historic victory. She made it look easy, but admitted there was a whole lot of nervousness and quite a bit of doubt.

"Eighty-two is a lot – I wasn't sure it was going to happen today," Shiffrin said in the Kranjska Gora finish area, after her record-tying 82nd triumph. "For some reason, I felt like maybe I won't get 82 unless it's a slalom race. And then everybody is going to say she can't win unless it's a slalom race, and then maybe it will be less exciting."

"I felt good with my skiing, I feel quite nervous which is actually not a good feeling, this stress I have in my body now is not very good, but my skiing was really strong."

On what surprisingly turned out to be a mostly sunny and glorious day in Slovenia, the 27-year-old ski racer from Colorado kissed her Atomic skis in the finish area celebrating the milestone victory. Tina Turner's 'Simply the best' played over the loudspeakers.

"I never dreamed of achieving something like this – I dreamed of being the best in the world at many points of my career for as long as I could be. It wasn't until I was there that I even realized that it was possible. My whole career it's always been like if I achieve something, I only believe that I could achieve it after it's done."

"Even after 82 victories, I still don't believe it happened," she said.

Shiffrin was overcome with emotion on the victory podium after hearing the U.S. National Anthem. She was thinking about her late father Jeff, who died in a tragic accident at the family's Colorado home on February 2, 2020.

"Before I ever won my first World Cup, he said you better memorize the words of the National anthem cause if you ever win you better sing it, so I always think about him when I'm up there," Shiffrin said, holding back tears.

"My Dad used to be there, taking pictures. Most races these days I'll think about him and I'm able to refocus and that's been a big improvement for me since last season."

"Even where I am now, sometimes I wish I can go back and share this with the people I love," she said.

Shiffrin shared the moment on Saturday with U.S. teammates and her mother Eileen, who has traveled alongside her daughter since Mikaela's earliest days competing.

Her teammates marveled at the splendid accomplishment, once again inspired by Mikaela's skiing.

"Just watching an American female beat an American female's record speaks for itself," said Paula Moltzan, who shared a slalom podium with Shiffrin in Austria, just prior to the New Year. "We've been skiing with each other since we were 13, now going on 15 years competing together. She just inspires us all to be better every day, she's a great teammate and a great friend."

"I honestly feel really lucky to be here – we're watching history and it's really fun to be a part of," said U.S. teammate Nina O'Brien. "I'm so happy and proud of Mikaela – it's hard to believe what we're watching and it's pretty damn inspiring for the rest of us."

Shiffrin took command of Sunday's race early going. With morning sun illuminating the Podkoren 3 piste, unlike conditions during Saturday's race, she was the first racer to charge down the 40-gate, race course. Shiffrin seized the moment and clocked what appeared to be a clean, fast run of 55.30 seconds. It certainly was, as it held up over 64 competitors as the best first run time.

"I'm super happy with that run – I don't think I could have skied it faster," Shiffrin said, after the opening run.

Brignone, starting fifth, flirted with the lead and ultimately finished 0.24 seconds off the American's pace. Valerie Grenier of Canada, who won her first career World Cup race on Saturday, moved into third, 0.39 seconds behind. None of her challengers would get nearly as close in the afternoon run. Signed, sealed and delivered.

Next up, Flachau night slalom.

Shiffrin, who has eight wins this season, will now have a golden opportunity to break Vonn's record with a possible 83rd victory, in a night slalom in Flachau, Austria, on Tuesday evening.

"My big goal for Flachau is to try ski this slope with really powerful skiing and then we'll see what happens," Shiffrin said, also noting that she needs to recover some before then. "I think if I ski my best slalom I have a really good chance to take the victory. But there are a lot of other athletes that are sick of that," she adds, with a laugh.

Shiffrin's eight victories this winter has quickly vaulted her to the top of the overall World Cup standings. Her lead dwindled slightly after Saturday's result, but she now leads comfortably by 419-points ahead of nearest challenger Petra Vlhova. The two-time Olympic gold medalist is seeking her fifth overall title, which would also surpass Vonn.

Shiffrin now has 1,115 points and leads the overall World Cup standings. The U.S. star is currently on pace to tally 2,353 points, just shy of Slovenian Tina Maze's 2,414 points, established in 2012-13, the highest total in World Cup history.

"The cool thing about ski racing – today is my day, it's amazing and unbelievable," Shiffrin said. "But in two days, you may see something different. And I'll be the one standing in the finish, scratching my head and wondering what I could do to be faster."

Ski racing history was witnessed on a memorable and emotional day in the mountains of Slovenia. With Shiffrin's unbelievable talent and desire to ski even faster, you can bet there will be plenty more moments to come.

Perhaps even on Tuesday evening, in Austria.