Team USA Athlete Creators: Q&A With Savannah Harmon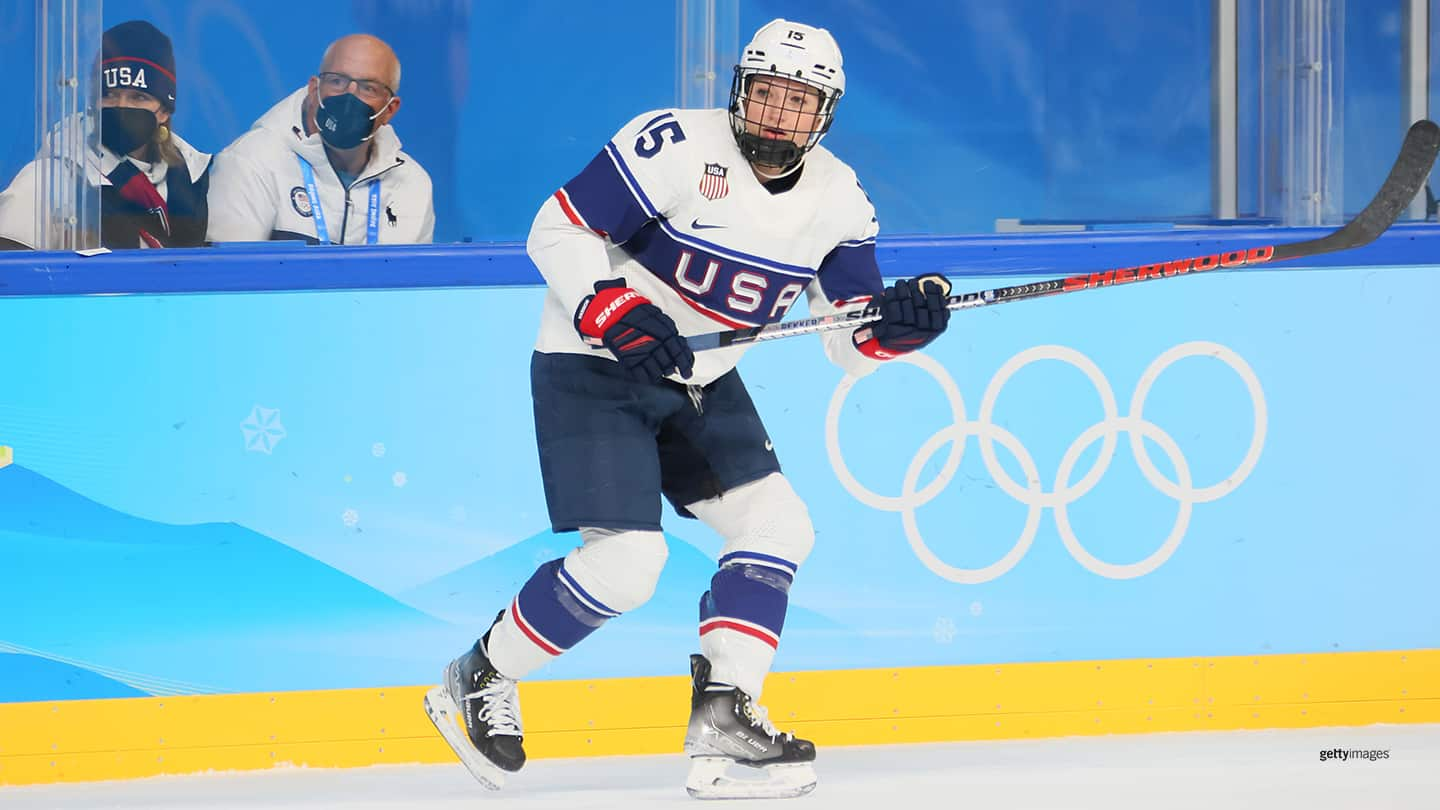 Savannah Harmon competes in the women's ice hockey match against Finland during the Olympic Winter Games Beijing 2022 on Feb. 3, 2022 in Beijing.
Hey, everyone! This is Savannah Harmon from the women's hockey team. Our team is in Montreal preparing for our final two games of the Rivalry Series. I'll be doing a Q&A today, so be sure to follow along and submit your questions!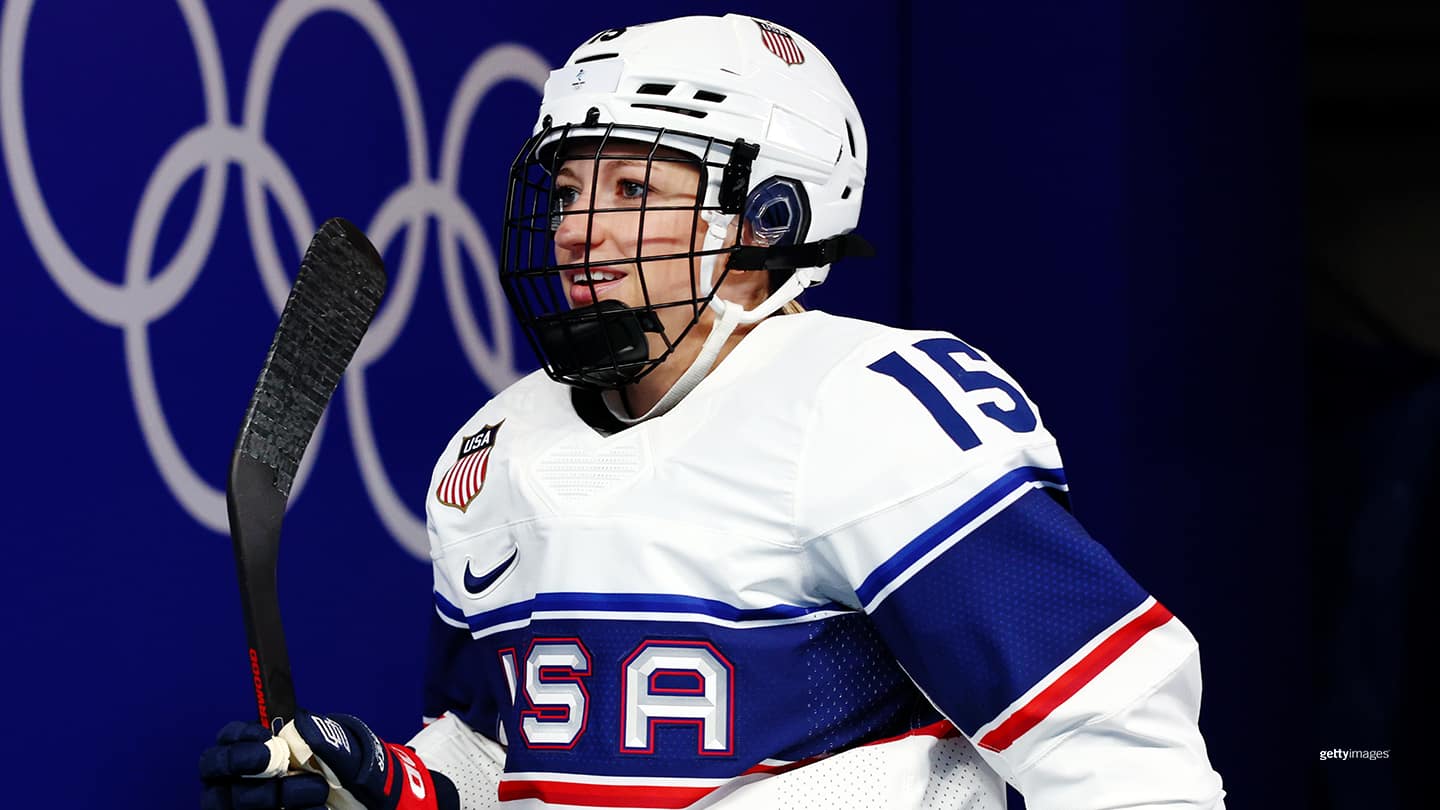 Savannah Harmon walks to the ice prior to the start of the game against Switzerland during the Olympic Winter Games Beijing 2022 on Feb. 06, 2022 in Beijing.
Q: How did you discover that hockey was the sport for you?
A: I started playing hockey when I was around four years old. After following my brother around the rink, I decided to give it a try and I've never wanted to stop playing since.
Q: How did it feel to compete at the Olympics?
A: Playing at the Olympics was a dream come true. It was an incredible honor to represent the United States and stand beside my teammates.
Q: What is the best part about being an Olympic athlete?
A: There are so many things. But, the Opening Ceremony was one of the most amazing and incredible experiences while getting to walk alongside all of Team USA.
Q: What has been your most memorable game or experience in a Team USA jersey?
A: My top two are the first time having the honor to wear the jersey, and my first game at the Olympics.
Q: Do you have any game-day superstitions?
A: I have to have a pre-game cold brew. I have to have my sticks freshly taped, and I have to play Spikeball.
Q: Who do you love to play Spikeball with before games?
A: This question was actually submitted by my typical Spikeball opponent, Megan Bozek. But, yes. I love playing Spikeball before games. Kelly Pannek and I are always partners, and it gets pretty competitive. But, it's an awesome way to warm up before games.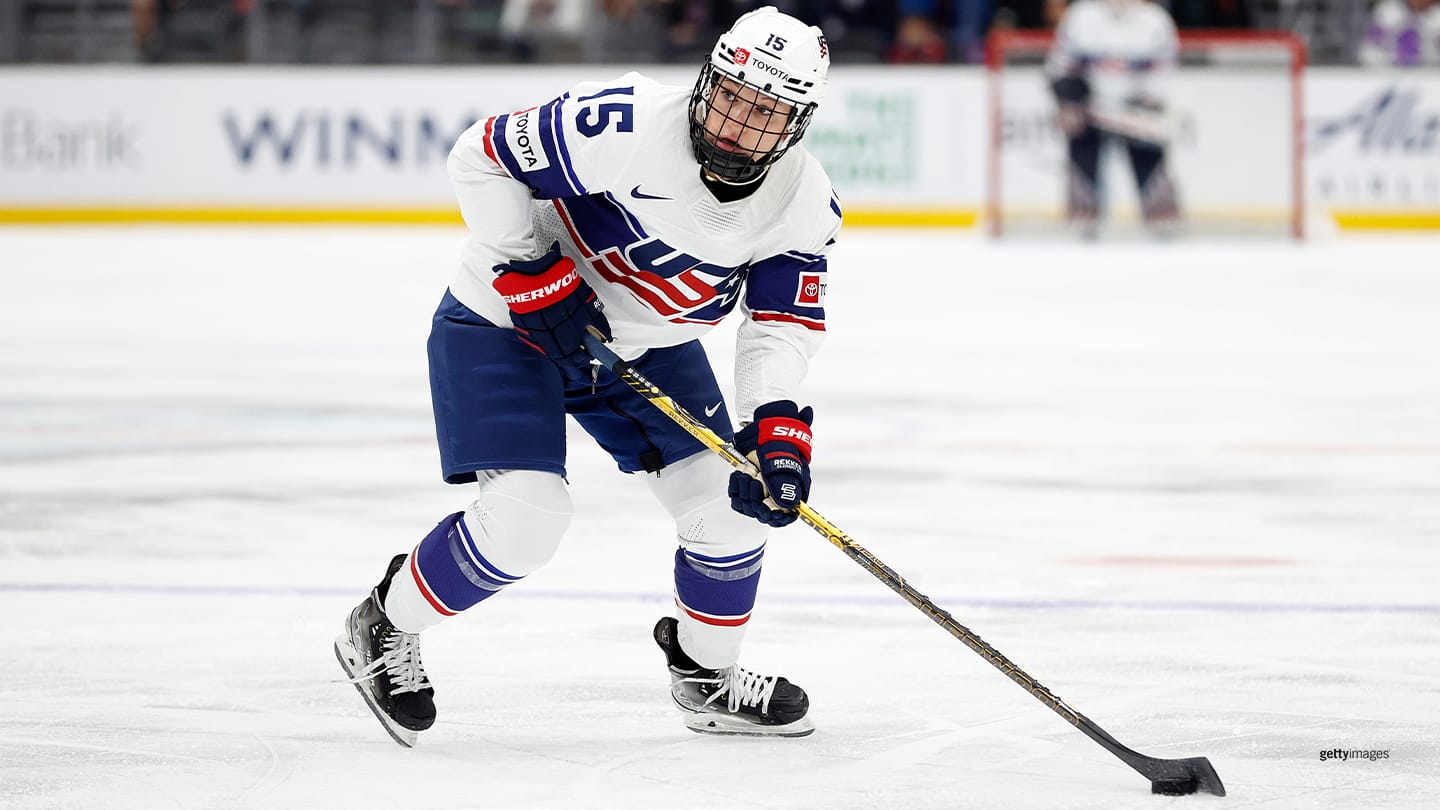 Savannah Harmon controls the puck against Canada on Nov. 20, 2022 in Seattle.
Q: What is your go-to gameday fit?

A: My gameday fit is usually anything black-on-black and sometimes with some Nike shoes!


Q: What is your morning coffee order?


A: At home, pretty much every morning I make brewed coffee with oatmilk. When ordering out, I get cold brew with oat milk and one pump of caramel or sometimes vanilla.

Q: Who do you get ice cream with?

A: I'm here with my ice cream friends (Kelly Pannek, Nicole Hensley and Maddie Rooney) and my favorite flavor is mint chocolate chip, with sprinkles!

Q: Favorite Crumbl cookie?

A: Chocolate covered strawberry!
Q: What was your favorite year of college?

A: It's hard to pick just one. I'm so thankful for each year with the Clarkson University Golden Knights. 2017 and 2018 have to be my favorites.
Q: Funniest person on the team?

A: Megan Keller and Hannah Brandt always have the locker room laughing.

Q: Who do you train with in the summer?

A: I skate in the summer in Chicago with Kendall Coyne, Jesse Compher, Abbey Murphy, Megan Bozek and Alex Cavallini.
Thanks, everyone, for following along today! Be sure to tune in Monday and Wednesday night for our final two games of the rivalry series. Goodnight, everyone!
Savannah Harmon is a defenseman for the U.S women's national ice hockey team. She made her international debut in 2019 and helped secure a silver medal during the Olympic Winter Games Beijing 2022.