Team USA Women's Hockey Begins Defense Of Olympic Gold Medal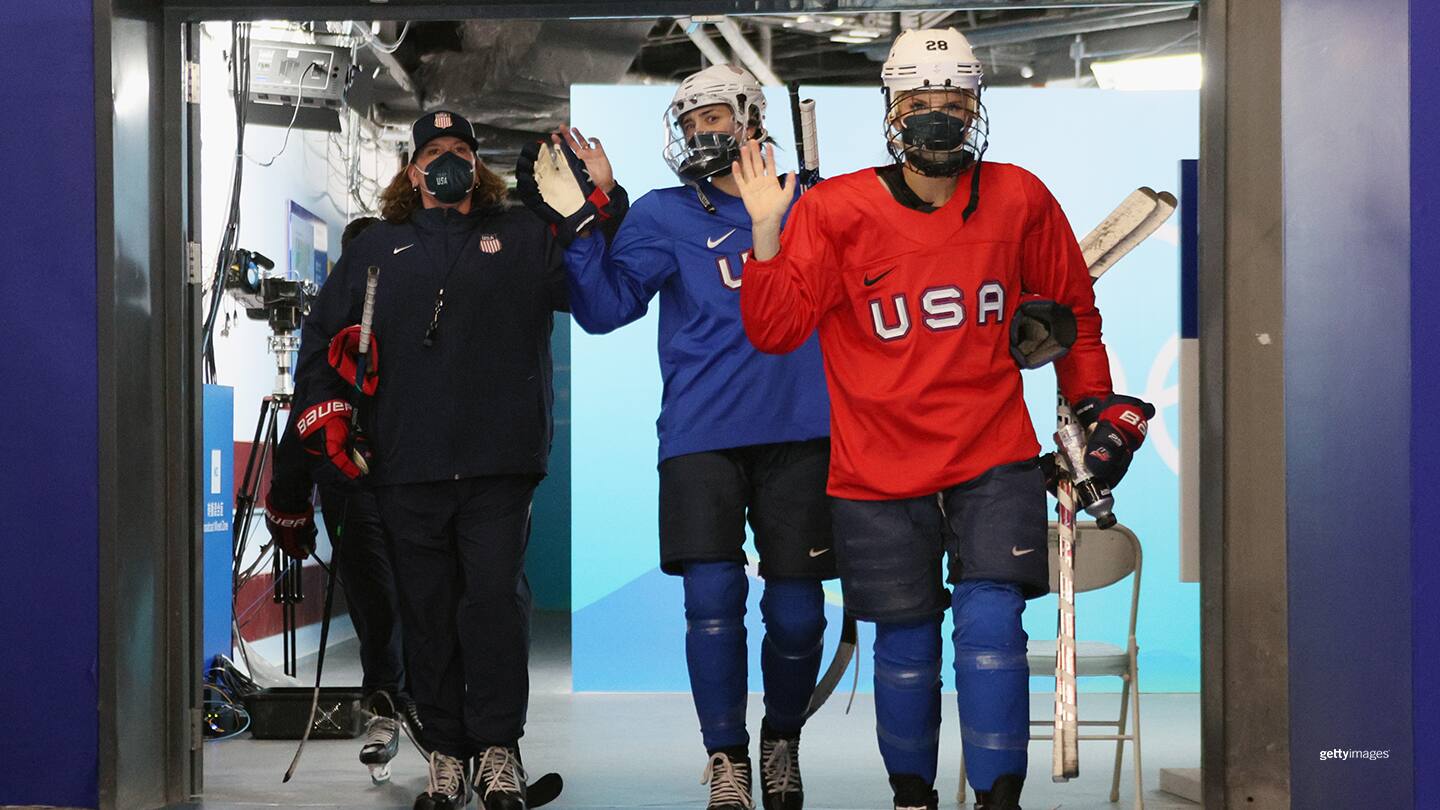 (L-R) Megan Keller #5 and Amanda Kessel #28 of the USA Women's Olympic Hockey Team head out for practice ahead of the Olympic Winter Games Beijing 2022 on Feb. 2, 2022 in Beijing.
No more exhibition games to prepare for, no more training in Minnesota – the Olympic Winter Games Beijing 2022 are set to begin.

The thrill of winning the gold medal in 2018 has sent the US. Women's hockey team on a quest to return to the mountain top. But recent play against their rival to the North has been far from dominant.

The USA has won only two of its last seven games against Canada, including an overtime loss in the 2021 IIHF Women's World Championship, ending a five-year run by the Americans and a 2-2-2 showing in the 'My Why Tour.'

But the past is in the past, and the United States is ready for the bright lights of the Olympic Games.

"We have had enough time to experiment and do different things," coach Joel Johnson said. "We have done enough to know what we have, and we are looking to put some finishing touches on it."

Johnson will know right from the beginning if his team is ready.

"Is the focus in their eyes during the pregame," Johnson said. "But also, is the energy and enthusiasm on the bench as the players are getting into the game. Those are some of the indicators that I see. When there is anything that distracts that from happening, you sometimes have to take on that role yourself. Instead of correcting it, you can just start it and hope it catches on with others as they start to realize they need it."

The United States kicks off their 2022 campaign against Finland on Thursday morning, 8:10 a.m. ET.
Ready for tomorrow. #TeamUSA 🇺🇸 #WinterOlympics | #NGWSD pic.twitter.com/59HzsUGs77


— USA Hockey (@usahockey) February 2, 2022
"Finland is a gifted hockey team with great goaltending," Johnson said. "They have great skill players that can really move the puck and handle it.

"When we played Finland in the past, we have been at our best when we possess the puck and get to the net. What we need to do, is not only play with speed and skill, but also play with size and strength. Get to the places where we can protect the puck and make it a North-American style game more so than a European style."

The last remaining decision prior to the opening game is nominating a starting goaltender, which Johnson declined to do. Maddie Rooney led the charge with four appearances in PyeongChang including a 3-2 shootout win in the Gold Medal game but Alex Cavallini and Nicole Hensley each appeared in four games during the most recent World Championship while Rooney was sidelined with an injury.

"We have three Olympic goaltenders and that is a luxury to have. No matter who we decide to go with, we feel very confident in net," Johnson said. "We are not planning on playing one goaltender the entire tournament. … That's the advantage of having three great goaltenders."

That depth will be critical, especially in the preliminary round when the United States will play four games in six days. In addition to the heavy workload, the first three games, which includes back-to-back games, are at 9:10 p.m. in Beijing, while a showdown with Canada takes place at 12:10 p.m. local time early next week.

"Each game is so important for standings," Johnson said. "The preliminary competition is more about finding ways to win rather than experimenting and doing things differently."

"We've had so long to be together, and the pandemic makes everything all that more interesting," Johnson said. "It has been so mentally draining to get to this spot. But at the same time, I feel that our players are ready to go. They are excited to play hockey."
Want to follow Team USA athletes during the Olympic Winter Games Beijing 2022? Visit TeamUSA.org/Beijing-2022-Olympic-Games to view the medal table and results.
Scott Charles is a sportswriter whose work has been featured in the Associated Press, various NBC platforms and Yahoo! Sports among other places. He is a freelance contributor to TeamUSA.org and you can follow him on Twitter
@ScottMCharles.