News
Noah Malone
Elizabeth Corso
NCAA Track Is Home To Liza Corso, Others On The U.S. Para Team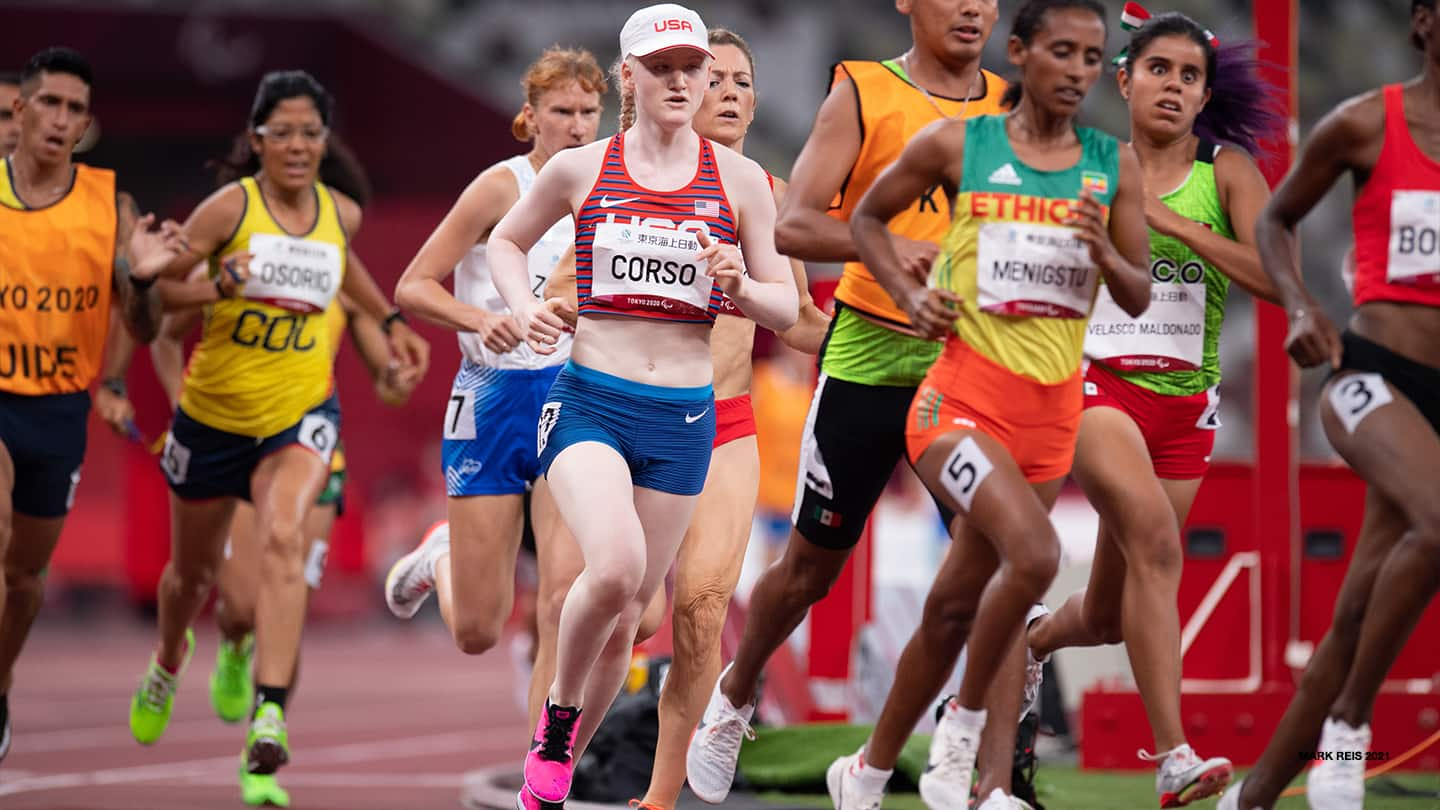 Liza Corso competes in the women's 1,500-meters T13 event at the Paralympic Games Tokyo 2020 on Aug. 28, 2021 in Tokyo.
Before she became a U.S. Paralympic silver medalist, Liza Corso embarked on a college recruitment process that was anything but normal.
When NCAA schools began calling her about joining their track and field teams, the pandemic was at its height. There were no official visits. Instead, her recruitment was full of phone calls and video interviews.
Because of that, the middle-distance runner thought her visual impairment wouldn't be noticeable.
"I didn't even bring up it up," she said regarding her Zoom interview with Lipscomb University, where she now competes as a sophomore.
But she was wrong that it wouldn't come up.
"Have you ever even thought about competing in the Paralympics?" Lipscomb's assistant coach Franz Holmes asked her out of the blue on Zoom.
"I haven't even told you I have a visual impairment," Corso responded.
Little did Corso know that Holmes had seen an article about her as a rising Para athlete and had previously been a guide runner himself for visually impaired sprinters. He and Lipscomb's head coach Nick Polk's commitment to helping Corso achieve her goals at the Paralympic level, too, is what helped her decide to attend and compete for the Nashville school.
"I had wanted to compete in college since I was in middle school, but originally I wasn't sure what that could look like or if it could be at the Division I level," Corso said. "It's a cool opportunity to show that there can be inclusion of Para athletes in the NCAA. Increased representation of Para athletes is really important."
Corso is one of nearly a dozen U.S. Para track and field athletes currently competing on an NCAA team as track and field begins its outdoor season. Catarina Guimaraes (High Point University), Erin Kerkhoff (University of Northern Iowa), Noelle Malkamaki (DePaul University), Noah Malone (Indiana State University), Rayven Sample (Bucknell University) and Dallas Wise (University of Southern California) are also ones to watch at the NCAA level this outdoor season.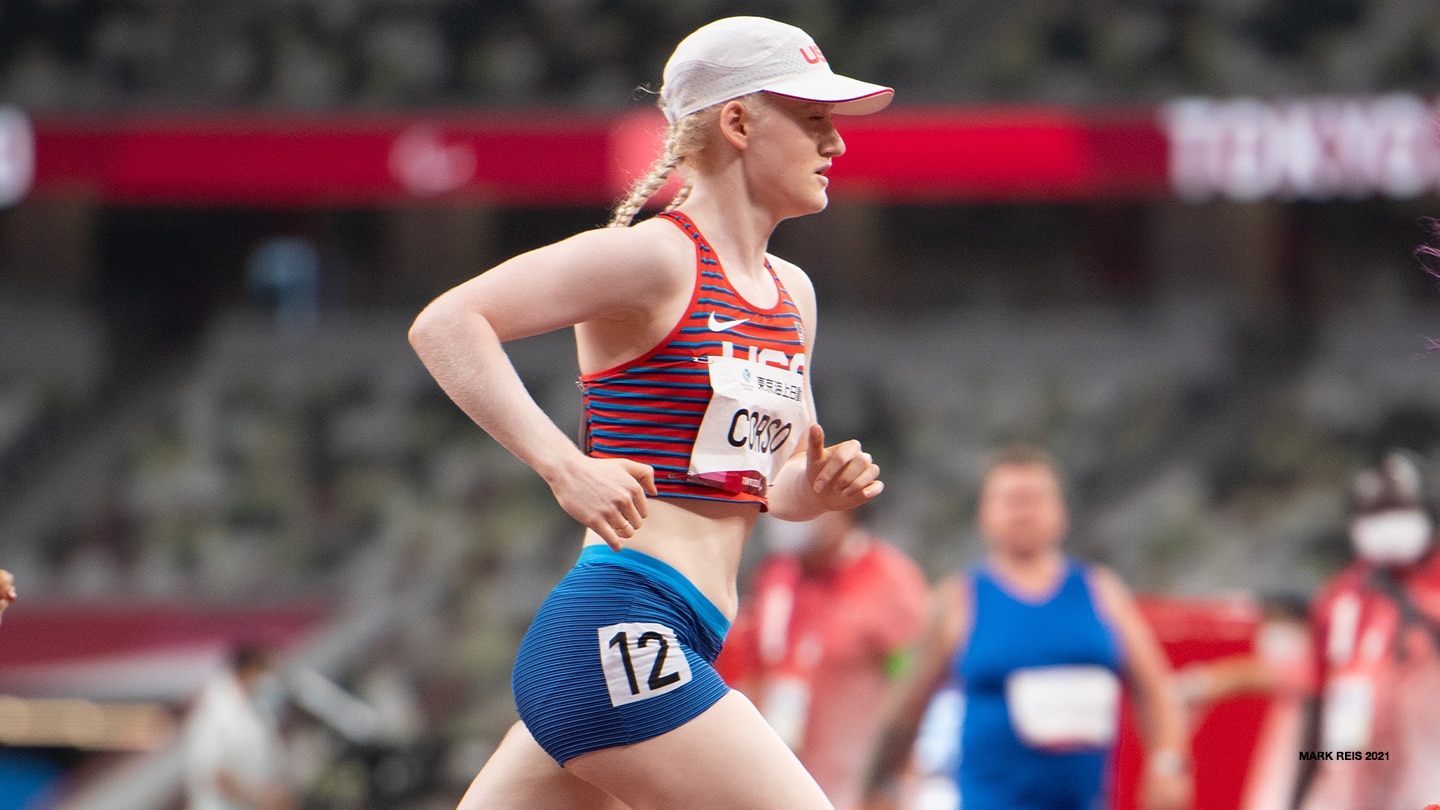 Liza Corso competes in the women's 1,500-meters T13 event at the Paralympic Games Tokyo 2020 on Aug. 28, 2021 in Tokyo.
Earlier this year, the USOPC and NCAA announced their partnership to launch the Para-College Inclusion Project, which will work to increase Paralympic sport understanding, awareness and connection across the collegiate landscape. Athletes such as Corso are already bringing that awareness and connection to NCAA practices and competitions across the country on a daily basis to generate buzz for Paralympians.
"It's definitely incredible be able to compete at an NCAA Division I school," said Corso, who races both the 1,500-meters and 5-kilmoters at Lipscomb.
The sophomore earned third team all-conference honors in the ASUN Conference this indoor season. Additionally, since starting her outdoor season in March, she has already set a new Lipscomb record in the 1,500 with a time of 4 minutes, 20.97 seconds at the Joe Walker Invite in Oxford, Mississippi.
Corso, a native of Newmarket, New Hampshire, has a low-vision disorder called albinism, a genetic condition that renders her vision 20/200. She has been an avid runner since she completed her first 5-kilometer race when she was 5 years old. She now simultaneously trains for her NCAA competitions and Para events — she made an impressive Paralympic debut in Tokyo in 2021, wining a silver medal in the 1500 T13 race — and will aim to make the podium at the World Para Athletics Championships this summer in Paris.
Whether she's competing against all able-bodied athletes or against other visually impaired runners, a race is a race for Corso. She trains for NCAA and Para athletics competitions the same, and trades stories and perspectives with the other Para athletes competing at the NCAA level, often asking Kerkhoff for advice about how she navigates her loaded schedule at Northern Iowa.
Corso is double majoring in psychology and nutrition, hoping to one day be a sports psychologist, but for now her sights are set on racking up more Paralympic medals and NCAA accolades beginning with this outdoor season.
Stuart Lieberman has covered Olympic and Paralympic sports for more than 12 years, including four Paralympic Games. He is a freelance contributor to TeamUSA.org on behalf of
Red Line Editorial, Inc.