After 19 Months Away From Soccer, Julie Ertz Is Back To Push For A World Cup Roster Spot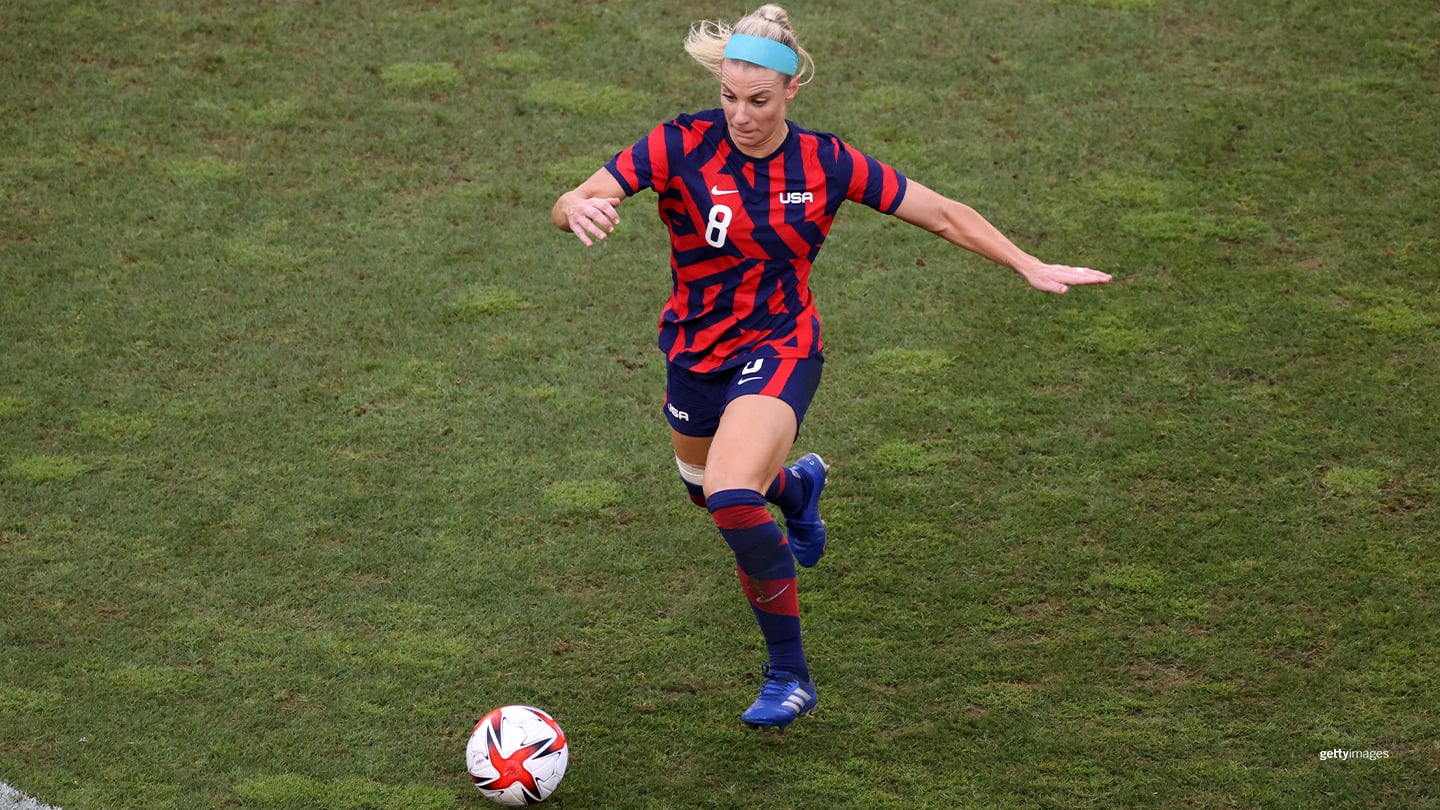 Julie Ertz dribbles the ball during the women's bronze medal match against Australia in the Olympic Games Tokyo 2020 on Aug. 05, 2021 in Kashima, Japan.
It's hard to believe that two-time World Cup champion Julie Ertz had been away from the U.S. women's soccer team and the NWSL for more than 19 months.
She last played in the Olympic Games Tokyo 2020, winning bronze with the U.S. Then the star midfielder stepped away from soccer, taking the time to have her first child with husband and NFL star Zach Ertz. Their son, Madden Matthew, was born Aug. 11, 2022.
Ertz is now back on the pitch in a big way. She returned to the USWNT for two friendlies earlier this month, and on Monday, signed a one-year deal with Angel City FC.
The next FIFA Women's World Cup kicks off July 20 in Australia and New Zealand, and Ertz said she is focusing on playing her best soccer to make the final U.S. roster.
"I think, clearly, the love for the game is hard to step away from," Ertz, 31, said. "Obviously, coming back from pregnancy changes things — your body. I just wanted to make sure when I was coming back that I felt like I was strong enough to feel like I could be myself. I feel good.
"I feel like in these interviews I will use the word 'gratitude' a lot, but I am very grateful to be back. It's really cool to see the girls and the energy of a World Cup year."
Ertz's energetic midfield play, along with veteran leadership, is something the U.S. has counted on in previous big matches. She was an important piece of the American World Cup wins in 2015 and 2019.
Ertz made her official return to the USWNT when she replaced midfielder Andi Sullivan in the 67th minute against Ireland on April 8 in Austin, Texas, where she helped see out a 2-0 win. She was a half-time sub for Sullivan on April 11 in the USWNT's 1-0 win over Ireland in St. Louis.
The Angel City announcement was expected, as she needed to choose a club as part of a condition set by USWNT coach Vlatko Andonovski to make sure she was ready for the World Cup.
"Julie Ertz is looking good," Andonovski told ESPN. "She's good, she's fit, and we're happy to have her back. Obviously, she is going to need a little bit of time to get game fit, get game ready. But that's why we are here. That's why she's getting into a club team soon, to get ready as possible. And hopefully she performs well and earns her next call-up."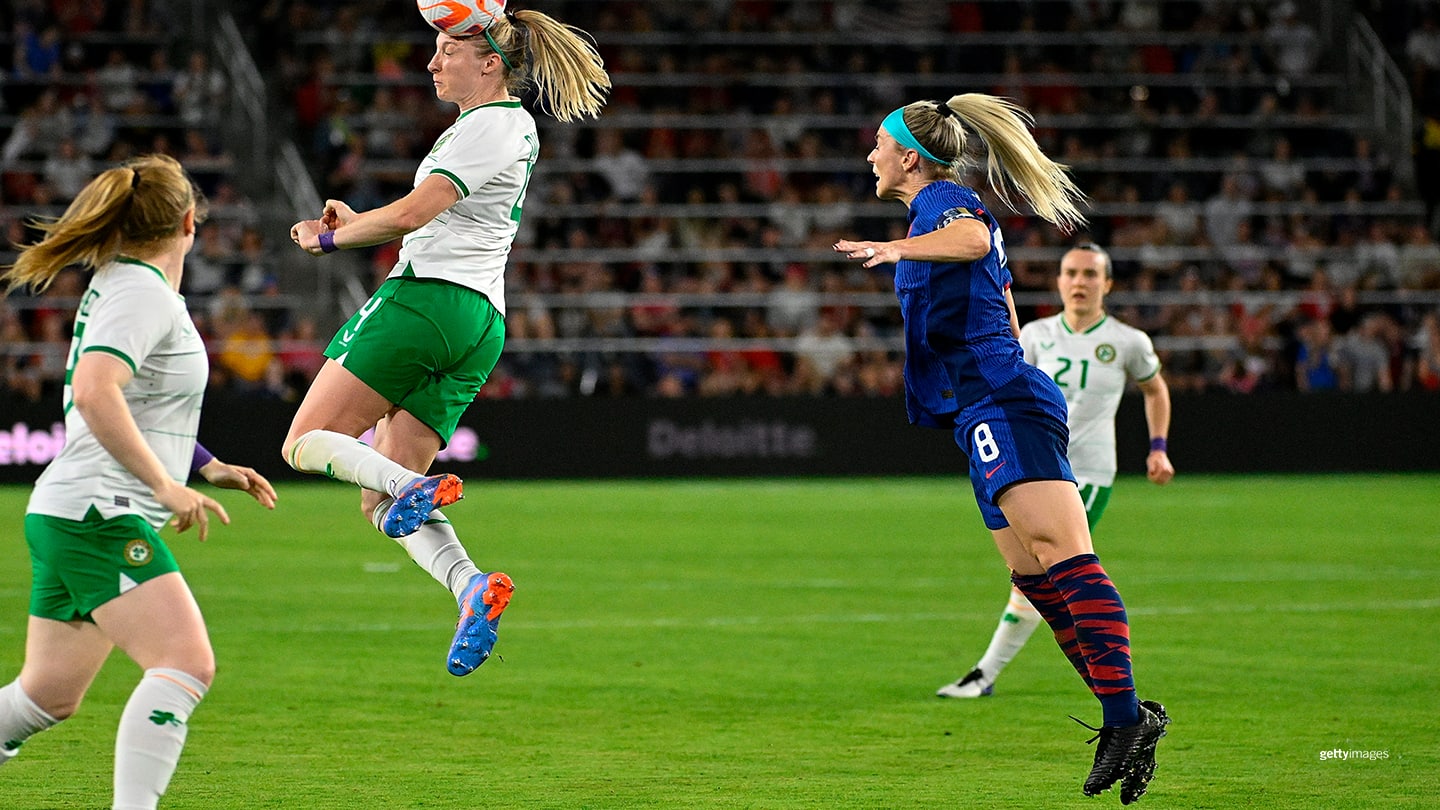 Julie Ertz battles Louis Quinn of Republic of Ireland for a header in Ertz's first game back on April 11, 2023 in St. Louis.
The USWNT is in its pre-World Cup run of training camps and friendlies. The players have returned to their clubs after the close of the April window. The USWNT does not play again until July 9 in a friendly vs. Wales at PayPal Park in San Jose, California.
That will be the team's final tune-up game before opening its World Cup campaign on July 21 against Vietnam at Eden Park in Auckland, New Zealand.
The final 23-player roster for the World Cup is not set, and Ertz needs more playing and practice time to work her way back. She said she has been training hard to prepare her body and feels as though she is in a good place of strength to endure the upcoming grind.
"I do love competing. I love playing this sport, I thoroughly enjoy it. I've learned that pressure is a privilege," Ertz said. "There's always been pressure in any position, any time of my career. My career, I feel like hasn't been just normal and smooth every single time because it's about just getting better each year…I don't even want to go back and be the player that I was because I want to be better."
Ertz's return to the NWSL turned into a scene of multiple clubs trying to woo her. She was a free agent, last having played for the Chicago Red Stars in 2021 before injuring her knee. The Red Stars, who drafted her in 2014, traded Ertz's rights to Angel City. Ertz played for the Stars for seven seasons and appeared in 95 games.
"I am thrilled to be joining one of the most exciting clubs in the world," Ertz said in a statement on April 17. "From the moment they traded for my rights up until now. They have been unwavering in the support of my journey. I cannot wait to get to work with the team and finally experience the game-day atmosphere."
Joanne C. Gerstner has covered two Olympic Games and writes about sports regularly for the New York Times and other outlets. She has written for TeamUSA.org since 2009 as a freelance contributor on behalf of
Red Line Editorial, Inc.