Carey, Jones, Chiles Lead Gold-Medal Parade In Paris World Challenge Cup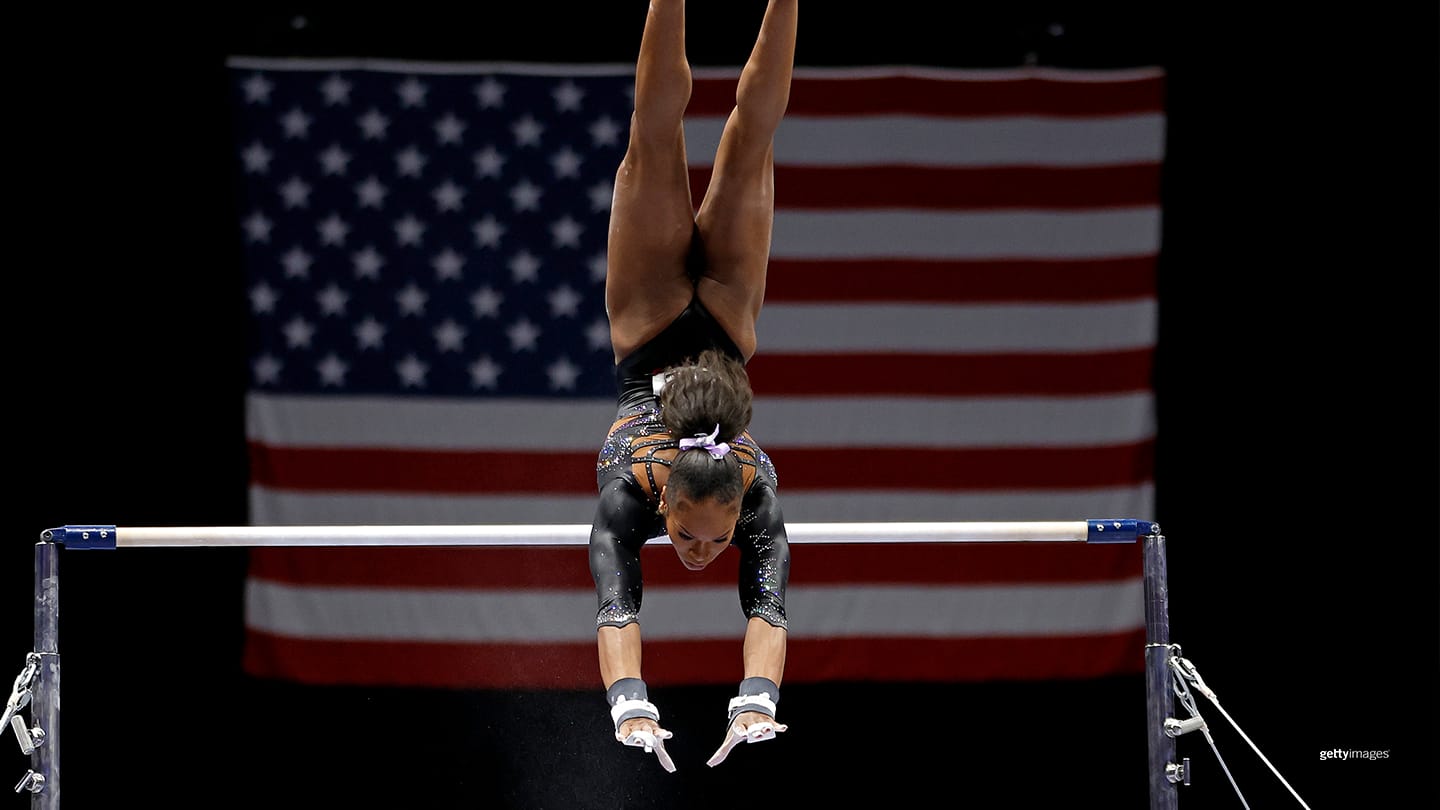 Shilese Jones competes in the uneven bars during the 2022 U.S. Gymnastics Championships on Aug. 21, 2022 in Tampa, Fla.

Just in case there were any concerns about the U.S. women's gymnastics team's capabilities in the post-Olympic Games Tokyo 2020 era, Jade Carey, Shilese Jones and Jordan Chiles laid them to rest at this weekend's World Challenge Cup in Paris.

And the performances came in the arena where gymnastics will be held at the Olympic Games Paris 2024.

At an event that served as an early dress rehearsal for the next Olympic Games, U.S. gymnasts won four gold medals and hauled in 10 medals overall, a satisfying result for a squad with great expectations for next month's World Gymnastics Championships in Liverpool, England.

Carey and Chiles, competing in their first international outing since last year's Olympic Games in Tokyo, won titles on vault and floor exercise, respectively. Jones, competing in her first World Challenge Cup event at age 20, won the uneven bars with a commanding performance that scored a point and a half better than what she showed in Saturday's qualification round.

Meanwhile, two-time U.S. men's champion Brody Malone literally rose above the fray to capture the gold medal on high bar, competing in a field that included 2020 Olympic silver medalist Tin Srbic of Croatia and 2019 world champion Arthur Mariano of Brazil.

Donnell Whittenburg, having already cemented his place on the U.S. world team, picked up bronze medals on still rings and parallel bars.

In the past, the U.S. women have typically eschewed world cup events, using the intensity of a summer schedule that includes the U.S. Classic, U.S. championships and internal training and selection camps to prepare for the world championships. The formula has served Team USA well — U.S. women have claimed every world team title since 2011. However, newly appointed coordinators Alicia Sacramone Quinn and Chellsie Memmel, both former world champions, have embraced the idea of team members competing outside the nation's borders more regularly.

This approach is working, too. Carey and Chiles made a splash by returning to elite competition after leading their college teams (Oregon State for Carey and UCLA for Chiles) this winter and spring, proving it is possible to handle the crossover between the NCAA and elite gymnastics seasons. Carey looked close to her Olympic form on vault, where she landed her signature Cheng and a double-twisting Yurchenko.

Chiles, who debuted a dynamic second vault, was right behind Carey for the silver medal. The 21-year-old also upgraded her floor routine, adding a full-twisting double layout second tumbling pass enroute to gold. Carey also snapped up a silver medal on balance beam, behind 2016 Olympic finalist Marine Boyer of France, whose gold-medal performance electrified the home fanbase.

In addition to her uneven bars win, Jones, who considered retirement after she did not make the 2020 U.S. Olympic Team, finished with a silver medal on floor in a routine that included music by Sia.

Malone, who added a silver medal on parallel bars to his high bar gold, continued to establish himself as the leader of the U.S. team following the retirement of six-time U.S. champion Sam Mikulak. Both Malone, who qualified to the high bar final in second place, and Whittenburg, who was only seventh on parallel bars in qualification, managed to show improvement when it mattered most.
Blythe Lawrence has covered four Olympic Games and is a freelance contributor to TeamUSA.org on behalf of
Red Line Editorial, Inc
. Follow her on Twitter @_BlytheLawrence.