Carey's Vault Win Highlights Three Medals For U.S. Gymnasts At World Championships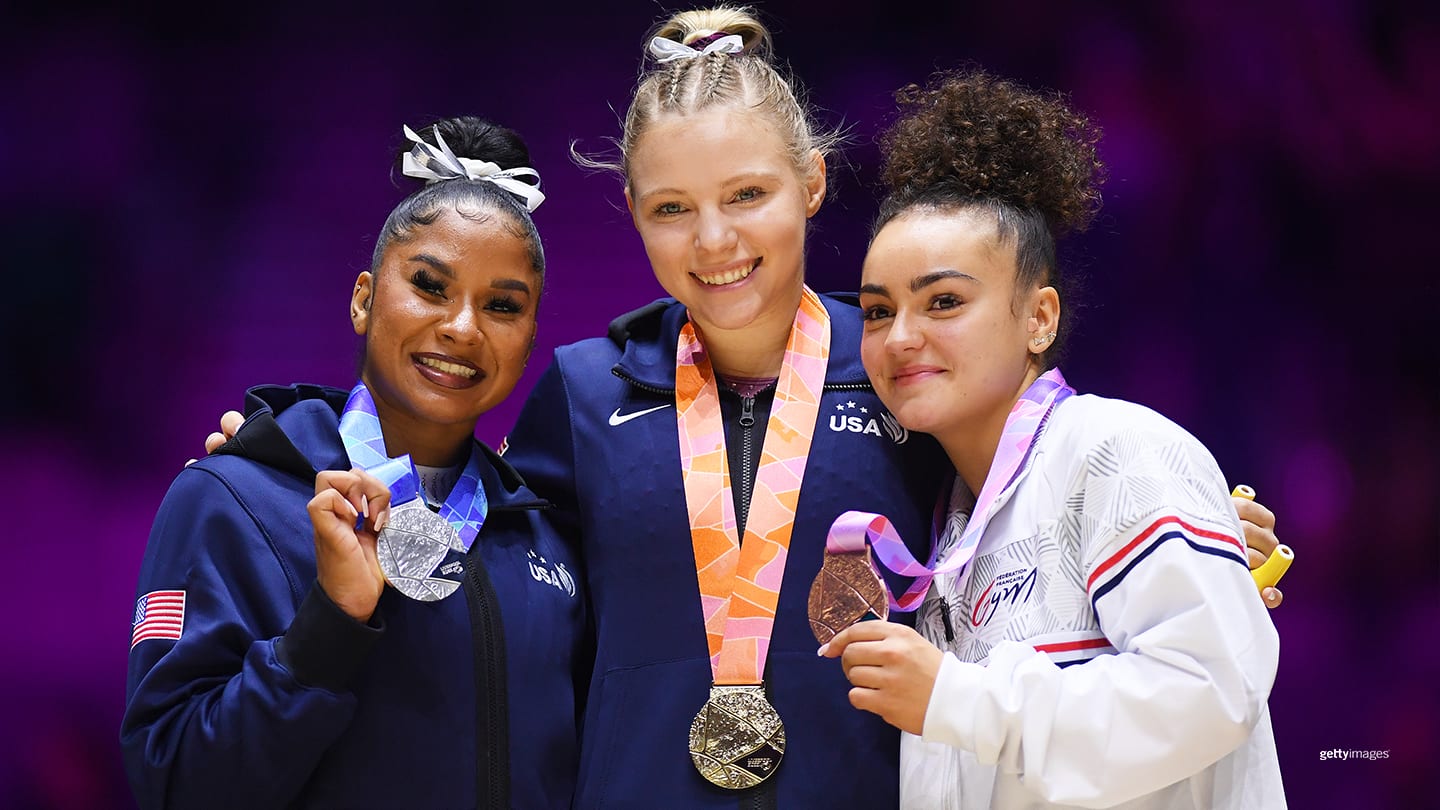 (L-R) Jordan Chiles, Jade Carey and Coline Devillard pose during the medal ceremony for the women's vault final at the 2022 Gymnastics World Championships on Nov. 5, 2022 in Liverpool, England.
Over the last five years Jade Carey transformed herself from a specialist into one of the world's elite all-around gymnasts.

She's still pretty good at her signature events.

A year after winning an Olympic gold medal in the floor exercise, the 22-year-old from Phoenix won the vault title Saturday at the World Gymnastics Championships in Liverpool, England. The win marked her first individual world title and sixth overall medal at the world championships. It comes days after she helped the U.S. women to their record sixth consecutive team title earlier in the week.

Carey's medal was one of three won by U.S. gymnasts on Saturday, the first of two days of individual event finals in Merseyside. Jordan Chiles was just behind Carey for silver on vault, while Shilese Jones claimed the silver medal on uneven bars.

Competing at her third world championships, Carey opened the vault competition with the ultra-difficult Cheng, which is a roundoff half-turn onto the vault, then a layout with 1.5 twists, to score 14.733. Her second vault, a double-twisting Yurchenko, scored 14.300 to give her an average of 14.516.

Carey had previously won two world silver medals in vault and a floor exercise bronze, in addition to a team world title from 2019.

The 21-year-old Chiles, in her first world championships after making her Olympic debut last year, came away with her first individual medal after hitting her double-twisting Yurchenko (14.500) and Lopez (14.200) vaults for an average of 14.350.

Both Carey (Oregon State) and Chiles (UCLA) returned to elite gymnastics this summer after wrapping up their freshman seasons in the NCAA. Each played leading efforts as the U.S. women won the team title on Tuesday.

On Thursday, Carey finished sixth in the women's all-around, moving up two spots from her placement at last year's Olympic Games Tokyo 2020. She and Chiles have one more opportunity for a medal on Sunday, when they take part in the women's floor exercise final.

Two days after winning the all-around silver medal, Jones concluded her resurgent 2022 season in the uneven bars final. The 20-year-old from the Seattle area had already performed 11 routines this week, and she might have saved the best for last. Her score of 14.766 set an early standard in the final but was eventually passed by China's Wei Xiaoyuan, the only gymnast to perform a more difficult routine. That ended up being the difference as Wei, who is also the defending world champ, matched Jones' 8.366 execution but won by .200 due to her higher start value. Belgium's Nina Derwael, the defending Olympic champ, was third at 14.700.

One year after claiming the first pommel horse world title by an American, Stephen Nedoroscik hit his routine without any major mistakes on Saturday, but his score of 14.400 wasn't quite enough as he finished fifth, just .330 shy of the final podium spot.

Rounding out the American performances on Saturday was the veteran Donnell Whittenburg. The 28-year-old, in his fifth world championships, scored 14.433 in the still rings final to place eighth.

In addition to Carey and Chiles in the women's floor final, Team USA's Skye Blakely is in Sunday's women's balance beam final Sunday, while Olympian Brody Malone goes for another medal in high bar after finishing third at last year's world championships.
Chrös McDougall has covered the Olympic and Paralympic Movement for TeamUSA.org since 2009 on behalf of
Red Line Editorial, Inc.
He is based in Minneapolis-St. Paul.