Tamyra Mensah Stock, Amit Elor Capture Gold Medals At Wrestling World Championships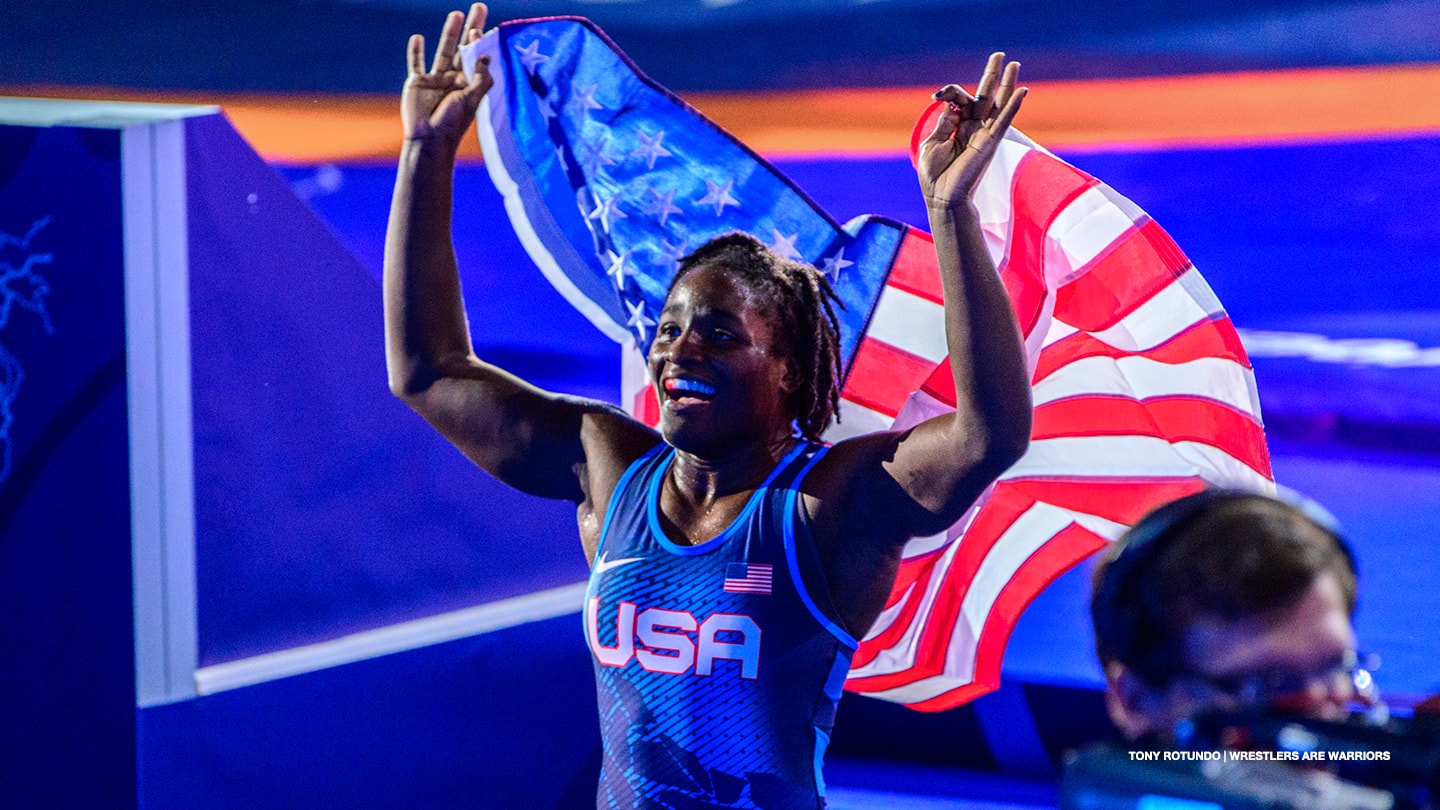 Tamyra Mensah Stock celebrates winning the women's freestyle 68 kg. title bout at the 2022 United Wrestling World Championships on Sept. 15, 2022 in Belgrade, Serbia.
Olympic champion Tamyra Mensah Stock and teenager Amit Elor led another U.S. medal surge with title wins Thursday at the United World Wrestling World Championships.

Mensah Stock clinched her second world title with an exclamation point in Belgrade, Serbia.

The 29-year-old from Houston spun around Japan's Ami Ishii and put the U20 world champion on her back for a pin that ended the women's freestyle 68 kg. title bout. The victory clinched Mensah Stock's fourth world championships medal. She won the 2019 title but finished third last year after winning the Olympic gold medal in Tokyo.

Elor, 18, won a gold medal in her senior world championships debut to become the youngest in U.S. women's history to capture a world title. She scored a 10-0 technical fall against No. 1 seed and 2021 world silver medalist Zhamila Bakbergenova of Kazakhstan in the 72 kg. title bout. The victory clinched Elor's fourth world title at different age levels, including the U20 world championships earlier this year.

Helen Maroulis, a 2016 Olympic champion and three-time world champion, finished off the second consecutive day of triple medals by U.S. women's freestyle wrestlers, winning silver at 57 kg.

The U.S. has won three gold, two silver and two bronze medals in the last three days, tying a U.S. women's record. Three more medals are already clinched for Friday's competition, which includes three U.S. men's freestyle wrestlers in title matches.

Maroulis settled for silver, her sixth career world championships medal, after losing the title match at 57 kg. in a battle between two 2021 gold medalists. Tsugumi Sakurai of Japan, who won the 55 kg. world title and moved up a weight class this year, topped the No. 1-seeded Maroulis.

Men's freestyle wrestlers Zain Retherford (70 kg.), Jordan Burroughs (79 kg.) and David Taylor (86 kg.) will all go after gold medals Friday after winning semifinal matches Thursday.

Burroughs, who has won five world titles and the 2012 Olympic gold medal, is attempting to set the American record for combined world and Olympic championships. He'll face Mohammad Nokhodi of Iran, who lost to Burroughs in the 2021 world finals.

Retherford, a three-time NCAA champion at Penn State, faces Taishi Narikuni of Japan in the 70 kg. final. Taylor, a 2020 Olympic and 2018 world champion, faces 2016 Olympic champion and three-time world champion Hassan Yazdani of Iran at 86 kg.
Paul D. Bowker has been writing about Olympic sports since 1996, when he was an assistant bureau chief in Atlanta. He is a freelance contributor to TeamUSA.org on behalf of
Red Line Editorial, Inc.