Fifteen U.S. Wrestlers Secure Their Spots In Tokyo At U.S. Olympic Team Trials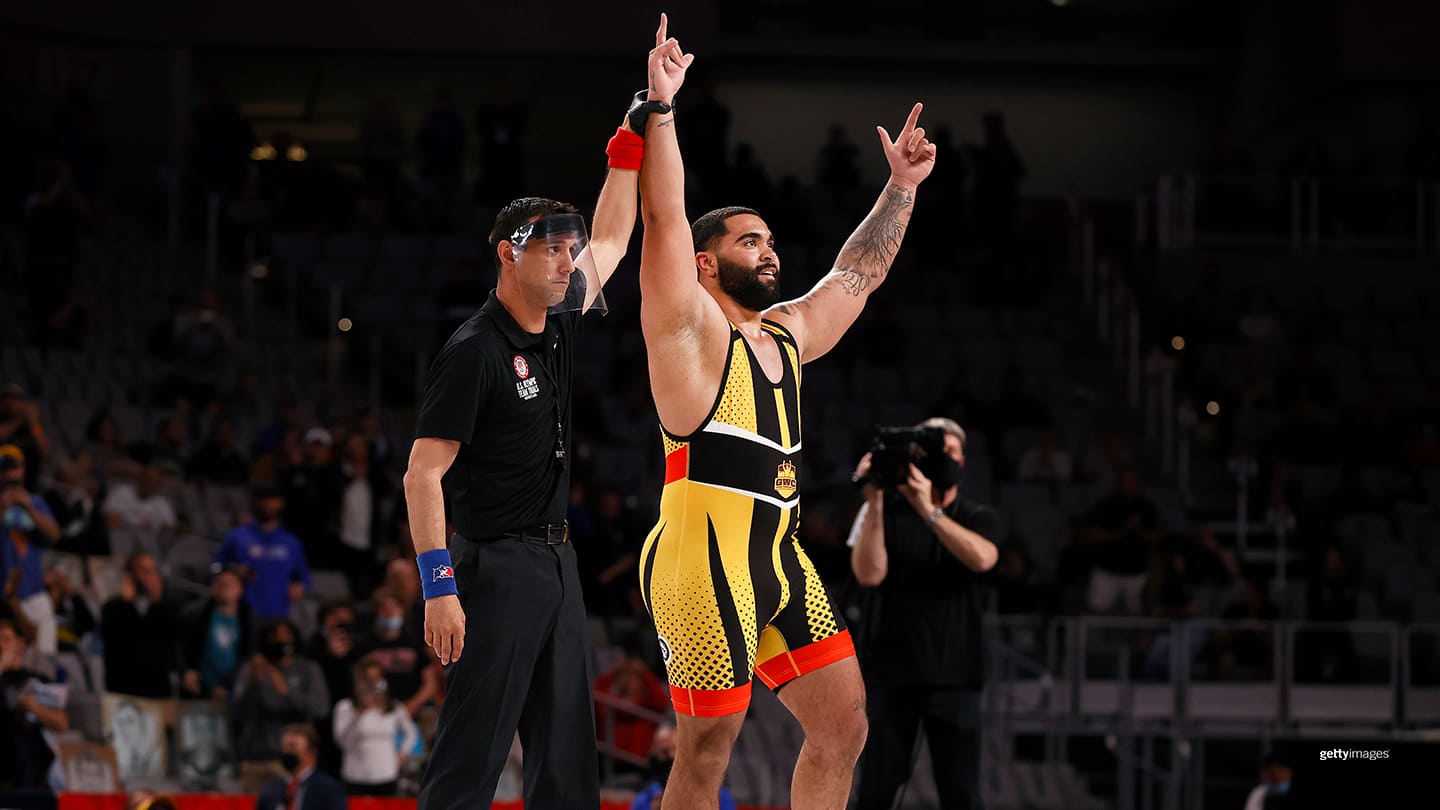 Gable Steveson celebrates after beating Nick Gwiazdowski in their Freestyle 125kg finals match on day 2 of the U.S. Olympic Wrestling Team Trials at Dickies Arena on April 3, 2021 in Fort Worth, Texas.
For nearly 10 years, Jordan Burroughs dominated the 74 kg. weight class in men's freestyle wrestling in the United States.

His quest to make a third Olympic team fell short on Saturday, however, as rival Kyle Dake got the better of his opponent to earn the coveted spot in Tokyo this summer. On a night when Helen Maroulis continued her comeback with a win and the chance to defend her gold medal and Tamyra Mensah-Stock won her second U.S. Olympic Team Trials for Wrestling but her first with her weight class qualified for the Games, the Olympic Trials at Dickies Arena in Fort Worth, Texas, produced plenty of drama and emotion. A total of 15 freestyle and Greco-Roman wrestlers earned their spot on this summer's Olympic team by the conclusion of the night.

Burroughs versus Dake was perhaps the most anticipated match of the event.

Burroughs, 32, came in with a 7-1 lead in head-to-head matchups against Dake, who won two world titles at a higher weight class before moving back down. Burroughs had been an unmovable force at 74 kg., winning the Olympic gold medal in 2012 and four world titles.

But Dake came out flying and ended the first match in the best-of-three format with a 3-0 win. Ten seconds into the second bout Dake snagged two points but Burroughs' side challenged and one point was removed. Dake responded with another two, however, with Burroughs still seeking his first point of the match. Despite a late push and two points, it wasn't enough to overcome Dake.

"It feels good," Dake said. "It feels like a long time coming for me. I've always been right there. To go out and put on a show like I did and be able to go out and get my hand raised is something I've been missing the past few years."

In what was undoubtedly the most emotional match of the evening, Maroulis defeated Jenna Burkert at 57 kg. and will defend her gold medal from Rio this summer in Tokyo. For Maroulis, the first American woman to win an Olympic gold medal in wrestling, it was a triumphant moment in her comeback from concussions and post-traumatic stress disorder that actually caused her to walk away from the sport for a while.

"Grateful. I would say grateful," Maroulis said. "I didn't know if this was ever going to happen. I didn't know if I was ever going to get back to wrestling, if I'd be healthy, I had no clue."

Burkert, meanwhile, lost her mother only a week ago from complications from open heart surgery. She fought a tough match, winning the middle bout 6-5 to force the third, but Maroulis pinned Burkert just 23 seconds into the decider for the win.

Tamyra Mensah-Stock, meanwhile, is finally getting her shot at the Olympic Games. The 2019 world champion won the Olympic Trials in 2016, but her weight class didn't qualify and therefore she didn't get to make the trip.

Competing in her home state at the 68 kg. weight class, Mensah-Stock, 28, fended off Kennedy Blades, a 17-year-old who was hoping to become the youngest female Olympic wrestler, winning both of her first two bouts.
Sarah Hildebrandt is going to the Games after beating Victoria Anthony. The 2018 world silver medalist earned a 12-2 win by technical superiority in the first match then 10-0 in the second in a dominating victory.
Jacarra Winchester, 28, will be making her Olympic debut after sweeping challenger Ronna Heaton. Winchester took round one, 7-4, and then finished things off in the second match, 12-2.
Macey Kilty pushed Kayla Miracle to a tie-breaking third match, one of only two all night, but was injured in the third bout and was forced to withdraw. Miracle was eighth at the 2019 world championships and will be making her Olympic debut.
Adeline Gray needed little time to stamp her return ticket to the Olympic Games with a victory over 17-year-old challenger Kylie Welker. Gray, 30, is a five-time world champion and two-time world bronze medalist but will be looking for her first Olympic medal this summer.

"Any time you can score 20 points in less than three minutes it's a great day," Gray said.
Thomas Gilman defeated Vitali Arujau, 2-0. A 2016 world silver medalist, Gilman will be making his Olympic debut this summer. He was also a junior world bronze medalist in 2014.
Jordan Oliver defeated Joey McKenna, 2-0, but is one of three Trials winners who will still need to qualify their weight class for Team USA next month at a qualifier in Bulgaria in order to make the U.S. Olympic Team. Third at the 2009 junior world championships, Oliver was the 2019 senior national champion as well as a two-time NCAA champion in 2011 and 2013.
Former Penn State stars and training partners David Taylor and Bo Nickal wrestled for the opportunity to represent the U.S. this summer, and it was Taylor who earned the spot. Taylor, the top seed and 2018 world champion, was third at the 2016 Trials but defeated Nickal, 2-0.

"It's something I've been training for entire my life and to accomplish it feels great," Taylor said. "To be an Olympian is amazing but my goal is to be a gold medalist. That's my expectation."
Kyle Snyder will defend his 2016 Olympic title after defeating Kollin Moore. Many in the wrestling community expected this to be a showdown between a 2016 gold medalist and two-time world champion in Snyder and another two-time world champion and 2016 silver medalist in J'den Cox. Cox failed to make the weigh-in on Friday morning, however, and was cut from the program. He has appealed the decision, saying that he was told an incorrect time for the weigh-in.

Snyder won the first bout by technical superiority, meaning he had a 10-point advantage. Moore put a point on the board in the second bout but was no match for Snyder, who's been at the top of his weight class for six years.
The battle of the heavyweights was a one-sided affair as 20-year-old Gable Steveson dominated two-time world bronze medalist and top seed Nick Gwiazdowski start to finish. After winning by technical superiority in the first matchup, Steveson jumped out to a 4-0 lead in the second before Gwiazdowski scored his first point on a step-out. Steveson responded with a quick two-pointer, and the 2017 junior world champion and newly-crowned NCAA champion from the University of Minnesota earned his spot in Tokyo.
Ildar Hafizov will go to the Olympic Games for the second time but the first as a U.S. citizen after beating Ryan Mango. Hafizov, who represented Uzbekistan in 2008 and was second at the Olympic Trials for the U.S. in 2016, won 2-0.
Alejandro Sancho defeated 2012 Olympian Ellis Coleman, 2-0. Sancho, a member of the U.S. Army World Class Athlete Program, was second in the 2020 Pan American Olympic Qualifier.
Jesse Porter defeated Peyton Walsh, 2-0. The 23-year-old was second at the 2021 Last Chance Qualifier and was the 2020 U23 national champion. He'll need to qualify the weight class to make the Olympic team.
Joe Rau's career ended with a loss to John Stefanowicz. Stefanowicz swept Rau with a 2-1 win in the second match, after which Rau left his shoes on the mat to signal his retirement. Stefanowicz, who came through the challenge bracket, was the 2020 Pan American Championships champion.
G'Angelo Hancock, 23, was third in the Olympic Trials in 2016 but not on Saturday. He jumped out to a 4-0 lead against Braxton Amos to take the first match then dominated the second bout, 8-0, to earn his spot in Tokyo.
Adam Coon defeated Cohlton Schultz, 2-0. The 2019 world silver medalist was the runner-up at the 2016 Trials. His is the third weight class Team USA has yet to qualify for the Games.
Karen Price is a reporter from Pittsburgh who has covered Olympic and Paralympic sports for various publications. She is a freelance contributor to TeamUSA.org on behalf of
Red Line Editorial, Inc.