Tamyra Mensah Stock Wins Second U.S. Women's Wrestling Gold Medal In History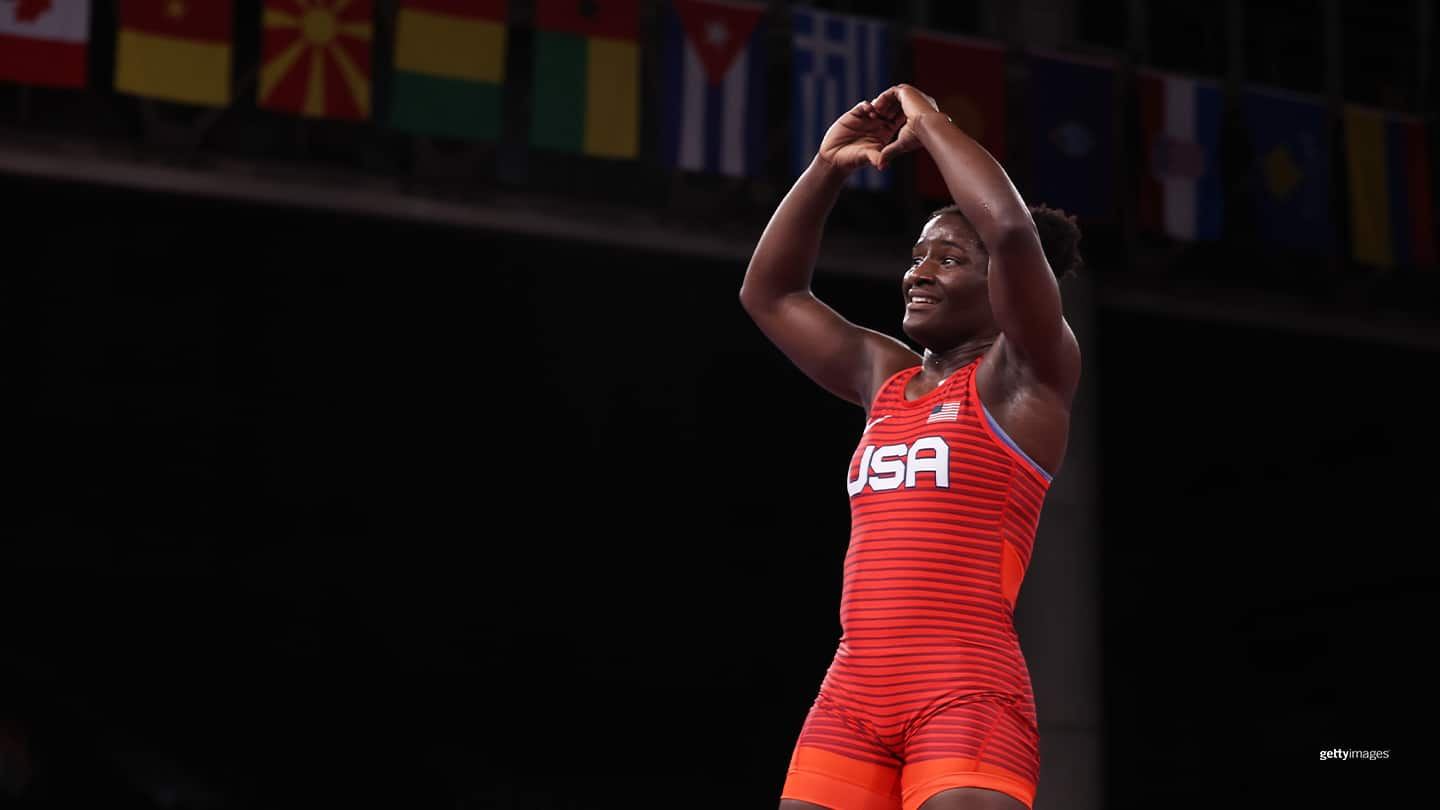 Tamyra Mensah Stock celebrates win during the Women's Freestyle 68kg Gold Medal Match at the Tokyo Olympic Games 2020 on August 03, 2021 in Chiba, Japan.
Freestyle wrestler Tamyra Mensah Stock stood wrapped in the U.S. flag, alternating between sobs of joy and bouncing up and down with excitement.


The newest Olympic champion in the 68 kg. class had just accomplished what she said she knew she could from the moment she started in the sport.


The 28-year-old from Katy, Texas, won the gold medal.


"I knew I could do it," she said. "I knew it would be hard. I prayed I could do it. In my wildest dreams I knew."
The reigning world champion rolled through the Olympic tournament, finishing with a 4-1 victory over Nigeria's Blessing Oborududu in the gold-medal match in Tokyo on Tuesday night. Immediately after, she raised her hands above her head in a heart shape, as she's done throughout, and the emotion swept over her face. She broke down in tears as she hugged her coaches and clutched the flag for a victory lap.
.@MensahTamStock becomes only the second woman to win gold in @USAWrestling history. #TokyoOlympicspic.twitter.com/7PVYAtvqNT


— Team USA (@TeamUSA) August 3, 2021
Known as the friendliest person off the mat and the fiercest on, Mensah Stock attacked throughout the match, opening with a two-point takedown. Oborududu countered with a point for a reversal, but Mensah Stock answered with another takedown to end the first period with a 4-1 lead. Neither side scored in the second.
Mensah Stock's father was killed in a car crash coming home from one of her meets in high school, and she said afterward that it was a bit poetic that she wrestled a Nigerian for the gold because he was from Ghana and the two countries are rivals.
"He would have been the loudest one here," she said. "He would have been so proud."
This is the second medal for the U.S. in women's freestyle wrestling at these Olympic Games after Adeline Gray's silver, but just the second-ever gold following Helen Maroulis' achievement in 2016.
Seeded No. 1, Mensah Stock left the path to the gold medal littered with former champions.
Her first bout was against 2016 Olympic champion and 2017 world champion Sara Dosho of Japan, and it wasn't even close. Mensah Stock won by first-period technical fall after opening with a takedown and ankle lace.
Next up was two-time world medalist Feng Zhou, of China, who also proved no threat. Again Mensah Stock won via technical fall.
That put her in the semifinals against Ukraine's Alla Cherksova. Mensah Stock actually trailed, 4-2, in the second period but then kicked it into high gear to turn it around and went on to a 10-4 victory.
Five years ago, Mensah Stock won the U.S. Olympic Team Trials, but the U.S. didn't qualify her weight class, so she was relegated to going to Rio as a training partner.
The karaoke fan — she brought her own machine to Tokyo to entertain herself and her teammates — was overwhelmed following the win against Oborududu.
"I'm feeling very happy and I keep trying not to cry, but it keeps happening," she said. "I just want to go into a dark room and cry, but I'm crying from joy."
In other wrestling competition, Kayla Miracle lost her opening bout in the women's 62 kg. class.
G'Angelo Hancock finished seventh in the men's 97 kg. Greco-Roman competition, while Alejandro Sancho (67 kg.) and John Stefanowicz (87 kg.) both lost in their opening bouts.
Next up for the U.S. are Thomas Gilman (57 kg.) and David Taylor (86 kg.), who'll open the men's freestyle competition on Wednesday, as well as Maroulis, who's looking to defend her Olympic title at 57 kg.
Want to follow Team USA athletes during the Olympic Games Tokyo 2020? Visit TeamUSA.org/Tokyo2020 to view the medal table, results and competition schedule.
Karen Price is a reporter from Pittsburgh who has covered Olympic and Paralympic sports for various publications. She is a freelance contributor to TeamUSA.org on behalf of Red Line Editorial, Inc.