Dom Parrish Leads World Medals Parade by U.S. Women Freestyle Wrestlers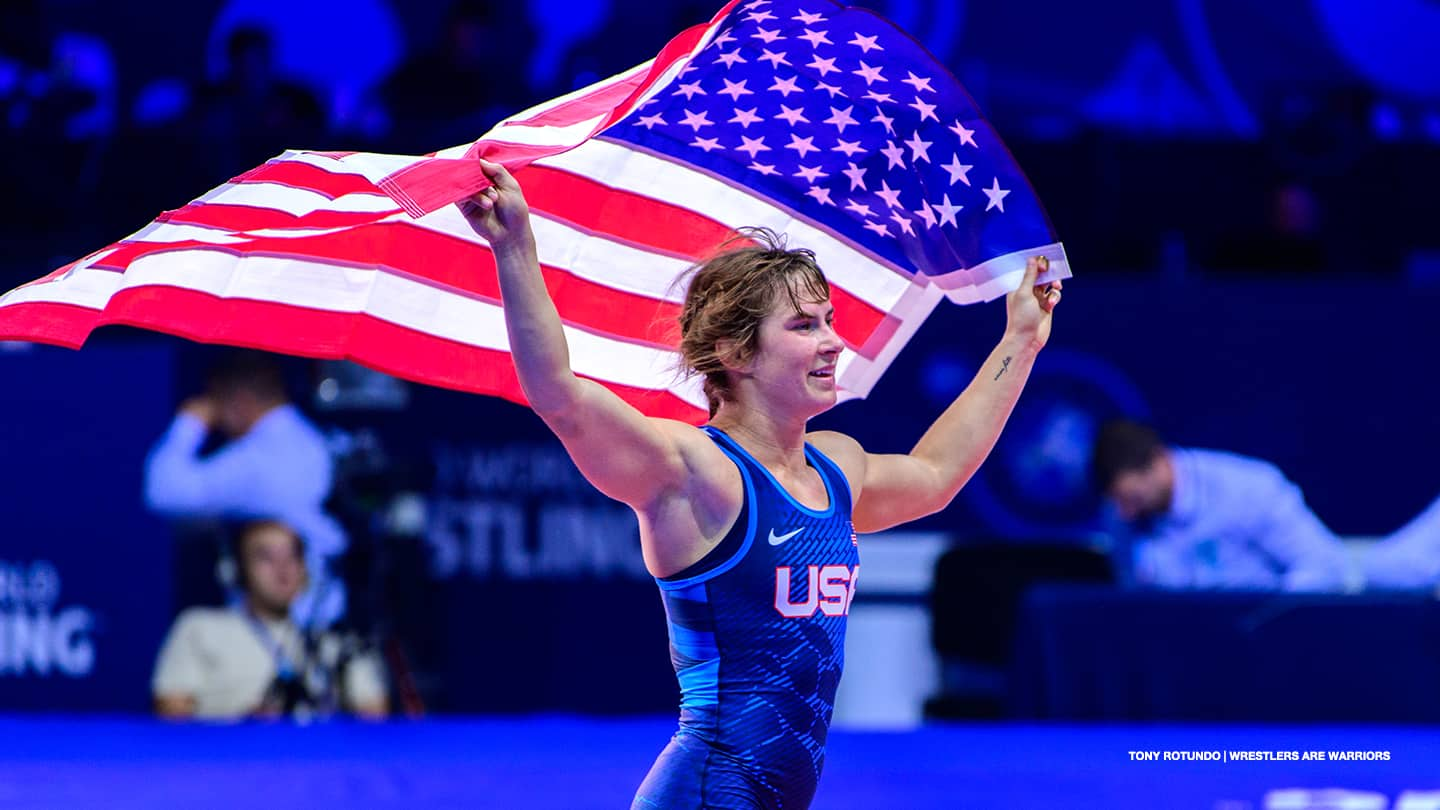 Dom Parrish celebrates winning the women's freestyle 53 kg. title match against Khulan Batkhuyag (Mongolia) at the UWW World Championships on Sept. 14, 2022 in Belgrade, Serbia.
Dom Parrish's world championships debut turned golden Wednesday.

Parrish, who fell short of making the 2020 U.S. Olympic Team last year, captured a gold medal at the United World Wrestling World Championships in Belgrade, Serbia, defeating Khulan Batkhuyag of Mongolia by a 4-2 score in the women's freestyle 53 kg. title match.

Parrish was one of three U.S. women winning medals Wednesday as Americans went 3-for-3 in women's freestyle medal matches.

One day after Kayla Miracle scored Team USA's first medal of the competition, Parrish's win secured the first U.S. gold medal at this year's world championships. Three more U.S. women will go for gold medals Thursday: 2016 Olympic champion Helen Maroulis (57 kg.), 2020 Olympic champion Tamyra Mensah Stock (68 kg.) and Amit Elor (72 kg.) all reached the finals in their weight classes.

Parrish, a 25-year-old Californian who was the No. 7 seed in her weight class, scored a takedown late in her match to clinch the victory. She defeated two-time world bronze medalist Maria Prevolaraki of Greece in the semifinals, and also posted a pair of 10-0 technical falls against Hungary's Mercedesz Denes and Ecuador's Lucia Yepez Guzman.

Sarah Hildebrandt, who won a bronze medal at the Olympic Games Tokyo 2020, decisively captured another bronze medal Wednesday with a 10-0 technical fall against Emilia Vuc of Romania in the 50 kg. weight class.

The medal was Hildebrandt's third at a world championships. She won silver medals in 2018 and 2021.

In the non-Olympic class of 65 kg., No. 8-seeded Mallory Velte won a bronze medal with an 11-2 victory over No. 4 Mimi Hristova of Bulgaria. The medal is Velte's second at a world championships, having also won a bronze in 2018.

Maroulis faces defending world 55 kg. champion Tsugumi Sakurai of Japan in the 57 kg. championship match Thursday. Mensah Stock, a three-time world medalist, takes on Ami Ishii of Japan. Elor, who is making her senior world championships debut, faces 2021 world silver medalist Zhamila Bakbergenova of Kazakhstan.
Paul D. Bowker has been writing about Olympic sports since 1996, when he was an assistant bureau chief in Atlanta. He is a freelance contributor to TeamUSA.org on behalf of
Red Line Editorial, Inc.