Noah Lyles, Valarie Allman Lead Banner Day For Team USA At The Diamond League Grand Final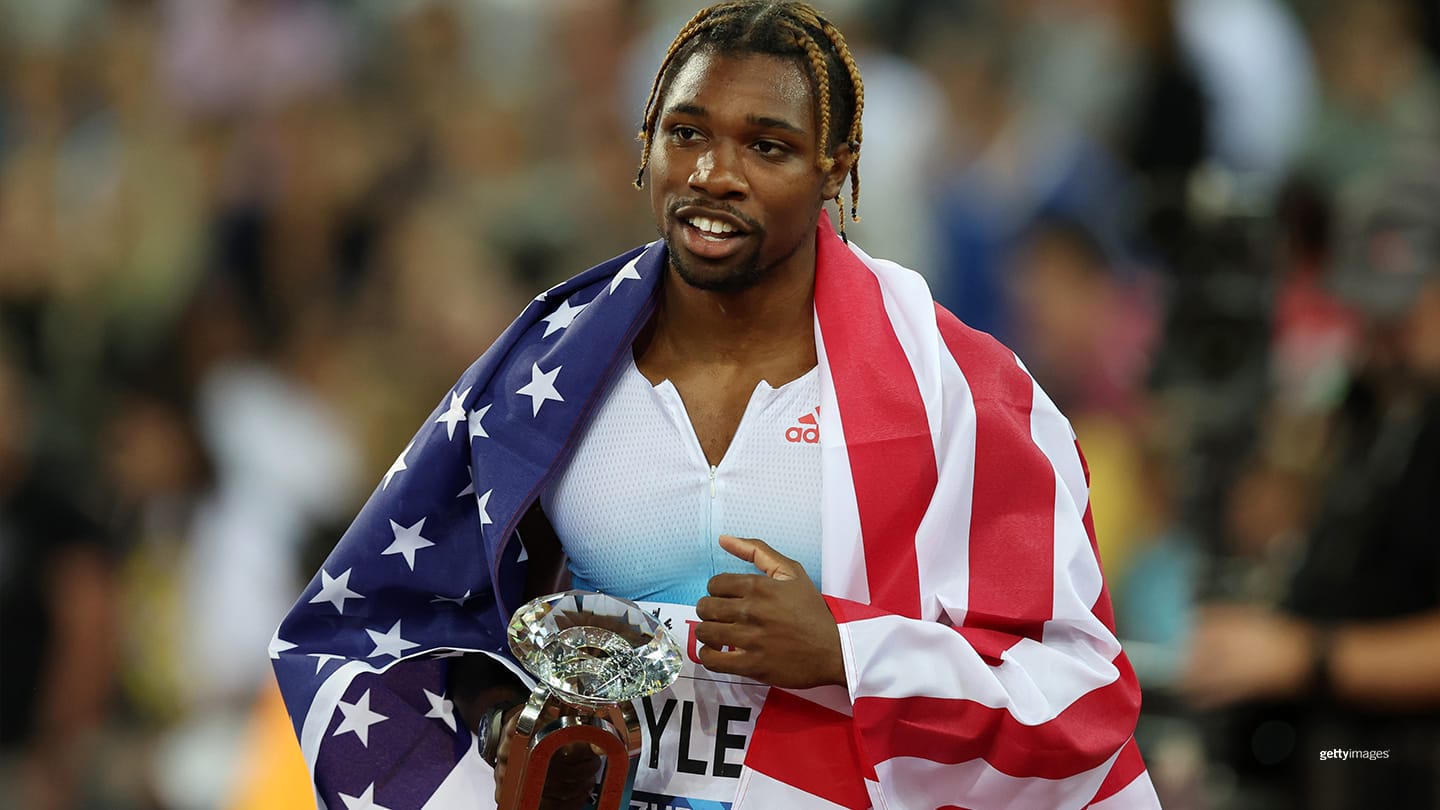 Noah Lyles celebrates following his victory in the men's 200-meter at the 2022 Diamond League Grand Final on Sept. 8, 2022 in Zurich.
Noah Lyles did what he's done all season in 200-meter races, while fellow Americans Valarie Allman, Trayvon Bromell, Grant Holloway and Kara Winger joined him in claiming Diamond Trophies as the 2022 Diamond League season wrapped up with Day 2 of the Grand Final on Thursday in Zurich, Switzerland.

Among 26 event finals on the busiest day of track and field this year, Americans were represented in 21, having qualified based on the results across 12 Diamond League meetings throughout this summer. In addition to the five U.S. wins, and additional 11 Americans ended on the podium. Those results follow the two wins and four additional podiums from the first day of the Grand Final on Wednesday, when six event finals were held.

Lyles, the two-time defending world champion in the men's 200, closed out the meet with another blazing fast performance in his signature event.

For the 12th time during this outdoor season, including prelims, Lyles started a 200-meter race and ended in first place. This time he ran away from the field and crossed the line in a meet-record time of 19.52 seconds. No other runner broke 20 seconds.

Fellow Americans Erriyon Knighton and Kenny Bednarek, who finished third and second behind Lyles in July at the World Athletics Championships in Eugene, Oregon, also raced in the Grand Final, with Knighton taking fourth and Bednarek fifth, both in 20.20 seconds.

"The one thing is the win, and the next is that everybody knows that the moment has just happened," Lyles said, according to the Diamond League website. "Breaking the meet records and beating the fastest in the world, that it all about it. It just takes another year to run even faster. I already have so many plans."

In the field events, Allman and Winger capped off memorable seasons with big wins.

Allman, the reigning Olympic champ in women's discus, has been in a fierce battle all summer with the 2012 and '16 gold medalist, Sandra Perkovic of Croatia. In June, Perkovic snapped Allman's seven-meet win streak, then both were upset at the world championships when China's Feng Bin took first, Perkovic second and Allman third.

Allman was back atop the podium Thursday, which marked her fourth win in five Diamond League meets this season. Her best throw of 67.77 beat Perkovic's by .46. Fellow American Laulauga Tausaga (58.90) was sixth.

"2022 was a very challenging year for me, many things I had to adapt to," Allman said. "I did not achieve all my goals. But I am definitely very satisfied today. It is special to walk away with that Diamond League trophy. It is a bit of a consolation for Eugene."

Meanwhile Winger, in her final season, continues riding the momentum of her women's javelin silver medal in Eugene, when she jumped from fifth to second on her final throw. That marked her first medal in six trips to the world championships and four to the Olympic Games.

The 36-year-old Winger, who has battled major injuries in her career, won last week's Diamond League event in Brussels, then won again in Zurich, throwing 64.98 meters to hold off Kelsey-Lee Barber of Australia at 63.72.

"I felt like the entire stadium was with me," Winger said. "I felt like I had so many friends with me. The season was like — disbelief."
Grant Holloway celebrates following his victory in the men's 110-meter hurdles at the 2022 Diamond League Grand Final on Sept. 8, 2022 in Zurich.
Holloway followed up his first world indoor title in the men's 60-meter hurdles and his second consecutive outdoor world title in the men's 110-meter hurdles by winning his third major title of the year in Zurich, this time running the 110 hurdles in 13.02 seconds to hold off Rasheed Broadbell of Jamaica by .04. Trey Cunningham, who was second to Holloway in Eugene, was fifth in Zurich at 13.30 seconds.

"This win means a lot to me, it is huge, it is heavy as (heck)," said Holloway, who is also the reigning Olympic silver medalist. "This year was perfect for me, winning the triple."

Sprinter Bromell, who was third in the men's 100 at the world championships, moved up two spots to first this week, running in 9.94 seconds to hold off former world champion Yohan Blake of Jamaica at 10.05. Kyree King, another American, was seventh at 10.18.

"I go out with a smile and ready for the next year," Bromell said.

Among other highlights for U.S. athletes:

• Americans Bryce Deadmon and Vernon Norwood recorded Team USA's first multi-podium finish when they took second and third, respectively, in the men's 400. The venerable Kirani James of Grenada won in 44.26, followed by Deadmon in a season-best 44.47 and Norwood at 44.66. Both Deadmon and Norwood were members of medal-winning U.S. relay teams in both Tokyo and Eugene.

• Khallifah Rosser (47.76) and CJ Allen (48.21) followed with another 2-3 finish, behind world champion Alison dos Santos of Brazil (46.98) in the men's 400 hurdles.

• Team USA's third multi-podium finish came in the women's 200, when Gabby Thomas (22.38), Tamara Clark (22.42) and Jenna Prandini (22.45) went 2-3-4, trailing only Jamaica's Shericka Jackson (21.80), who is coming off a world title in the event in Eugene. Thomas was the Olympic bronze medalist in Tokyo.

• Tia Jones led three U.S. women in the 100-meter hurdles final by taking second in 12.40 seconds, trailing only world champion and world record holder Tobi Amusan of Nigeria, who clocked in at a meet-record 12.29. Former world champ Nia Ali (12.67) and former world record holder Keni Harrison (13.02) were sixth and eighth, respectively.

• Former world indoor champ Marquis Dendy took second in the men's long jump, his best mark of 8.18 meters trailing winner Miltiadis Tentoglou of Greece by .24. Dendy qualified for his second Olympics in Tokyo, and after missing the 2016 Games due to injury took 19th last year.

• Fellow Olympian Quanesha Burks was .01 meters from second place in the women's long jump, her best mark of 6.54 falling just short of Sweden's Khaddi Sagnia. This is the second time Burks fell victim of the smallest margin this summer, having also missed the world championships podium in Eugene by .01 when she finished fourth.

• Chris Nilsen, the reigning Olympic and world championships silver medalist in men's pole vault, took third in Zurich. Sweden's Mondo Duplantis, who beat Nilson in each of those championship meets and holds the world record, won the Diamond Trophy in a meet-record 6.07 meters, comfortably ahead of second-place Sondre Guttormsen of Norway (5.86) and Nilsen (5.81)

• Rounding out the U.S. podiums was Sage Hurta, who took third in the women's 800-meter with a time of 1:58.47. Kenya's Mary Moraa was the winner at 1:57.63.
Chrös McDougall has covered the Olympic and Paralympic Movement for TeamUSA.org since 2009 on behalf of
Red Line Editorial, Inc.
He is based in Minneapolis-St. Paul.