The United States Of Shot Put Shines Again In Diamond League Grand Final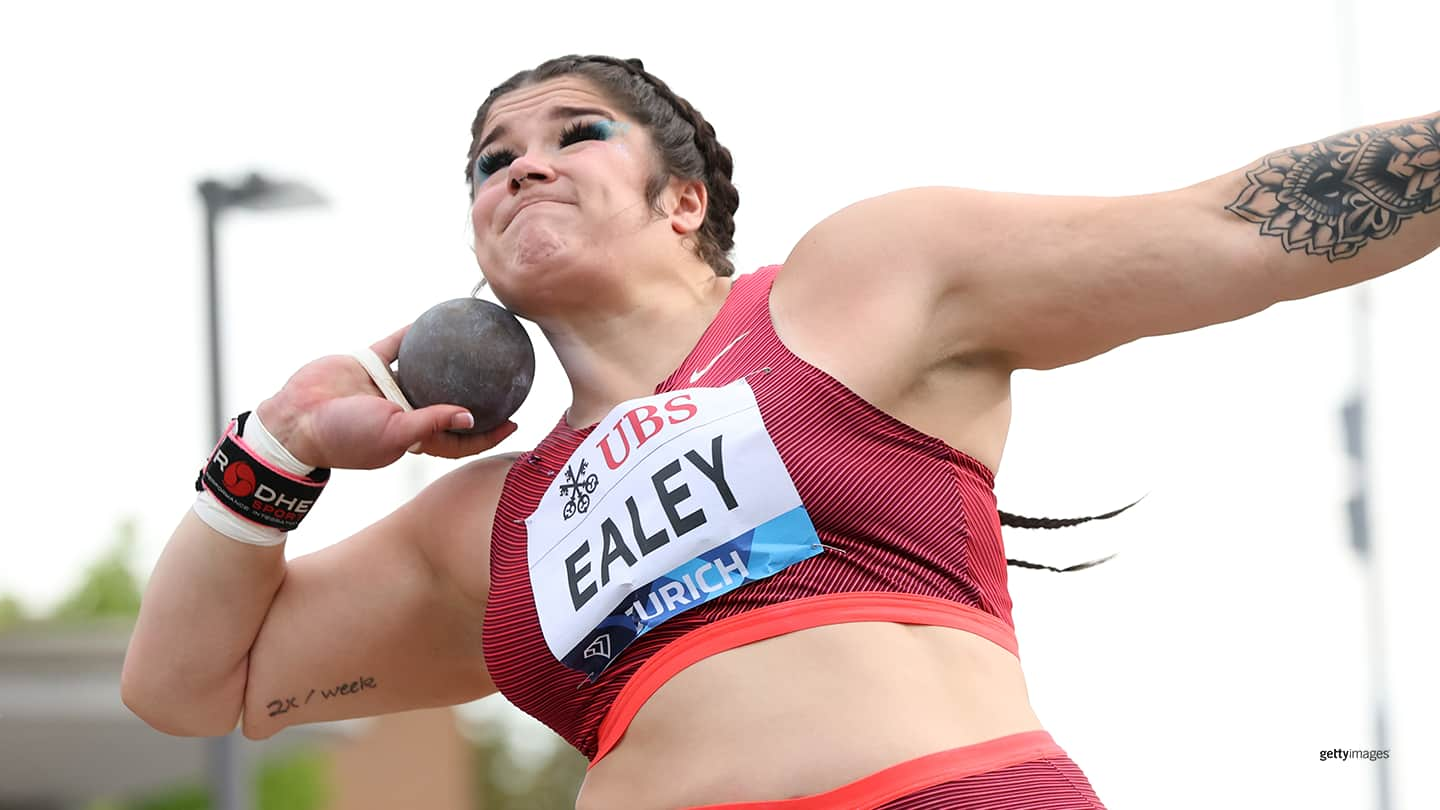 Chase Ealey competes during the women's shot put at the 2022 Diamond League Grand Final on Sept. 7, 2022 in Zurich.
The U.S. domination of global shot put in 2022 is complete.

Just seven weeks after Americans won both world titles in the event, with the men sweeping all three podium spots, U.S. shot putters were again the class of the field as the Diamond League Grand Final got underway Wednesday in Zurich, Switzerland.

Chase Ealey, coming off her first major title at July's World Athletics Championships in Eugene, Oregon, won the Diamond Trophy in the women's event while Joe Kovacs and Ryan Crouser swapped positions from Eugene to go 1-2 in the men's competition.

Their performances highlighted six podium finishes by American athletes across six events held in unique street settings Wednesday. The Grand Final, which features the top performers across 12 Diamond League meets this summer, concludes Thursday with a jam-packed 26 event finals in Zurich.

Kovacs and Crouser are no strangers to shot put podiums, though in recent years it's often been Crouser standing on the top step. The two-time defending Olympic champion and world record holder was first to Kovacs' second in Rio and Tokyo, and then again this summer in Eugene, where he won his first world title.

Kovacs came into Zurich with momentum, though, having won his last three Diamond League events, including the two most recent ones on Aug. 26 in Lausanne, Switzerland, and Sept. 1 in Brussels.

The 33-year-old from Bethlehem, Pennsylvania, came to play in the Grand Final, unleashing a massive 23.23-meter throw on his second attempt. Not only was it a personal best and the world-leading mark this year, but Kovacs also set a new Diamond League record. Crouser responded with a best throw of 22.74 in the third round, but this was Kovacs' day.

A two-time world champion in 2015 and '19, Kovacs credited his competition — including Crouser and third-place Tom Walsh of New Zealand — for pushing him to keep improving.

"If you want to be good you have to keep getting better all the time," he said, according to the Diamond League website. "As much as this is annoying, as a competitor, as it makes it harder, it makes the sport better. And I am super thankful for that. I know that Ryan will throw further, so I will have to throw even further next year."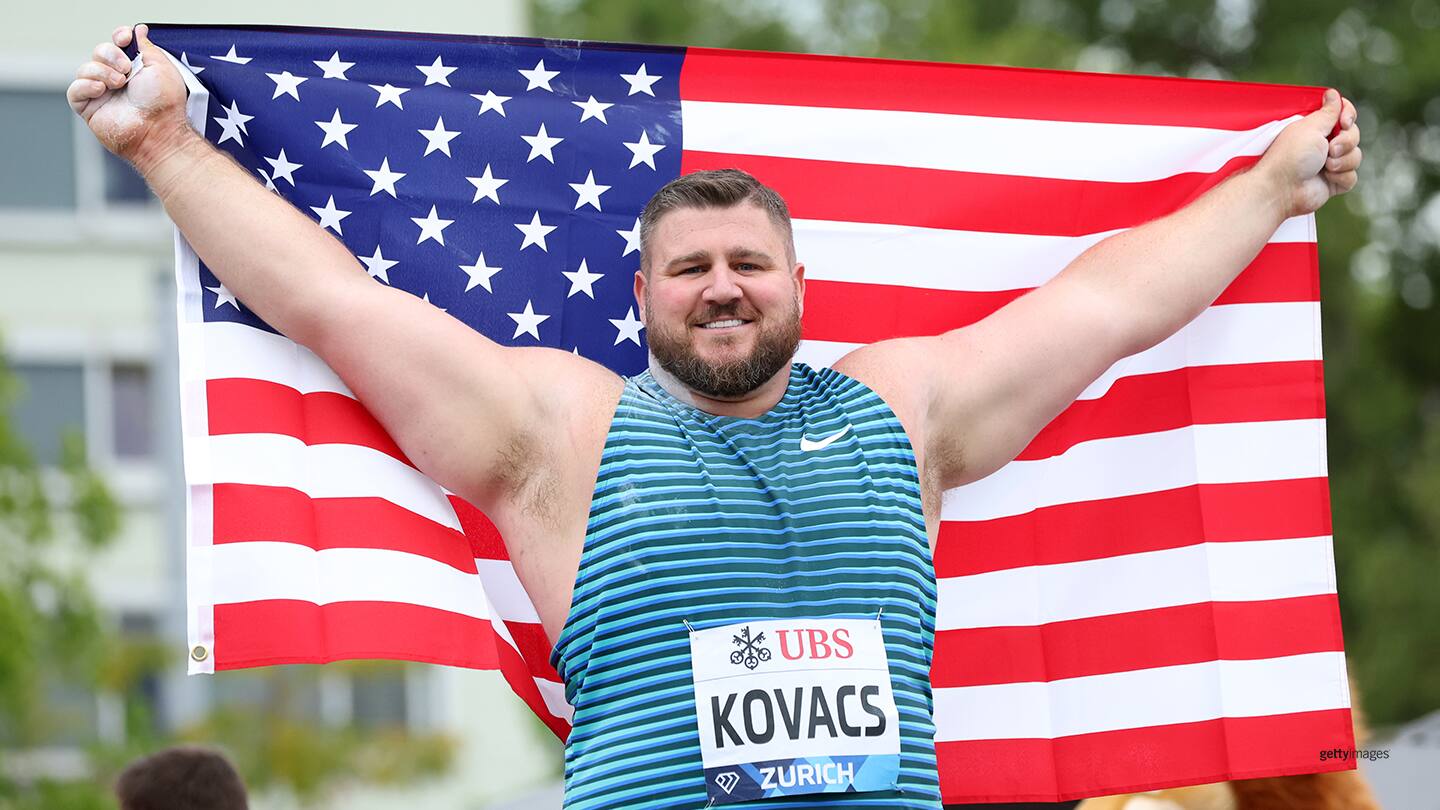 Joe Kovacs celebrates following victory in the men's shot put at the 2022 Diamond League Grand Final on Sept. 7, 2022 in Zurich.
Ealey came into 2022 without the pedigree of her countrymen, but with plenty to prove after just missing out on last year's U.S. Olympic Team. She's shown that all year, going undefeated in the outdoor season — including in four Diamond League contests — while winning her first world title in Eugene. No one came close to beating her in Zurich, with her best throw of 20.19 meters clearing that of second-place Sarah Mitton of Canada by .63.

Coming off her breakout year, the 28-year-old Ealey, of Los Alamos, New Mexico, was already looking forward to 2023.

"I'm going to do even more next year," she said. "I'm very excited about it."

Two other field event athletes found the podium for Team USA on Wednesday.

Pole vaulter Sandi Morris, who won her third world championships silver medal in Eugene and also has an Olympic silver medal from Rio, was second again in Zurich. She topped out at 4.76 meters, which was .05 shy of winner Nina Kennedy of Australia.

In the men's high jump, JuVaughn Harrison cleared a season-best 2.34 meters, which tied Gianmarco Tamberi of Italy on height. However, Tamberi, the reigning Olympic co-champion, took the Diamond Trophy due to having fewer misses. The 23-year-old Harrison made his Olympic debut in Tokyo, finishing among the top seven in both long jump and high jump.

Grant Fisher, fresh off setting an American record last week in Brussels, rounded out the U.S. podiums with a third-place finish in the men's 5,000-meter. The U.S. Olympian stayed in contention on the city track before powering into third down the stretch. Fisher, who now owns the U.S. 5K and 10K records, crossed the line in 13:00.56. Nicholas Kipkorir of Kenya (12:59.05) and Domnic Lokinyomo Lobalu of South Sudan (12:59.40) took the top two spots.

In the other final Wednesday, Olympian Alicia Monson finished sixth in the women's 5K with a time of 14:37.22, a little over five seconds off the podium.
Chrös McDougall has covered the Olympic and Paralympic Movement for TeamUSA.org since 2009 on behalf of
Red Line Editorial, Inc.
He is based in Minneapolis-St. Paul.