Rugby Unexpectedly Hit The Right Notes For U.S. Guard Jaz Gray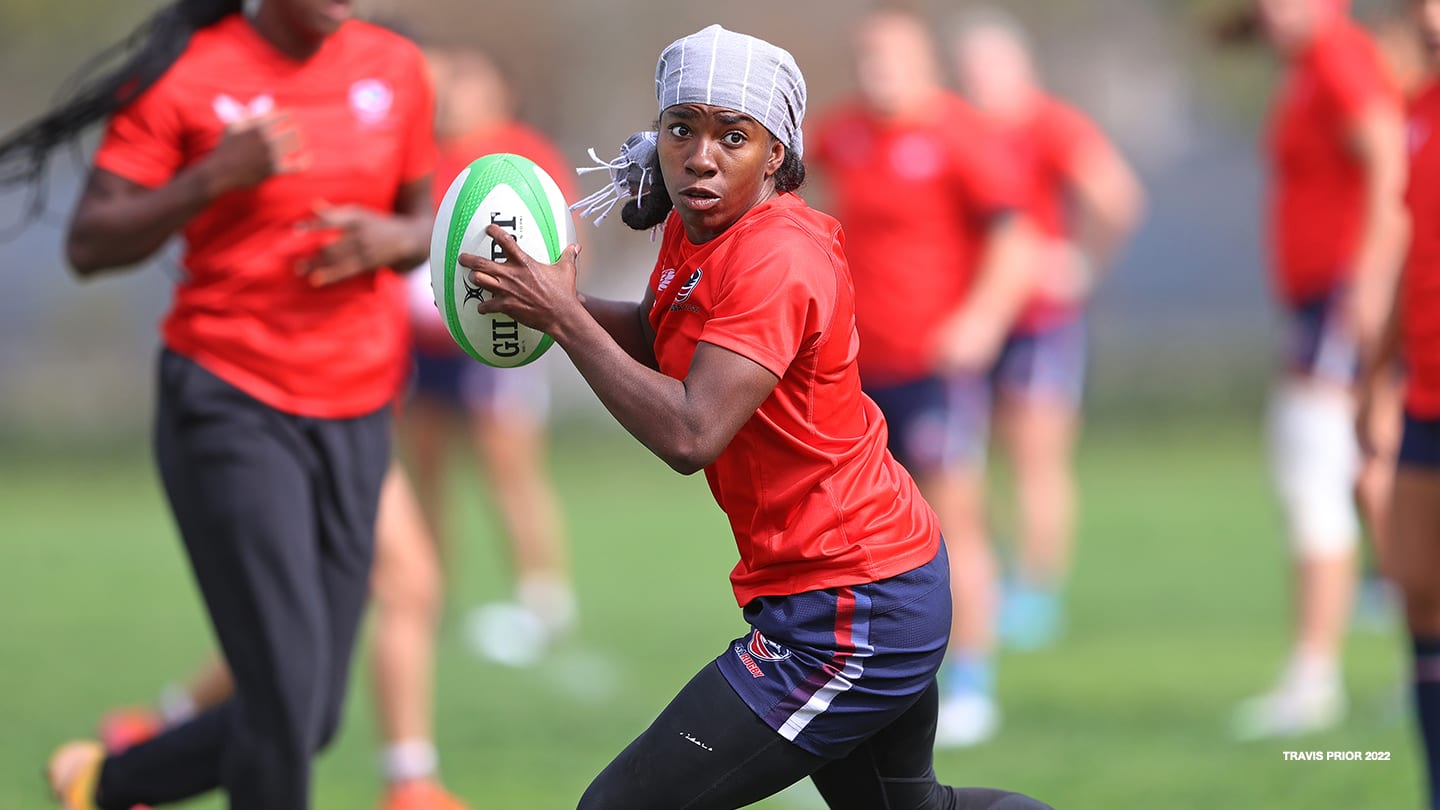 Jaz Gray during training ahead of the 2022 Rugby World Cup Sevens in Cape Town, South Africa.
Listen to Jaz Gray, and you might never believe she could be a rugby player.

"I don't like being outside," Gray said. "I don't like getting hit hard. I don't like grass and mud on me. I don't really like running for that long."

Then what brought Gray to the sport and kept her with it long enough to ascend to the U.S. women's rugby sevens national team?

"It might have been the people," Gray said. "The people were very nice and welcoming. And just learning something new. The challenge of that was really good for my brain.

"At the time, I was just getting out of basketball. So, it was just like something else to challenge me, which I love."

Gray had recently graduated from Norfolk State University, where she had played basketball for four years, when the sport found her. The exercise science major was serving an internship at a gym in her hometown of Raleigh, North Carolina, five years ago and one of the members — a rugby player — saw her lifting weights and suggested she try it.

"I didn't even know what (rugby) was at the time," Gray said. "I don't even remember the first practice. Afterwards, I just kept coming back. Eventually, we went and played (a game), and I did pretty well."

Currently, Gray is in Cape Town, South Africa, with Team USA preparing to play in the Rugby World Cup Sevens that runs Friday through Sunday. The 5-foot-4-inch former college basketball guard is now a wing for the American squad. At age 29, she's still a relative newcomer to the sport.

"Now, I'm just settling into my role on the team, and just trying to find my groove and gain experience is my big thing now," Gray said. "So, just getting to go to some of these tournaments and being put into the situations that we train for has been great."

Gray said that training is quite different than what it was in basketball. She added that in rugby, it's a matter of "knowing how much you can put on your body, and sometimes less can be more."

"I've been blessed to be healthy for the majority of my time," she said. "You get banged up. You get dings. But I've been blessed so far to just be able to just be in a lot of it and not have to sit out for any serious injuries."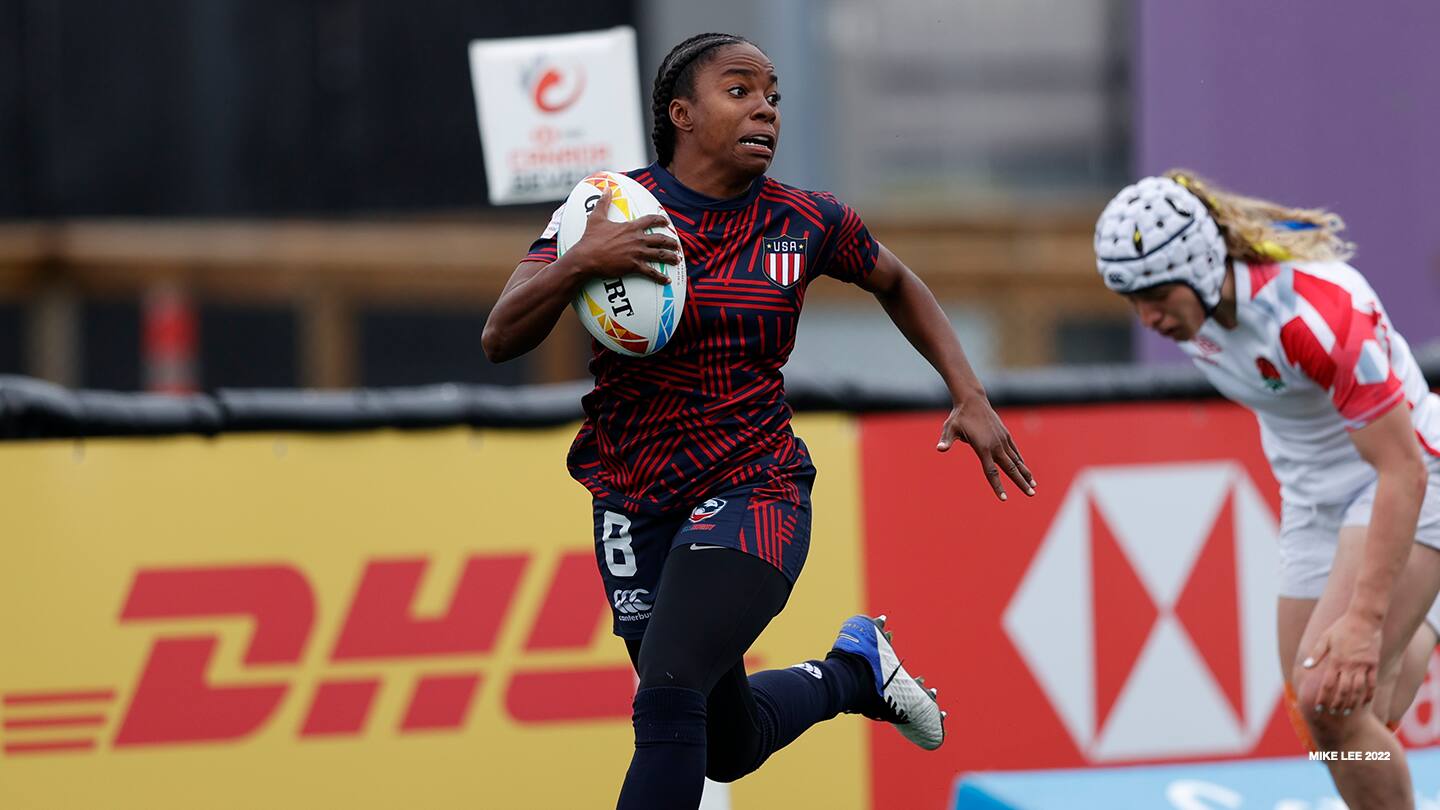 Jaz Gray competes during the 2022 HSBC World Rugby Sevens Series on May 1, 2022 in Langford, British Columbia.
The U.S. women placed sixth overall in the 2022 World Rugby Sevens Series. The high point for the Americans was a win in the World Series stop Jan. 21-23 in Malaga, Spain.

"It's been a little up and down for us," Gray said. "After the Olympic year, we just got a new coach. And the team is a lot of the same people, but some people are in different roles, so just trying to find our groove and find out what works for us. That's been kind of our season."

Asked about her strength as a player, Gray offered a unique response.

"My trash talk is pretty elite, I think," she said. "I think I'm probably one of the best in the world at that. Every day, I'm just trying to sharpen that sword and just see how I can get into my teammates' head and into their mind and things like that."

U.S. coach Emilie Bydwell confirmed Gray's abilities in that area, pointing out that no one on the team was spared from her chatter.

"She's … done a really good job making herself a really important member of our team and our culture off the field," Bydwell said. "She really feeds on our culture and kind of the fabric of our team. She's our connection with each other. She's such a charismatic personality.

"She really puts the team first and is selfless in that way and has really fun creativity on how to build our connection as a group."

Gray said she would like for the team to reach the medals podium in Cape Town, but that's not all.

"We're really focused on just building into the next season and just trying to have a strong base, so that we're not just getting on the podium in Cape Town but doing that consistently for the next season, and it's very important to us qualifying for the Olympics," she said. "So, we're just trying to lay down a foundation that's strong and we can just build on from there."

Gray said she just wants to be a good teammate and have a lengthy career. She mentioned the nearly 10 years that team captain Lauren Doyle has given to the program and gave a nod to Naya Tapper, who became the first U.S. women's rugby sevens players to score 100 tries.

"Being a good teammate is just like my biggest goal, is just how my teammates see me," said Gray, "and just being known for what I want to be known for, which is my hard work and having their backs.

"I would like to stay healthy and just be able to play until I'm like 45, 50. That's a huge goal of mine."
Bob Reinert spent 17 years writing sports for The Boston Globe. He also served as a sports information director at Saint Anselm College and Phillips Exeter Academy. He is a contributor to TeamUSA.org on behalf of
Red Line Editorial, Inc.