U.S. Men's and Women's Rugby Sevens Teams Earn Bronze Medals In Cape Town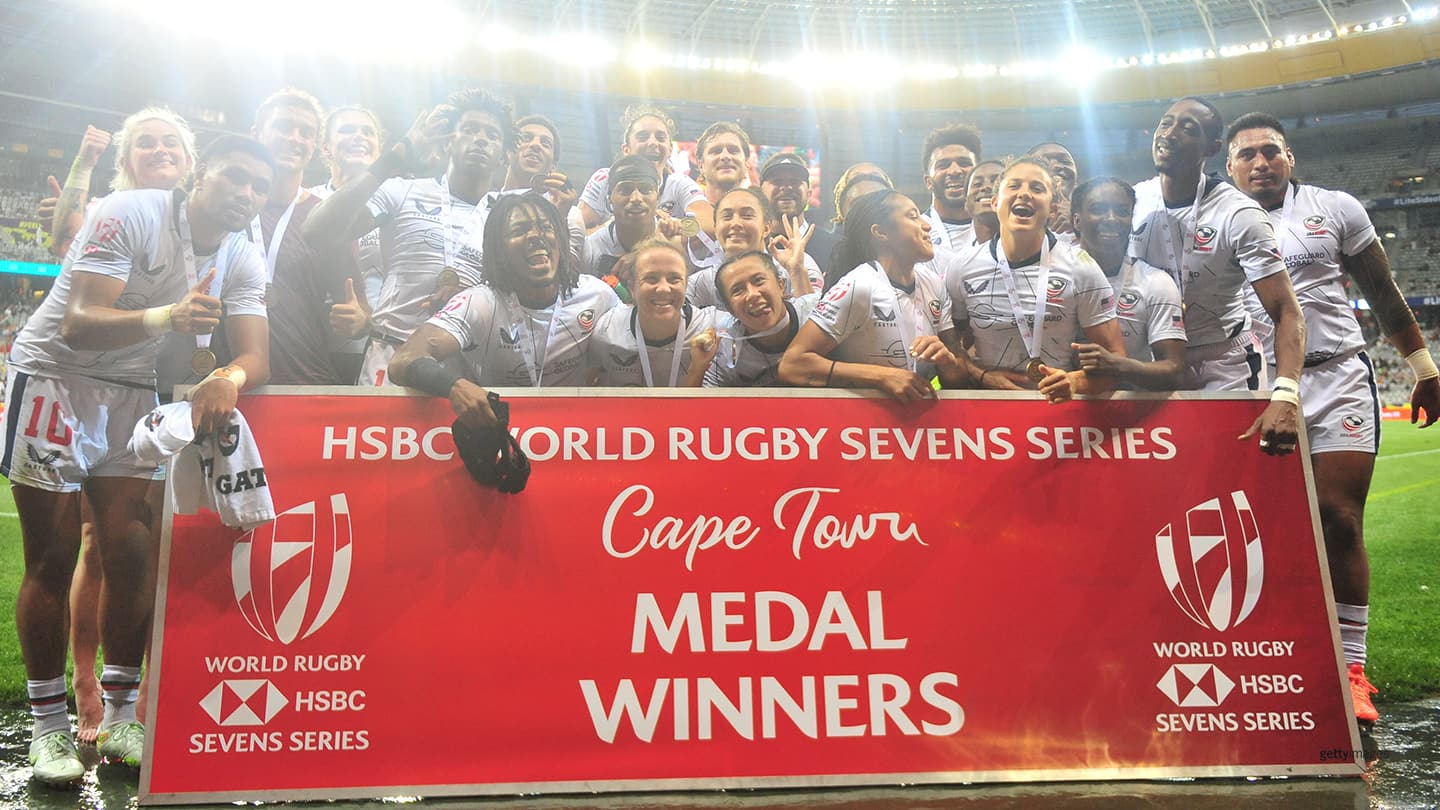 U.S. men's and women's rugby teams pose with their bronze medals after the bronze-medal match against South Africa at the 2022 HSBC Cape Town Sevens on Dec. 11, 2022 in Cape Town, South Africa.
For the first time in this year's World Rugby Sevens Series, both the U.S. men's and women's teams are going home with hardware.

Both teams rebounded from disappointing semifinal losses to win their bronze-medal games Sunday in Cape Town, South Africa.

First up were the U.S. women, who bounced back from their 33-12 loss to Australia in the semifinals and topped Ireland, 20-12. Sammy Sullivan had two tries while Olympians Ilona Maher and Naya Tapper each contributed one.

The victory earned a second consecutive medal for the U.S. women in the season's first two events. That places them third in the overall standings with 32 points, behind Australia and New Zealand, even on 38 points.

The U.S. men lost 33-17 to New Zealand, then knocked off host South Africa 22-14 to win the bronze medal. Four Americans had tries: Malacchi Esdale, Olympian Joe Schroeder, Faitala Talapusi and Marcus Tupuola.

The U.S. men made the bronze-medal game for the second consecutive event but medaled for the first time. After three rounds, the Americans rank fourth in the standings and are tied with No. 3 New Zealand on 44 points. Samoa and South Africa are tied atop the standings at 47.

The top four men's and women's teams at the end of the season will secure berths for the Olympic Games Paris 2024.

Both the women's and men's series resume Jan. 21-22 in Hamilton, New Zealand.
Todd Kortemeier is a sportswriter, editor and children's book author from Minneapolis. He is a contributor to TeamUSA.org on behalf of
Red Line Editorial, Inc.