U.S. Women Advance To Quarterfinals In Rugby World Cup Sevens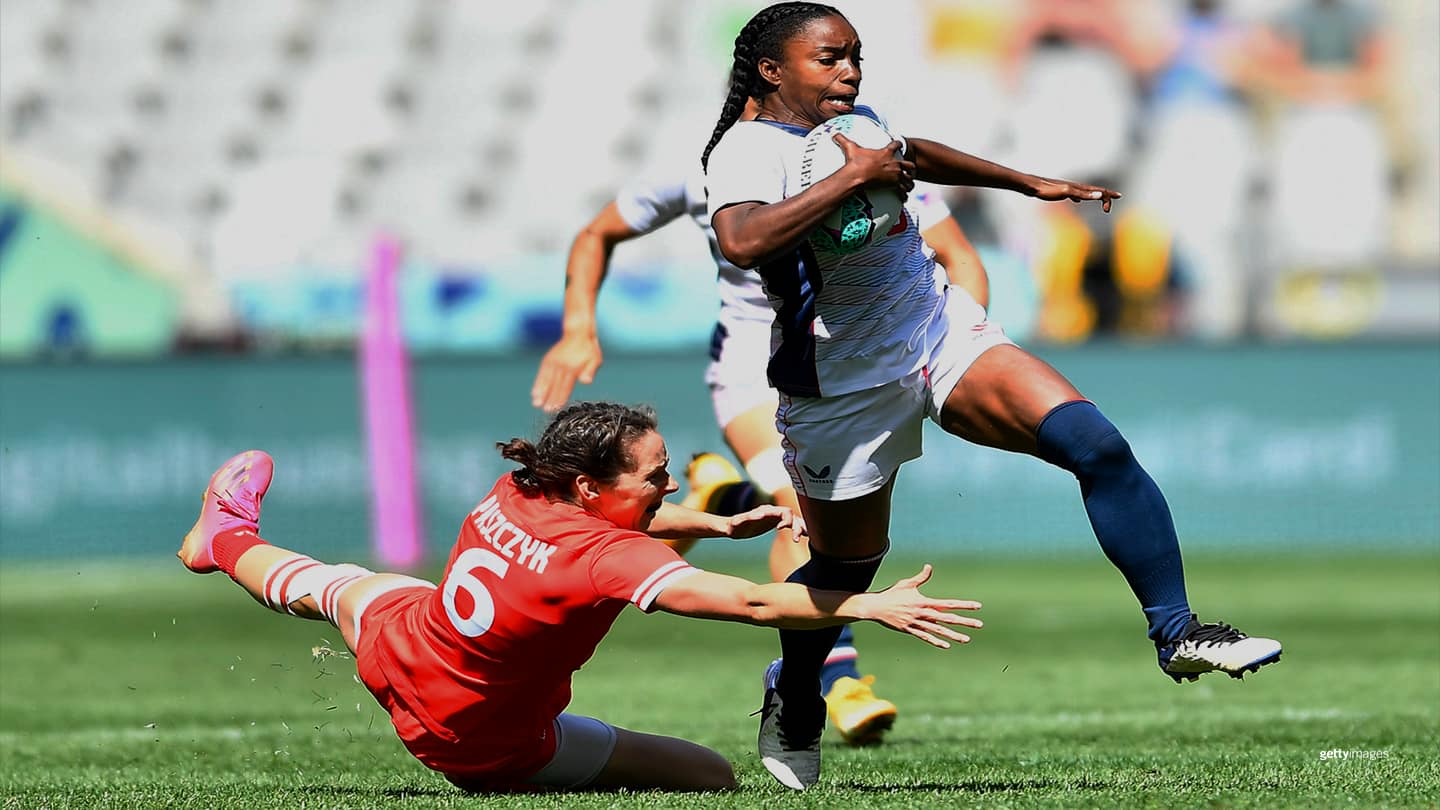 Jaz Gray competes during the round of 16 match against Poland at the 2022 Rugby World Cup Sevens on Sept. 9, 2022 in Cape Town, South Africa.
The U.S. women's rugby sevens team has known it would be competing in the 2022 Rugby World Cup Sevens for four years.

The U.S. was one of four semifinalists in the 2018 World Cup in San Francisco, which secured its spot in Cape Town, South Africa, for this year's tournament.

The No. 4-ranked Americans made a big statement in their opening game, as they put on a dominant performance in a 39-7 win over No. 13 Poland in the round of 16.

Jaz Gray wasted no time getting the U.S. on the board, as she scored a try in the match's opening minute. Gray added a second try a couple minutes later, and a conversion from Nicole Heavirland made it 12-0 quickly. Naya Tapper's fourth-minute try then extended the lead to 17-0.

Poland scored its only try of the game just before halftime to go into the break 17-7.

Just like in the first half Gray started the scoring in the second half, finishing off her hat trick in the ninth minute.

Kayla Canett converted after a try from Lauren Doyle three minutes later to give the U.S. a commanding 29-7 lead. Kris Thomas added two tries of her own to put an exclamation point on a blowout win.

The U.S. is now set up to face No. 5 Canada tomorrow night in the quarterfinals.

The sixth-seeded U.S. men also pre-qualified for this year's World Cup, as they were one of eight quarterfinalists in 2018. They did not have the same fate as the women's team, however, as they fell 40-12 in the round of 16 to No. 11 Samoa.

David Still scored the only try of the first half for the Americans, which came between two Samoan tries. That put the U.S. down 14-5 at halftime.

Steve Tomasin led a strong response for the Americans to start the second half, as he converted after his own try to make it 14-12. The Samoans completely took over from there, though. They took advantage of tired U.S. legs and scored 26 unanswered points to advance to the quarterfinals.

The Americans will no longer compete for the Melrose Cup, but they still have games to play. They'll face the loser of the match between Fiji and Wales in the challenge quarterfinals.

The World Cup will conclude with the men's and women's championship semifinals and finals on Sunday.
Luke Hanlon is a sportswriter and editor based in Minneapolis. He is a freelance contributor to TeamUSA.org courtesy of
Red Line Editorial, Inc.