Katie Ledecky Opens Season With Short-Course World Record In 1,500 Free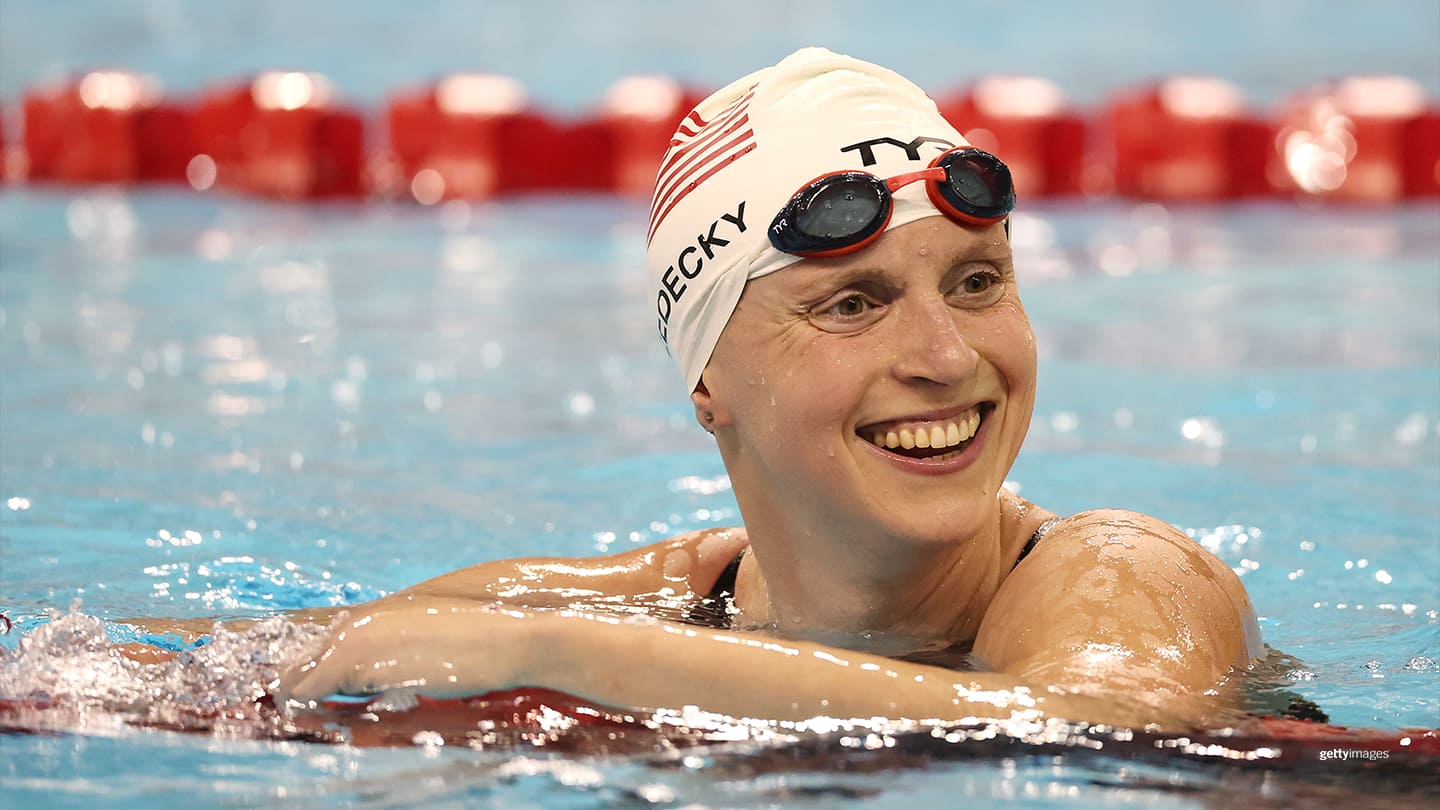 Katie Ledecky reacts after setting a world record and winning the women's 1,500-meter finals at the 2022 FINA Swimming World Cup on Oct. 29, 2022 in Toronto.
Seven-time Olympic gold medalist Katie Ledecky began her season with a record splash this weekend in Toronto.
Competing in the FINA World Cup, a short-course meet, Ledecky smashed the world record in the women's 1,500-meter freestyle and set an American record in the 400 free.
"I knew that (1,500) record was within reach just based on some things that that I've done in training," Ledecky told FINA.org. "My distance stuff has felt really good this fall. I felt locked into a pace."
Ledecky's 1,500 time of 15 minutes, 8.24 seconds on Saturday broke the short-course meter record of 15:18.01, set by Germany's Sarah Wellbrock in 2019. Ledecky broke the 400 free American record of Kate Ziegler by nearly 25 seconds. Ledecky also holds the world long-course records at 1,500 and 800 meters.
Ledecky posted a U.S.-record time of 3:52.88 in the 400 on Friday but only finished second because the winner, Summer McIntosh of Canada, won the final in a junior world record time of 3:52.80.
Ledecky's win in the 1,500 was among 15 victories posted by American swimmers in the three-day meet, tripling the number of gold medals won by any other country. U.S. swimmers totaled 31 podium finishes, topping the medals chart for the second straight week at a world cup event.
Ledecky, who won three medals in Toronto, is among a large group of Americans expected to compete when the world cup moves to Indianapolis for its next competition, Nov. 3-5.
Shaine Casas, who won four events, nearly set a world record in the men's 200 individual medley, winning the race with the world's third-fastest time of 1:50.37. The time was less than a second off Ryan Lochte's record time of 1:49.63.
"I really just wanted to swim fast," said Casas, who also won the 100 IM, 100 backstroke and 200 back. "The records really don't matter as much to me."
Nic Fink, a 2020 Olympian, won breaststroke finals at three distances: 50, 100 and 200. He is unbeaten in all three events through the first two world cup stops.
Also winning three races for the second consecutive week was Beata Nelson, a member of the U.S. national team who is aiming for her Olympic debut next year in Paris. For the second week in a row, she won the 100 and 200 backstroke, and the 200 IM, while she also finished runner-up in the 100 IM.
Two-time Olympic gold medalist Lilly King won the 200 breaststroke and finished second in the 100 breast and 50 breast.
Other U.S. swimmers posting wins were Kelly Pash in the women's 200 butterfly, Trenton Julian in the men's 200 fly and Olympian Brooks Curry in the men's 200 free.
Along with Casas, Julian also had four podium finishes. He finished second to Curry in the 200 free, and was third in the 100 fly and 200 IM. Curry, added a second-place finish in the 50 free and a third-place finish in the 100 free.
Olympic bronze medalist Kieran Smith was also a double medal winner, finishing second in the 400 free and third in the 200 free.
Paul D. Bowker has been writing about Olympic sports since 1996, when he was an assistant bureau chief in Atlanta. He is a freelance contributor for Team USA on behalf of
Red Line Editorial, Inc.