Starr Andrews Skates To A Historic Silver Medal At Skate Canada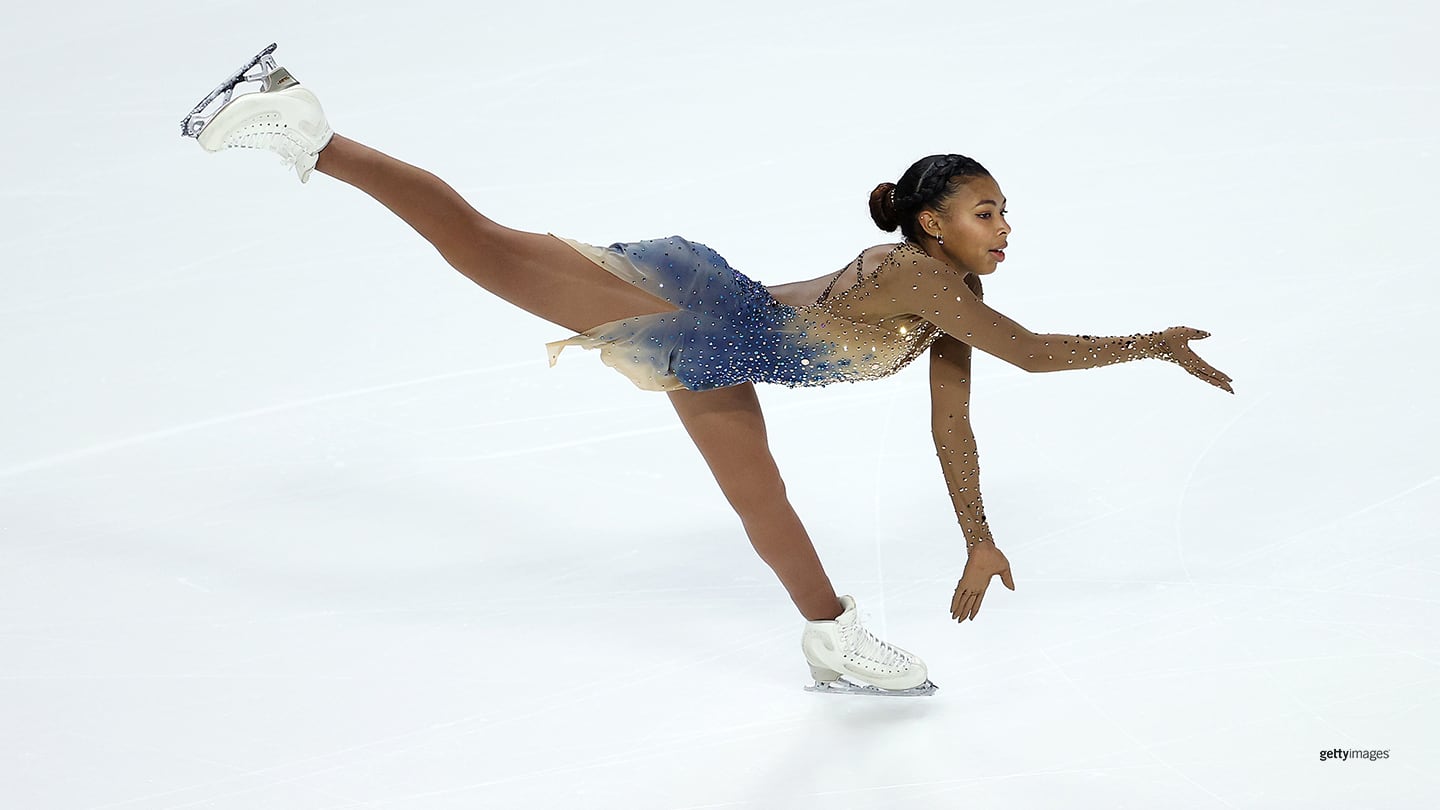 Starr Andrews competes during the women's short program at the 2022 U.S. Figure Skating Championships on Jan. 6, 2022 in Nashville, Tenn.

In 2010, Andrews, then 9 years old, was among the first U.S. figure skaters to go viral when a video of her exuberant performance to Willow Smith's "Whip My Hair" gained tens of millions of views.

This week, two brilliant programs at Skate Canada in Mississauga, Ontario, elevated Andrews as the first U.S. Black figure skater to win an ISU Grand Prix medal since the series began in 1995.

But even after the scores were tallied Saturday, showing Andrews had moved up from fifth place after Friday's short program to second overall, the result took a few minutes to sink in.

"That's my name, that's my name!" Andrews exclaimed as she arrived at the women's press conference and saw her nameplate in the silver medalist's spot.

"I actually still feel like it's a dream," she added.

The result is real. It was Andrews' programs that were dreamlike, especially her emotional yet beautifully controlled free skate to Belgian singer Lara Fabian's rendition of "Je Suis Malade."

Andrews, a 21-year-old Los Angeles native, didn't do a triple-triple combination, but her mature skating skills and musical panache — along with six triple jumps, including a difficult triple flip, double axel, double toe combination — compensated.

"When I first heard ("Je Suis Malade"), I was just scrolling on YouTube because I had trouble picking my programs this year," Andrews said. "When I heard (Fabian) sing it live, I thought, 'That's incredible to be able to hold the notes like that.' I thought it would be awesome in an arena and make a beautiful program."

Andrews' total score of 191.26 was 10 points above her previous personal best and put her second to Japan's Rinka Watanabe, a newcomer to the Grand Prix circuit, who earned 197.59. Young You of South Korea won the bronze medal with 190.15 points.

It's a result many have long predicted for Andrews. She has often had flashes of brilliance, but mistakes here and there — as well as injuries — left her off of podiums. Her previous highest finish at a Grand Prix event was fifth place in France in 2019. She placed ninth at the U.S. championships last season.

"I've gone into this year with a different mindset, trying to not be so caught up in my head," she said. "It helps a lot when I don't think so much. It's definitely paid off, even though my season didn't start off so strong (at Nebelhorn Trophy last month). I was still getting used to my programs."

"She has been running strong programs at home," said Derrick Delmore, who trains Andrews in Lakewood, California. "What I am most impressed with is even when things are not perfect (in practice), she's kept going. She knows she can skate well even if there are errors. That weight has kind of been lifted off of her."

Improved health also contributed to Andrews' medal. Last November, at a Grand Prix event in France, she left the ice in the middle of her free skate, gasping for air. After a few scary minutes, she withdrew from the competition.

"It was an electrical issue with my heart — I had an extra nerve and they burned it away (in surgery)," she said. "Once I had surgery to fix the problem, that helped a lot with the anxiety it gave me. I was always thinking, 'Is it going to start now?' It was very unpredictable. Now, it's one thing less on my mind."

Both skater and coach see Andrews' medal as a significant step in diversifying the sport in the U.S.

"I think it's a huge deal, to be a woman of color in figure skating," Andrews said. "I'm so proud I could represent. (It makes) bringing home a medal even more special."

"It's really, really important, especially with everything that's going on in the world right now," Delmore said. "She stepped up to the challenge. The fact she made so much of a statement this week does wonders for the community and it will continue to solidify her as a role model."

Andrews' second Grand Prix event of the season will be the fifth stop on the circuit: the NHK Trophy, held Nov. 18-20 in Sapporo, Japan.

"I'm just going to continue training the way I have been," she said. "My practices here were good and I think that helped a lot. I'm just going to trust myself."

Two New Jersey-based skaters, Ava Marie Ziegler and Lindsay Thorngren, placed fourth and ninth, respectively.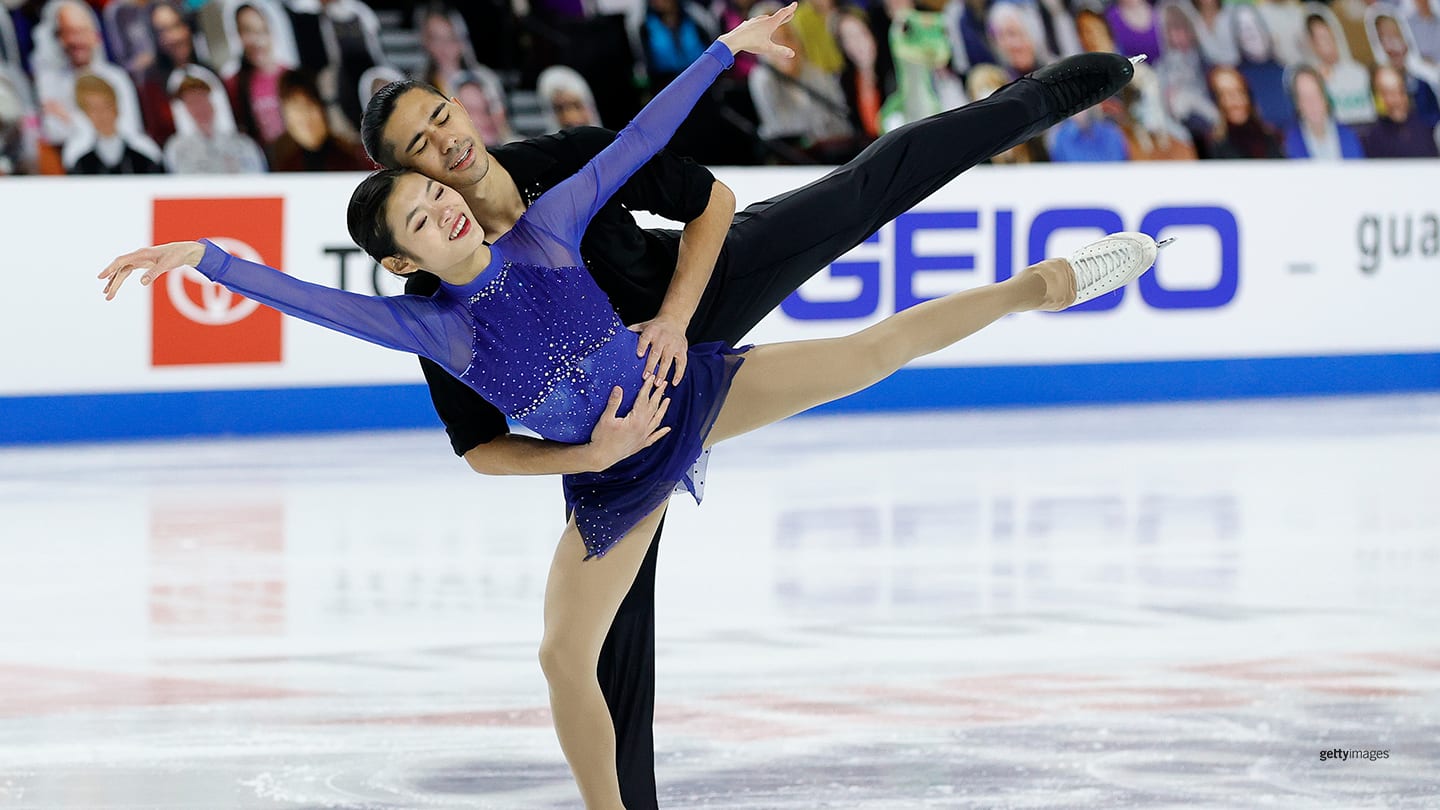 (L-R) Emily Chan and Spencer Howe compete during the pairs free skate program at the 2022 U.S. Figure Skating Championships on Jan. 16, 2021 in Las Vegas.

Chan And Howe Win Silver
In their Grand Prix debut, Emily Chan and Spencer Akira Howe earned 186.48 points to win the pairs silver medal behind Rika Miura and Ryuichi Kihara of Japan, who amassed 212.02 points. Italy's Sara Conti and Niccolo Macii took bronze with 186.18.

After a near-clean short program Friday, the Boston-based skaters had a few bobbles in Saturday's free skate, including a fall on side-by-side triple toe loops.

"We feel we have only reached a fraction of our potential and we really need to go back home and train," Howe said.

Valentina Plazas and Maximiliano Fernandez placed fifth.

Michigan Ice Dance Academy, which was founded earlier this year by 2014 Olympic ice dance champion Charlie White, 2006 Olympic ice dance silver medalist Tanith Belbin White and 2009 world junior champion Greg Zuerlein, sent three couples to represent the U.S. in ice dance. The top U.S. finishers were Caroline Green and Michael Parsons, who placed fourth with 194.19 points.

"We finished last season just short of making the Olympic team, but we set ourselves up really well for the next quad," Parsons said. "These next four years are about pushing ourselves as skaters, as artists and as people."

Canada's Piper Gilles and Paul Poirier won the gold medal with 215.70 points. Lilah Fear and Lewis Gibson of Great Britain were second with 209.18, while Marjorie Lajoie and Zachary Lagha of Canada took bronze with 195.49.

Japanese skaters dominated the men's event. World champion and 2022 Olympic bronze medalist Shoma Uno won with 273.15 points. Kao Miura took the silver medal with 265.29 and Italy's Matteo Rizzo was third with 251.03.

U.S. skater Camden Pulkinen, who was fifth in the world last season, placed fifth with 219.06 points while Jimmy Ma was ninth with 204.39.
Lynn Rutherford is a sportswriter based out of New York. She is a freelance contributor to TeamUSA.org on behalf of
Red Line Editorial, Inc.