Terese Cannon And Sarah Sponcil Capture Their First Beach Volleyball Elite 16 Medal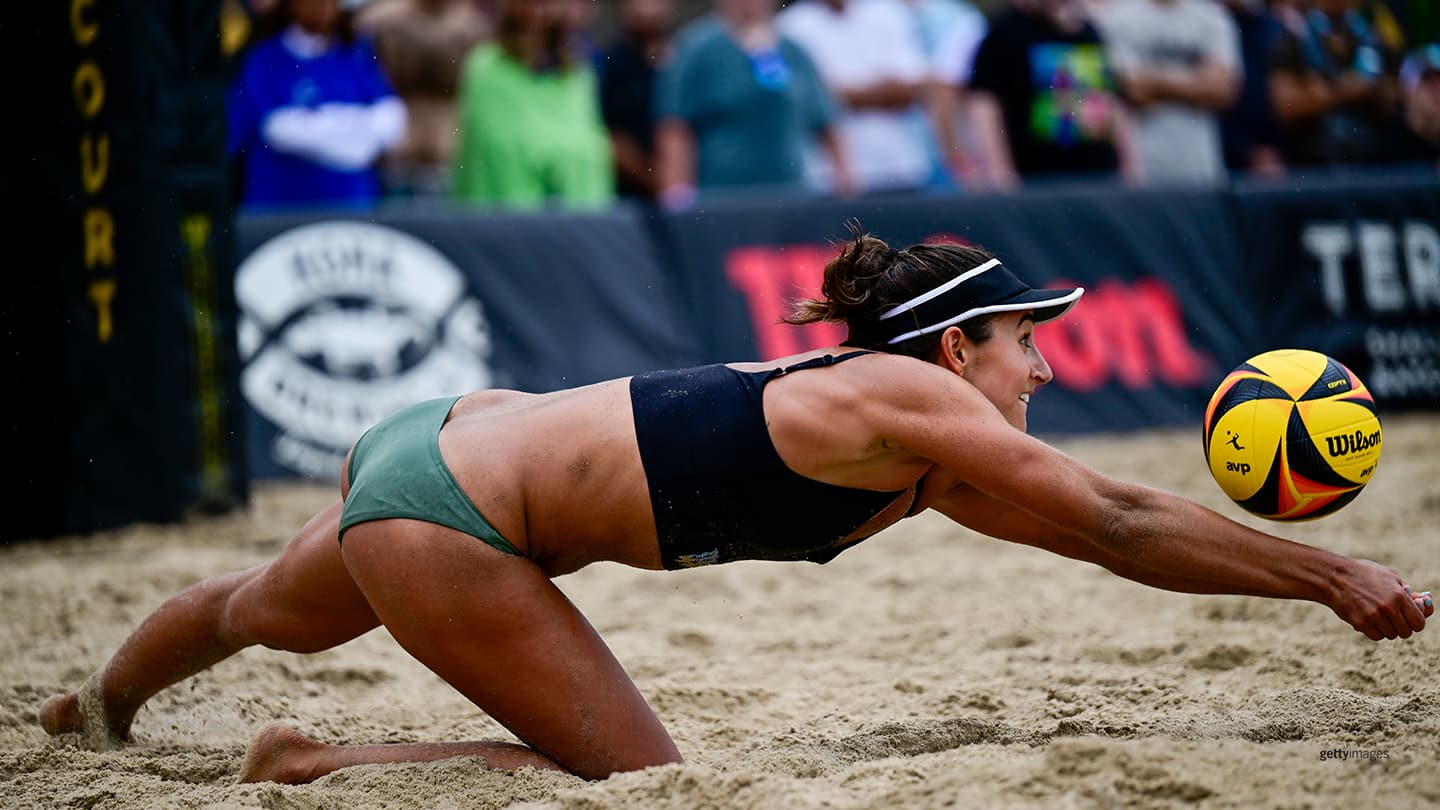 Sarah Sponcil digs the volleyball during the AVP Gold Series Chicago Open on Sept. 4, 2022 in Chicago.
Terese Cannon and 2020 Olympian Sarah Sponcil were on the Volleyball World Beach Pro Tour's Challenge circuit when they won a bronze medal last May in Turkey. Now, they're up playing with the world's best in the Elite 16, and on Sunday they left Cape Town, South Africa with a silver medal.
In the women's title match, Cannon and Sponcil faced the Brazilian tandem of 40-year-old veteran Talita Antunes and 22-year-old Thamela Coradello. The pair teamed up just a few days before the tournament. Cannon and Sponcil, meanwhile, were in their ninth Pro Tourevent together this year, but playing in a title match for the first time.
Cannon and Sponcil led most of the way through the first set, holding leads of 7-5, 14-13 and 17-16, but ended up losing by a score of 20-22. Talita and Thamela then pulled away in the second set for a 21-16 victory to win the match in straight sets.
Cannon and Sponcil reached the gold-medal game through a tough semifinal match, coming back from a 12-8 deficit in the third set to knock off reigning world champions Eduarda "Duda" Lisboaand Ana Patricia Ramos of Brazil.
"This is one of our first wins against a really top team," Sponcil told Volleyball World. "Duda and Ana Patricia are an amazing team. So getting the win today and going forward is really important to our team. It's been a long season and to get a good win like this at the end is such a good feeling."
The next Elite 16 tournament begins Thursday in Uberlandia, Brazil.
The new Elite 16 format for this year's pro tour consists of the top 16 teams in the world based on qualifying points. Teams can earn points on lower-level Challenge and Futures events to qualify for Elite 16 events.
Todd Kortemeier is a sportswriter, editor and children's book author from Minneapolis. He is a contributor to TeamUSA.org on behalf of
Red Line Editorial, Inc.