Shilese Jones Continues U.S. Gymnastics Excellence With World All-Around Silver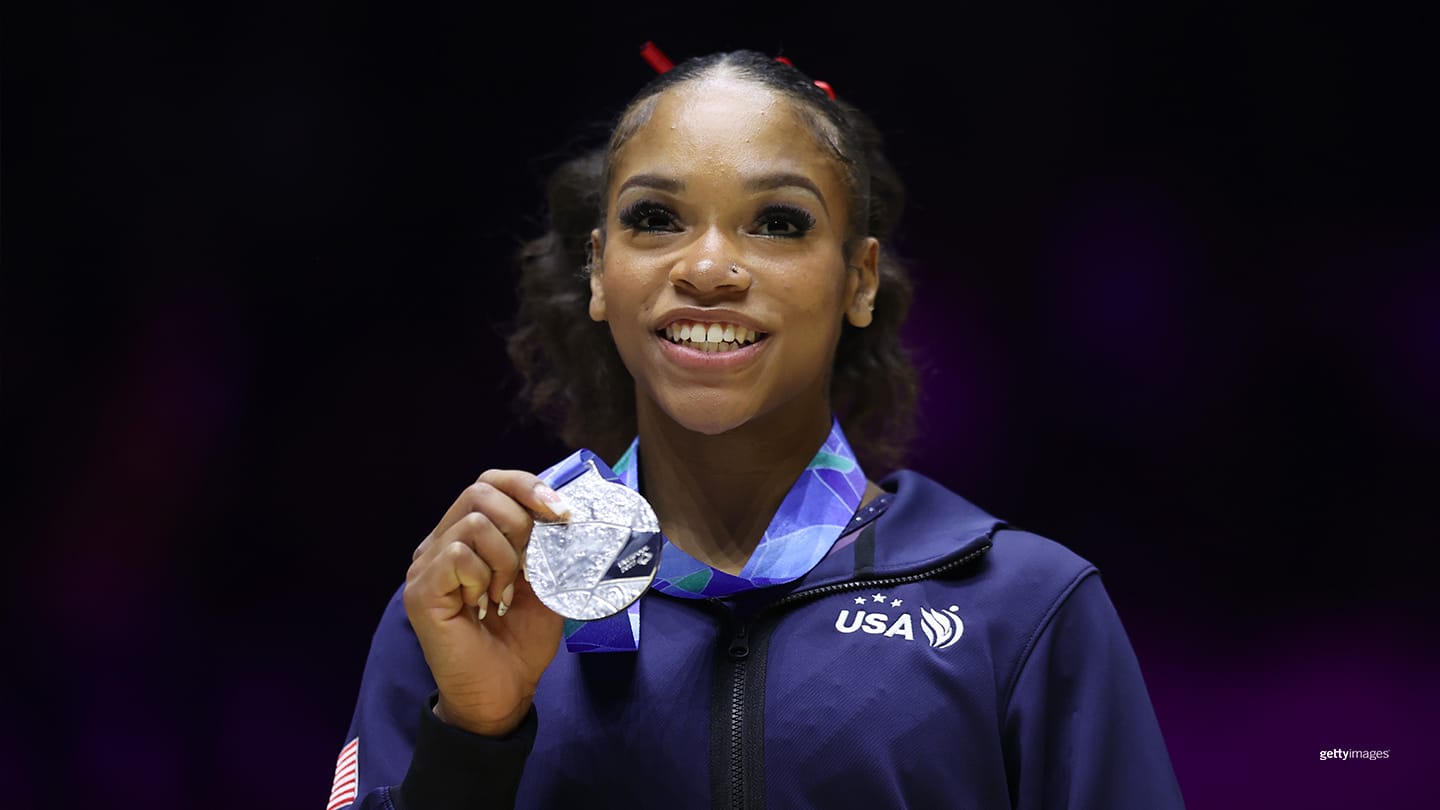 Shilese Jones poses for a photo during the medal ceremony following the women's all-around final at the 2022 Gymnastics World Championships on Nov. 3, 2022 in Liverpool, England.
Had things gone as planned, Shilese Jones would be in Gainesville now, preparing to start her freshman season with the Florida Gators gymnastics team.

The past year was anything but as expected.

Her performance at the 2020 U.S. Olympic Team Trials left a sour taste in her mouth. Then, in December, her dad Sylvester passed away following a long battle with kidney disease. College could wait, Jones decided. Instead she headed back to her home state of Washington to take another shot at the Olympics.

It's off to a good start.

On Thursday, the 20-year-old Jones scored 55.399 points to claim the women's all-around silver medal at the World Gymnastics Championships in Liverpool, England. With a complete performance in her first major championship meet, Jones finished 1.5 points behind winner Rebeca Andrade of Brazil, the reigning Olympic silver medalist.

Jessica Gadirova of Great Britain finished third with 55.199 points, while fellow American Jade Carey scored 54.698 to take sixth, improving two spots from her performance at last year's Olympic Games Tokyo 2020.

With Jones' medal, the U.S. has now had a woman on the all-around podium at every world championships going back to 2003. Including the Olympics, the last time a global championship wrapped up without an American woman on the all-around podium was the 2001 world championships.

The medal is also Jones' second so far in Liverpool, after she helped the U.S. team win its record sixth consecutive gold medal on Tuesday. She'll have an opportunity to add another in the uneven bars final on Saturday.

Jones moved up to the sport's senior level in 2018 and quickly found success, finishing fifth at that year's national championships while winning a team gold medal at the Pan American Games. The next step in her career never came. After finishing 10th at the Olympic trials last year in St. Louis, she was left off the Olympic team and forced to confront her future.

Conversations with teammates on the post-Olympics Gold Over America Tour convinced her she had more to prove in her elite career. She also said she wanted to take another go at the Olympics, competing in part to honor her father's memory.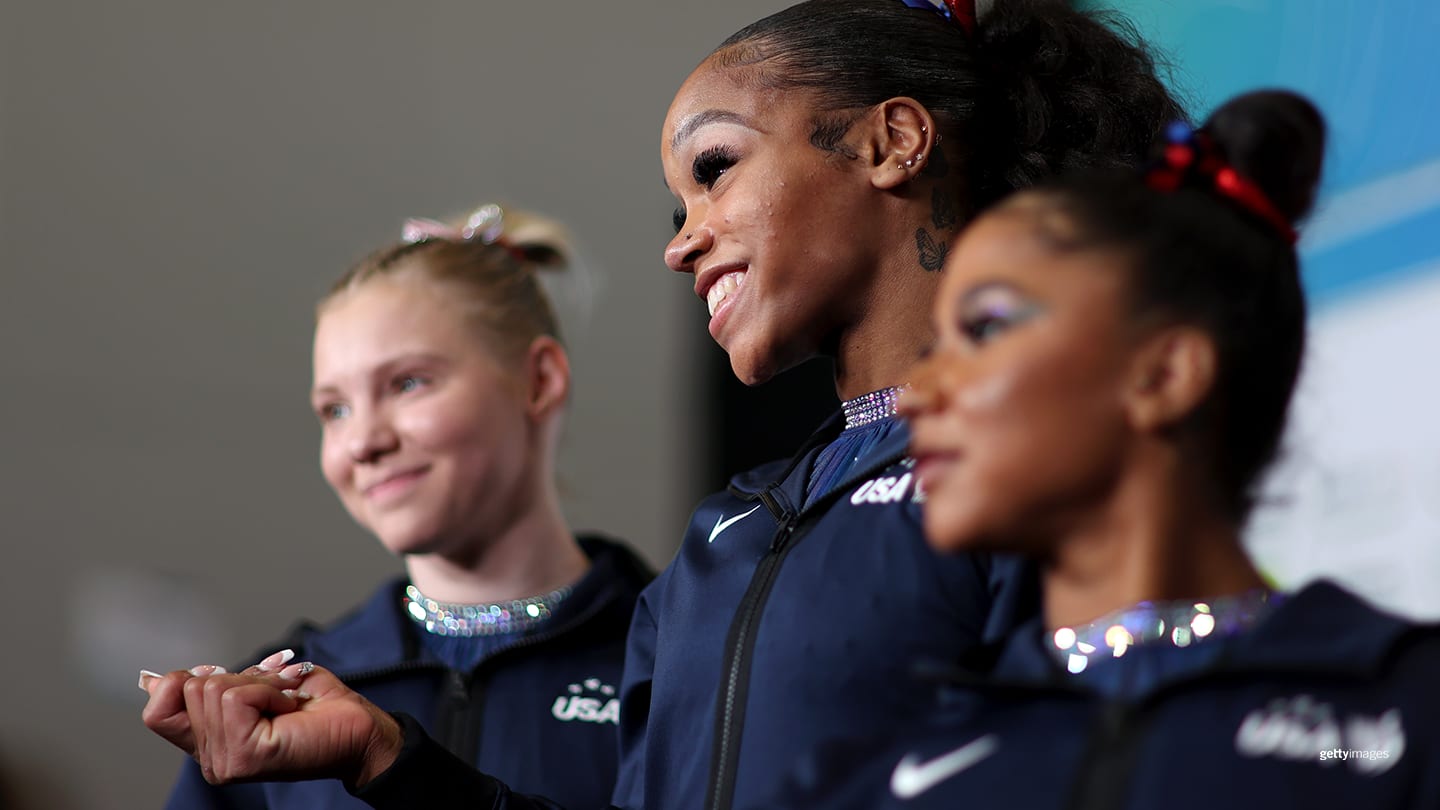 (L-R) Jade Carey, Shilese Jones and Jordan Chiles speak to media after winning the team gold medal at the 2022 Gymnastics World Championships on Nov. 1, 2022 in Liverpool, England.
After previously training in Ohio, she's now back in the Seattle area. Her enrollment at the University of Florida has been deferred to 2024.

Jones came into the world championships with momentum following a runner-up finish at this summer's national championships and then another strong performance at a September world cup event in Paris. At these world championships, she qualified for the all-around final in second place, behind Andrade, and then contributed on three of the four events in the winning U.S. effort in the team final.

A captivating performer, Jones began Thursday with a double-twisting Yurchenko on vault to score 14.233, putting her third behind Andrade and Carey. She moved into second on her signature event, the uneven bars, scoring 14.366, and then delivered another strong performance on the balance beam, highlighted by a massive standing Arabian early on, to score 13.100.

A solid 13.700 on floor exercise was not quite enough to catch Andrade, who becomes the first all-around champion from a Latin American country.

Carey, who won her fifth world championships medal in the team competition, remained in contention throughout as well. An ultra-difficult Cheng vault to open the competition scored 14.733, and the reigning Olympic gold medalist on floor exercise turned in a strong 14.166 on that event to close out he competition. Sandwiched between a 13.166 on bars and 12.633 on beam, Carey continued her ascent into the all-around elite.

A 22-year-old from Phoenix, Carey arrived on the scene during the last Olympic quad as a floor and vault specialist, and won world medals in both. Taking her fate into her own hands, she qualified for the Tokyo Games through the world cup, rather than taking her chances with the subjective team selection process.

She continues to break new ground. After completing a successful freshman season for Oregon State last year, Carey is one of three women on the U.S. team who is an active NCAA gymnast. Fellow Olympian Jordan Chiles (UCLA) and Leanne Wong (Florida) are the others.

She'll compete in the floor and vault finals this weekend.

The world championships continue Friday with the men's all-around final, where Americans Asher Hong and Brody Malone qualified in sixth and eighth, respectively.
Chrös McDougall has covered the Olympic and Paralympic Movement for TeamUSA.org since 2009 on behalf of
Red Line Editorial, Inc.
He is based in Minneapolis-St. Paul.