U.S. Men's Gymnastics Team Ranks Third In Qualifying At the World Championships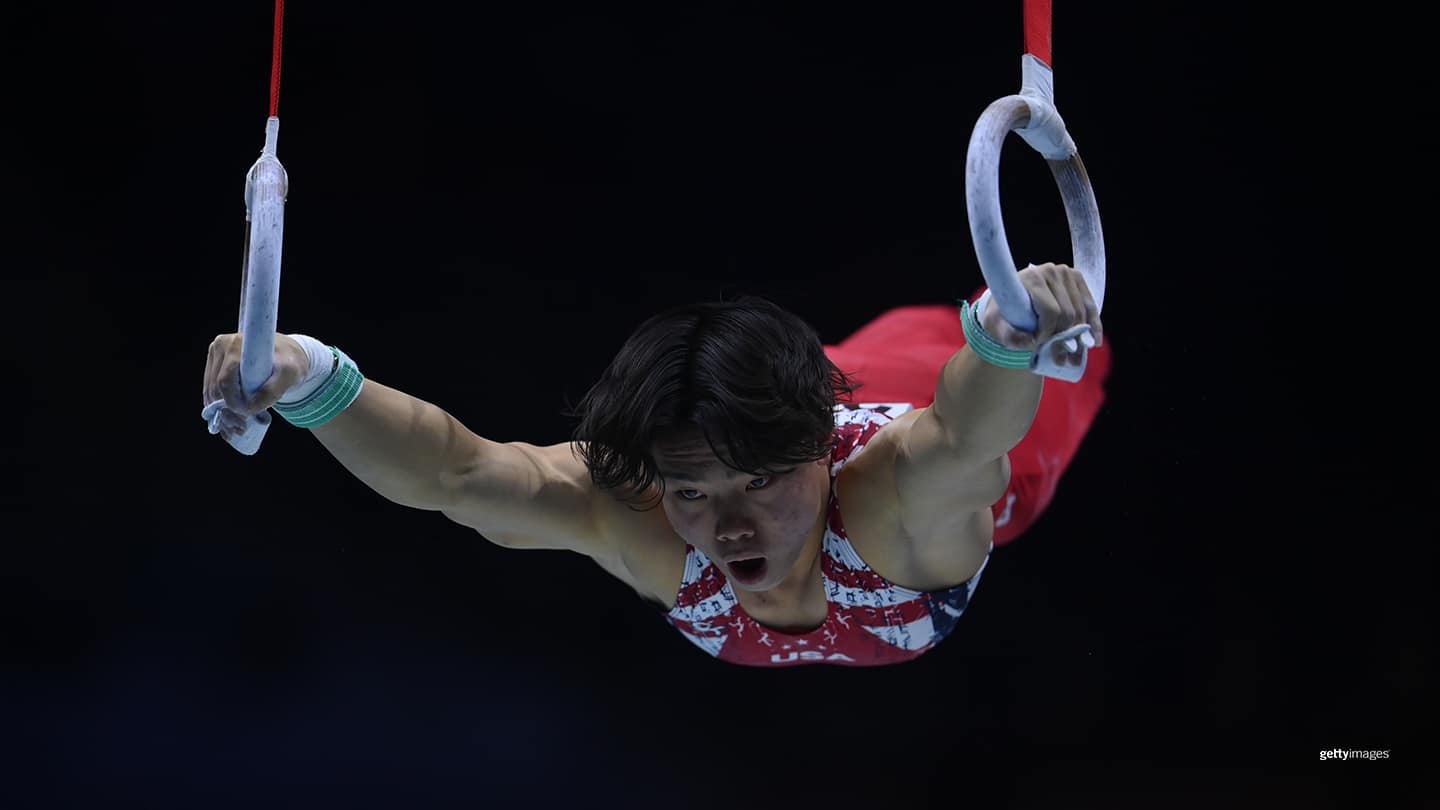 Asher Hong competes on the rings during men's qualifiers at the 2022 FIG Artistic Gymnastics World Championships on Oct. 31, 2022 in Liverpool, England.
Asher Hong's long-awaited debut at the World Gymnastics Championships lived up to expectations Monday in Liverpool, England, as the Texas teenager posted the top U.S. all-around score qualifying while leading the American men into the team final.

The 18-year-old Hong, long considered a rising star in the men's program, scored 83.299 to place sixth in the all-around standings. In the process he outscored Olympian and reigning U.S. champion Brody Malone, who was two spots back with a score of 82.631.

Hong and Malone combined with Stephen Nedoroscik, Colt Walker, Donnell Whittenburg to score 252.295 in the team event, which was good for third in qualifying, behind Japan (260.695) and Great Britain (252.793) but ahead of China (249.929). The U.S. men will go for a team medal on Wednesday. It would be their first at a world championships or an Olympics since taking third at the 2014 world championships. The men's all-around final is Friday.

Three Americans also qualified for individual event finals that will take place Saturday and Sunday.

Nedoroscik, the reigning world champ in pommel horse, will have an opportunity to defend his title after scoring 15.233 to place second in qualifying.

Malone qualified for the high bar final after finishing fifth with a score of 14.433. He won a bronze medal in that event at last year's world championships. In addition, Whittenburg moves on to the still rings final with the eight-best score of 14.333.

In qualifying, each team fields four gymnasts per apparatus, with the top three scores counting for the team event. Individually, the top 24 all-arounders and top-eight on each event advance to finals, though with a maximum of two per country.

Malone, coming off his second consecutive U.S. title in August and a 10th-place finish in the all-around at the Olympic Games Tokyo 2020, is seen as Team USA's top all-around medal contender in Liverpool, especially with the Russian team banned from the competition, though he struggled some on floor exercise Monday.

In another surprise, both Hong and Whittenburg fell short of the vault final. In a scary moment, Whittenburg appeared to overstep the springboard on his first attempt but was able to complete a basic handspring vault and avoid serious injury.

The world championships continue Tuesday with the women's team final, where the Americans will go for their sixth consecutive world title.
Chrös McDougall has covered the Olympic and Paralympic Movement for TeamUSA.org since 2009 on behalf of
Red Line Editorial, Inc.
He is based in Minneapolis-St. Paul.