Third Team Technical Gold In A Row Highlights U.S. Artistic Swimming Performance At World Series Super Finals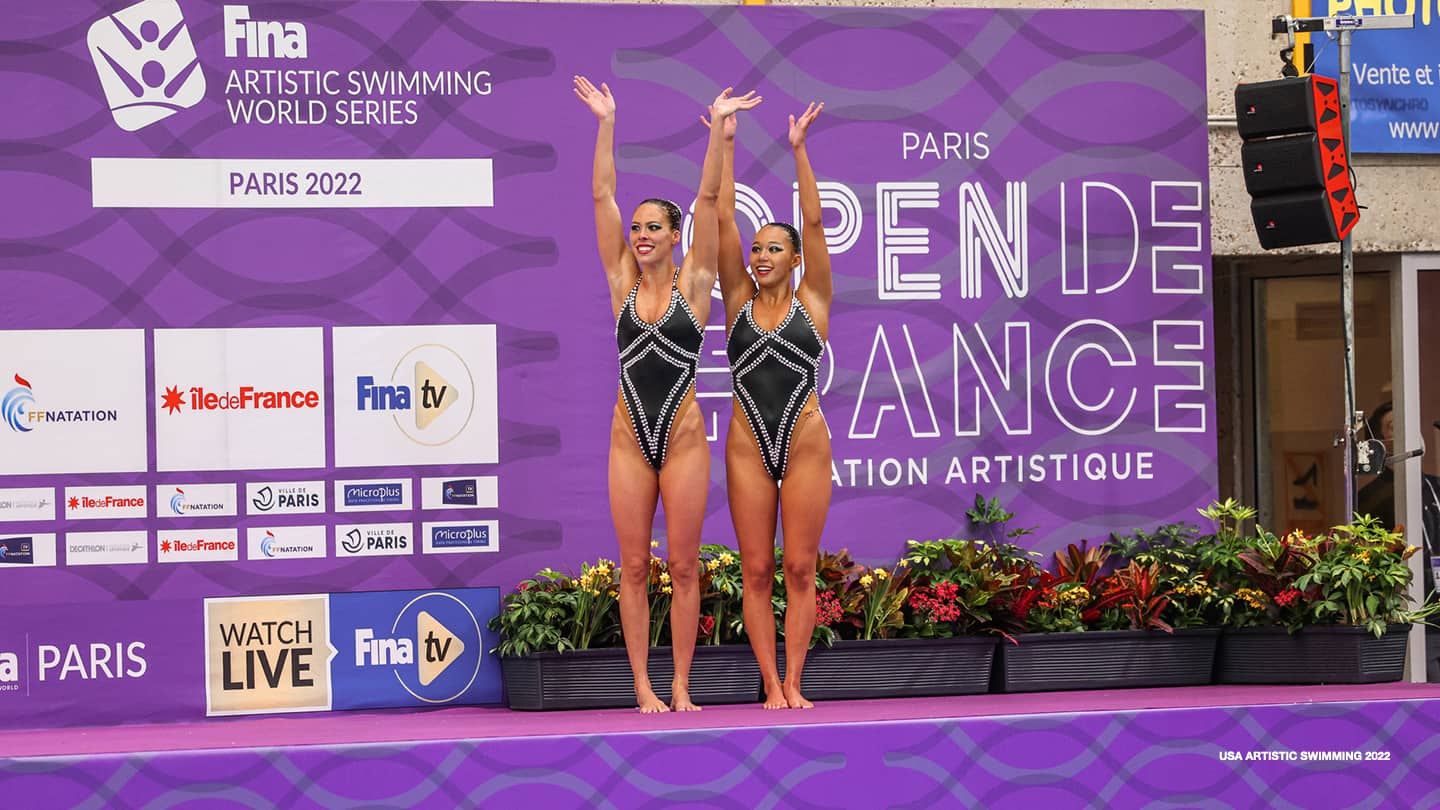 Megumi Field and Natalia Vega celebrate on the podium after winning the women's duet free at the FINA Artistic Swimming World Series on April 3, 2022 in Paris.
In the final tune-up before next month's world championships, U.S. artistic swimmers maintained their dominance in the technical team routine, winning their third gold medal in a row in the event on opening night of the FINA Artistic Swimming Super Finals 2022 in Athens, Greece.

Performing to Michael Jackson's "Smooth Criminal," the U.S. team dazzled with its choreography that referenced the King of Pop's iconic movements, earning 86.1525 to take the gold over Israel and Kazakhstan. Team USA took three of four gold medals on this year's World Series schedule, including the final three. Their score in Athens was their best of the season.

"Our performance was 'Smooth Criminal' and I feel we really, really embodied Michael Jackson this time," Dani Ramirez said to FINA. "It was really fun to get into character. We really put our all out there."

The U.S. team did not perform in the free routine, saving that for worlds June 17-25 in Budapest, Hungary.

In other Olympic events, Ramirez and Megumi Field earned a bronze medal in women' duet tech. Competing together for the first time this season, Field and Ramirez performed an all-new routine called "Stand with Ukraine" set to the song "1944" that won the 2016 Eurovision Song Contest from Ukrainian singer Jamala. In a tribute to the Ukrainian people, the duo earned a score of 84.3622 to score the bronze.

"We did a tech duet that really showed strength, and we're really happy getting the results that we did," said Ramirez.

In an upset, Field and Natalia Vega failed to win the women's duet free for the first time this season. Their score of 85.3000 left them just off the podium in fourth place.
Todd Kortemeier is a sportswriter, editor, and children's book author from Minneapolis. He is a freelance contributor to TeamUSA.org on behalf of
Red Line Editorial, Inc.