Artistic Swimming, Diving Highlight The Sports' Performative Side At Aquatics Worlds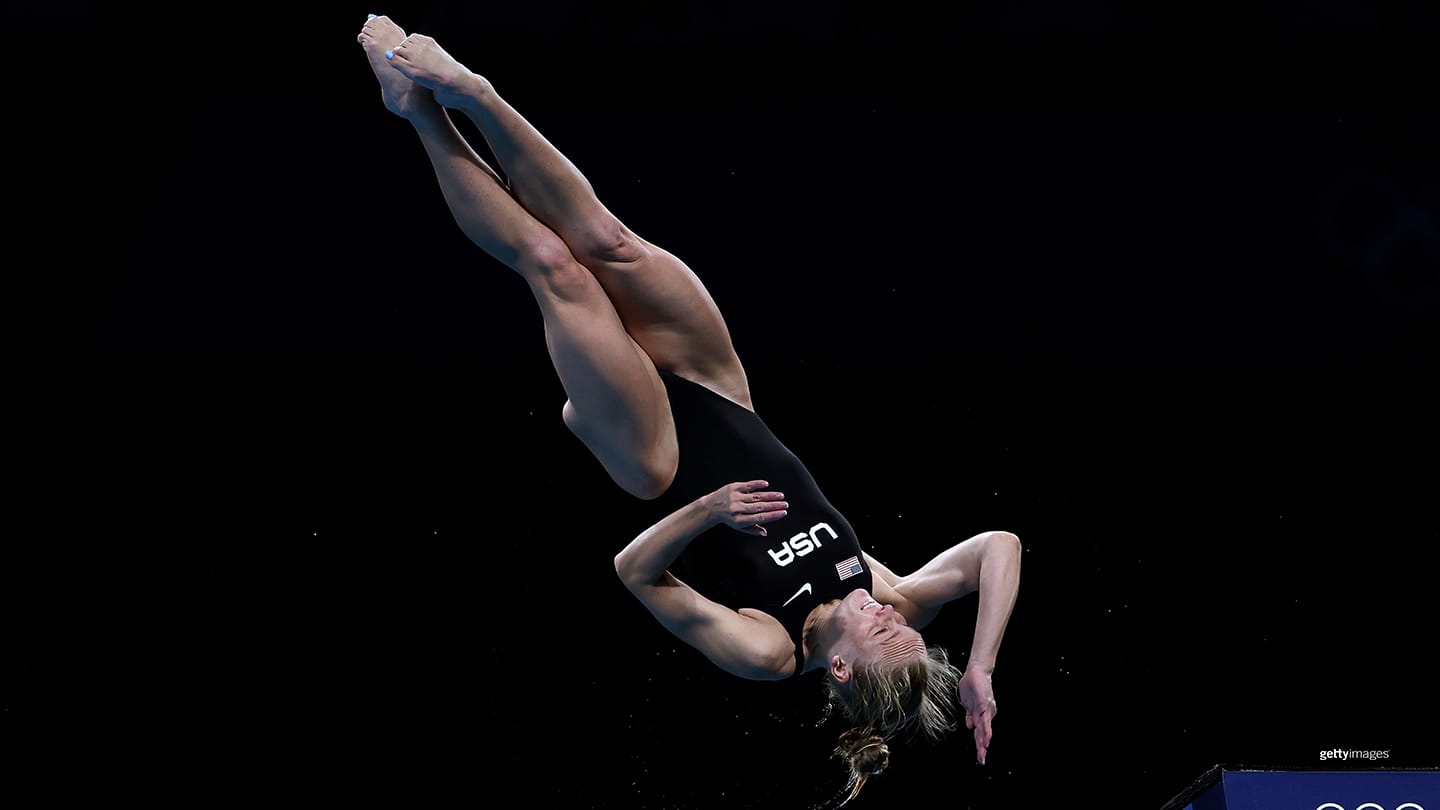 Delaney Schnell competes during the women's' 10-meter platform preliminaries at the Olympic Games Tokyo 2020 on Aug. 4, 2021 in Tokyo.
Swimmers will race for the fastest times. Water polo players will rack up goals. The 19th FINA World Championships, which began over the weekend in Budapest, Hungary, also feature two sports where the results come down to judging.

The U.S. is sending 16 divers to Hungary, while 13 swimmers will represent Team USA in artistic swimming.

The artistic diving competition began over the weekend and continues through Saturday with 10 medal events. In the Olympics, artistic swimming — formerly known as synchronized swimming — includes two medal events: women's duet and team. In each, swimmers perform in both a technical and free routine, and the scores are added together to determine the final standings.

At the world championships, medals are awarded separately for the technical and free routines. The artistic swimming competition also includes events not on the Olympic program, including mixed duet, team combination and team highlight.

Diving, which begins Sunday, June 26 and runs through July 3, more closely resembles the Olympic program with men's and women's individual and synchronized events in both 3- and 10-meter. The competition also includes individual 1-meter events for men and women, as well as a mixed team event and two mixed synchronized events.

Here are six storylines to watch for in Budapest.


Silver Medalist Schnell Among U.S. Olympians In
Diving
Delaney Schnell, who won an Olympic silver medal last year in Tokyo and is coached by former national teamer Dwight Dumais, is among three Olympians competing for the U.S. in diving in Budapest.

Schnell's medal came in the women's 10-meter synchro with Jessica Parratto. This time Schnell, a native of Tucson, Arizona, is slated for both women's synchronized events. She'll be partnered with Tarrin Gilliland in the 10-meter event and with fellow Olympian Hailey Hernandez in the 3-meter.

Hernandez is also slated for the individual 3-meter, where she'll compete alongside with Sarah Bacon, a bronze medalist from the 2019 world championships.

Tyler Downs is the third returning Olympian. He'll compete in the men's 3-meter as well as the 3-meter synchronized event with Greg Duncan.



Hayden Carves History As Black U.S. Diver
Kristen Hayden, a graduate student at Indiana University, will make history at the world championships. She is the first Black diver on a U.S. world championships team.

Hayden will compete with Johansen Diving Academy teammate Quinn Henninger in the mixed 3-meter synchronized competition. Hayden became the first Black woman to win a national championship in diving when she teamed up with Henninger for the first time and they won the 3-meter synchro event at the USA Diving Winter Nationals last December.

"I think the whole diving community is headed in the right direction and I just want to be a good example for young Black Americans or any minority really for diving in the U.S.," Hayden, a New Jersey native, told the Associated Press earlier this year.

The mixed 3-meter synchronized event is scheduled for Wednesday, June 29.
Anita Alvarez (front) and Lindi Schroeder compete during the women's duet technical routine at the Olympic Games Tokyo 2020 on Aug. 3, 2021 in Tokyo.
Teenager Josh Hedberg Set To Make Senior International
Debut
Josh Hedberg finished just shy of making the 2020 U.S. Olympic Team, placing fourth in the 10-meter event at last year's trials. His wait for a senior international debut is over.

The 15-year-old Hedberg will make his world championship debut in the men's 10-meter competition, with the finals set for July 3.

Hedberg, a native of Noblesville, Indiana, who trains at the Indiana International School of Diving, won the gold medal in the 10-meter at the Canada Cup, a FINA Grand Prix event, earlier this month. Last year, he won three medals, including gold in the men's 10-meter, at the Junior Pan American Championships.


Another Teen To Make World Championships Debut In
Artistic
Megumi Field, a 16-year-old from Wilmington, Delaware, is competing in her first world championships after rising quickly on the junior and senior national teams. Field and Natalia Vega are going after a world championships medal in duet free after promising results throughout the FINA Artistic Swimming World Series this season.

Field and Vega were frequent podium finishers in the duet events throughout the World Series, where some competitions were held virtually. At the Super Final in Greece, they took third in the duet technical and fourth in the duet free.

Field teamed with Anita Alvarez to finish seventh in the women's duet technical event on Sunday. She'll be back with Vega for the duet free, which starts Tuesday and concludes Thursday.


Olympian Alvarez Has A Busy
Week
Anita Alvarez, who was selected USA Artistic Swimming Athlete of the Year in 2021 and has performed at the last two Olympic Games, has a busy schedule set up for the world championships.


The native of Kenmore, Kentucky, already placed sixth in the solo technical event Saturday and seventh in the duet technical event Sunday with Megumi Field. Now she's set to take part in the solo free final on Wednesday before wrapping up with the team free on Friday.


Alvarez competed in the duet at the past two Olympics, with her best finish being ninth in 2016. This is her third trip to the world championships.


U.S. Team To Perform Un Debut Of 'I Am
Water'
Andrea Fuentes, a four-time Olympic medalist with Spain and now a coach for the U.S., is introducing a bold and moving choreography: "I am Water." The medley displays how precious the resource is and warns of the dangers of taking it for granted. The technical routine on Tuesday features a Michael Jackson routine.

A previous choreography by Fuentes, the Robot routine, gained attention worldwide.

The team's technical and highlight routines are unbeaten this season. Two-time Olympian Anita Alvarez, Dani Ramirez, Jaime Czarkowski, Natalia Vega, Elizabeth Davidson, Ivy Davis, Keana Hunter and Megumi Field are scheduled to perform in team free event Friday.
Paul D. Bowker has been writing about Olympic sports since 1996, when he was an assistant bureau chief in Atlanta. He is a freelance contributor to TeamUSA.org on behalf of
Red Line Editorial, Inc.